This post is sponsored by Dollar General, but all opinions are 100% my own. Thanks for helping me to support the brands I love.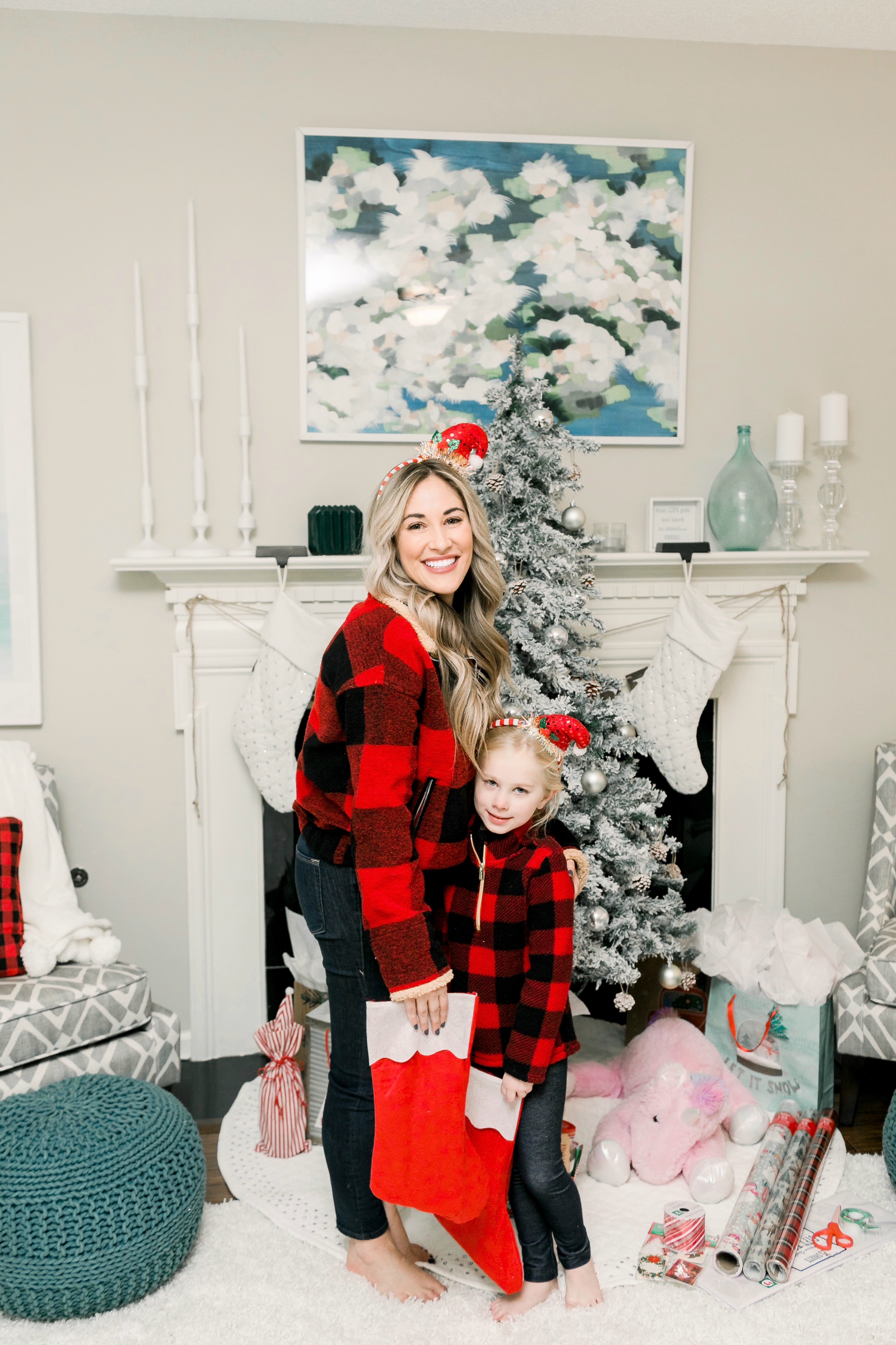 Y'all, I am SO excited the holidays are well on their way! Leighton and I decorated at a record breaking first of November this year! We travel so much that we wanted to go ahead and get it done so we could actually enjoy seeing all the pretty trees, lights, stockings and other holiday decor up before it was time to take it all down again. Yep, we love Christmas time around here and just couldn't wait!
Leighton and I just got our first tree last year! It was so exciting to finally have our own so that our house could feel festive and happy and full of the holiday spirit in our home! And I can tell you… Christmas trees can be so pricey. That on top of a tree skirt and stockings and other decorations. It really adds up! And that's only the decorations and not even including any of the gifts yet!
This year it was especially important to me to not go overboard and to not overspend, and instead spend more time together and more money on giving to others in need than on things we didn't need. That is one of the biggest reasons we checked out Dollar General as our first stop when going shopping for Christmas decorations this year. We wanted to find a good variety of decorations and decor without spending a ton of unnecessary money!
DOLLAR GENERAL CHRISTMAS DECORATIONS FAVORITES:
First up on the list was a small Christmas tree. I really wanted Leighton to have her own tree this year. I thought it would be special for her to get to pick out her own decorations and help put them on the tree with us as a family. I still can't believe this tree was only $45… and it's flocked, and just so pretty!
We started with some natural colored ornaments as a good blank slate – silver balls, pinecones and even some fun little wooden ornaments that Leighton got to color on herself. It was such a fun way to really include Leighton and let her use her creativity. And speaking of creativity – we also picked up a gingerbread house kit from Dollar General that we are going to build together!
After we decorated the tree, we moved onto the kitchen area. I picked up the cutest little Christmas mat to put under the sink area, a snowman kitchen soap set and some Christmas mugs and kitchen baking utensils. Not only are they perfect to decorate the kitchen with, they're also perfect to give as gifts!
I picked up some baskets, glass jars and gift bags along with hot chocolate, marshmallows and cake mix. I added hot chocolate and marshmallows and brownie mix to the jars to make such cute little personalized gifts for friends and family. Then I put them in the baskets and gift bags along with the cookie cutters and spatulas. I also picked up some cute wine tote bags, gift bags, wrapping paper, ribbon, bows and tissue paper and saved SO much money by just getting it all at Dollar General!
For Leighton, I picked up the cutest little stuffed animal unicorn and Lisa Frank art kit. For Matt, I knew I had to get him the Old Spice gift set the moment I saw it! It was just perfect for him! I also spotted several pairs of adorable pajamas that I'm going back to snag for Leighton. She is already in 6T and barely just turned 5, so she can always use more pjs!
Dollar General has a variety of great gifts for adults like PRO Strength gear, pajamas, beauty gift sets, electronics like Bluetooth speakers, karaoke sets and headphones. And for the kids, they have their favorite brands like LEGO®, Barbie, LOL Surprise, Disney, Fisher Price, Hot Wheels, Paw Patrol, My Little Pony, Lisa Frank, SEGA, Atari and Pokémon. Trust me, you can find some great toys and gifts at Dollar General!
On top of great everyday prices, you can also save even more with DG Digital Coupons and the new DG App. All you have to do is download the app and sign-up. And on Saturdays, they have $5 off $25 in the store so you can save even more!
Have you started decorating or shopping for Christmas yet? Have you checked out the Holiday Shop at Dollar General yet? Let me know in a comment below!