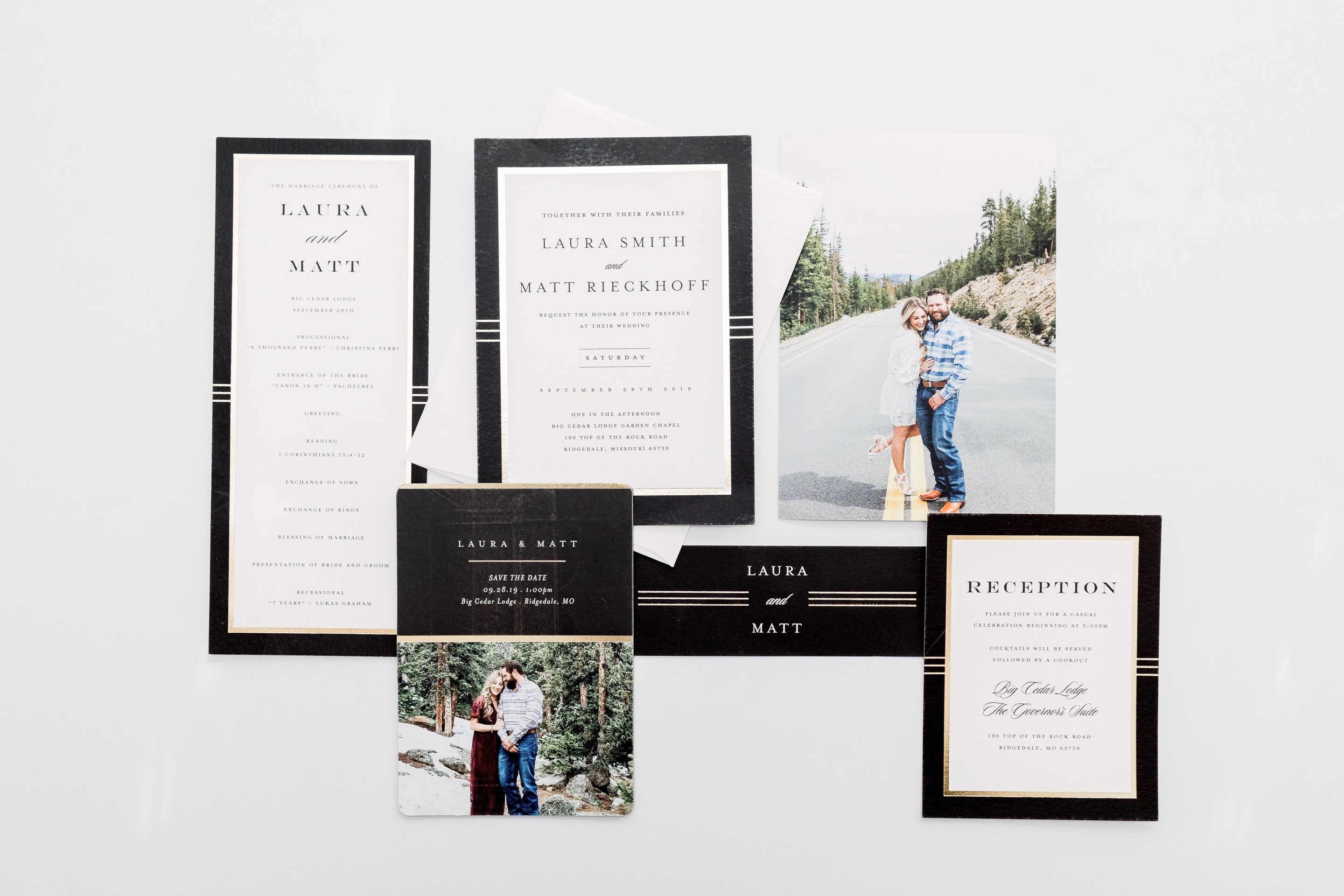 Last spring, Matt and I ordered our Minted save the date cards, and last summer, we ordered our wedding invitations. We knew we would only have a 6 month long engagement, so we had to get on the ball! We quickly took pictures so we would have some to use on our save the date cards because we knew we wanted images on both our save the date cards and invitations.
After setting a date for your wedding and getting some engagement pictures taken, I would recommend on deciding on a company to use for your save the date cards or invitation suite. There are local companies, and there are some great online companies where you can order from, like Minted. We have used Minted for years for our Christmas cards and birthday cards and had always been very impressed with the quality and turnaround time, so we knew we wanted to use them again for our wedding.
You will definitely want to ask around and get some recommendations of companies from other friends and family members. After that, it's time to decide on a style of invitations. Do you want something elegant or casual? Do you want black and white or do you want them to be colorful? We knew we were having a smaller ceremony of 85 people, but that didn't mean it had to be casual. We knew we wanted it to be elegant (but always with a rustic outdoorsy feel thanks to the beautiful Ozark mountains as the backdrop to ur special day.)
Not everyone sends save the dates, but with a short turnaround and a destination wedding, we decided to send these Minted save the date cards to make sure that everyone had ample time to book their hotel rooms and plan for travel. We actually only looked at a few different save the date designs before we just knew that we had found the perfect save the dates! We loved the gold border and the black background at the top of the cards instead of typical white. And we decided to go with magnet style.
For the Minted wedding invitations, I recommend picking a design that has an accompanying suite with it so you can order all the matching products at once. Believe it, it takes so much of the guesswork out of it! But if your design doesn't have matching products or you want to mix and match to save some money, not everything has to really match. Like my mom said, no one will be holding the invitations at the wedding seeing if the programs are the same style. So true. They definitely don't have to be identical, but I think a coordinated suite looks so pretty together!
When I spotted this Distinguished Frame invitation design with the pretty black and gold border, I fell in love with them! I showed them to Matt, and we just couldn't help but think they were perfect. They were a simple but elegant style just like we wanted. We felt like they matched our styles just right. We decided to add one of our favorite engagement pictures on the back of the invitations, and we feel like it balanced out the style of our cards just perfectly!
We ordered matching invitations, envelopes, programs, rsvp cards and envelopes, stamps and bands to enclose them all. And if you are having a destination wedding or anything that requires some extra details, there are direction cards you can order too to explain to everyone where the wedding or reception is. These are definitely handy!
We sent our Minted save the date cards out shortly after we got engaged to give everyone plenty of time to plan to travel to our wedding. We sent our invitations out about 2-3 months before the wedding. And we asked for our rsvp cards back about 6 weeks before the wedding so we knew how much food to order for the reception.
We loved the way our Minted save the date cards and invitations turned out!
The process was easy to get everything ordered, and they all came in quickly and looked perfect for us. If you're planning to get married, what step of the planning process are you in? Leave your tips below in the comments!