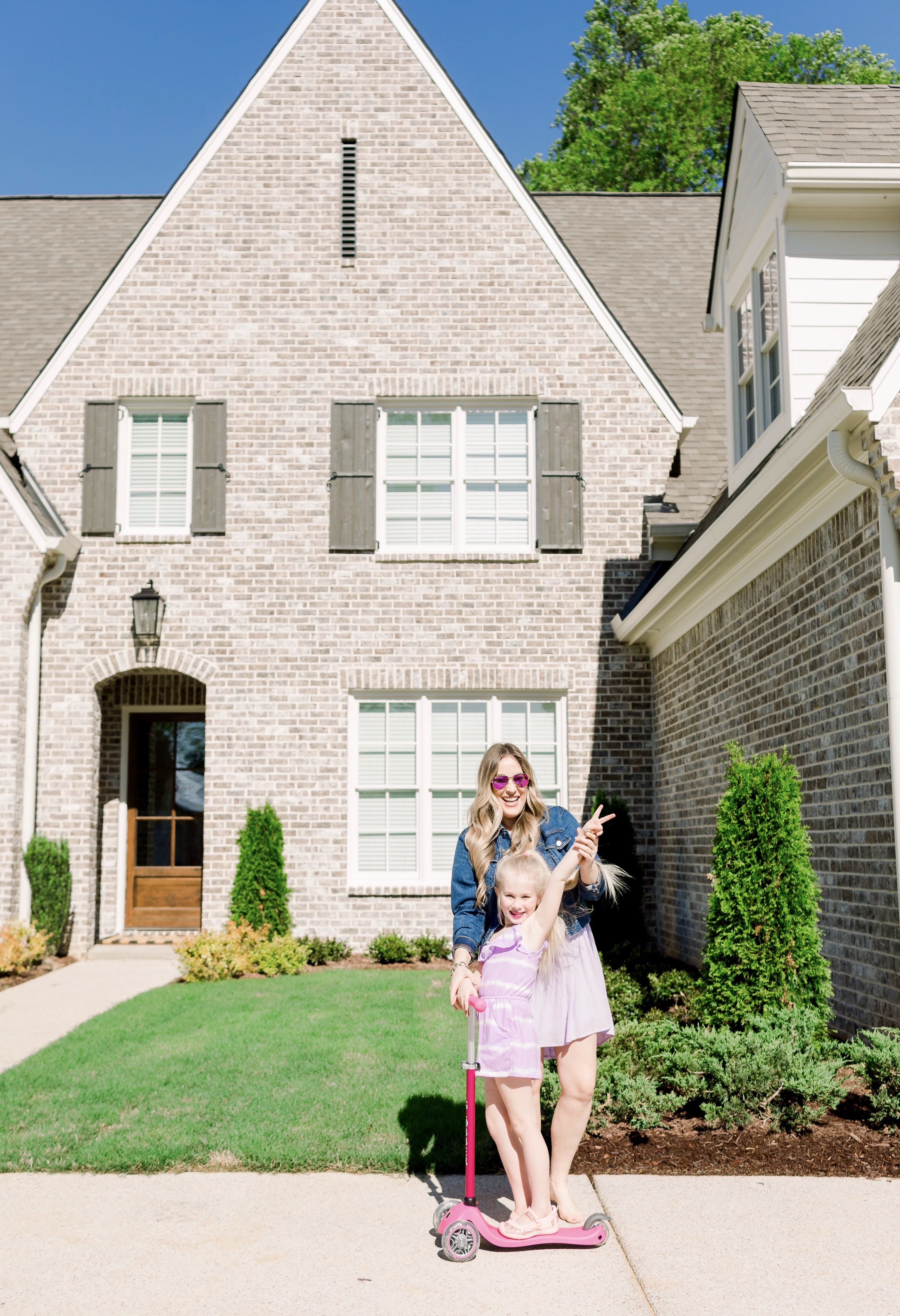 SHOP OUR SUMMER LOOKS:

This past weekend was Memorial Day weekend, and we had both of the girls together. I'm so glad they got to spend time together! We went back and forth over whether we should go to the lake house, to the safari park or what. Since I knew those 5 days would fly by much faster than we thought, we just decided to stay home to maximize our time with the girls.
Even though we stayed around the house, we definitely didn't have any shortage of fun things to do outside with kids! Of course when it comes to kids, it doesn't always require something elaborate or expensive. Just good old fashioned fun!
10 Fun Things to Do Outside with Kids This Summer:
1.) Plant a garden.
This has been on our list for a while, and on a whim Matt decided we would just build one ourselves! We bought the wood, potting soil and all the herbs and vegetables we wanted to plant and went to work deciding on a design and size. Matt had it built in a day, and now we look forward to getting everything planted and growing something together. Plus, it will be great responsibility for the kids. They already love watering the flowers outside everyday.
2.) Play a game outside.
We have corn hole, and it is always hit with kids and adults alike! Or use the chalk you're going to use in number 3, and play hopscotch!
3.) Head outdoors with sidewalk chalk.
Oh my gosh, they had too much fun with this! They even drew on our patio table lol! It's okay, it's metal and just wipes out. That's the best part about chalk. We have some pretty art on the patio now, and it kept the girls busy for a while!
4.) Cook together and have a picnic outside.
Matt did the grilling, but that didn't stop us from cooking up the side items and the girls helping me with the fruit. They even had their own little kitchen set and loved trying to help whisk the watermelon. Hey, it's the thought (and fun!) that counts! Then take it outdoors to eat. Less of a mess to clean up, and it's so much more fun for the kids too!
5.) Play in the water hose or sprinkler.
This was a huge success this weekend. We had debating on going to the lake, but this ended up being so much easier with the kids and with my morning sickness, so I was happy to just relax around the house and know that they were still having a blast! We had lots of warm, sunny weather, so playing outside in the sprinkler was perfect enough for them.
6.) Go for a walk or ride together.
We have bikes, wagons and scooters, but we couldn't resist taking the girls for a spin on the side by side.
7.) Create a backyard obstacle course.
Trust me, kids LOVE obstacle courses! It is such a fun little game for them. Use sticks or jump ropes or anything to create a little course that they have to follow along in the yard. They might see the number 3 and have to take 3 steps to find the next clue. Get creative. They will love seeing where they end up (especially if there is a special little treat for them at the end.) = )
8.) Camp outside in your own backyard.
This one has been on my list for a while, but we need to invest in a good tent. If you have any you recommend, let me know in the comments below so I can check them out!
9.) Try a new sport together.
If your kids have never tried soccer, baseball, volleyball…give it a try together as a family! It's always so fun to learn something new together and even if you're all awful at it, it will be fun to see each other get better, to see each other learn a new skill.
10.) Use the camera on your phone and take turns being the photographer.
Take pictures of each other, the grass, the neighbors dog. Let each member of the family be the photographer, adventure around the yard or even as you walk around your neighborhood, snap photos of anything and everything! You might be surprised at what you capture.
What about you? What are your favorite things to do outside with kids in the summer? Let me know in a comment below!