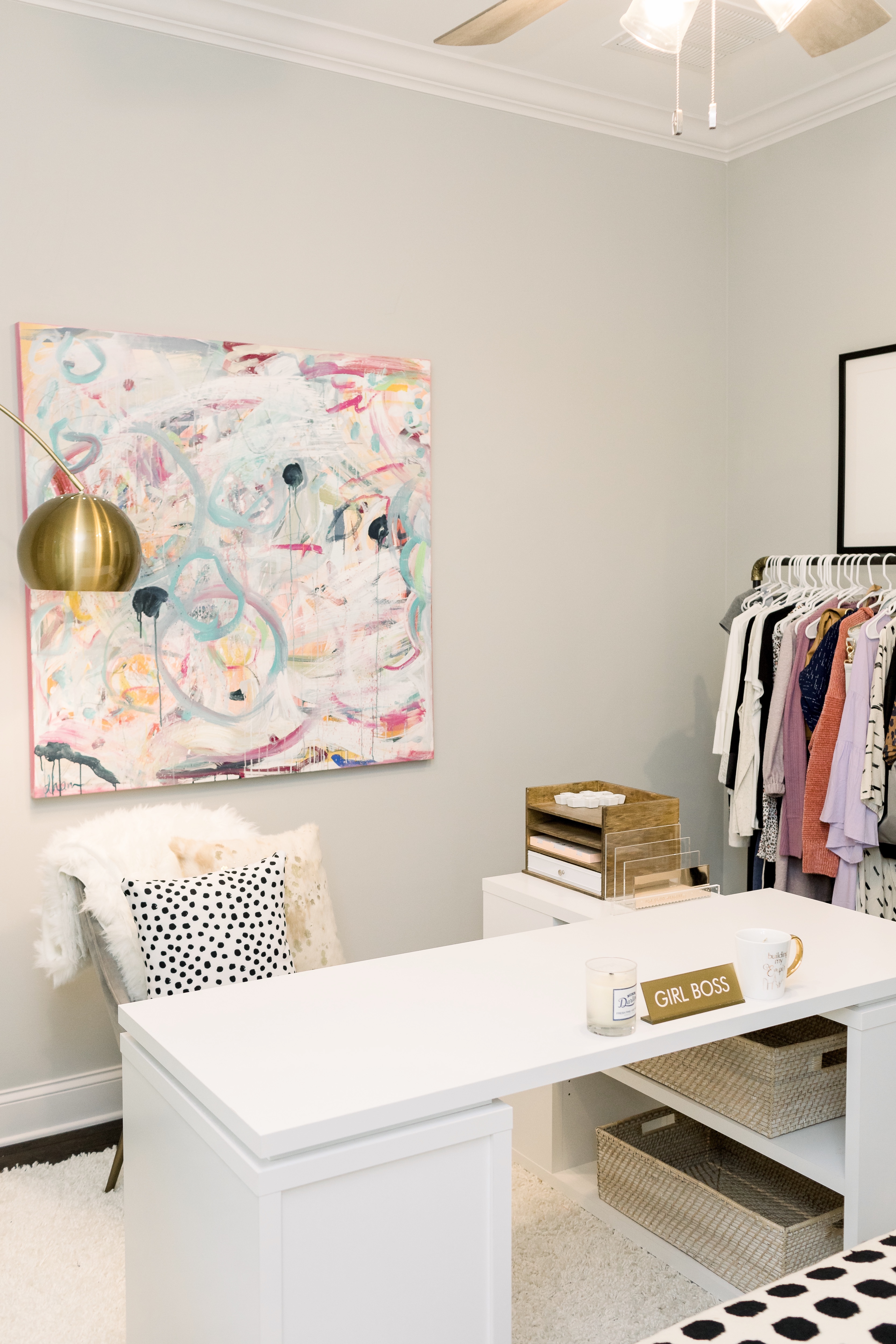 SHOP MY BLOGGER HOME OFFICE:

Y'all don't even know how long I've waited for a proper blogger home office! In our old house, I had a tiny office, and honestly never even used it since I work 40 hours a week at a corporate office for my day job. The last thing I wanted to do when I got home was to work even more in my home office.
So when we were building the new house, I knew an office was going to be a huge must-have list item this time around! The room is small, but I wanted it to be practical and relaxing still. It kind of combines my office and my dressing room! It's also on the other side of the house, so it's nice and peaceful. I couldn't be happier with how it turned out!
I'm sure you've heard me talk about Safavieh over the years whenever I am looking to decorate a room. They are always my first go-to choice! They have such great furniture for indoor and patio and the best rugs too! You'll be sure to see them in each room we share in the house!
I used the same L shaped desk that I got a few years ago with my ottoman that I had in my study and love the way that focal area in the room turned out. I had a nice little recessed area where you walk into the room and almost just left it blank, but I'm so glad I didn't! I found this pretty Inga Gold Console Table from Safavieh, and it is absolutely perfect in that corner! It also adds so much more storage for my sunglasses and makeup and other little decor pieces. And it fits perfectly in that recessed area and looks so glam and chic!
On the other wall in the room, I have got a big, gorgeous window that looks out on the backyard, and it offers me plenty of sunshine and even a cool breeze on nice days! This office has lots of storage space and I even have my own bathroom in here (who knew this was something I would love having?)
Today, I finally want to share my blogger home office reveal with Safavieh with y'all, eek! I basically took my favorite pieces from my dressing room and my office, combined them and then added in some new pieces.
What about y'all? Do you have a home office? What is your favorite thing about it? Have you checked out Safavieh? Let me know!