This post is sponsored by Wayfair, but all opinions are 100% my own. Thanks for helping me to support the brands I love.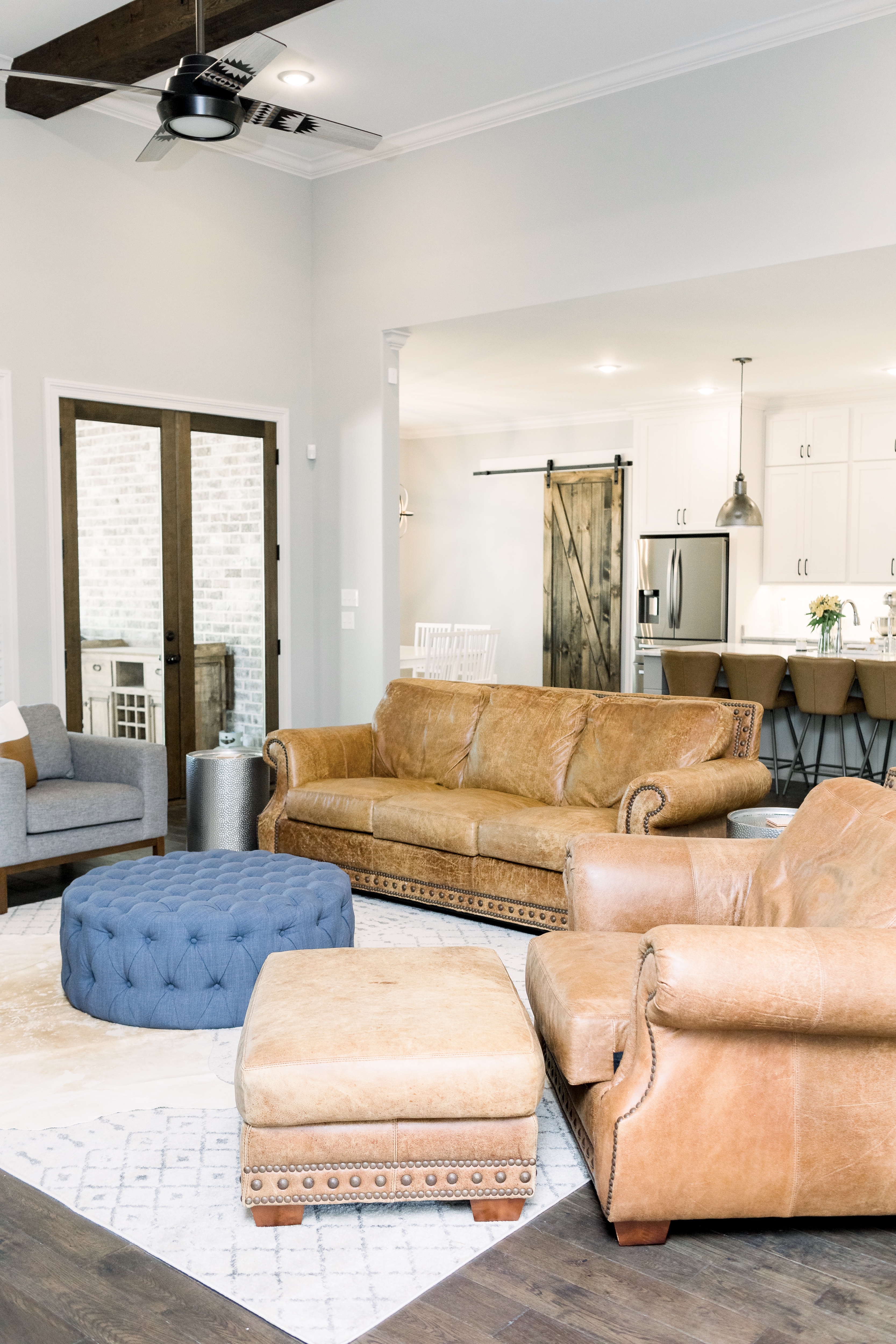 I am so excited to finally share some pictures of my living room rug today on the blog with Wayfair!
I still have to finish decorating our gorgeous built-in bookshelves in the living room, but that is about it for the living room! You might remember seeing some sneak peeks of the furniture I was getting for the living room on the blog a couple weeks ago here, but now I'm finally sharing how it all looks!
When you walk in our front door, our foyer is open to the entire downstairs living area of the house – the dining room to your right, the kitchen past the dining room, the eat-in kitchen area past that, the living room, and then you can see out to the back patio. This is actually what sold us on this house. We wanted a huge open floor plan for our living areas so we could see the kids and be cooking all at the same time.
So even though these are all separate rooms, they have the feeling of all flowing together too. That means that it's important for each room to flow from one to the next as far as design goes. And in the living room, we have 14 foot ceilings (which we love; the second thing that sold us on the house!) We ended up going with dark hardwood floors, so I immediately knew that I wanted a lighter colored rug to really contrast with the dark floors and wood beams on the ceiling. And with the room being so large, I also knew I needed a really large rug!
My style is much more modern farmhouse (hello Tennessee), and Matt's is much more rustic and Southwest (hello Texas!) We wanted to blend our styles as much as we could with a rustic but updated, modern farmhouse design, and I think so far we have achieved just that! When I started searching for rugs on Wayfair, I typed in Southwestern rugs. The rugs in the kitchen and dining room are much more farmhouse, so I wanted to make sure that I brought Matt's style into this room some with a rug.
I ended up deciding on this Clair Geometric Area Wayfair Rug and thought it was just perfect! It has a slight southwestern print without being too overly "Southwestern" for my style. It is light and bright which works perfectly with my style. It has a gray geometric design on it, and we were using gray as one of our accent colors, so we knew it was perfect!
I feel like this Wayfair rug pairs so well with the accent chairs I bought from ALLMODERN (a sister company to Wayfair), my cowhide rug, and my pretty ottoman coffee table (that is 100% my style!) I think they all balance well, and the rug really pulls together the room and brightens up that area.
How to Choose the Best Wayfair Rug for your Home:
Decide what size rug you want for your room.
A rug is meant to define and accent a space. You don't want to look like the room is basically just a little hardwood with almost wall to wall carpeting (rug.) For living rooms, you typically set the front 2 legs of the couch and chairs on the rug along with the coffee table. You also don't want a rug that is too small where it looks like it is just floating in front of your couch and coffee table. Since we have such a large room, we went with 9 x 12 and also layered another smaller, accent rug.
Decide what color rug you want.
I love a good contrast. For us, I wanted to brighten the room and the dark hardwood floors, so I chose a neutral, lighter colored rug. I knew I wanted white or ivory with gray or blue on it from the beginning so start searching for the dominant color you want on it. For lighter floors, think about possibly doing a darker accent color like navy like we did in our dining room. Our table and chairs in the dining room will be white, so the blue will contrast well with the light colored table and chairs.
Design on a style and pattern.
I was undecided at first and wasn't sure if I wanted more of a Southwestern style rug or a farmhouse style. I ended up searching for both in the long run, but ended on a transitional geometric style that I thought could easily work well with both of our styles. My second place contender would have been a pretty Persian style as they work so well with so many styles!
Think about what you will be using the room for.
Since this is our living room, I'm picturing the 5 of us in here with lots of friends and family (one day!) sitting around and eating and chatting. We just love entertaining! Because of that, I knew it was important to get a rug that would easily wipe clean and wear well. This one is thick and so well made. It doesn't even require a rug pad. It's not flimsy at all! Make sure you find out if you will need a rug pad and get one if you do. And also check to see what the rug is made out of. I knew this would be a high traffic area, so I didn't want a shag or fluffy rug that would shed or be hard to vacuum. For this room, I knew if I went with a light colored rug, it had to be low maintenance, and it is!
Visualize your room.
I'm not even embarrassed to say that I use Paint; you know the program that comes on all PCs?? I love cutting the items from websites I think I'll be using in my room and pasting them onto the floorpan in Paint to get an idea of how the room will look. Sure, it's a rough draft, but it definitely helps you to visualize it! I am one of those people that is pretty good picking out things and knowing exactly what I want, especially once seeing it!
Looking for more pointers to help you choose the right Wayfair rug for your room?? Make sure you check out Wayfair here; they have some great pointers on choosing the right size rug for your room! What do you think about the living room so far??