This Ultraswim shampoo review is sponsored by BabbleBoxx.com on behalf of Ultra Swim, but all opinions are 100% my own. Thanks for helping me to support the brands I love.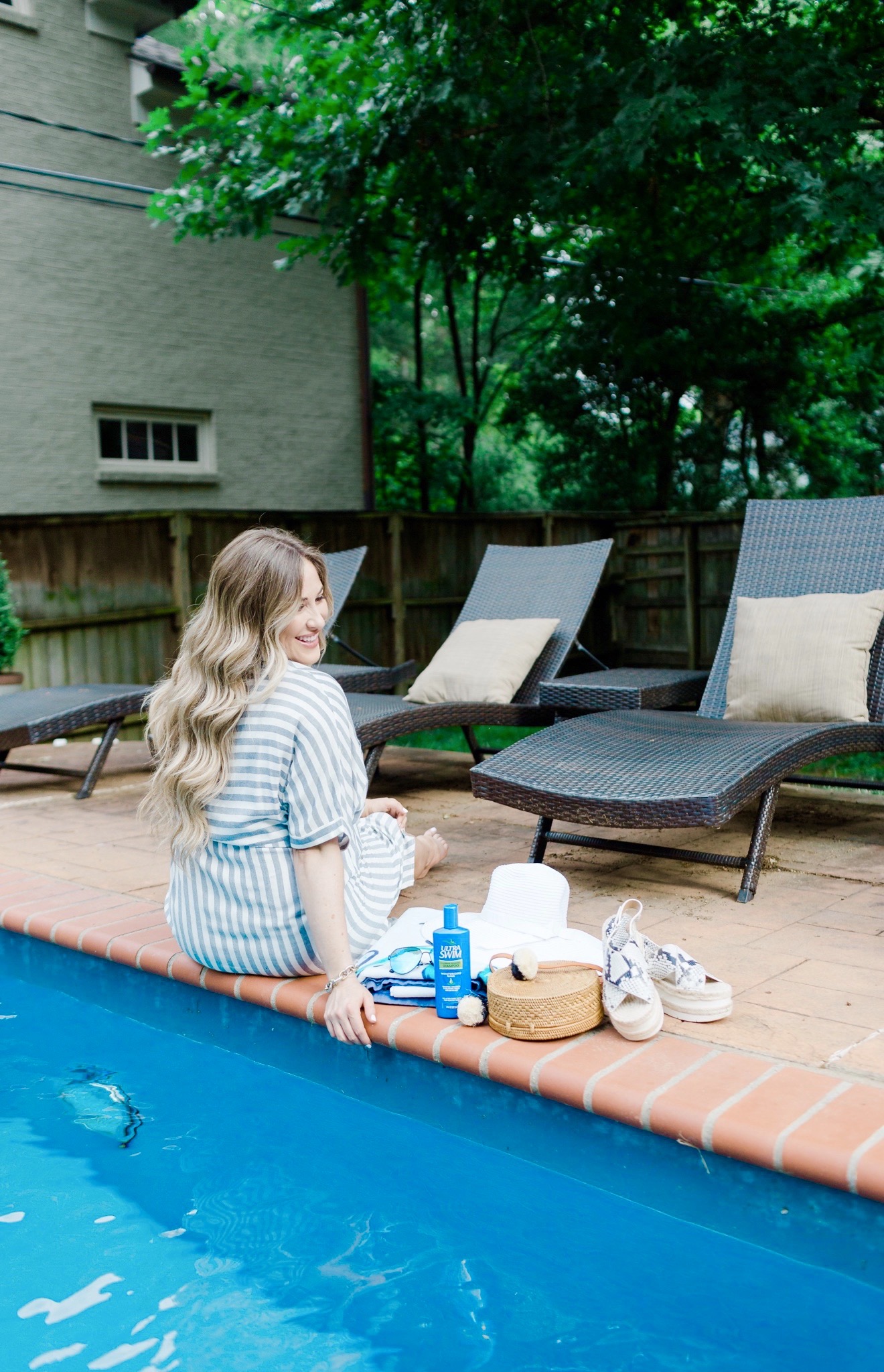 No matter what color hair you have, if you ever spend any time in a swimming pool (and who doesn't?!), you NEED to make sure you're getting the chlorine out of your hair! It has always been easy to tell when I have chlorine in my hair and Leighton's hair because…yep, it turns green! I remember as a kid running around with neon yellow, green hair… thanks chlorine!
But thank goodness, none of us have to do that! Ultr Swim shampoo is THE shampoo made for swimmers, whether you're a professional swimmer or you just love to lounge around and soak up the rays in the pool. You will LOVE this shampoo and conditioner! Especially if you're a mom too…no more green haired little kiddos running around. = )
Not only does UltraSwim remove the green color from your hair, but it does so much more. It is the best shampoo for chlorine removal. Chlorine buildup leaves hair dry, brittle, tangled and unmanageable. Ultra Swim is formulated to actively release chlorine molecules from the hair, rinsing it away and leaving hair tangle free, chlorine free and not susceptible to breakage. It also moisturizes your hair leaving it super soft and shiny after each wash.
UltraSwim shampoo is so gentle that it can actually be used after every swim. So no more dry, brittle, tangled, green hair for you or the kiddos! And no more trying to brush your kids' hair while they're arguing and screaming. Finally! We have been using Ultra Swim for a few years now, and I 100% swear by it.
When Leighton came back home after last weekend, her hair was SO tangled and dry from her swimming in the chlorine pool all weekend long! I tried to get a brush through her hair as soon as she got home, and it was impossible. That's when I put her in the shower and pulled out UltraSwim shampoo and conditioner. Thank goodness! Now it's so soft and shiny again, and she doesn't scream when I brush her hair. Yes! = )
We all love summer pool days, but dry, tangled green pool hair is no fun! With UltraSwim shampoo and conditioner, you don't have to worry about any of that anymore. It's the perfect pool hair fix! We will be back at the pool all day tomorrow, so I'm glad we have UltraSwim to keep our hair chlorine-free.
What about you? Do you plan to spend all summer at the pool? Have you tried UltraSwim shampoo and conditioner? Let me know in a comment below!