This cookout essentials post is sponsored by Brawny Tear-A-Square®, but all opinions are 100% my own.  Thanks for helping me to support the brands I love.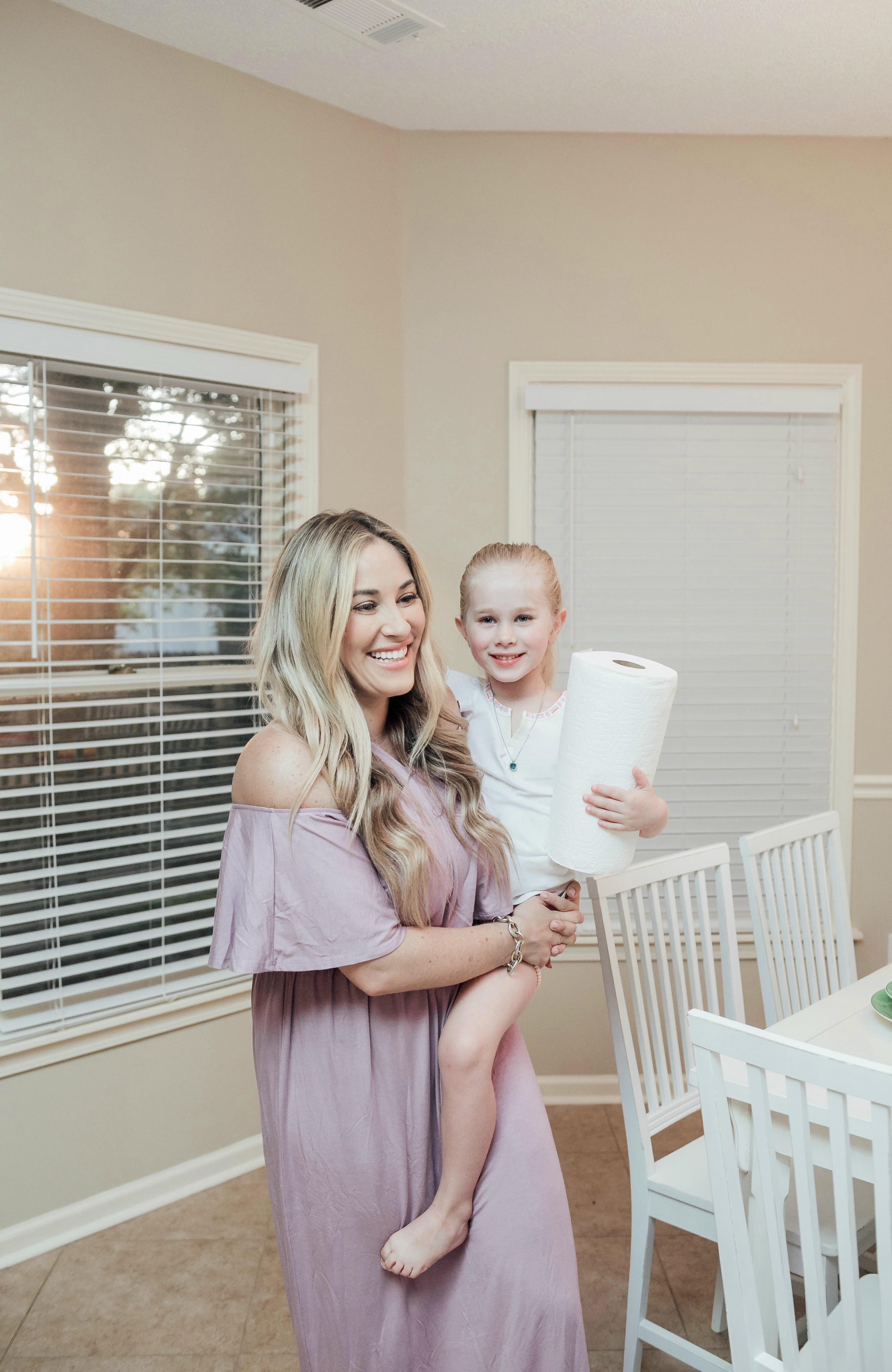 It's summertime, and that means all the picnics, cookouts and sleepovers that we can squeeze in!  We recently had everyone over for a cookout for Mother's Day, and Leighton is at that age where she just loves to help me do everything (I can't complain!)  That means cooking (maybe not so much cleaning), setting the table and pouring the drinks. Even though I know it will probably mean more of the tea or lemonade ending up on the table and floor than in the glass, I just can't so no.  I mean…when someone offers to help you, you should say yes! Never turn down help (even if from a 4 year old.) = )
Thankfully even when spills and messes happen during summer cookouts, we tackle the cleanup with ease with the new Brawny Tear-A-Square® paper towels from Kroger.  I have long hated wasting paper towels for a small mess, but now you can choose just the size you need.  With the new Brawny Tear-A-Square® paper towels, Leighton loves tearing off just one small square to clean up her messes.  Finally…no more going through a roll of paper towels in a couple days!
They are also GREAT for kids at mealtime too! Just like toilet paper, kids seem to think more is more! Until you're wastefully going through more paper towel rolls. These paper towels can even double as napkins. Tear them off into a quarter sheet size, and they double as a napkin. Tear them off into a small rectangle, and they're great for normal messes. Tear them off into the normal large square size, and you can tackle those large messes (than only your adorable little toddler can make.) = ) That also means no more having to purchase both paper towels and napkins for your cookout.
Brawny Tear-A-Square® paper towels now give you the strength of Brawny® with the flexibility to only use what you need.  YOU choose just how much paper towel YOU need! You've got it all in just one product, Brawny Tear-A-Square® paper towels.  
Have you tried the new Brawny Tear-A-Square® paper towels available at Kroger?  What are some other great uses for these 3 different sizes of paper towels? What are some of your other cookout essentials? Let me know in a comment below!