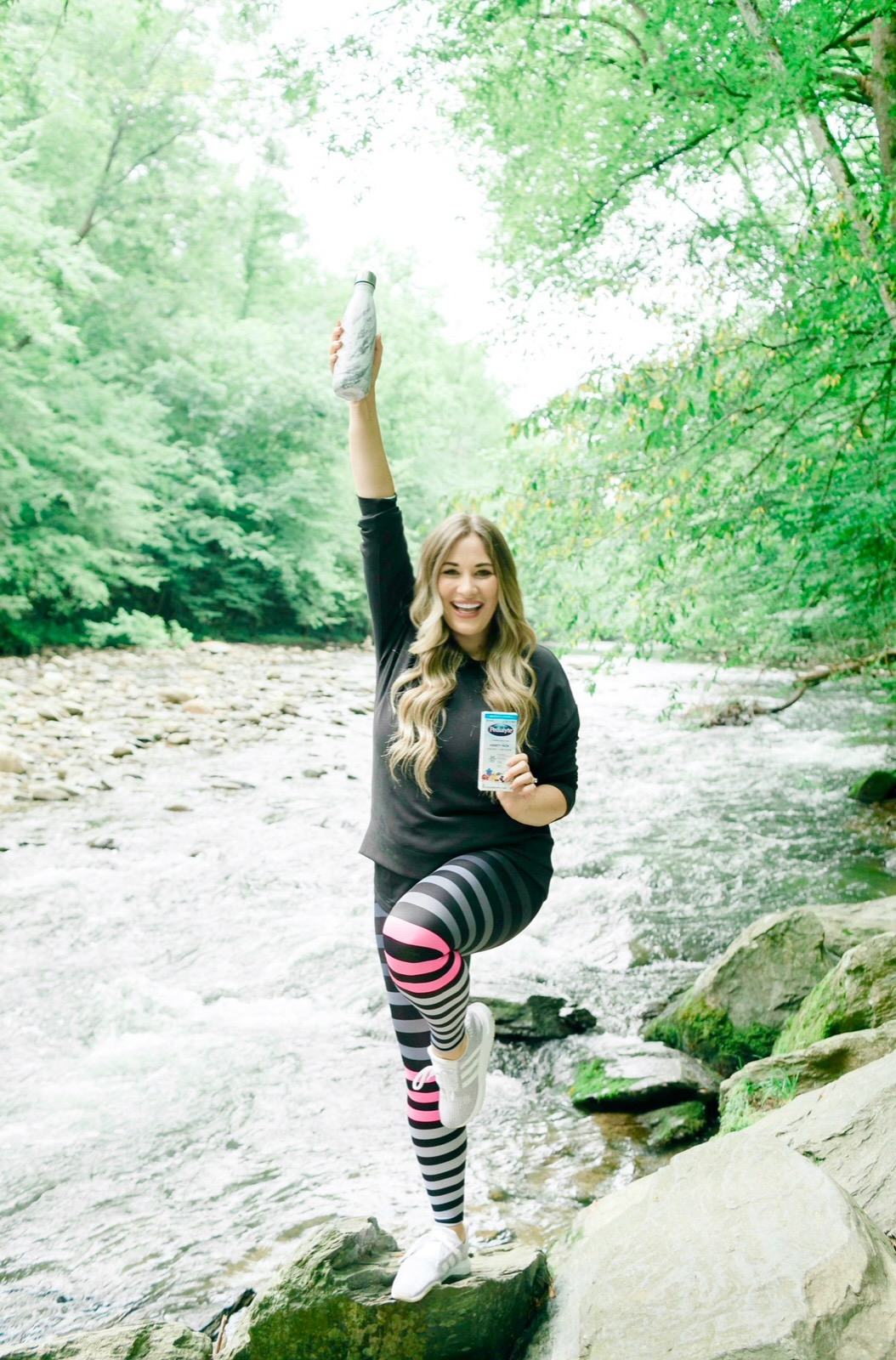 This post is sponsored by Inmar Intelligence and its advertiser, but all opinions are 100% my own. Thanks for helping me to support the brands I love. #PedialyteAtPublix
With the summer upon us, things are starting to get busy FAST! Matt and I are constantly running around, taking the girls to camp, heading out to the pool, running errands, or heading off on local day trips to parks and such. We love to be outdoors, and with the beautiful weather that the season brings, we can't help ourselves!
Something I learned long ago when I first became a mom was to always be prepared. You never really know when the spirit will move you to hop in the car and head out on a hike! Because you've always got to be prepared, I always try to be ready for anything.
Today, I'm sharing the top 10 things that I like to always keep around the house that I can quickly collect when I need to throw together an on-the-go bag! It is perfect for yourself, for the kids, or especially if you're pregnant.
How to Pack the Perfect On-the-Go Bag
Find a large roomy bag with lots of storage – The bag I've been really loving for quick day trips is this one.  It's super roomy and perfect for a day out.  It has adjustable straps, and it's a cooler! 
Add a few freezer packs to the bottom – Going right along with a bag that doubles as a cooler, freezer packs are a must-have. You've got to have cold drinks, right?
Pack up for favorite healthy on-the-go snacks – It can be easy to want to grab a bag of chips while you're running out the door. But, I love to encourage the girls to make healthy choices.  So, we love to try to always keep fast, healthy snacks around to grab and go.  Fruit is a favorite, and that's why we love to take a cooler and freezer packs. 
Be sure to grab a reusable water bottle that you can take on the go – With all the plastic waste that goes into landfills and effectively harming our environment, I always prefer to have a reusable water bottle that I can fill before I leave the house for the day.
Add in all your hot weather essentials:

Wet bag – In the summer, a wet bag is a MUST. If you find a fun little splash pad with no swimsuits? Your kiddos are going to get wet, and they're going to need a change of clothes (that's a bonus item for this that y'all didn't even expect!), and then they're going to need a place to put their wet clothes.  A wet bag is great to keep around, so you'll always have a place to put wet stuff and nothing else gets wet!  These are also great for just gross, sweaty clothes after a long walk or hike.
Sunscreen SPF 50+ – I'm not sure about where y'all live, but here in the South the sun can be absolutely brutal.  For us, we might as well buy stock in sunscreen since we need it so frequently — lol!  SPF 50+ is a must-have for our family, even when it doesn't seem that sunny!
Packable hat – As mentioned above, the sun is brutal here.  In addition to good sunscreen, a wide-brimmed sun hat is definitely a necessity.  One that is packable is a huge bonus because you can fold it up really small and don't have to worry about it being crushed and wrinkled!
Sunglasses – Aren't sunglasses necessary all the time?  Definitely keep an extra pair around that you can toss into your bag on the run!
Portable misting fan – Pregnant mamas or mamas with young kids, this one's for you!  I have LOVED having a portable misting fan to keep myself cool on hot summer days.  Also, the girls love this too and fight over who gets to use it (if you're smart, you'll keep more than one around).
Pedialyte AdvancedCare® Plus Powder Packs – Something that is so SO important all the time, but especially in the summer is staying properly hydrated.  I absolutely LOVE these Pedialyte Powder Packs​.  They make it super easy to get in a quick dose of added hydration when you're on-the-go!  Just pour one of these packets into your water and you're ready to go.  They come in all sorts of fun, yummy, and refreshing flavors, perfect for a summer day!  I love the Grape and Strawberry, and I don't think we've found a flavor Leighton doesn't like yet either!  Pedialyte is the #1 doctor recommended brand for hydration, packed full of an optimal balance of electrolytes and sugar.  I purchased mine at Publix, and from July 23 until July 29, you can get 25% off ANY Pedialyte product at Publix!

Head out for a day full of fun! Grab everything and head out the door.
Whether you're pregnant or not, it's so important to stay hydrated and keep cool, and Pedialyte does just that! These convenient little powder packets are great for when we are out and about —​ and not to mention, they taste so good! Even the kids love them. We also keep the Freezer Pops at home in the fridge. The girls totally think they are a little treat! : )
When y'all are headed out for the day, what sorts of things do you like to make sure you pack in an on-the-go bag? Did I miss anything here that I should add to my list? Let me know!