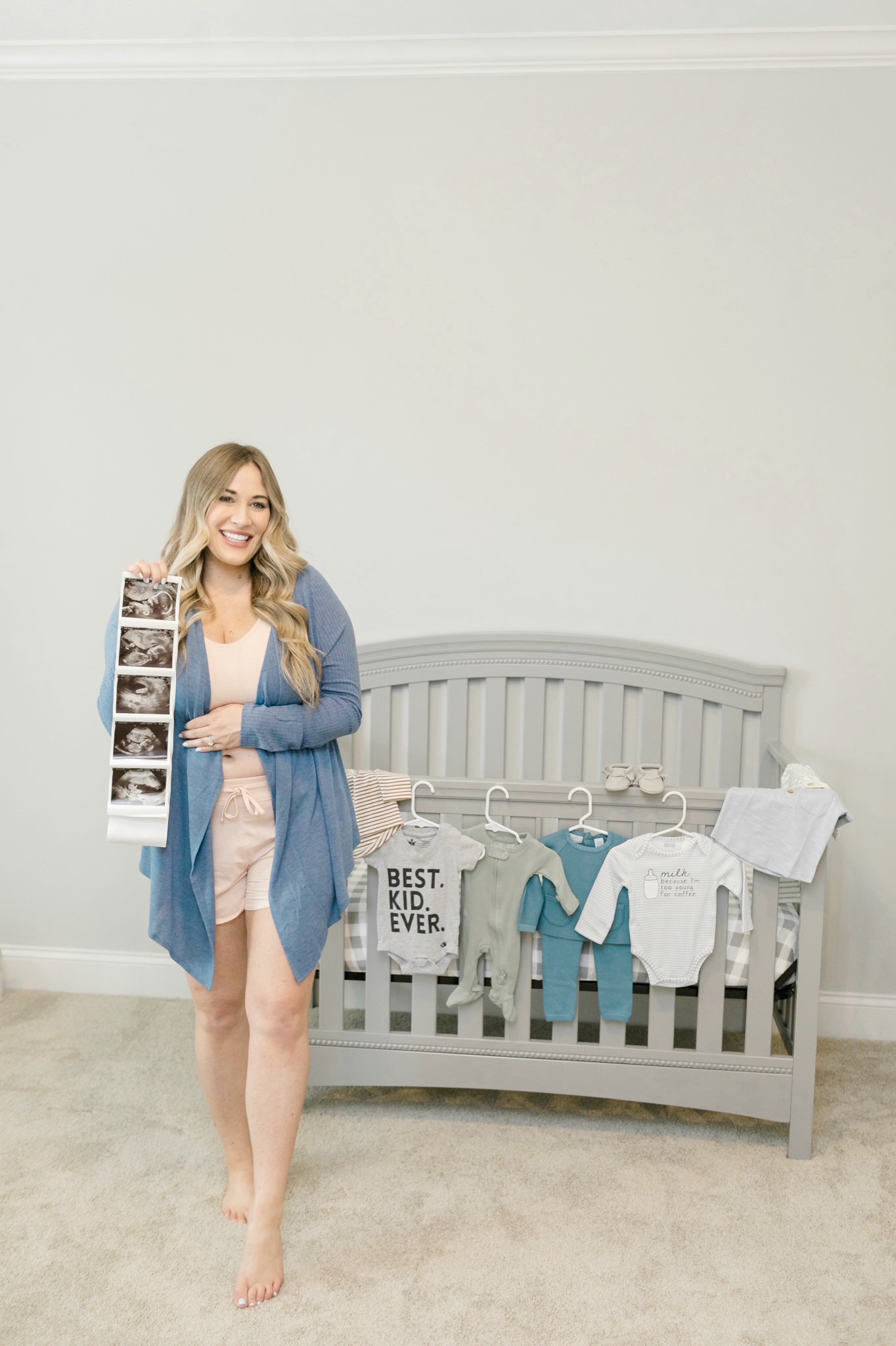 I can't believe that Baby Grayson will be here in just a couple short months! I breastfed with Leighton, and I hope to do the same with our youngest. Since today is the last day of National Breastfeeding Month, I thought it was the perfect time to share some of my best breastfeeding tips.
Top 9 Essentials Breastfeeding Tips
1.) Make sure you're comfortable.
It's pretty common to be in one spot for an hour every couple of hours. That could be 12 times in a day. So…you might as well be comfortable! I love having a rocker, recliner, glider, couch or spot on the bed that is my go-to nursing spot. You can even keep baby's bassinet nearby so you can easily nurse right there while you're lying in bed. Have some designated areas, and make sure what you're sitting in or on is comfy! And don't forget the Boppy nursing pillow!
2.) Have convenient (and multiple) nursing stations.
And while you're at it, add diaper changing items too since nursing usually leads to a diaper change. = ). Start with a roomy basket. Add all the diapering essentials and the nursing essentials like burp cloths, nipple butter, hand sanitizer or wipes, nursing pads and bottles and your pump if you're pumping too. I love having a nursing station in the master bedroom, in the living room and in baby's room.
3.) Don't forget the snacks and water.
Breastfeeding burns a lot of calories, so keep your energy and supply up by taking in some calories and staying hydrated. Keep them at your nursing stations.
4.) Invest in nursing clothing including a great nursing bra.
I absolutely love nursing kimonos, wraps, nursing camis and nursing bras. Think convenience! Kindred Bravely is one of my favorite brands for for some of these items (pictured above.)
5.) If you're pumping, consider a hands-free pump.
I had the Medela Freestyle Pump with Leighton and loved it! It was so convenient to be able to pump while I was at work at my desk, sitting in my vehicle, doing the dishes or laundry, and pretty much anything else!
6.) Learn how much babies actually need of breastmilk.
The below is a great visual of baby's stomach size and how much breastmilk they typically take in for the first month. They don't need as much breastmilk per feeding as you would think, and not as much as they would need of formula. They usually drink about the same amount of milk per nursing at a few months old as they do when they're 6 month old too.
7.) Take care of your skin.
From nipple butter to massaging to keep mastitis and clogged milk ducts away, your skin is going through a lot. Moisturize and take hot showers to help if you're in pain, but don't neglect your skin.
8.) Don't only rely on the scale.
It's not just about how much weight baby gains. How does baby look? How does baby act? Is baby happy? Weight gain is important, but it's not the only indicator that baby is getting enough breastmilk.
9.) Relax and try not to stress.
Above all, it is most important that baby be fed. Whether it be with breastmilk, don't stress! Moms have enough to deal with. Don't put too much pressure on yourself, and just make the best decisions you can to keep baby happy, safe and fed.
Did you breastfeed or plan to? What are some of your best breastfeeding tips? Let me know in a comment below!