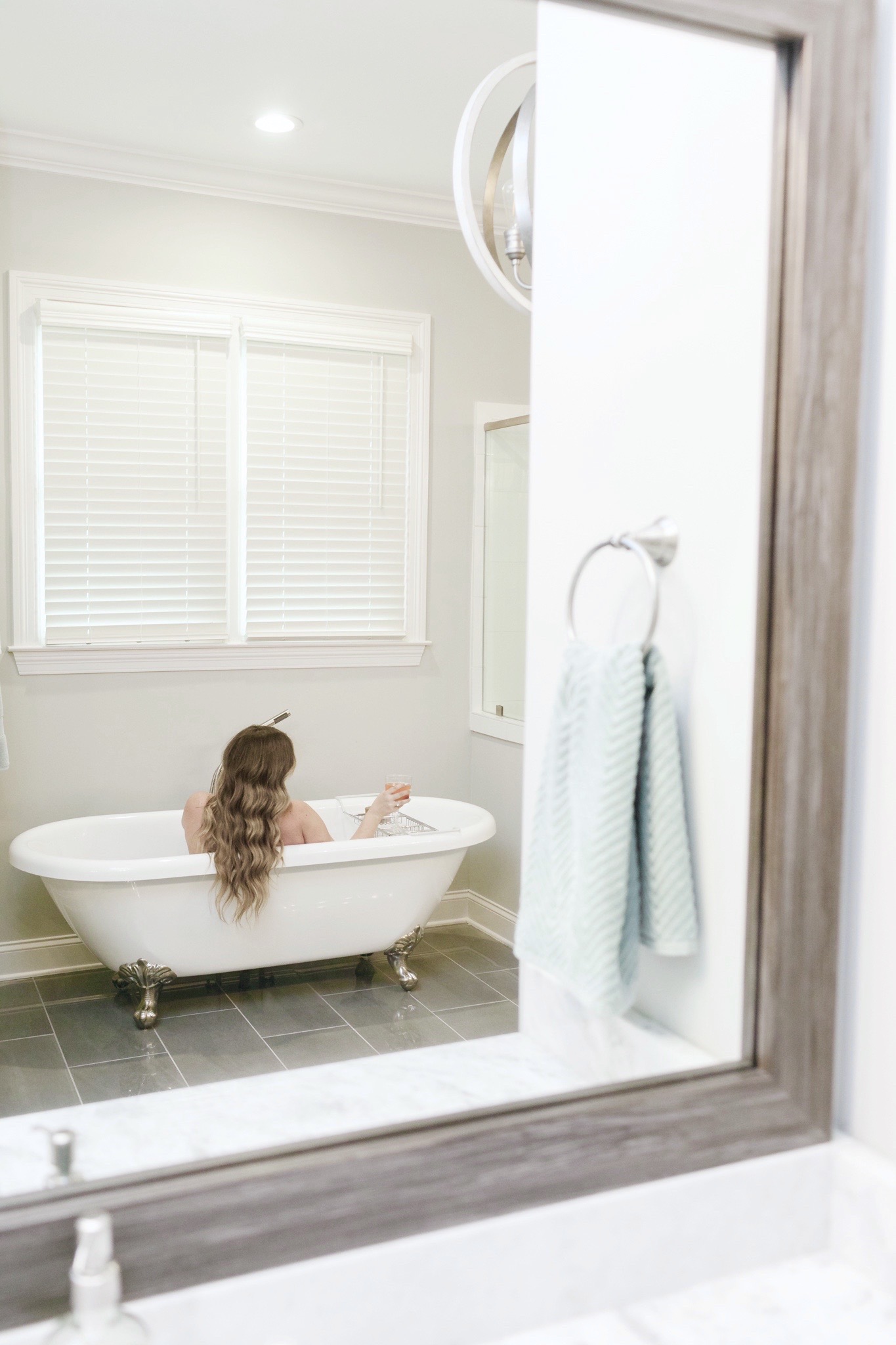 If you checked out my master bedroom and bathroom post or Instagram Stories a few months ago, you probably remember me talking about Mirrormate. Okay, let me start from the beginning. When we bought our house, we knew we wanted to do something special with our bathroom mirrors besides having just a huge sheet of glass in each bathroom as our mirror. But… we didn't want to spend all the money to buy custom framed bathroom mirrors, and we didn't really want to lose all that mirror size by buying something smaller.
Update Bathroom Mirrors with Mirrormate:
That's when my mom recommended I try Mirrormate. I'll give mom credit where credit is due; this was such a good idea. (I know you're smiling now, mom.) Mirrormate not only had SO many different frame color and finish options, they can practically make them to fit any size mirror, and the affordable price blew my mind!
They sent us 3 free frame samples so we could decide which color frame we wanted to go with. I asked over on Instagram, and this pretty color was y'all's top choice, and it was ours too! I originally thought I wanted white or grey in here, but I ended up loving the Cherokee Montauk Driftwood frame color. I feel like it is such a good mixture between brown and grey, an it goes well with our brushed nickel fixtures in here and our bronze doorknobs, handles and cabinet pulls.
I love that you can just order some samples, set them up on the mirror and really see it all come to life. From there, we placed our order and the frame arrived in less than a week. We opened the box, peeled off the lining on the double stick tape and held up the mirror to the glass and voila! It stuck, and it looked like a completely custom mirror in no time. The tape sticks perfectly, and we haven't had a single issue with it coming off!
We ended up loving our Mirrormate frames so much that I got one in my office bathroom too, and we still plan to eventually do the kids' bathroom mirrors too. I definitely recommend them for guest bathrooms and master bathrooms. They are the perfect way to make a statement in your bathroom for SO much less than buying custom framed mirrors. And you get the same look and don't lose all that mirror space or that $ you just paid when you bought your house for the builder grade mirror in the bathrooms. = )
Make sure you check out the first photo below (the before photo.) What a difference, right?! I'm so excited to share that Mirrormate has given me a code, MEMPHIS15, that you can use for 15% off your order. What kind of mirrors do you have in your bathrooms? Have you tried out Mirrormate?
Update Bathroom Mirrors – Before & After: