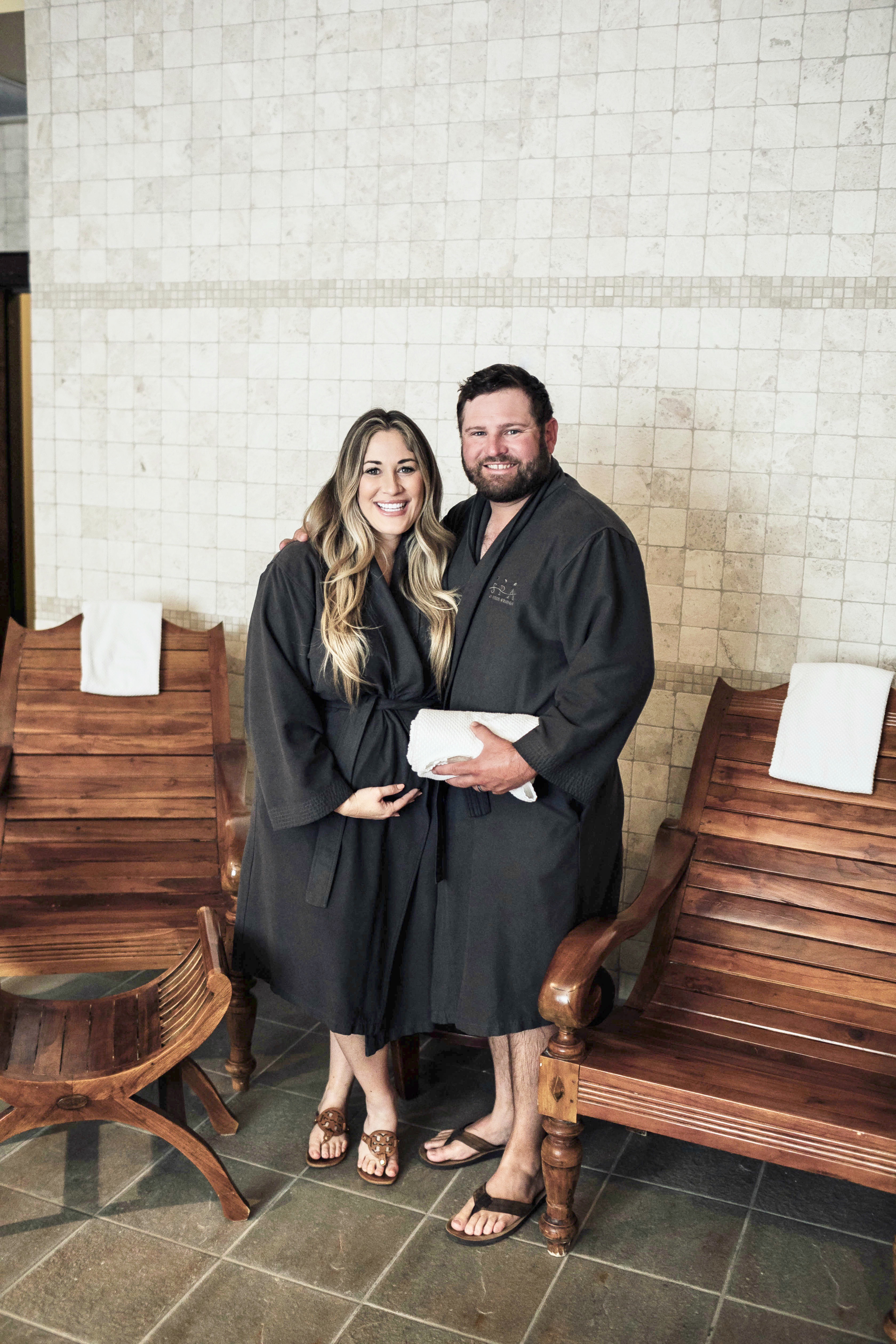 If you've never visited Birmingham, Alabama, you just have to add it to your list! It has gorgeous rolling hills, plush green trees (that are gorgeous when they start turning colors in the fall), great dining, great golf and one of our favorite hotels.
5 Fun Things to Do in Birmingham AL this Fall:
This is hands down our favorite hotel in the Birmingham area, and we have stayed at several. It is situated behind some neighborhoods, a small little shopping center with some great restaurants, shops and bars, and right by the Robert Trent Jones Golf Trail. When you first pull up to the hotel, it makes such a grand statement. And so does the lobby and the rooms. We always get a corner room with a large balcony, and it overlooks the gorgeous trees, golf course and hotel pool.
We were happy to find that everything at the hotel was open. You have to wear masks in their public spaces, but you can take them off once you're in your hotel room or seated at your dining table. We had breakfast at Brock's while we were at the hotel, and it never disappoints. It had great view of the pool, and the lox bagel was SO good! We even visited their golf shop and their gift shop, and Matt did a little shopping while there.
They have an awesome pool with slides that the hotel is also known for. We didn't have the girls with us, so we didn't visit the pool this time, but they played live music on Saturday, and we sat out on our balcony and listened, and it was so relaxing!
This golf course is just stunning. I'm not sure that there are any other words for it. There are 18 holes, and it is one of the longest courses in the world. And if you ask me, one of the prettiest! It is located conveniently right by the hotel. Matt and I are definitely going to make sure we play a round of golf next time we are there!
Matt and I have visited this spa a couple times now, and it is always one of our absolute favorites. We got couples massages this time, and mine was a prenatal massage. The only downside is I should have done longer than 1 hour. It was THAT great of a massage! Matt almost fell asleep during his per usual; that's how you know it was relaxing!
We usually add this to our itinerary each time we visit Birmingham as it's one of our favorite hiking trails! We typically try to visit Birmingham each November, and let me tell you, it is the perfect time to come in the fall. The trees are changing colors, the weather is getting just a little bit cooler, and it's the perfect time to go for a hike!
This was my first time at Top Golf, but it definitely won't be my last! I did realize that my golf swing is not what it used to be when you have a bump blocking your swing, but we still had SO much fun! We met up with Heather from My Life Well Loved and her husband Eric and had a blast on a fun little couples' date night. We will definitely be adding this to our list next time we're in town too!
We have been to Birmingham 5 times now, and it is on our list to visit each year. We usually try to schedule a trip there at least once or twice each year, either in the summer or fall (but fall is secretly my favorite time there!) It's such a pretty destination, and if you've never been, you'll definitely want to check out Renaissance Ross Bridge. They have everything you need from dining to golf to a great pool the is perfect for a couples' getaway or even a family trip!
What about you? What are your favorite things to do in Birmingham AL, let me know in a comment below!