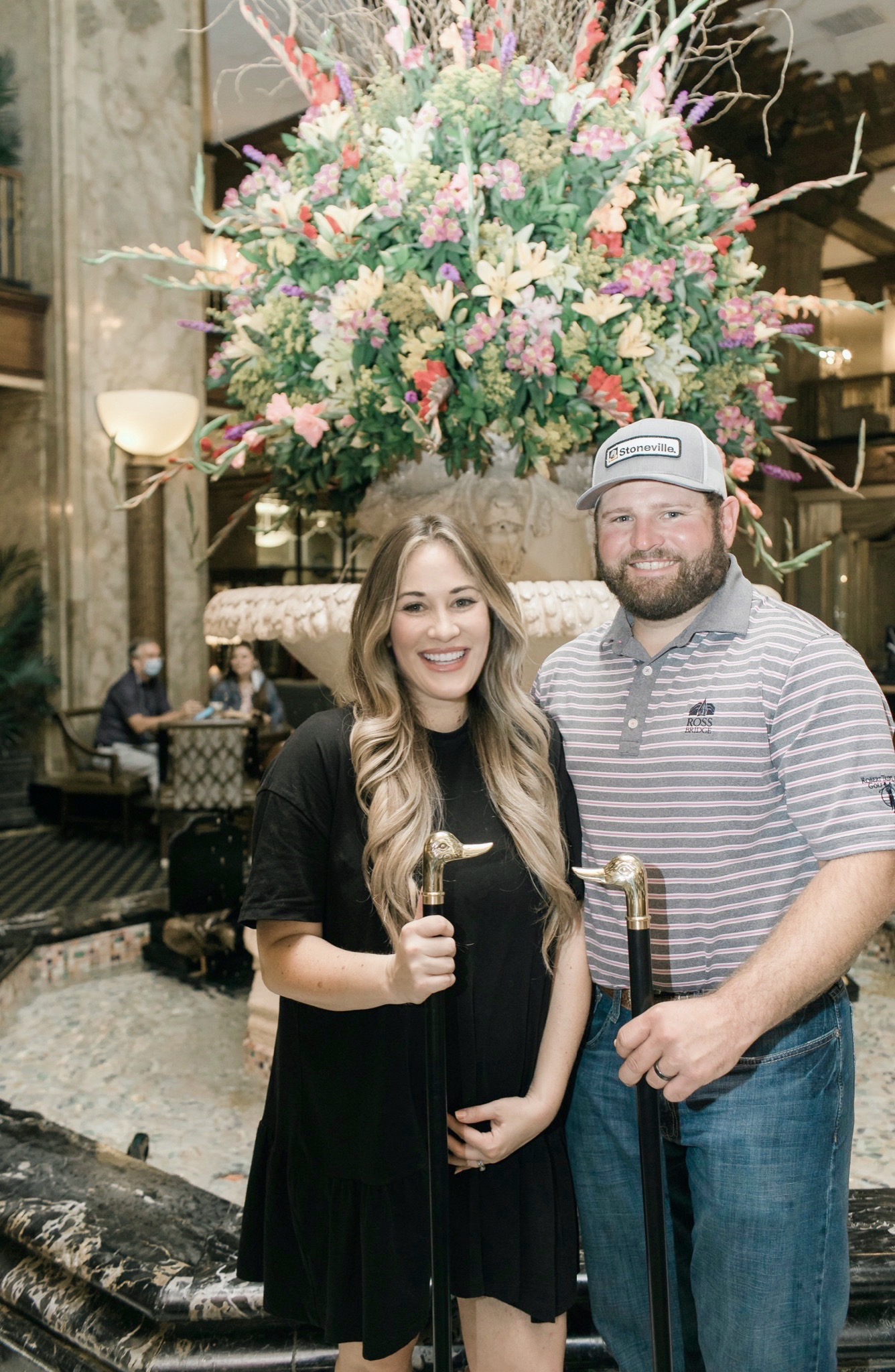 SHOP OUR LOOKS:

Back in August, the 4 of us were so excited to stay at Peabody Memphis. I have been there several times over the years, but this was our first time for all 4 of us to stay. Matt and I have been, and Leighton and I have been before too, so it was nice to all go stay together and let the girls play all weekend long. And.. .both the girls were asked to be Honorary Duckmasters that weekend. We were all SO excited about it!
I'm sharing my favorite things to do at Peabody Memphis below with the family.
1.) Go watch the Duck March.
2.) Go to Afternoon Tea.
3.) Take a swim at the pool.
4.) Get some sweet treats at the Peabody Deli & Desserts.
Leighton kept saying all week that she couldn't wait to go see Mr. Peabody, and Amelia was pumped about going to see the ducks! It was so cute! From the moment we pulled up the hotel, the girls were so excited. They couldn't resist playing on the luggage carts and then running through the front door towards the fountain! They were ready to cut loose lol!
We stayed in a king suite that had an adjoining living area with a couch, tables, tv and half bath in it. It was perfect for the girls to sleep in as it was attached right beside where our bedroom was. The girls felt so big sitting in there with us watching cartoons at night before bed, and I loved that it wasn't a separate hotel room. It was just a room next to our room, so I felt safe knowing they were sleeping right beside us. I love that the hotel has so many different room styles, so you can easily find something that is just perfect for you for a couples' getaway or even a getaway for the entire family.
The next morning the girls were Honorary Duckmasters, and we had such a great time! The Duckmaster told us all about the history of the hotel and the ducks, announced Leighton and Amelia, and then led us upstairs to escort the ducks back down. It was so cute watching the ducks lead the girls back downstairs! We all trailed behind them downstairs to the fountain and then watched the ducks go for a little swim. It was so neat to see.
Afterwards, we went to afternoon tea at Chez Philippe. They had several teas to choose from, and they came with scones, sandwiches and desserts. And for the kids, they offer caffeine-free tea options. It's just as much fun for adults as it kids, and the food and tea is SO good!
Later that night, we took the girls swimming at the indoor pool, and they absolutely loved it. There was no one else in there, and it was just perfect! It was still pretty hot outside last month, so it was perfect that the pool was indoor and was just the right temperature.
Afterwards, we treated the girls at the deli. They have such amazing coffee, cookies, cakes, pie, chocolate covered strawberries and more. We always have to add this stop to our list when we are at Peabody. Seriously, you HAVE to try the chocolate covered strawberries! It's always the perfect way to end the night.
Whether you're local to Memphis or from out of town, you MUST add Peabody Memphis to your list. It is such a gorgeous Memphis hotel with so much history and so much to do. Some to dinner for a date night or bring the entire family too. You and the kids will love it, and you'll get to share in on this experience together. I truly believe that traveling and exploring with your children is such a great experience for the entire family that your kids will always remember.