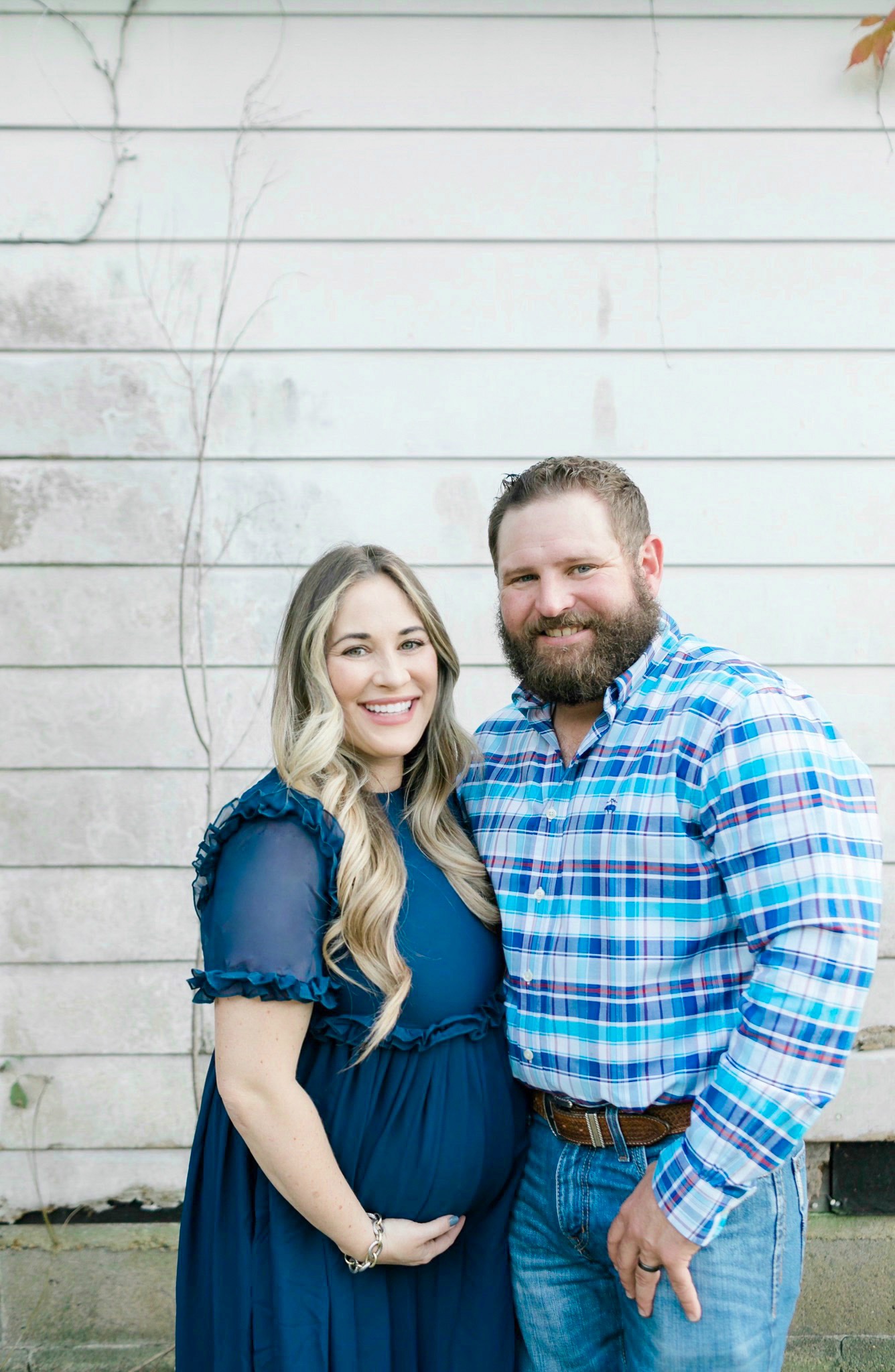 It's that time of year! We all love getting fall family photos. Am I right?!
Okay, maybe love wasn't the right word (especially if it involves kids lol!) But we do love having some pretty memories to document the year and hang on the wall. The weather has cooled down some, the leaves are changing colors, and it's the perfect time to get outside and get some fall family photos to document the season.
Matt and I have already taken pictures together 4 times during this pregnancy, and honestly I'm so glad we have. It's been great to document this pregnancy, our first anniversary and even for holiday cards. When it comes to family photos, I try to keep it pretty simple, especially if the kids are involved. There is no point in spending a ton of money to get really nice, pretty outfits for all the kids if they are going to complain that they are hot, itchy and uncomfortable. They are already going to dread family pictures, and there attention span will only last so long.
When picking out outfits for our fall family pictures, I first try to see if we already have things in our closets we can use. And luckily, we did! I got Matt this dress shirt a while back, but he still hasn't worn it a ton in pictures. And I just recently got this pretty maternity dress from Mina Roe. They were perfect for some fall pictures. With the colors, they would work just as great for Christmas cards too.
I usually try to stick to 2 or 3 colors for clothing. For this outfit, we did 2 colors – red and blue, and then some naturals of course. I try not to mix in too many patterns because it can be a little distracting in the finished images. So, we stuck to one pattern – Matt's plaid, and I wore a solid color to pull out the blue out of his shirt. It is just enough for our outfits to complement each other. And the red in his shirt doesn't stand out too much, so that keeps our pictures from looking like they are 4th of July pictures.
For fall family pictures, I love going with colors like blue, red, orange, yellow, green or browns. For Christmas pictures, I love blue, red and green, but these days, most anything goes. You can always lay all the outfits out together to visually see how it will all come together. We have already started ordering fall and Christmas outfits for the kids and can't wait to get pictures with our entire family of 5 soon before the new year! Are you taking family photos this year? What do you plan to wear?
FAMILY PHOTOS
Walking in Memphis in High Heels | The Fashion Canvas
~~~
The featured bloggers are Doused in Pink and Beauty by Miss L
because we loved their Fall Dresses from last week's linkup.
Add your link below and make sure to follow the theme for your chance to be featured on our blogs.