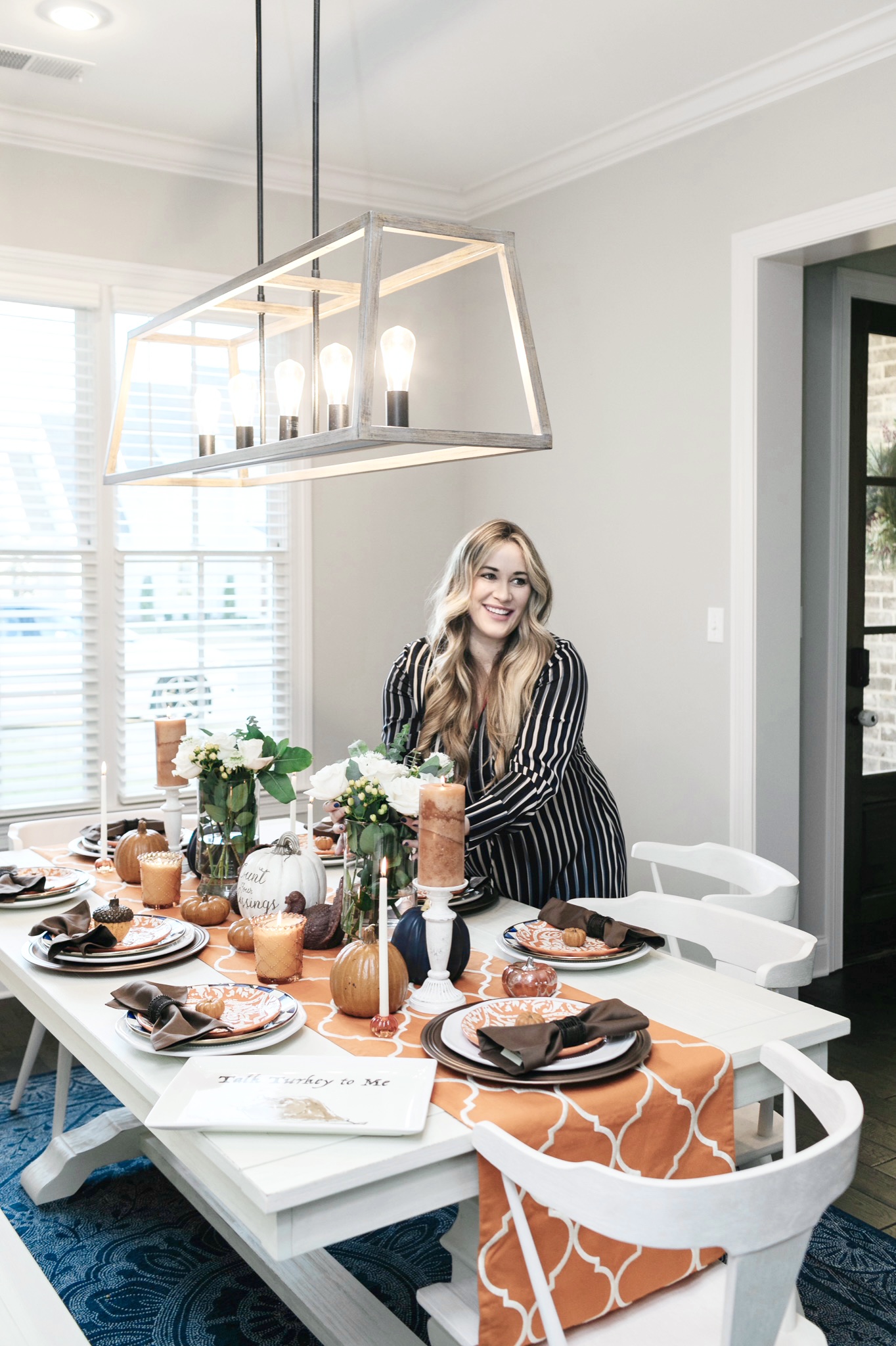 We are officially in the thick of the holiday season!  With Thanksgiving this week and then Christmas just around the corner after that, there are lots of decorating needs to be met, y'all!
Something I've always loved doing, when entertaining, is creating a beautiful tablescape. It's a simple way for me to add a touch of elegance to the house. Beyond that, I personally feel like it's something sort of small that tells my guests that they're special to me and I want them to feel that way in my home.
I thought it would be fun to share with y'all, some of my best tips for creating the perfect Thanksgiving tablescape!
Don't focus on perfection
I know for me personally, I can often tend to get caught up in wanting everything to look "perfect". But, sometimes the tables that aren't perfectly color coordinated or decked out to the 9's are the prettiest of all! 
Add in some fresh elements
We have dishes and napkins, silverware and serving dishes we use year after year. But something I love adding to our tablescapes each year is a flower arrangement or two. This is such a fun way to add something new each year, and a touch of freshness just compliments things so well. Our go-to for fresh flowers for years has been The Bouqs Co. They source their flowers from eco-friendly and sustainable farms all over North & South America. So you can take "farm-to-table" to a whole new level this year, knowing your flowers are as fresh as possible when they arrive on your doorstep! For the holidays, they've got loads of amazing additions for your home. From seasonal, fresh wreaths for your front door, to other live plants and flower arrangements, you can "deck the halls" entirely from Bouqs! You can click my link here to learn more or, shop my exact arrangements right here!
Use what you have
Don't feel like, just because it's a special occasion, you have to run out and get a set of fancy dinner plates or silverware. As I mentioned above, I sometimes think the very prettiest tables are those that have a mix of old and new, everyday and fancy all mingled together. The holidays can be stressful enough on a budget, and running out to get a brand new set of fancy dishes just isn't necessary!
Try to stick with just 2-3 colors
Nowadays there are lots of colors you'll see during the holiday season. There are so many fun ways to mix in even pastels in the winter. But it can also be easy to get caught up in ALL the colors. Like I said, don't get too caught up in needing it to be perfect, but a little color coordination can do a lot for bringing everything together!
Have fun!
The most important tip I can offer is to just have fun! Don't sweat the small stuff. No matter what you do, extravagant or simple, it will be absolutely beautiful! It will show your guests that you cared enough to put in the effort and nobody can fault you for that. Let your creativity shine through and just enjoy it!
Do y'all create a Thanksgiving tablescape? I'd love to see pictures if you do! Tag me on Instagram so I can see what you've created!