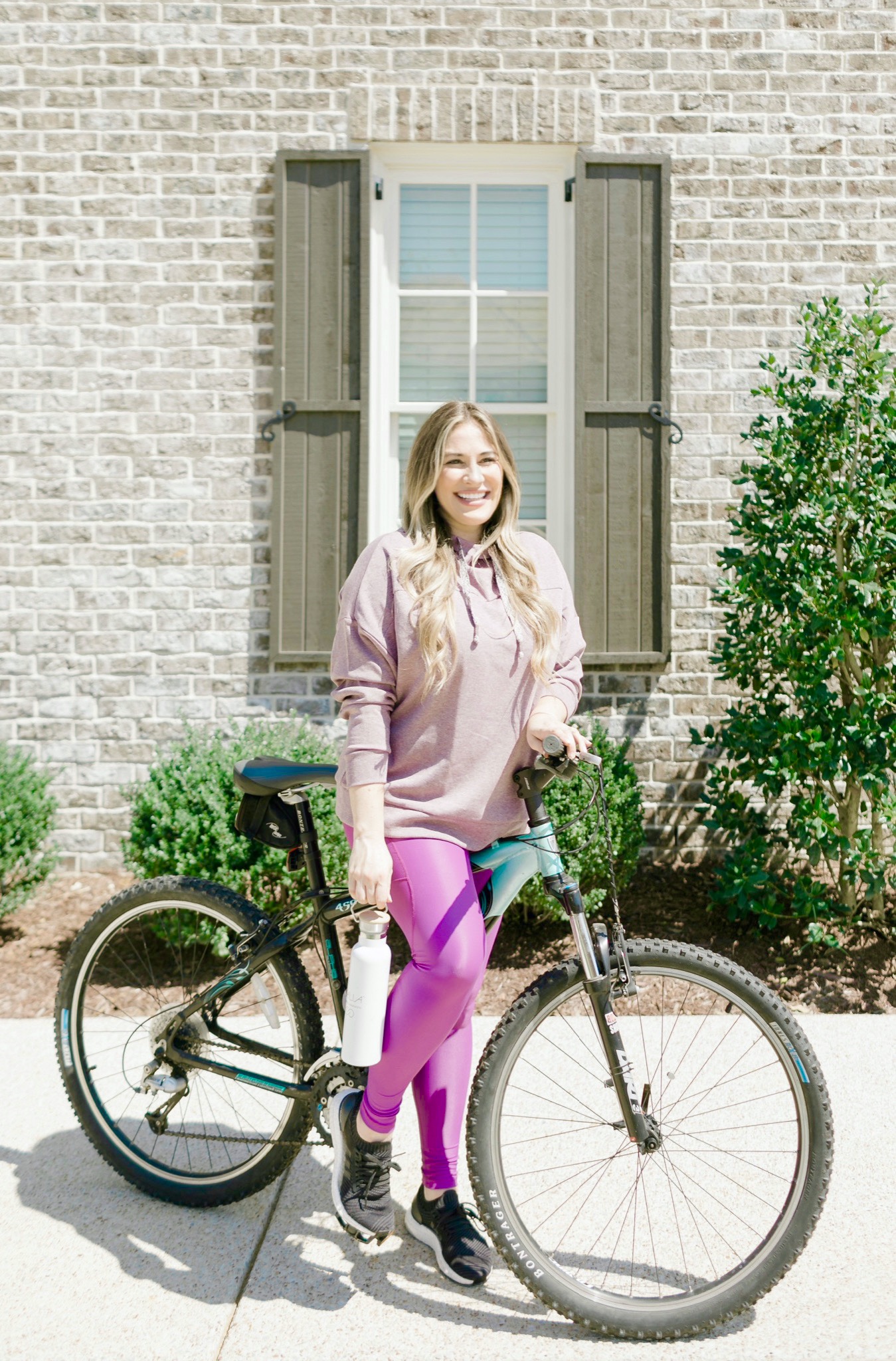 Happy November! I hope y'all had a fabulous and safe Halloween, no matter what you did! Matt and I watched scary movies on Friday and Saturday and then moved onto Christmas movies on Sunday lol! Now that many of us are looking ahead to the holidays, I wanted to fill y'all in on this year's Holiday Honey Hustle Challenge!
If you've been following along the last few years, you'll know that the Holiday Honey Hustle Challenge is a challenge that encourages y'all to stay active, healthy and motivated over the holidays. In the past years we've done HHHC, it has run for several months. But, with me expecting a baby and COVID changing just about everything this year, we decided to pivot a little this year.
Starting today, and running through the entire month of November, we're going to be on Instagram stories sharing fitness goals, recipes, different fitness tips and ways we can all be practicing gratitude more in this season! I think this will be much easier so you can just pop in and see what we are doing each day to keep up with our goals.
For those of y'all that subscribe to my newsletter, I'm going to be sending out my own super fun content for my subscribers. So, if you're not already, make sure you head over and sign up for my newsletter to make sure you get that content! I'll also be doing some awesome fitness giveaways within the next month, so you'll went to make sure you're signed up so you don't miss those either!
Over the years, we've run our Holiday Honey Hustle Challenge Facebook group, and y'all have loved it! It's a great resource for encouragement and daily posts! If you're not already a member, head over and join the group so you'll see content from both myself and from Heather that you won't want to miss! We think this is another quick and easy way to stay accountable.
Okay, now what you've all be waiting for…
The Challenge
This year, our daily goals are going look something like this:
Drink at least 8 glasses of water each day – Personally, I like to strive for drinking, in ounces, half of my body weight. So, if you weigh 140lbs, try to drink 70oz of water per day. With me being pregnant, it's definitely been easy to get my water consumption in each day because I am always thirsty nowadays!
Get at least 30 minutes of exercise – On stories, I'll be sharing posts that include some of my favorite at-home workouts. But getting in your 30 minutes should be fun for you and something you enjoy doing! Go for a bike ride, take a walk or a jog, find a fun at-home workout on YouTube, etc. Find something you love and do that! And if you're expecting like me, just do what you can. Modify or do smaller increments. Matt and I have still been riding bikes and walking, and this has been perfect for me!
Write down something each day that you're grateful for – It may be the season of thanksgiving, but it's also a time when many of us are prepping for the holidays. Things can get really hectic, and we can often forget to take the time to be truly grateful for all the good we've experienced this year. And this year more than ever, I think it's extra important for us to really be mindful of creating a spirit of gratitude!
We are really excited for our challenge this year, even if things look just a little different. We've got a lot of fun stuff planned, and I hope that y'all will follow along with us this year! Don't forget to join the HHHC Facebook group, make sure you're following along over on IG and you'll definitely want to make sure you're signed up for my newsletter to get fun fitness content right to your inbox!
Are y'all excited for the Holiday Honey Hustle Challenge this year? What are some of your own fitness goals you're hoping to achieve? Let me know!