This shop has been compensated by Inmar Intelligence and its advertiser. All opinions are mine alone. #MyVtechBaby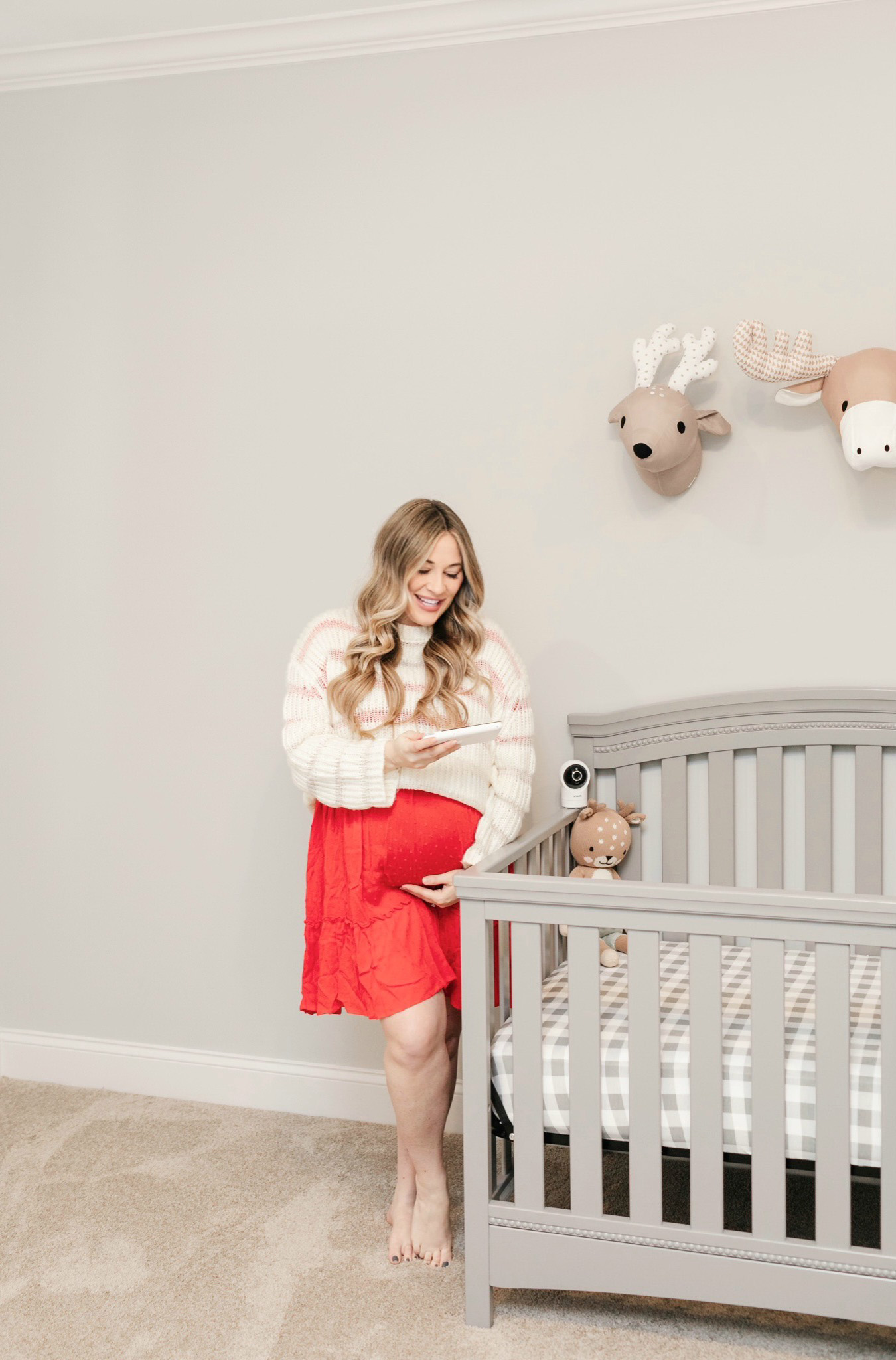 With Grayson's due date being closer than ever, Matt and I are really nailing down all of those little details that need to be done before Grayson is here. Something we are being super diligent about is ensuring that the nursery is totally and completely ready for him. Even though he'll be in our room for a while, we still want to make sure it's ready!
Part of the "readiness" process when prepping the nursery is checking to make sure that everything is totally baby-safe. Today, I wanted to share some nursery safety tips to make your nursery safe for when baby is ready to be on his or her own!
Top 10 Nursery Safety Tips:
1.) Secure all furniture in the room.
Whether you have a baby or a toddler, it's never too soon to go ahead and get this done. It will save you time down the road too because you never know when your child might start crawling out of their crib! Or older children in the house might pull on the furniture when they are in the room too.
2.) Add hand sanitizer in your diapering station.
With changing the baby, breastfeeding, picking up pacis, preparing bottles, etc., having hand sanitizer on hand is always a good idea! Pun intended! This is also so handy with a toddler as they love to touch al the germs!
3.) Keep cribs free of blankets and loose items when baby is sleeping.
The safest way to lay baby down in on his back with no loose items in the crib. This includes any kind of soft, plush mattresses, blankets or even crib bumpers. Once Leighton was closer to 3, I added in blankets to keep her warm once she was a toddler.
4.) Keep cords out of reach of baby.
Though you may think you baby can't pull on any cords for a while, they will get stronger and bigger before you know it. It's best to make sure blinds or curtains don't have any cords, or if they do, they are out of reach of your baby or toddler.
5.) Use outlet covers.
This is like securing the furniture. You might as well do it now rather than later. I don't know about you, but when I am in the room with the baby, I know Leighton and Amelia will want to be right by my side so I want to make sure all the rooms are kept safe!
6.) Use knob covers on any other rooms that aren't safe to go into unsupervised.
We have a built-in bathroom in all 3 of the kids' rooms, so we put knob covers on Amelia's and Grayson's just to make sure that they can't get into an area that isn't safe for them. We also keep them on all doors that exit the house. This would also be perfect for laundry rooms or any storage rooms that have chemicals and other things you wouldn't wan the kids to get into.
7.) Consider using floating bookshelves.
My nephew was a climber and loved to climb his bookshelves so I learned early on that I preferred floating bookshelves over ones that stand on the ground. That way you can mount them high enough for baby and toddler to not reach. Bonus, it also helps to not make such a mess since you have to pick them up to reach the books or get them yourself to read to them. = )
8.) Keep small items out of reach.
Small toys, loose screws from furniture, literally anything you can think of that is small, you will want to keep out of reach. Baby and toddler usually love to put everything directly into their mouths first!
9.) Use a safety barrier to keep children off of stairs or out of other potentially unsafe areas.
We have one at the top of our stairs and the bottom of our stairs and love them. They keep the kids either upstairs or downstairs where we are. You can even use them to close off a kitchen, bathroom, laundry room or any other area that is unsafe for them to go into unsupervised.
10.) Use a good baby monitor.
Whether you have a newborn or a toddler, monitors are SO handy! For Grayson's nursery, Matt and I chose this fabulous VTech digital Video Monitor with Remote Access and 2 Cameras 5″- RM5764-2HD. This monitor will allow us to check in on Grayson from anywhere in the house. You can watch your child in real time on the 5" parent unit with 1080p full HD video quality on your iOS or Android device by downloading the free MyVTech Baby 1080p app. When viewing on your iOS or Android device, experience crystal-clear, high-definition video.
We are already taking so much comfort in the fact that we'll be able to keep a watchful eye on our sweet boy from anywhere, with a monitor that has so many amazing features. I love that we can take it into any room with us in the house to see just what baby is up to. We even use the monitor for Amelia too, and we have considered adding one to the play room just to monitor the area when the older kids are in there. You can never be too safe!
The VTech RM5764-2HD is such a great choice for a helping to make sure that baby is as safe as possible, in a nursery that you've made sure is as safe as possible! What do y'all think of these safety tips? Did I miss anything?