This fall fireplace decor post is sponsored by Wayfair, but all opinions are 100% my own. Thanks for helping me to support the brands I love.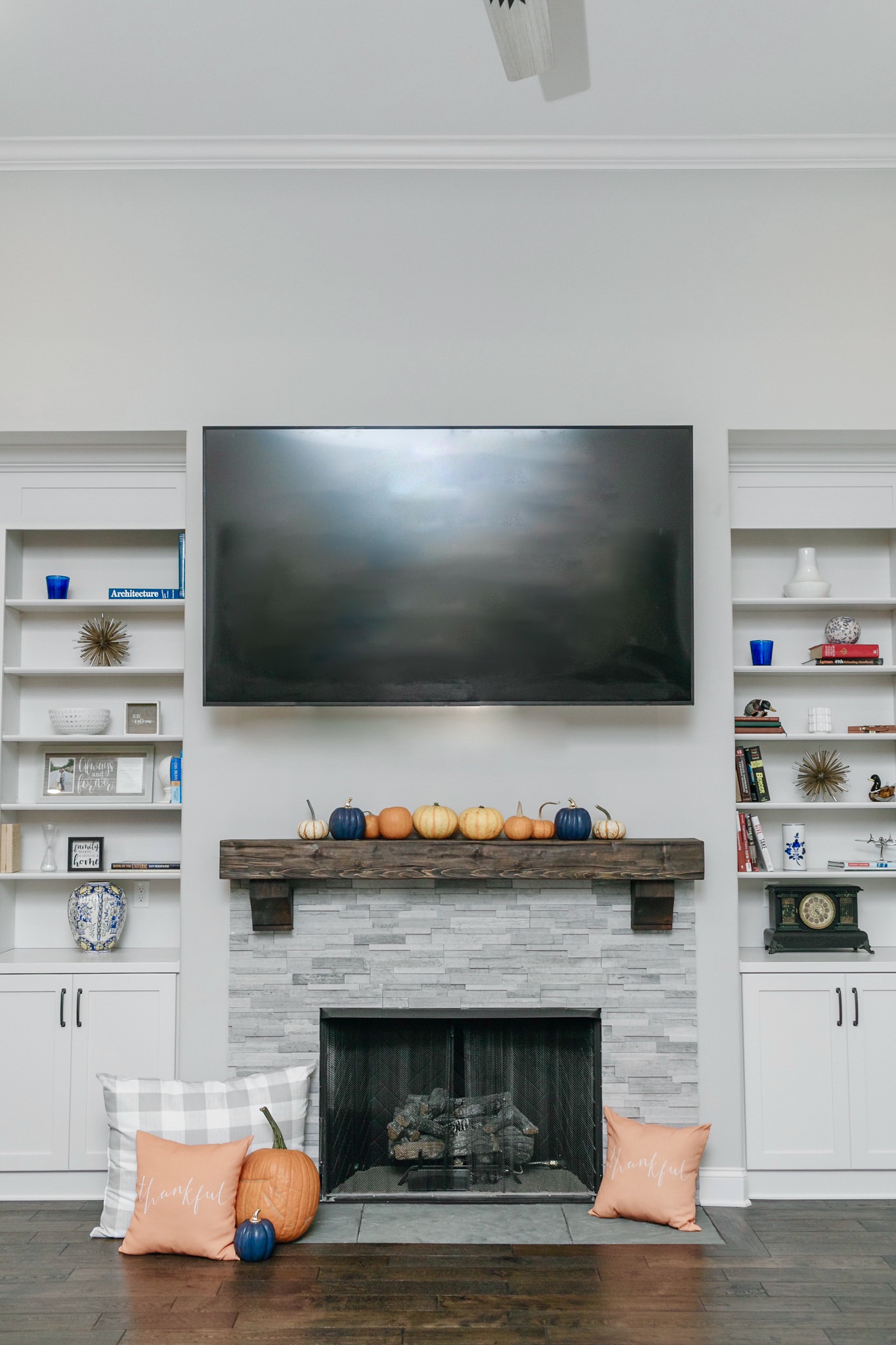 One area of our home that has been neglected since we moved in is our mantle. I often honestly forget that we have this gorgeous fireplace in the living room, and so often, I forget to decorate and dress it up.
Since we've been at home pretty much all the time, the fireplace and mantle need a little sprucing up for the fall. Today, I've teamed up with Wayfair to give my fireplace and mantle the facelift it's been needing for the season!
All the fall decor I've added is perfect for making that transition through ALL of fall. From just general fall to Halloween, to Thanksgiving, this little facelift will work for all of it!
I find it's easiest to decide on a color palette first, so all of your fall fireplace decor blends together seamlessly and looks cohesive. I decided on navy blue and orange. We have lots of touches of blue throughout the kitchen, living room and dining room, and I knew it would be just perfect.
I started with these gorgeous navy blue ceramic pumpkins. These added the perfect touch of blue I was hoping for, and what I love best is that I can use them from year to year! No more pumpkins dying and having to replace them and spend a fortune.
For my little burst of orange, aside from the obvious touch of real pumpkins, I decided to pick up these thankful throw pillows. In my opinion, the entire fall season is traditionally about being thankful for the harvest that's been sown. Nowadays, the season is still about giving thanks. And this year, it's about being thankful for our health amidst this crazy pandemic.
These throw pillows are so pretty, and I love the script on them. On top of that, they will add that perfect orange fall color even once we have to take away the pumpkins.
Once I had that all put together, the space still felt like it was missing something. It felt a little empty. So, to fill it out a bit, I added this gray and white gingham floor pillow. It really fills the space up perfectly without being too big. and the girls absolutely love the floor pillow! The only problem now is that I need another one lol!
I love how everything has pulled together and is the perfect touch of fall decor! With Grayson coming any day now, it was the perfect amount of fall decor without going through too much trouble to put up and take down. These little touches of fall are exactly what our space needed, and I couldn't be happier with how it turned out!
Have y'all picked up any fall fireplace decor from Wayfair? Let me know what you've been loving this season!