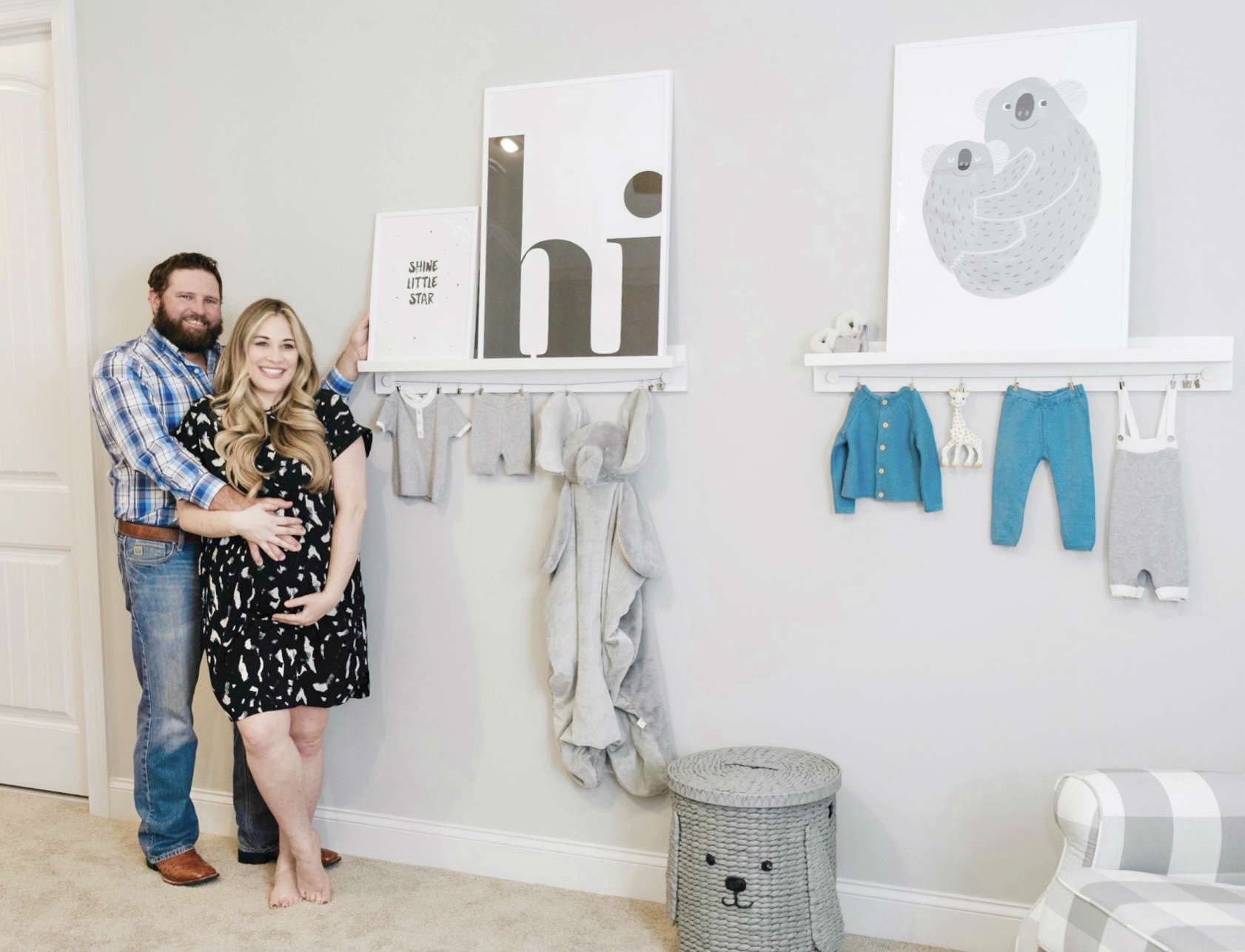 These pictures may show my pregnant belly, but Baby Grayson has finally made his grand entrance into the world! We are home now and doing well. Having him here now makes his nursery an extra special place to be. Even though he'll be spending the next few months in our room, I've been nursing him in here, changing him, and we've even just been relaxing in here picking out his clothing each day. It's quickly become one of our favorite rooms, and for good reason. 😉
How to Create a Photo Wall for your Home
One of the last elements of his nursery that we added in is this amazing wall art from Desenio. We waited a bit to choose any prints for his room because we wanted to find just the right art to fit here. When we stumbled upon Desenio, something that immediately drew us in was this super cool gallery wall tool. It allows customers to mix and match different prints to create just the right look for their space. We played around on the site for a while before selecting our prints. The gallery wall tool, as it turns out, was the perfect way to ensure we got what we wanted.
When I had been searching for prints for our photo wall before finding Desenio, we kept finding really baby-ish prints, and I really wanted something a little more trendy, but still sweet. And…I wanted them all to coordinate. Desenio made it SO easy to do all that with their gallery wall tool. I just picked nursery, and I received so many options of photo walls already put together! And they don't have just kids prints either. You can find something for any room!

We couldn't be happier with the way these prints really pulled his whole room together. The colors, theming… all of it made for the perfect final touch on Grayson's nursery! I love that they are prints that can grow with him. Even as he gets older and we change up the look of his room, these prints will still be great additions to his room for the long haul.
My friends at Desenio were kind enough to offer y'all an awesome discount from now until midnight on November 19th. Use my code: WIMIHH25 to get 25% off on prints (excludes frames and handpicked or personalized prints.) If you're looking to add some fun touches to your home, RUN over to Desenio and grab yourself some prints at a discount while you can!
What about you? Are you working on any gallery walls might now? Do you have any tips on how to create a photo wall? Let me know in a comment below!