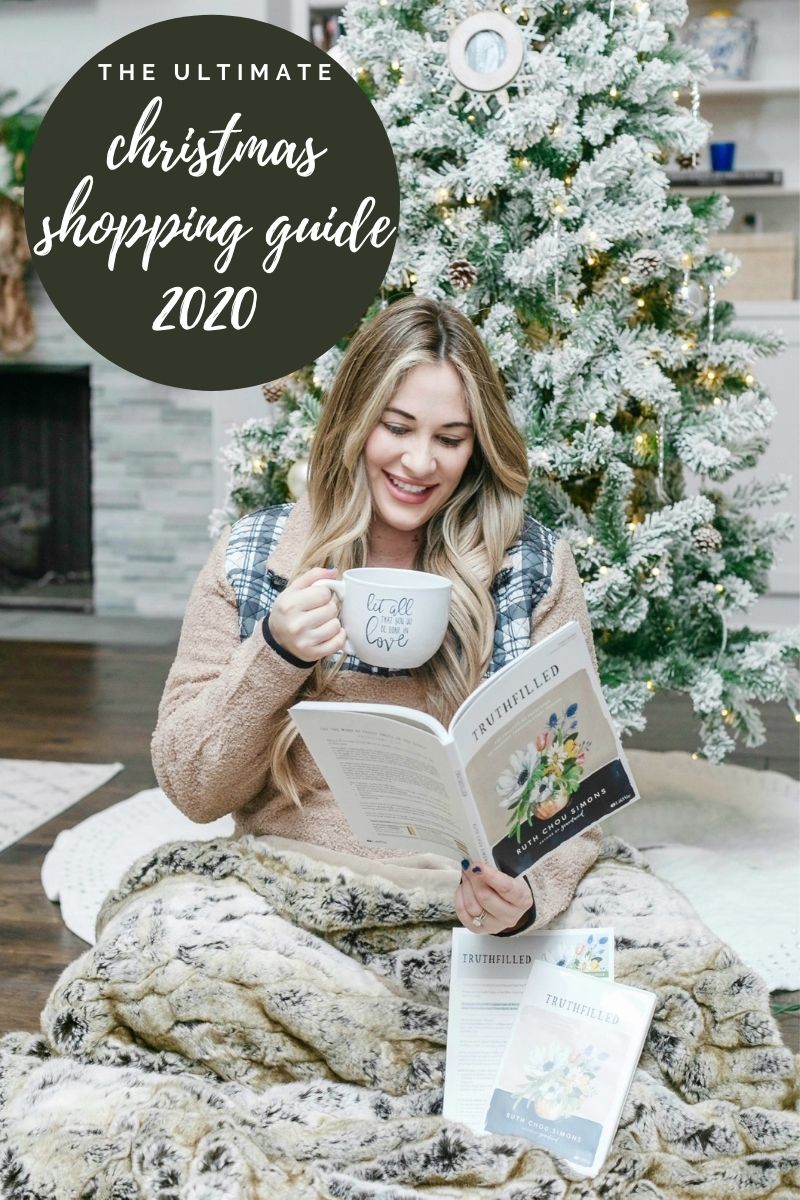 Goodness, what a year this has been! With me having a newborn tomorrow and covid still on the rise, I am sure A LOT of us will be doing even more shopping online this holiday season. And I don't know about y'all, but I'm starting early to get in the holiday spirit! That's why…I WANT TO BE YOUR PERSONAL SHOPPER this year! While I'm at home soaking up the snuggles with Baby Grayson, let ME help you with your Christmas shopping! = )
The Ultimate Christmas Shopping Guide:
Whew! Y'all, you are in for a serious ride here, so buckle up. If you're getting your lists started, and snagging deals now, I've got the absolute ULTIMATE shopping guide for y'all here. I've rounded up nearly all of my gift guides in one place. Consider this your one-stop shop for whatever you might need this holiday season!
COVID-19 is making the shopping experience a little different for everyone. So use my ULTIMATE list of gift guides to help make your shopping easier! This year, I'm also going to be sending out my individual gift guides to my email subscribers. If you're not already, make sure that you subscribe to my email list so you don't miss any of them!
Looking for something else that you don't see in this Christmas shopping guide? Send me a DM over on Instagram or shoot me an email at walkinginmemphisinhighheels@gmail.com, and let me know what you're looking for! I would absolutely love to be your personal shopper this holiday season! Happy shopping!
Before I jump in, I wanted to mention also that a great early gift idea for anyone on your list is PJs! Some of my very favorites are from Shinesty! They've got some awesome holiday choices for adults and then they've got some great matching family sets as well!
The Best Gifts for In-Laws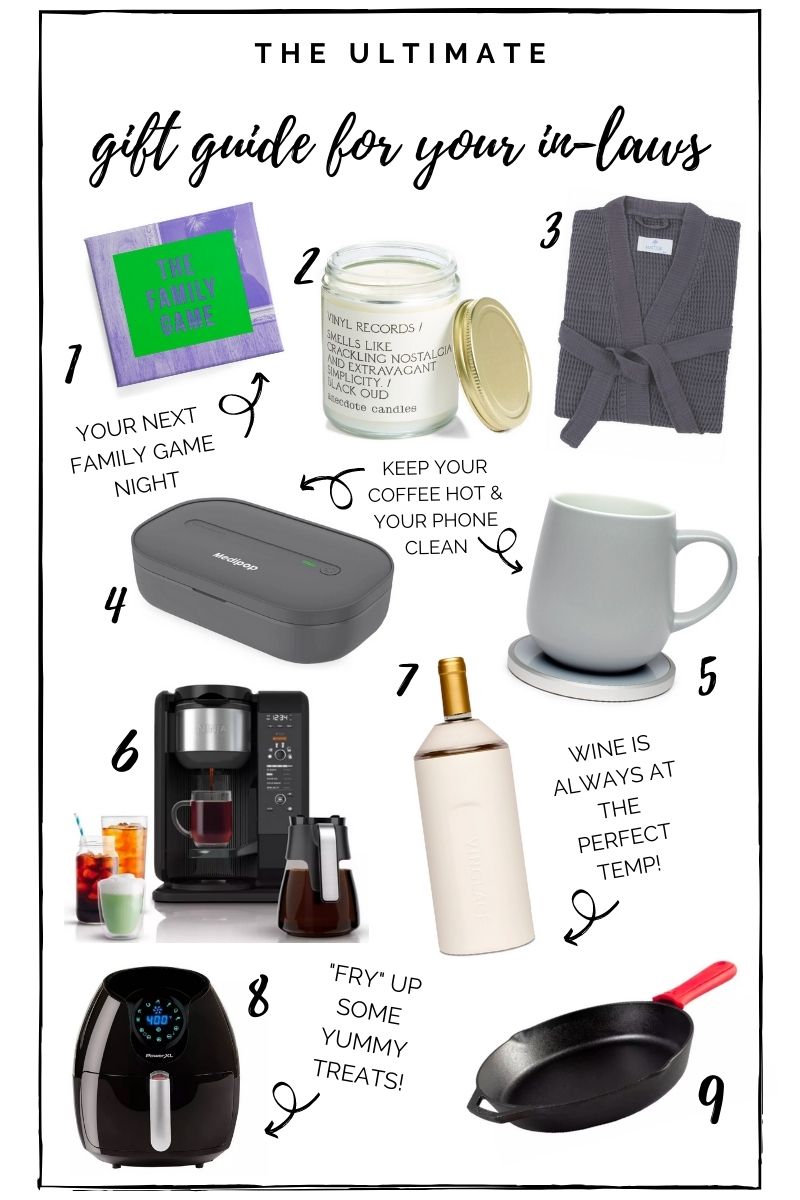 SHOP BEST GIFTS FOR IN-LAWS HERE:
1. The Family Game // 2. Nostalgic Candle // 3. Bath Robe // 4. UV Sterilizer // 5. Mug & Warmer Set // 6. Ninja Coffee Maker // 7. Wine Chiller // 8. Air Fryer // 9. Cast Iron Skillet
The Best Gifts for Men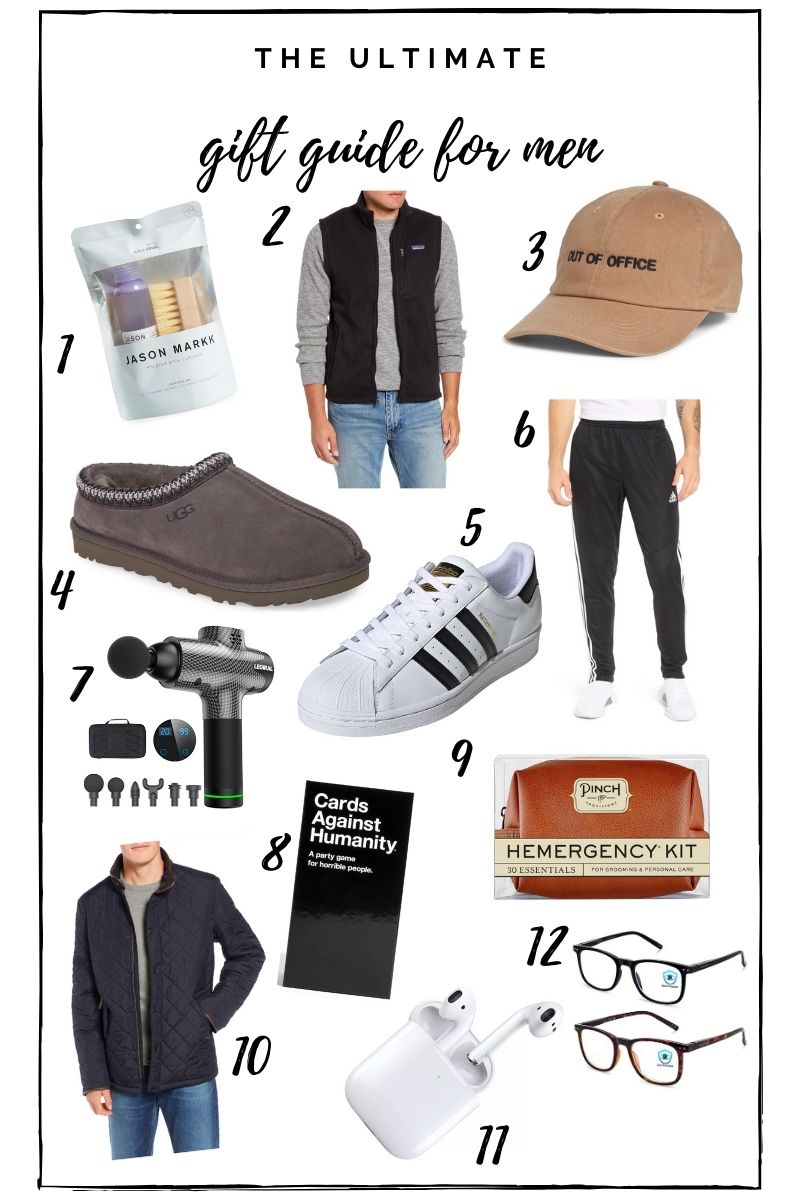 SHOP BEST GIFTS FOR MEN HERE:
1. Shoe Cleaning Kit // 2. Patagonia Vest // 3. Out of Office Hat // 4. UGG Slippers // 5. Adidas Superstar Sneakers // 6. Adidas Joggers // 7. Massage Gun // 8. Cards Against Humanity // 9. "Hemergency" Kit // 10. Quilted Jacket // 11. Apple AirPods // 12. Bluelight Blocking Glasses
The Best Gifts for Toddlers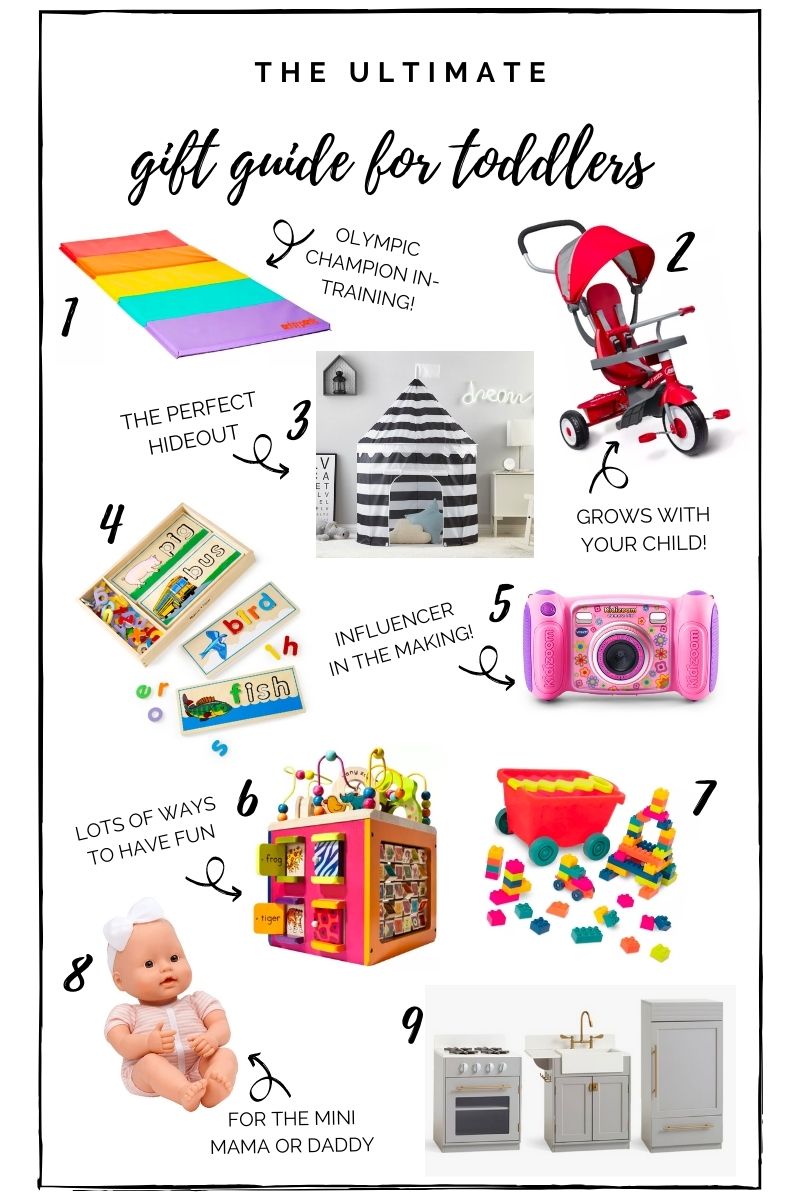 SHOP BEST GIFTS FOR TODDLERS HERE:
1. Tumbling Mat // 2. 3-in-1 Tricycle // 3. Pop-Up Tent // 4. See and Spell Puzzles // 5. Digital Camera // 6. Wooden Activity Cube // 7. Building Blocks // 8. Baby Doll // 9. Play Kitchen
The Best Gifts for Grandparents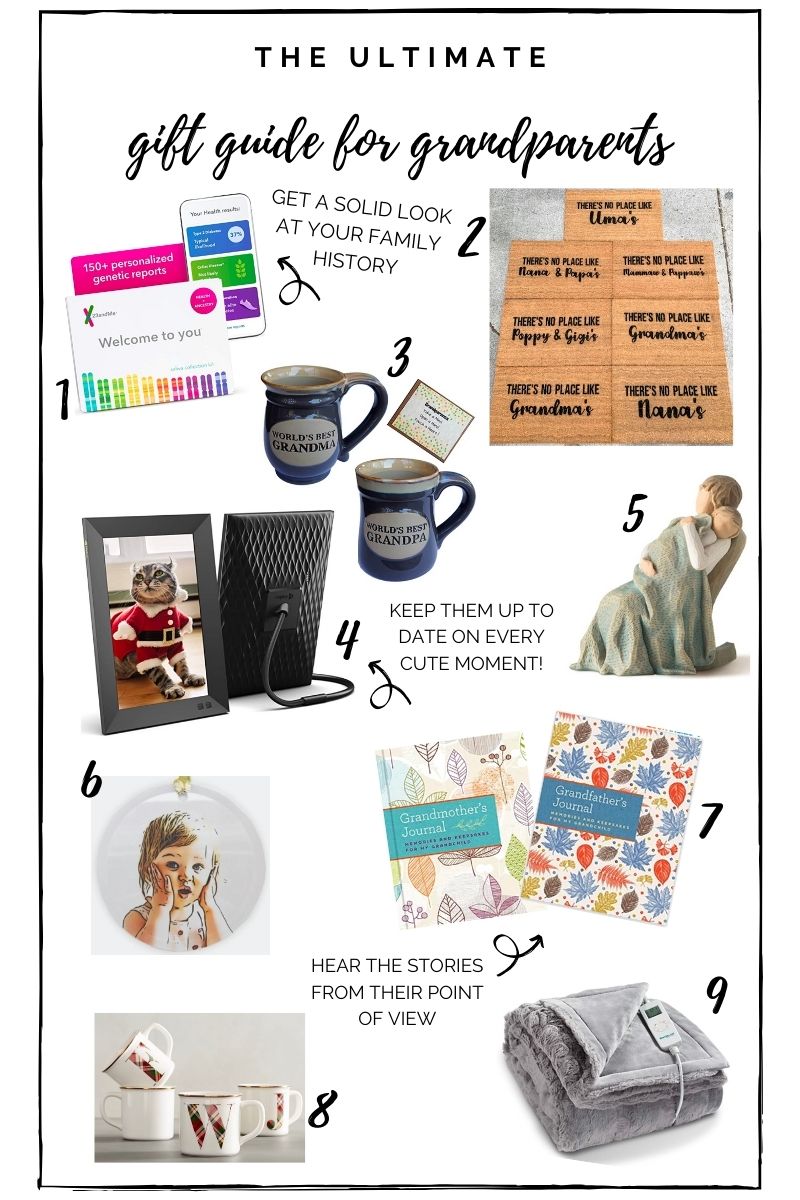 SHOP BEST GIFTS FOR GRANDPARENTS HERE:
1. Ancestry DNA Test // 2. Personalized Grandparent Door Mat // 3. Best Grandma/Grandpa Mug // 4. Digital Picture Frame // 5. Willow Tree Figurine // 6. Child Portrait Ornament // 7. Grandmother's/Grandfather's Journal //
8. Festive Initial Mug // 9. Heated Throw
Christmas Gifts Under $50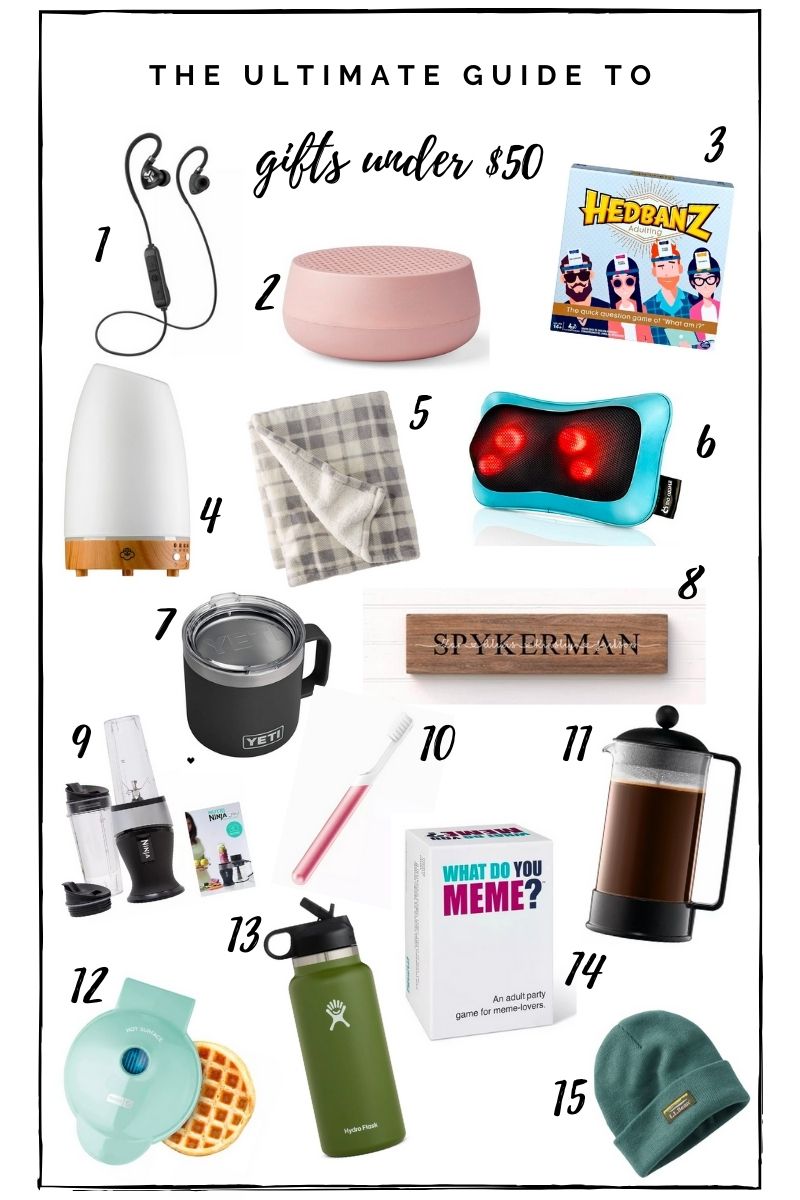 SHOP Gifts Under $50 HERE: 1. Bluetooth Headphones // 2. Bluetooth Speaker // 3. Hedbanz (Adulting) // 4. Essential Oil Diffuser // 5. Cozy Blanket // 6. Neck Massager // 7. Yeti Rambler Mug // 8. Personalized Sign // 9. Ninja Blender // 10. Quip Electric Toothbrush // 11. French Press Coffee Pot //12. Mini Waffle Maker // 13. Hydro Flask Water Bottle // 14. What Do You Meme? // 15. L.L.Bean Beanie
The Best Stocking Stuffers for Women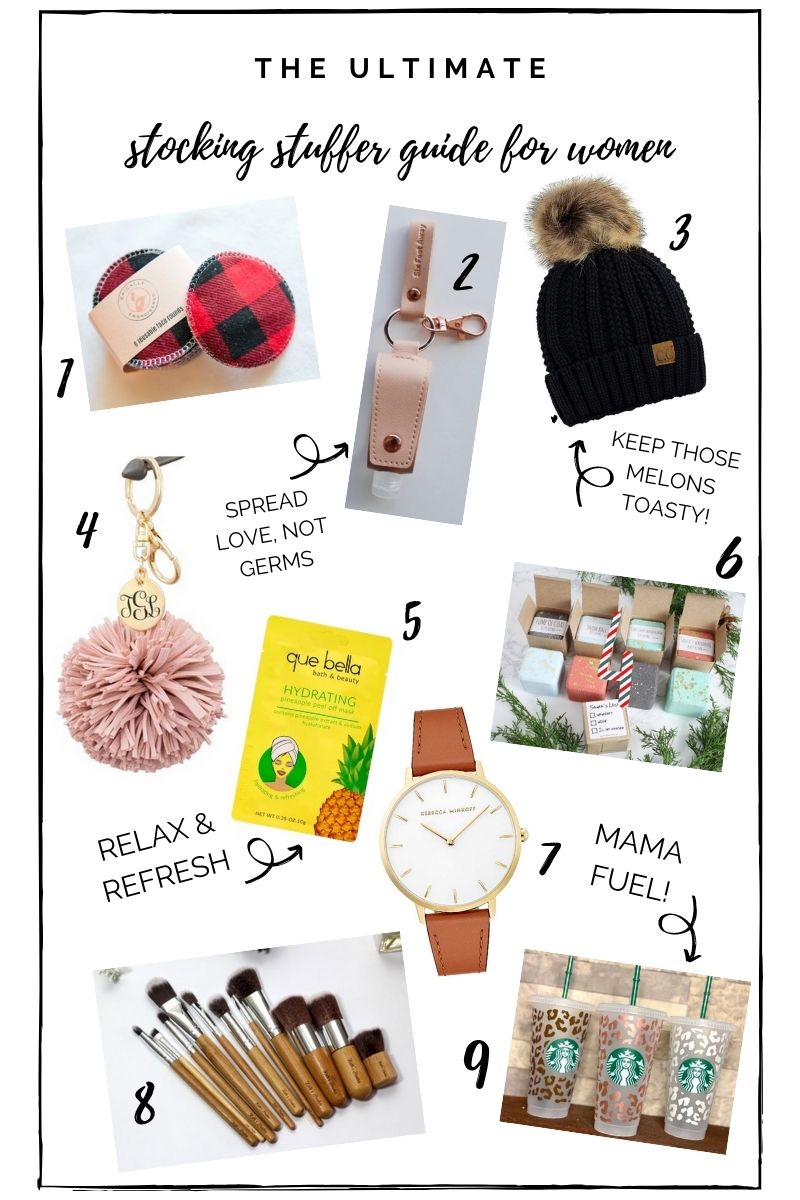 SHOP STOCKING STUFFERS FOR WOMEN HERE:
1. Washable Makeup Rounds // 2. Sanitizer Holder // 3. Pom Pom Beanie // 4. Monogrammed Keychain // 5. Hydrating Face Mask // 6. Festive Bath Bombs // 7. Rebecca Minkoff Watch // 8. Custom Makeup Brushes // 9. Customized Iced Coffee Cup
The Best Stocking Stuffers for Men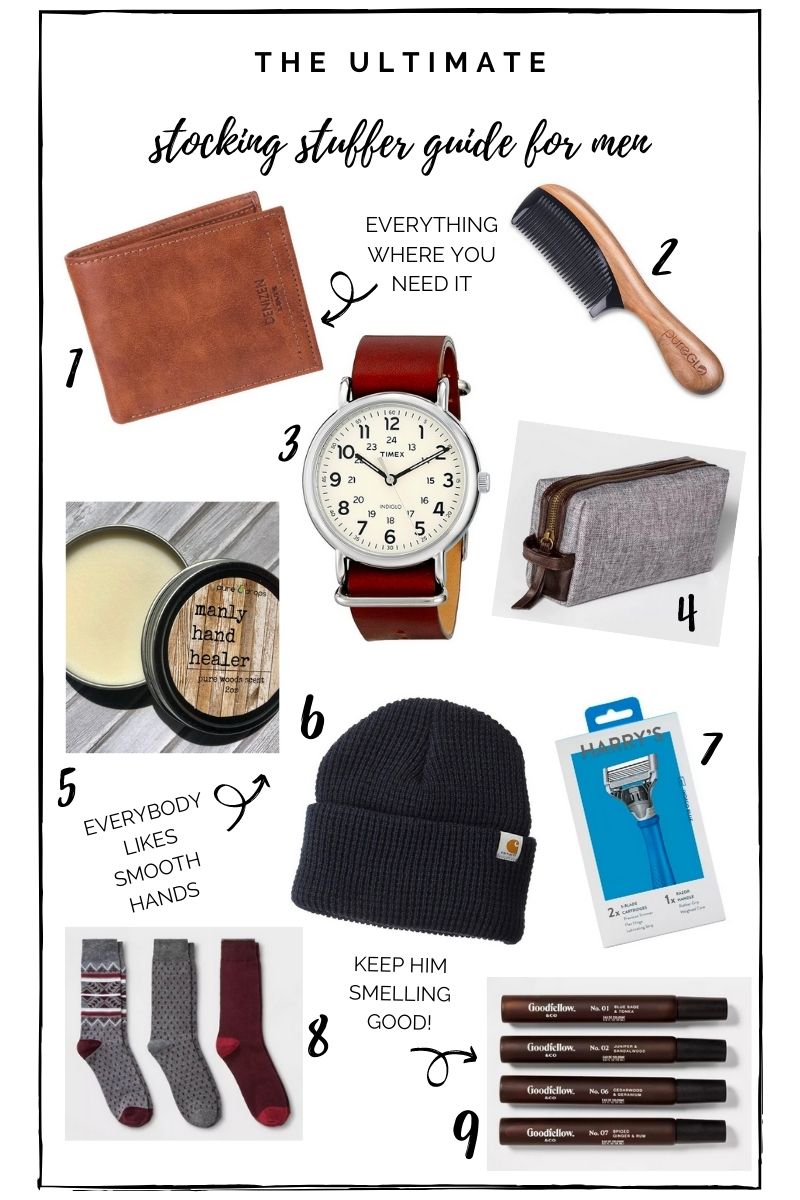 SHOP STOCKING STUFFERS FOR MEN HERE:
1. Leather Wallet // 2. Sandalwood Comb // 3. Timex Watch // 4. Toiletries Kit // 5. Hand Moisturizer // 6. Carhartt Beanie // 7. Harry's Razor Starter Kit // 8. Dress Socks // 9. Good Fellow Cologne Sampler
The Best Stocking Stuffers for Babies & Kids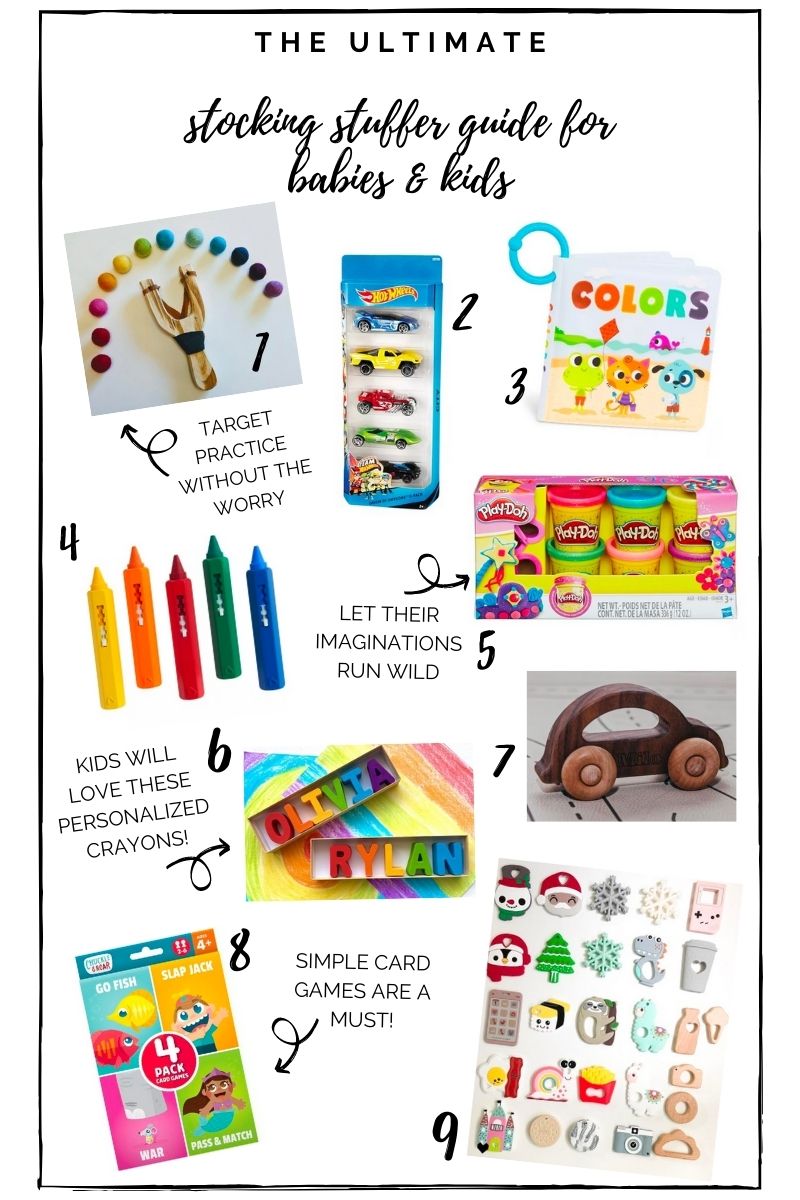 SHOP STOCKING STUFFERS FOR KIDS HERE:
1. Felt Ball Slingshot // 2. Hot Wheels Set // 3. Stroller Book // 4. Bath Time Crayons // 5. Play-Doh Kit // 6. Personalized Crayons // 7. Wooden Car // 8. Classic Card Games // 9. Teethers