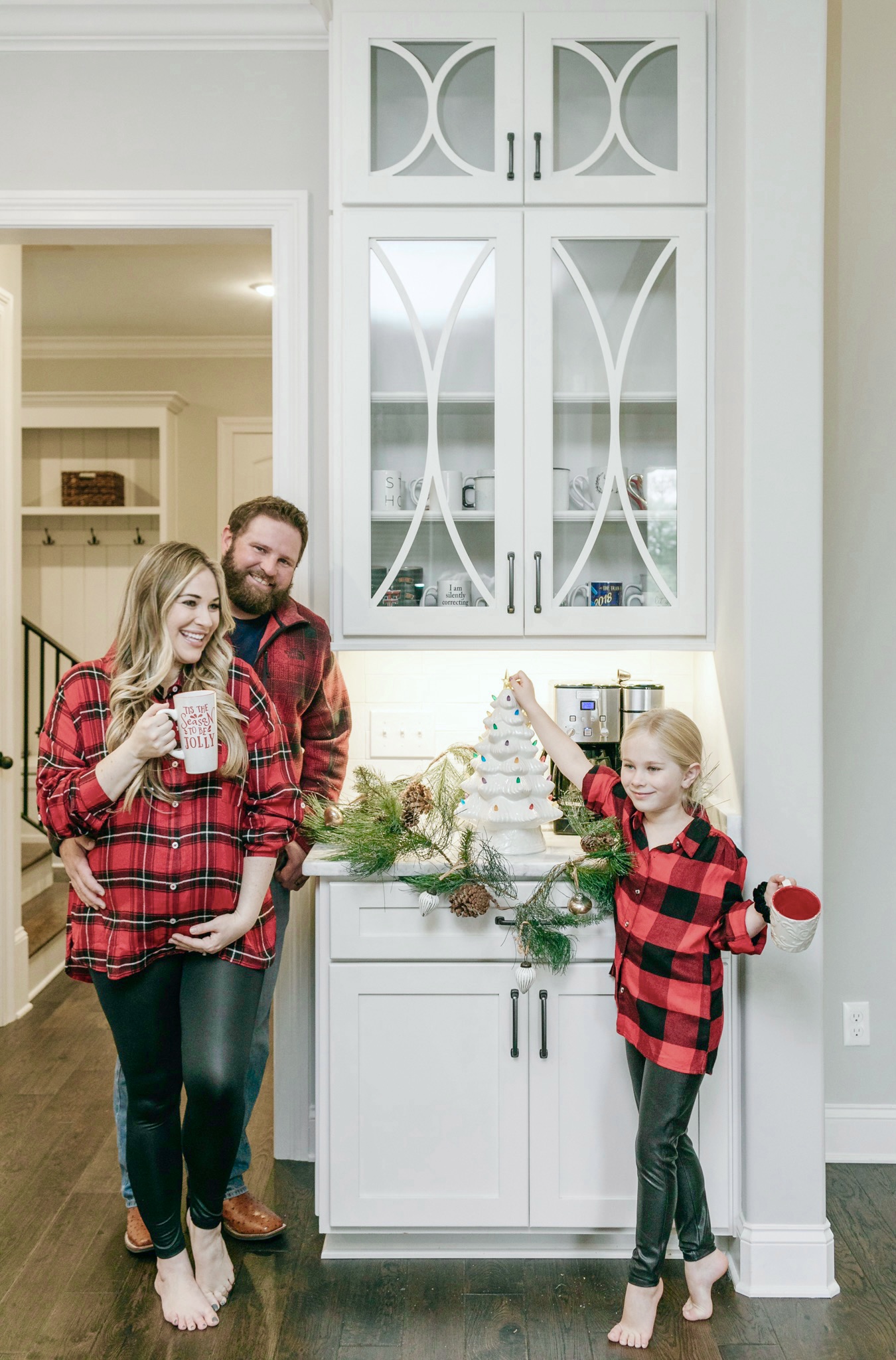 Have y'all been seeing everyone on social media talking about their holiday traditions? I know I have! This year, as a blended family, with a new baby, there is so much opportunity for us to create some really fun, new family christmas traditions together.
If you've got littles at home and you're looking for some ways to add a little holiday magic into this time of year, I've gathered up some really fun ideas. These are things your family can do year after year, even as your kids grow.
Starting the holidays off with the right mindset is so important. Helping your little ones to understand that the season isn't just about getting presents but that it's also about spending time with family, giving back, being a little more charitable than usual. These are some traditions we are starting this year to help our girls (and eventually Grayson) understand the meaning of the season.
10 Family Christmas Traditions to Start
Put up Christmas decorations and lights as a family
As a kid, this was always something I really loved doing. We'd pull out the beautiful decorations, put them on the tree and around the house, and take a little walk down memory lane with all the nostalgic pieces we had!
Make homemade Christmas ornaments together
I think this is such a fun touch for your kids! In school we used to make them nearly every year. I'm not sure if schools still do that but if not, this is something y'all can do around the kitchen table. Pinterest is my go-to for ALL creative ideas!
Bake Christmas cookies
Leighton and Amelia both LOVE to help us bake so this was a given. Getting your littles in the kitchen, helping out creates so many fun memories that y'all can share for years to come.
Drive around the neighborhood and look at Christmas lights
We always like to bundle up in comfy PJs, grab hot chocolate at our local coffee shop and head out on the road for a night of Christmas music and gorgeous lights!
Put out the nativity scene
One of the simplest ways to remind your little ones about the true meaning of the season is by putting up the nativity scene. It's a great opportunity to tell them the story of Jesus and why we celebrate.
Use a Christ centered game or book to teach your family about the Christmas story
Going along with that, finding a fun, Christ-center game or book to help your kids understand even more is a great way to get in the spirit!
Watch Christmas movies
Ok let's be honest, we've probably all been watching Christmas movies since October, right? Even so, popping in your very favorites is a great way to spend a night getting into the holiday spirit even more!
Make homemade gifts for each family member
Of course we always teach our kids to appreciate any and all gifts they receive. But, the ones I know I personally always remember are the ones that are made with love and tiny hands. YouTube and Pinterest are great resources for DIY/homemade gifts for family members and it's a great place to find some fun ideas that your kids can do!
Give back
Being charitable is something we instill in our girls all year long. But, especially when we get into a season surrounded by so much love and giving, you can't help but be reminded of those who so often go without. Teach your little ones about giving back by finding a local charity to give to, helping out at a soup kitchen if they're old enough, creating little goodie bags for kind folks we pass on the corners and streets…any small bit of help is always appreciated. It puts things into perspective for even the littlest of kids.
Celebrate on Christmas day with a birthday cake for Jesus
We've been doing this since I was a kid and it's a much-beloved tradition in our family! Making a homemade cake, or having the girls help us pick the very perfect one for baby Jesus is so special and something I hope they always remember!