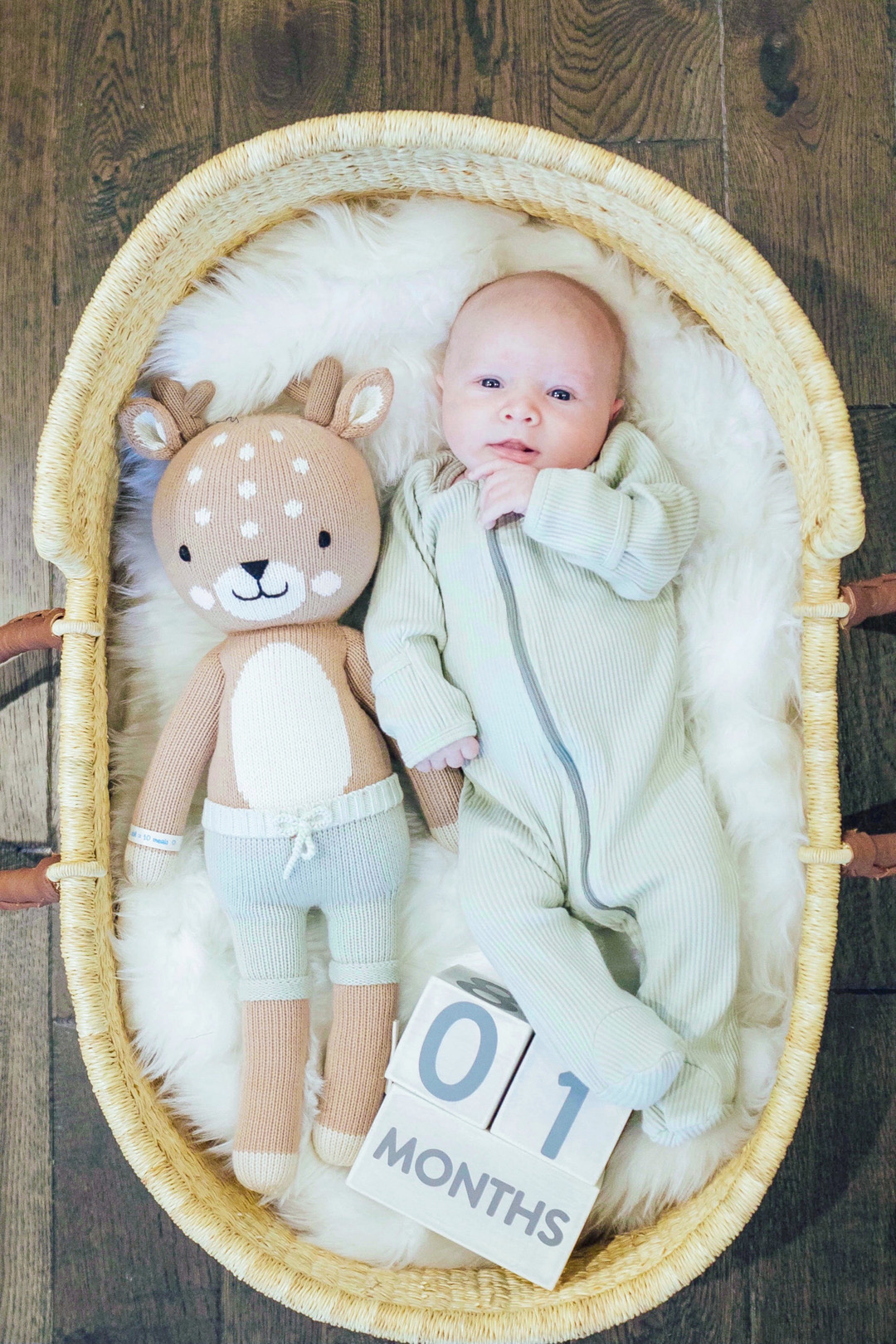 Y'all, Grayson just turned 2 months old, and I'm finally getting around to sharing his 1 month update here. Life happens! = ) And it happens FAST! If you missed his birth story, you can read that here also.
Goodness that first month just flew by! I knew with Thanksgiving coming up right after his birth and Christmas coming up shortly after, that time would just get away much too quickly…and it did!
For the first week after Grayson was born, Matt stayed home with me and baby. It was SO nice! I can't remember the last time we spent so much time at home. We had Leighton the day we got back home from the hospital. It was definitely exhausting, and I was in a lot of pain, but it was nice just being around the house. I knew I would have a couple days before I would have to go back to work and another week before Matt would go out of town, so I was trying to take full advantage of needing lots of help.
That next weekend Matt and I ran a few errands with the baby, and honestly it went pretty well. Grayson seemed to really like his car seat and riding in the vehicle, and with nursing, you can quickly and easily do it anywhere. It was so convenient. Grayson has been going about 3 hours between each feeding since he was born, so not much has changed in that regard. He was definitely eating well!
At night, Grayson started going to bed at 8:00pm right around the 3-4 week mark, so this was perfect for us as that's when the girls go to bed too, so we all start winding down to get into our bedtime routine a little before then. He usually sleeps in stretches of 4, 5 or 6 hours at a time at night. What has been such a blessing with Grayson that didn't happen with the other 2 kids at first is that when he does wake up, he just nurses and goes right back to sleep immediately. I don't have to rock him or hold him or stay up with him for hours. He has his days and nights in order and wants to go immediately back to sleep after eating. Mom win!
During the first month, Grayson sort of napped whenever and however and pretty often. It was pretty sporadic at this point, but when he was awake, he was pretty content and happy. = ). Grayson slept in our room in one of his bassinets. We still swaddled him, and he loved his Halo Sleepsack Swaddle. He usually ends up napping in one of his stretchy wraps that I carry him in or in his bassinet too.
We had his one month checkup right at 4 weeks, and he weighed 10 lbs 6 oz. He was definitely growing! His pediatrician was really happy with his weight gain, his head size, how well he was keeping his head up, his happy disposition and how well he was sleeping, napping and nursing, and we were too.
Honestly, he has been the easiest of the 3 so far. He is always pretty happy and content unless he is hungry, wants to be laid down to sleep or is occasionally gassy (thankfully this has only happened a couple times so far.) He started going to bed more easily and better than our other 2 and he's a great nurser. Maybe it is true what they say, boys are easier. = ) We'll see!
This next month, I'll share Grayson's new nap schedule and his night time schedule and routine for all those who are interested. He has got into a great little schedule over the past month, and it definitely helps make life a little easier when mama and baby are getting some good sleep. = )