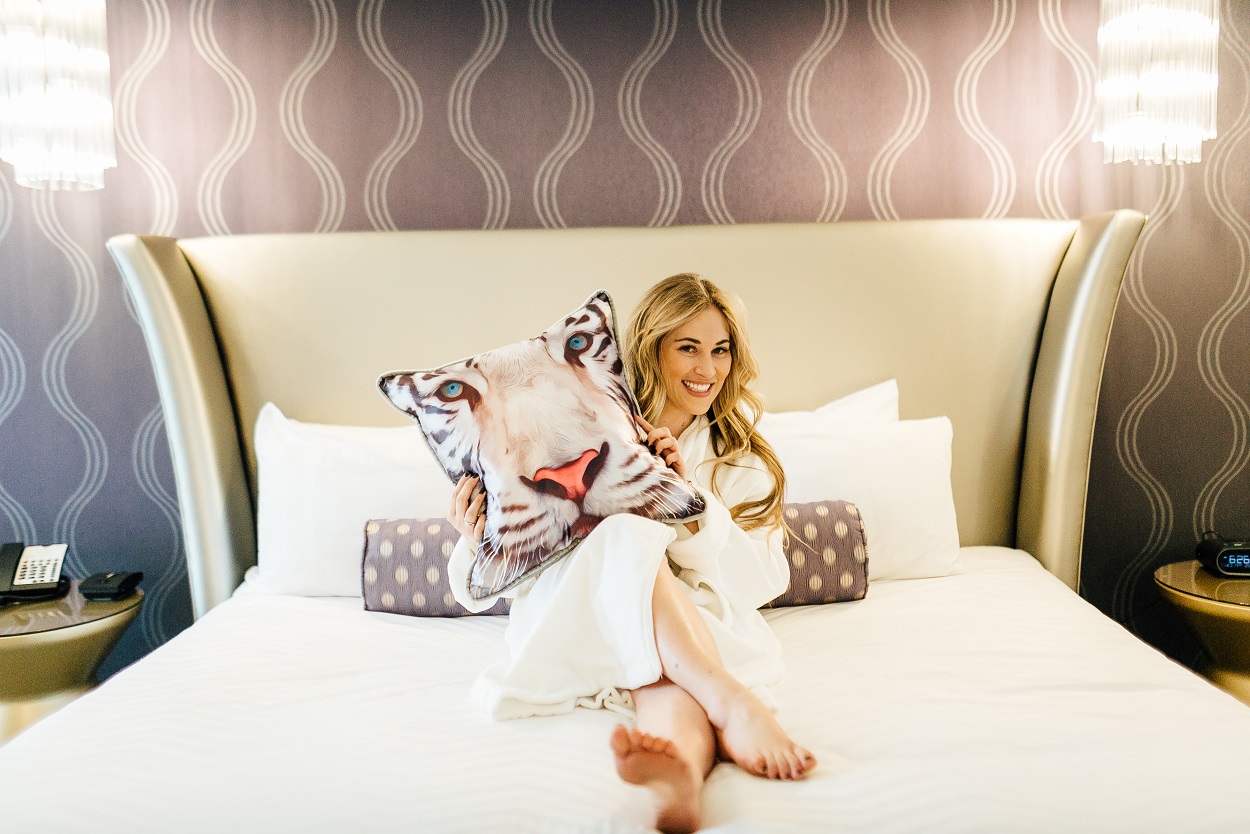 With Valentine's Day just right around the corner, it's the perfect time to have a romantic little staycation right here in Memphis! Right now for February 12, 13 or 14, the Guest House at Graceland is running an amazing special. It's their Valentine's Day Can't Help Falling in Love Package, and it's perfectly named! = )
I'm from Memphis, so I just had to stay at the Guest House at Graceland when they opened a few years ago. I've stayed there a couple times over the years now, and I love this hotel! You cannot love Memphis (or Elvis!) and not visit the hotel. You can't help but feel the excitement (and love for Elvis) when you're at the Guest House at Graceland. If you book this package for your room any of those 3 nights for Valentine's weekend, you will get 20% off your room and Graceland tour tickets as well as these additional amenities below.
The Can't Help Falling in Love Hotel Package at the Guest House at Graceland includes:

• One-night hotel accommodations at The Guest House at Graceland.
• Two tickets for the Elvis Experience Tour (tour includes Graceland Mansion,
access to Elvis Presley's Memphis Exhibit and Entertainment Complex and a tour of Elvis' planes.)
• Bottle of Elvis Wine, 2 wine glasses and Dinstuhl's chocolate (the best chocolate in Memphis!)
• Dinner for Two at The Lobby Bar with options including Grilled Salmon, Cajun Chicken Pasta, Grilled Sirloin Steak, the Delta Burger and various appetizers, salads, desserts and more. Yum! I have eaten at The Guest House before, and I can tell you everything I tried was SO GOOD! I was thoroughly impressed!
• Breakfast for Two at Shake, Rattle and Go.
• Self-Parking.
This is the perfect way to have a fun romantic and unique V Day weekend while staying local and safe. Masks are required in the hotel and lobby unless you are in your private room or at your private table. For the holiday weekend, there will also be live entertainment February 12-14 in the lobby bar. I don't know about you, but this is one of my favorite things to do – listen to live music. I think this will be the perfect night out!
We will be celebrating Valentine's Day at home with Leighton, Amelia and baby Grayson, but we do have a reservation booked soon to visit the hotel again, and I cannot wait! I took Matt to Graceland last year for the first time, and we had a blast! I can't wait to go back and see what all new updates there have been. I know they have added virtual tours as an option at Graceland for 2021, and there are new exhibits at the King of Rock n Roll's house too this year!
Have you been to the Guest House at Graceland or Graceland? What are you doing for Valentine's Day this year?