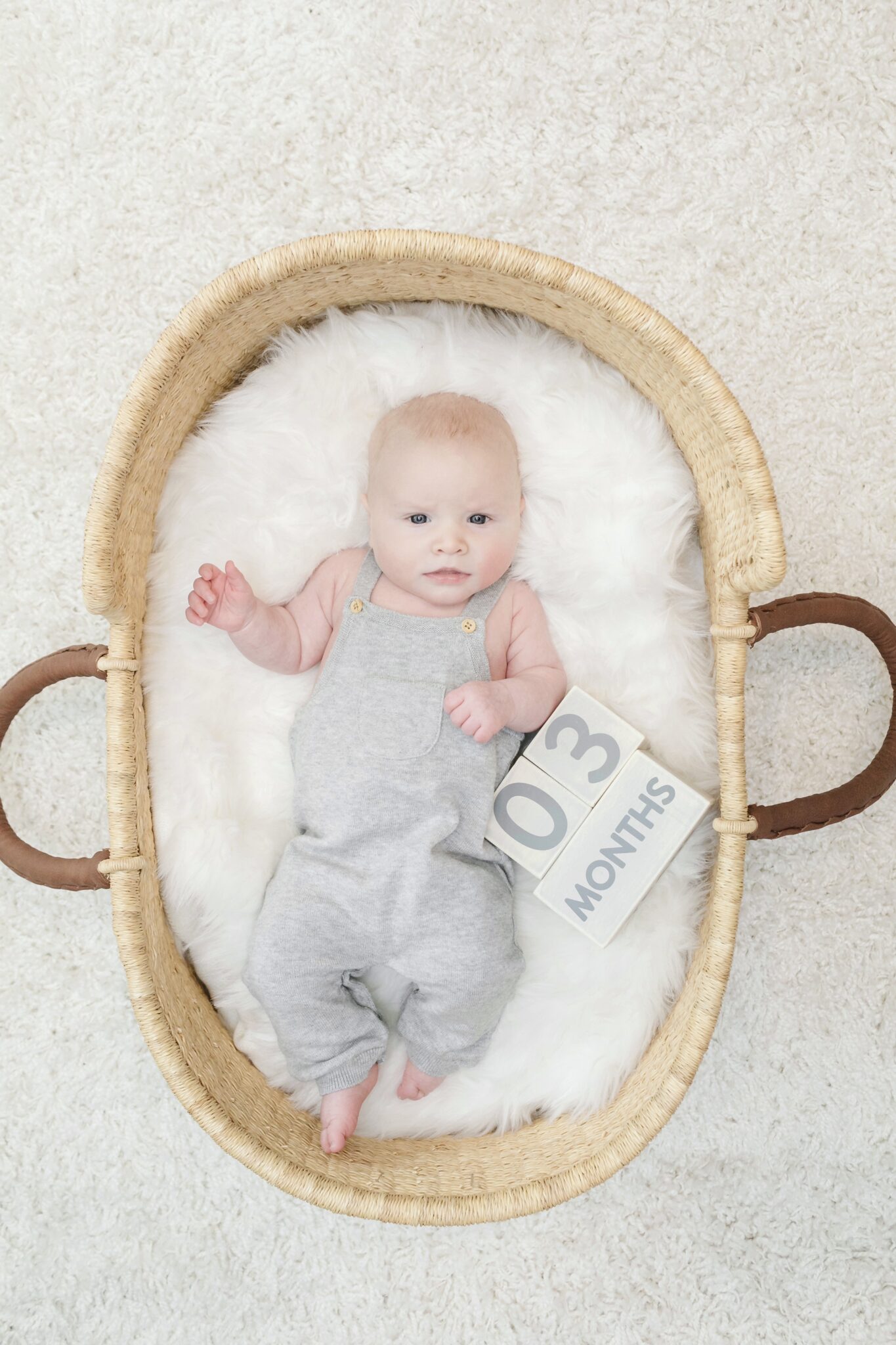 Wow, well that flew by quickly!! Grayson turned 3 months old on Valentine's Day. He has been up to SO much over the past month! At 10 weeks, he dropped his night feed that he would do at 4:00, 5:00, 6:00 or 7:00am and started sleeping his 12 hours straight. He started going to bed at 8:00pm at 5 weeks, and he still has the same bedtime. So, he sleeps 8:00pm to 8:00am now. He likes to nap from 10:00-12:00, 2:00-4:00 and 5:30 until around 6:00 or 6:30.
Grayson still likes his milk 5 times a day – around 8:30am, 12:00pm, 2:00pm, 5:00pm and 7:30pm before bedtime. He is growing like crazy, but he doesn't have another doctor appointment for a few more weeks at 4 months. I have a suspicion that he is around 14lbs now though. = )
This month Grayson started grasping things, and he does so more smoothly. He will sometimes hold his rattle or teether. He loves his activity gym! He also just starting kicking the ball on his activity gym too. He loves putting his hands in his mouth. He found a new paci that he loves. And he absolutely loves this little lovey. He loves to blow little spit bubbles too.
He loves looking around, watching his big sisters play like crazy, and he loves kicking and grabbing for his toys. He moves his head more smoothly. He tries so hard to roll over and sit up. He has great neck and head control and constantly tries to pull up and sit his head up instead of lying down. He still has quite some time though before he will be doing these things. = )
Grayson has already been on 5 little road trips with us and has been the best little traveler! He will take his naps on the road in his car seat or at home in his crib. While traveling, he loves his pack n play. He is still such a happy baby and only fusses when he is sleepy and wants to lie down or is hungry. I still can't believe how quickly he is growing! I'll be back next month with another baby Gray update! = )