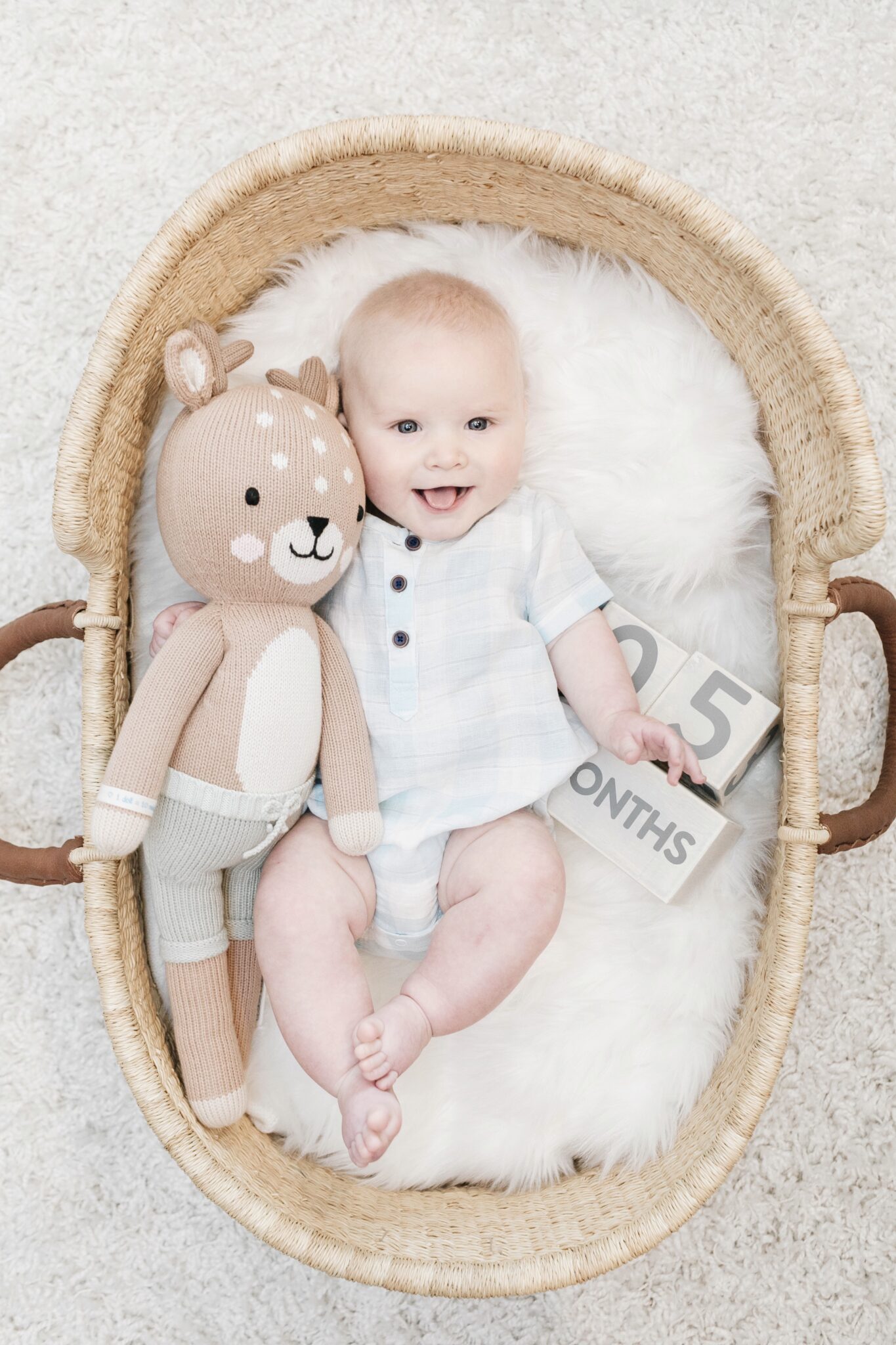 GRAYSON'S BABY UPDATE
Y'all, the days and nights are just flying by, and I can't believe how big our baby is getting! Since he learned to roll over last month, it has become his favorite new thing to do! He does it all day and night lol! He loves rolling over and back and forth. His neck, back and arm strength is getting SO much better too. And he still loves tummy time.
Over the past month, he has finally started rolling over in his crib now. He loves immediately rolling over to his tummy and sleeping that way. He is in a sleepsack now, and he doesn't want to sleep any other way but on his tummy preferably. He will occasionally sleep on his side too. Instead of 13 hour nights, he sleeps 12 hours now. He still takes 2 2 hour naps, and sometimes he takes his 30 minutes cat nap, and sometimes he skips it as he is getting older. He usually goes about 2-3 hours between awake times.
Grayson is still usually pretty happy most all of the time, but he definitely has some teeth he's working on. Not only is he drooling even more all day long, but he wants to chew on everything in sight. He still loves his teethers, and he wants everything to go into his mouth…especially my fingers haha.
Grayson stopped using a pacifier a couple weeks ago, and so far he seems to do just fine and sleep even better without it by soothing himself. It just so happened that was the same week he started rolling over in his crib and moved to a sleepsack and started cutting teeth. So…it was a big week for him developmentally. But overall, he's taking it all pretty well and going with the flow and still sleeps great every night! I keep thanking my lucky stars that he has slept 12+ hours continuously every night for over 3 months now.
Grayson just started playing in his bouncer this past week and seems to really like it so far. He also still loves his swing, floor time and his other teething toys. He loves walks, being outside, being worn and going for rides in the vehicle. But get close to his nap time, and he'll let you know!
He will also let you know if it's time to eat when he wakes up. He still eats 4 times a day, every 4 hours and takes 24oz a day. I haven't weighed him since his last checkup at 4 months, but come next month I'm eager to see how much he has grown. He has been on the go and moving SO much more now that I expect him to thin out even more. He already has a super long torso for his age, and it's so fun to try to guess what he'll look like.
Overall Grayson is just a happy and sweet little baby that loves eating, sleeping, playing, babbling, his family and getting attention from people. I can't wait to see what next month brings, stay tuned for our next baby update!
What was your little one up to at 5 months? Let me know in a comment below!