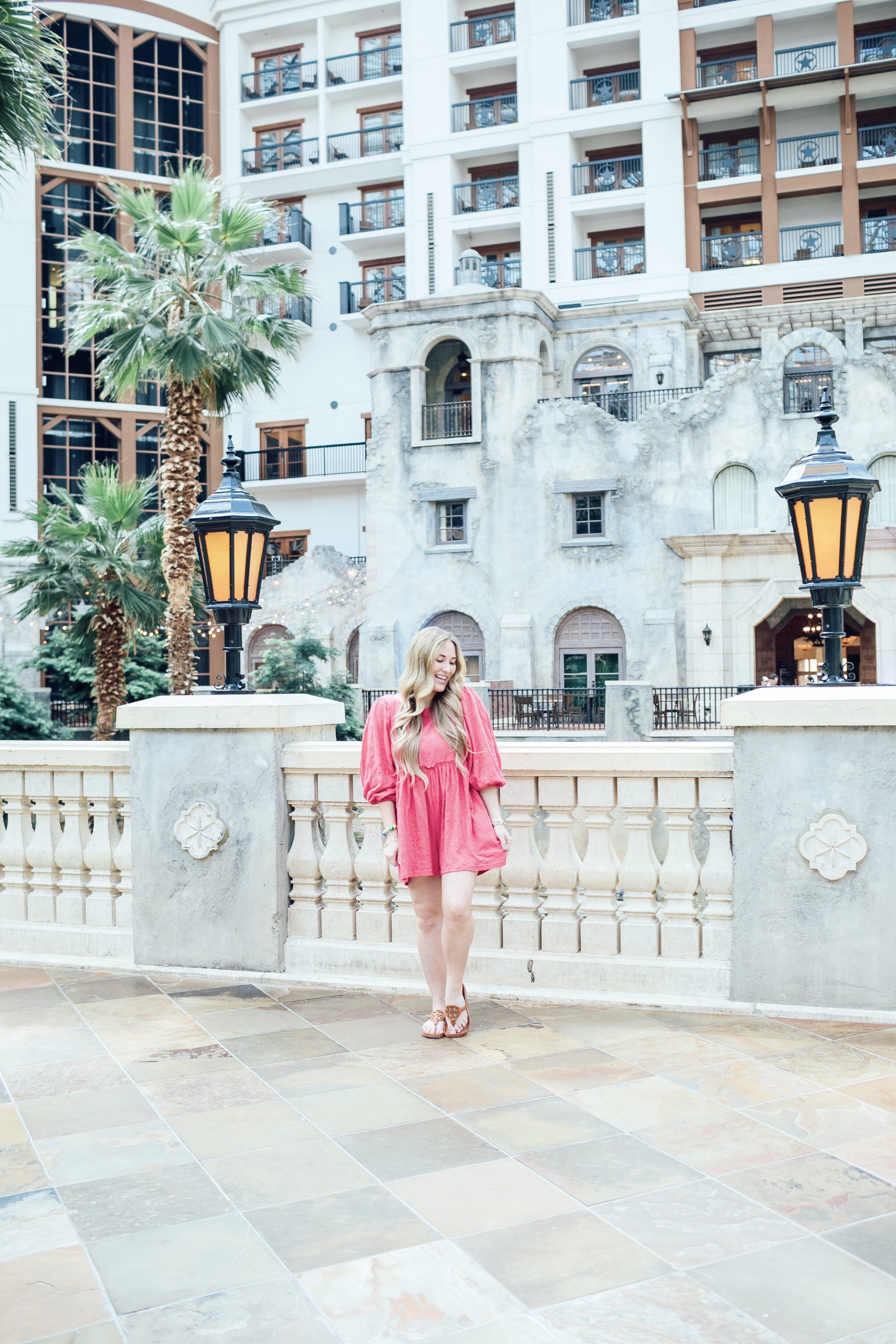 SHOP MY DALLAS TX LOOK:

Y'all know I love visiting Grapevine any time I get the chance, and believe it or not, I hadn't been in 2 years! It's a favorite of mine for so many reasons, and I wanted to share why. Whether you're riding the kids, friends or your spouse, they have so many great things to offer!
Top 5 Things to Do on your next Girls' Trip in Grapevine, TX
This is my favorite hotel here; that's no surprise! This hotel is so gorgeous! Y'all know how much I love all the Gaylord resorts I've stayed at, and the Texan is no different. With super spacious rooms, an amazing pool, a waterpark and restaurants that you won't want to miss, the Gaylord Texan has it all! And they are super kid and family friendly! Right now, Gaylord Texan has some really amazing spring events going on! With their Once Upon a Spring events and activities, the whole family can enjoy an all new interactive show, take part in a spring-inspired scavenger hunt, and much more, it's definitely an event you'll want to get tickets for! You can grab your weekend tickets right here.
This is my favorite winery here because they have really good wine (the sparkling almond is my favorite), good meat and cheese plates and the best customer service. Every time we go, we are blown away by how nice everyone is and how fun they make the wine tasting. They also have a nice front porch, side area outdoors and a balcony on the second floor with great views of the Grapevine square.
They have amazing Italian food for dinner, and they have great live music to go with it! We had the cauliflower crust pizza, and it was AMAZING! Make sure you go on a night where they have a local band playing and get a seat up front! You can eat great food, drink good wine, listen to good music and people watch out front. They even have some patio seating out front too on a beautiful night.
Mmmm, you can't go wrong with their Mexican food! This place has good food, plenty of room inside, a big bar, and good live music too. Tolbert's is right on the main strip in downtown Grapevine, so the atmosphere of the entire place is such amazing.
We couldn't leave Grapevine without swinging by Legoland and get the kids some souvenirs. Honestly though, y'all…Legoland isn't just for the young kids. It's totally a fun place for the young-at-heart too! I was like a little kid here; it's pretty nostalgic seeing all the Legos! Legoland is such a cool place that you'll definitely want to plan a day to do.
Have you been to Grapevine? If not, you'll want to make sure you add it to your list!