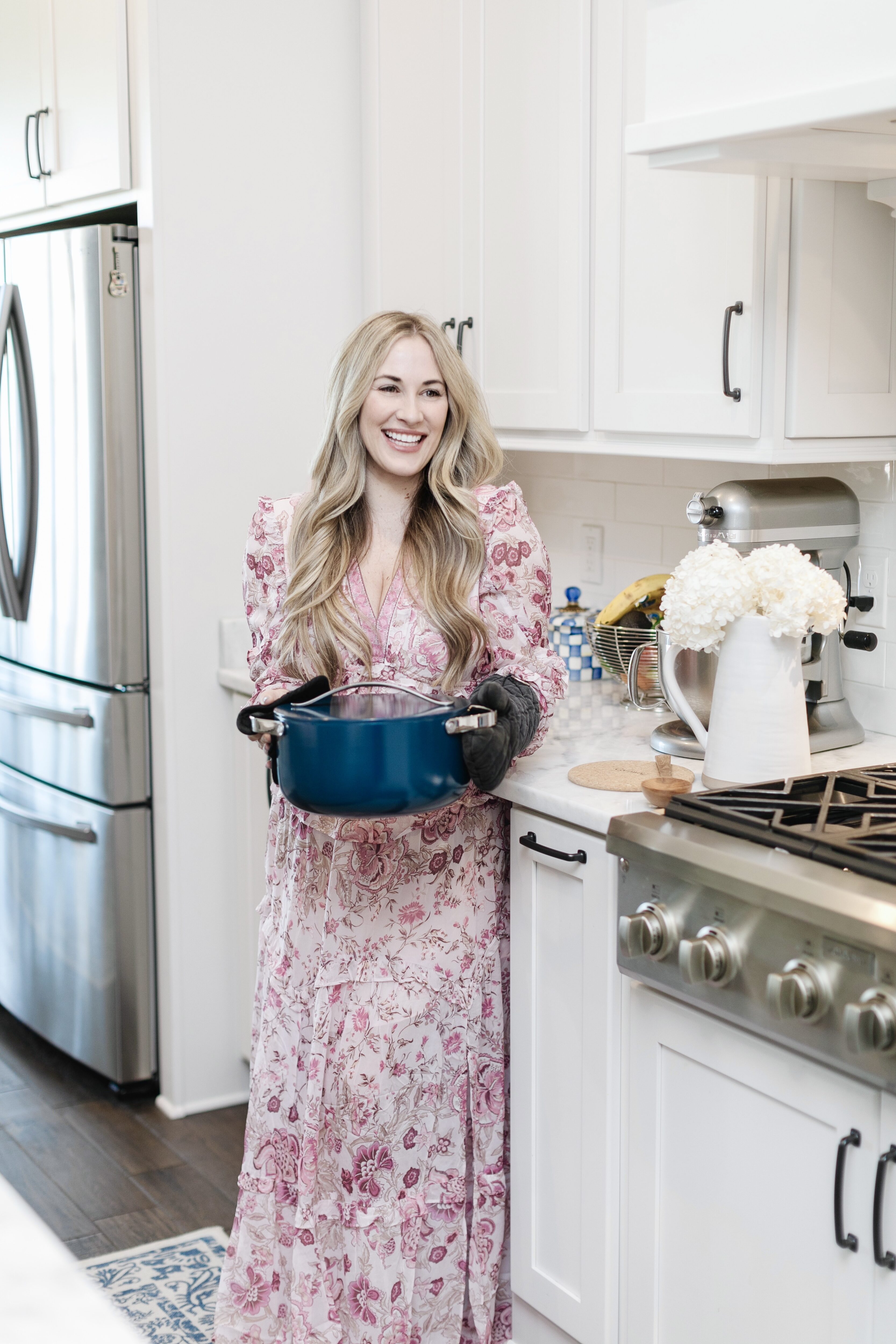 SHOP THESE KITCHEN ORGANIZATION TIPS FOR POTS & PANS:

I know I can't be the only one that sometimes feels like my kitchen is a super overwhelming place! Especially when we first moved in…ll the empty drawers, cabinets, etc. felt so overwhelming. There's always that moment where you look at all this empty storage and think "where do I even start?!"
KITCHEN ORGANIZATION TIPS FOR YOUR POTS & PANS:
One place that felt extra overwhelming to me was storage for pots and pans. We knew we had tons of storage place, but sometimes having so much can make organization just as hard. So, today I'm sharing some of my best tips with y'all!
1.) Clean out the clutter.
First of all, get rid of anything you don't use or have too many duplicates of. Only keep what you need and use!
2.) Store them near where you use them (unless you don't have the space.)
There is no point in organizing if it doesn't help you save time, right? You want the pots and pans near the stove and oven. Something I highly recommend is pull-out storage if you have room for it. No one wants to squat down and dig through a cabinet every time you need something.
3.) Optimize the storage space you have.
Use a hanging pot rack over an island to use space that is typically just wasted or add pull-out storage to drawers or stack them. The goal is to not waste space and maximize on what space you do have.
4.) Separate pots and pans from lids.
Personally, I don't use lids often, so I didn't want to have to be picking them up and taking the lid out of the pot or pan every time to then leave it behind in the cabinet. For me it made more sense to keep them separated. It also allowed me to be able to separate out the pots and pans and stack them to store more in the cabinet.
5.) Make a place for everything.
This is how you stay organized. If if doesn't have a place, you can easily fall back into the trap of the mess and clutter again. Have a system; have a place for everything.
I also wanted to share while we're talking about pots and pans this awesome deal from Caraway. These pans are so beautiful, but on top of how gorgeous they are, they are immensely functional! These pans are non-stick and cook everything we need. And a bonus is they even come with pot and pan and lid storage for each piece! I definitely recommend checking them out! You can get 10% off any purchase at Caraway through 5/31/21 with this link here. I chose but they come in SO many gorgeous colors! How are your pots and pans organized? What are your best tips?