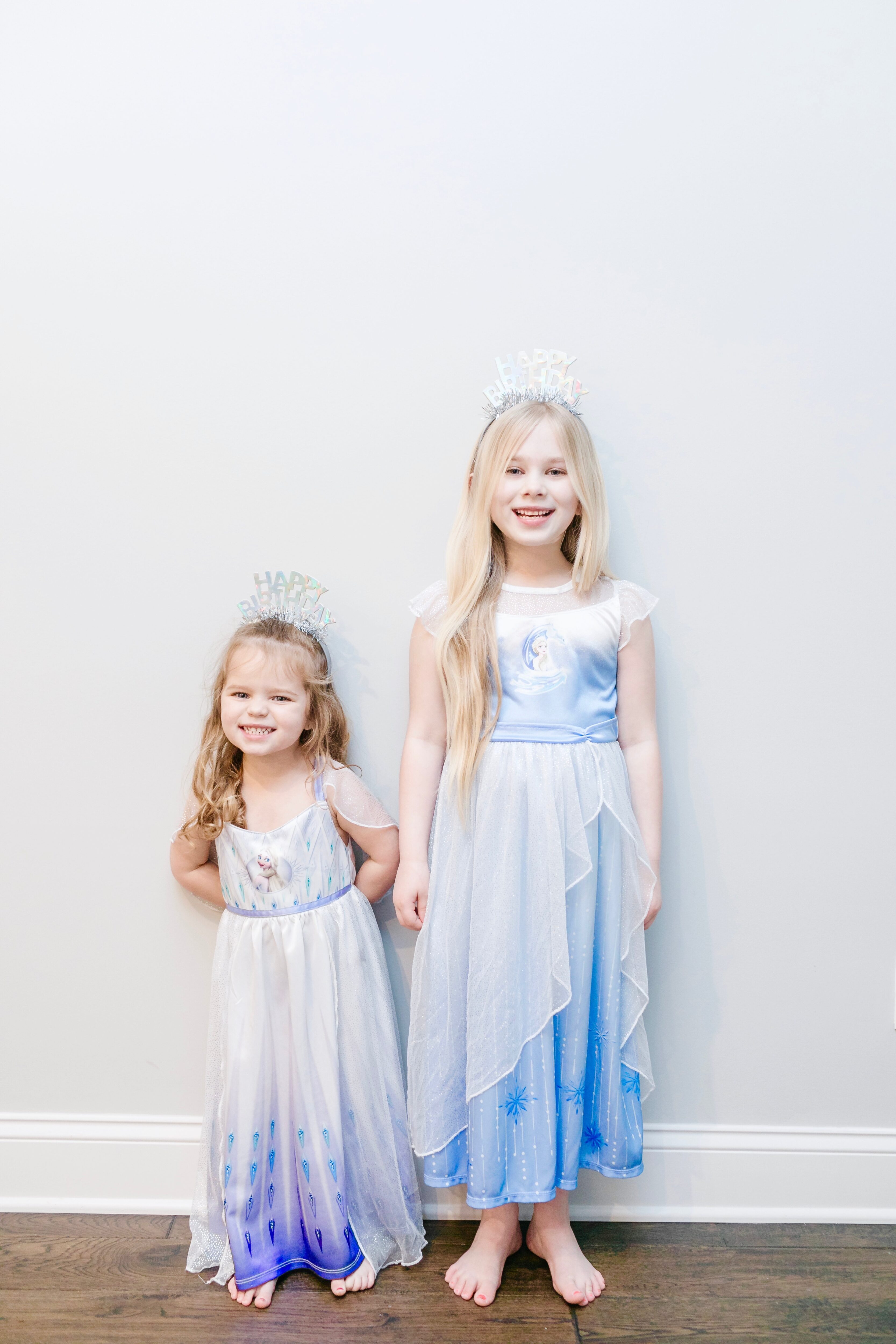 SHOP OUR BIRTHDAY PAJAMA PARTY ESSENTIALS:

I can't believe Amelia is 3! Where has the time gone over the last few years?! I love that Amelia and Leighton have got to grow up together since the beginning, and it's so sweet to see how close they get over the years. They love having a sister, and they definitely act like sisters – close one second and annoyed the next lol! I can't wait to see what this year brings and how much their bond grows this year. : )
For Amelia's party, I knew I didn't want to have a set in stone theme. I prefer to give myself a little leeway with decorating. But, I absolutely knew Amelia would want to wear a princess dress. But I didn't want to do another princess theme lol! That's when it popped into my head to do a birthday pajama party! Amelia loves getting into her pjs, and I had recently bought her a brand new Elsa princess gown. Pajamas and a princess dress – yes! Pajama party it was!
We decided the best place to start with our birthday pajama party was with the invitations. Y'all know Minted is our go-to for this, and Amelia's party was no exception! I just love their huge selection of unique cards and the fact that they're super customizable. We found these really cute cards with a pretty scalloped edge (perfect for a princess!). We added her photo and all the party information and sent them off to our guests!
Since our theme was a birthday pajama party, I found some cute decor to go along with that. I found this really cute sign for the refrigerator that says "sweet dreams" and then I was able to find a "happy birthday" banner and signs for the food to match! I just love the way everything came together so nicely! We didn't do a ton of decorations, but I love that even with the simple things we did, it all looked really cute. The party was mainly outsides with the kids playing all afternoon, so it was perfect!
For food, we kept things pretty simple there as well. We put out a fruit and veggie tray with dips, put together some cute little sweet treat stations like popcorn and a topping bar and of course, you've got to have a cake! And since the theme was pajama party, we decided to have a neutral cake. It was pink and purple with funfetti. Not only was it beautiful, it tasted SO good! We got her cake from our favorite place ever, Smallcakes Collierville!
Amelia absolutely LOVED her pajama party. She got to be the prettiest birthday princess, and everyone was super comfortable. I mean…when the theme calls for PJs as the dress code, how can you not be comfortable? It was such a fun party with family and a couple close friends. We didn't have a party for Amelia last year, so we were happy to have been vaccinated months ago to get to more safely celebrate this time. The kids all had a blast and we couldn't have asked for a better day!
What themes have y'all done for your kids' birthday parties? Let me know in a comment down below!