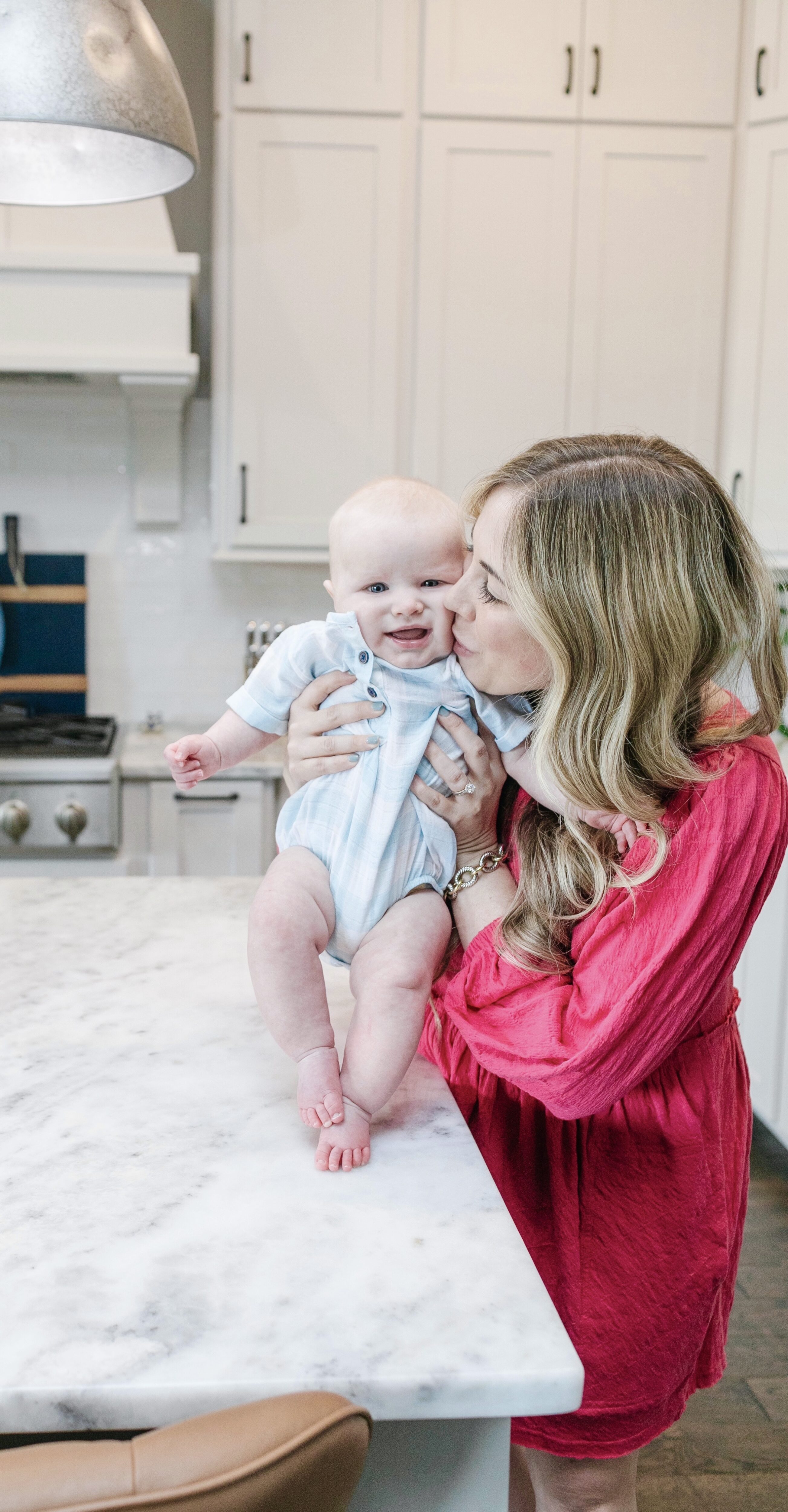 SHOP MY KITCHEN PANTRY ESSENTIALS:

We're continuing on our kitchen organizing journey today by moving on to the pantry!

The pantry is a spot that gets used every single day, multiple times a day. So, having it organized is really important! You want everyone in the house to know just where to find everything, where to put things back, etc.
So today, I'm sharing all of my best tips for getting your kitchen pantry organized!
1.) Start with a clean slate.
Clean out everything that is old or expired or things you will never eat.
2.) Categorize your items together.
I like to group things together like bread products, breakfast items, canned foods, etc.
3.) Contain.
After you've grouped everything together that goes together, the key is to contain things in a way that makes sense. We love using baskets and clear containers for smaller things like bars, nuts, etc.
4.) Label items that you put in containers so you know when they expire.
You might also want their nutrition facts or ingredient list taped to the bottom. You can also easily buy the little chalkboard tags and clip them onto baskets and label with a chalk pen.
5.) Make a kid-friendly spot if you want them to be able to grab their own snacks.
We try to put healthier snack options on the bottom for the kids. If you don't want them getting into something, don't put it where it is easily accessible though!
6.) Maximize storage space.
We used baskets that can actually be stacked if they need to be. Some of our food containers can be stacked too. We also use plastic grocery bag storage and a canned food holder. Since we have a large pantry, we also store all of our serving ware, paper products, vases, candles and lunchboxes in our pantry. We just make sure to keep them all organized.
7.) Have a place for everything.
It drives me nuts when I have something in my hand, but no actual place to put it. Make sure you have a place for everything. It makes cleaning up easier, and for the most part everyone knows where things are supposed to go.
8.) Have a designated place for overflow.
If you don't, it will end up overflowing into anywhere and everywhere!
These kitchen pantry organization tips have helped us SO much with keeping our pantry organized and tidy. Just putting in even the tiniest bit of effort can make such a huge difference in keeping your home organized.
What are y'alls best tips for keeping your pantry organized? Let me know down below in a comment!