This post is sponsored by Wayfair. All opinions are my own. Thanks for helping me to support the brands that I love!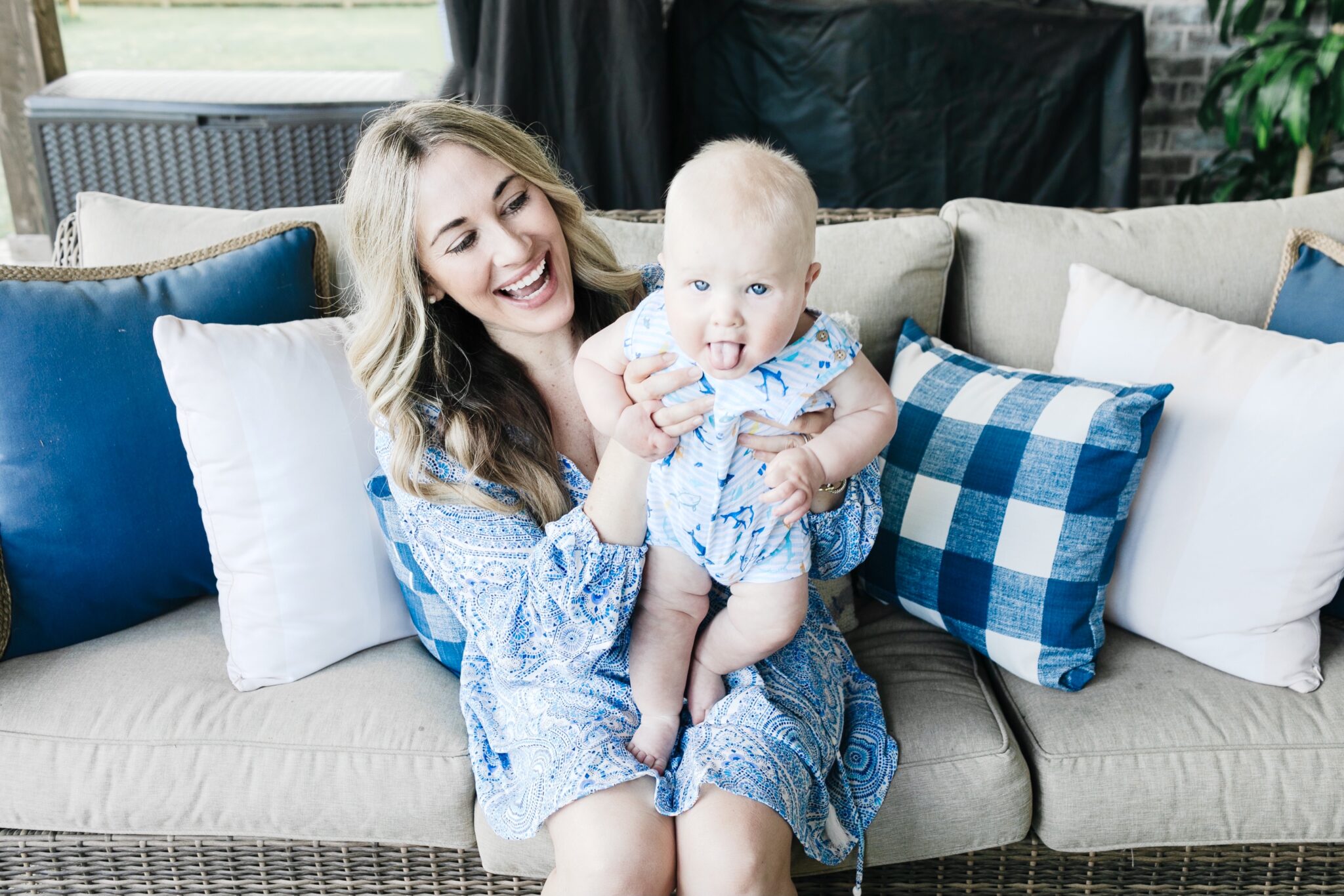 Something we loved so much about this house when we were building was the idea that we were getting this really large back patio. Matt and I both envisioned entertaining friends and family back here, relaxing on summer nights with a fire going, having coffee out here in the mornings, and so much more!
Today, I wanted to share some tips on how you can turn your back patio into an outdoor oasis! No matter how large or small, your backyard space can be a space that you really love and want to spend time in!
5 Tips to Create your Outdoor Oasis with Wayfair Outdoor Furniture
1.) Make it cozy by creating zones.
We have our patio broken up into different sections to make the space intentional. We've got an area where we can do a bit more relaxing on our outdoor sectional. We also have an area that is a place for conversation. And of course we have areas set up for cooking too. Setting up your space into zones makes it a bit more "zen" also.
2.) Pull together the space with a rug.
Y'all know I love a good rug. 😉 Wayfair has LOTS of really pretty outdoor rugs. I think that a rug really pulls a space together. Especially if you're able to split your space into different zones, a rug can really pull a specific zone together. This one defines our lounging and conversational area.
3.) Add seating and pillows to your conversational area.
As I mentioned above, we really love our outdoor sectional. I love going with a neutral colored sectional, and then adding color with other accessories. Adding outdoor pillows is a great way to add that pop of color or a fun pattern. Right now, we're loving these pretty blue buffalo print pillows. Pillows are a really fun, easy and inexpensive way to change things up with the change of seasons or even just because you feel like it.
4.) Add greenery with potted plants.
I think an outdoor space is really elevated when you add some greenery or pretty flowers. Wayfair has such a great assortment of outdoor planters. They are so gorgeous and really add something that takes the patio to another level. Like the pillows, plants are an easy way to change things around for the seasons, and I love doing that!
5.) Make room for a little fun!
Okay, so it's not strictly on the patio, but the kids love their trampoline in the backyard. The same goes for the yard that goes for the patio. If you want to use it, make zones. This really does make the space so much more useable, and the kids will love coming outside and playing more! Making room for fun is important when it comes to a space you want to love. And the trampoline has turned this outdoor area into a space the entire family loves!
Do y'all have a back patio that you love? What is your way to turn a space into an oasis? Do you have any Wayfair outdoor furniture and decor favorites? Let me know!