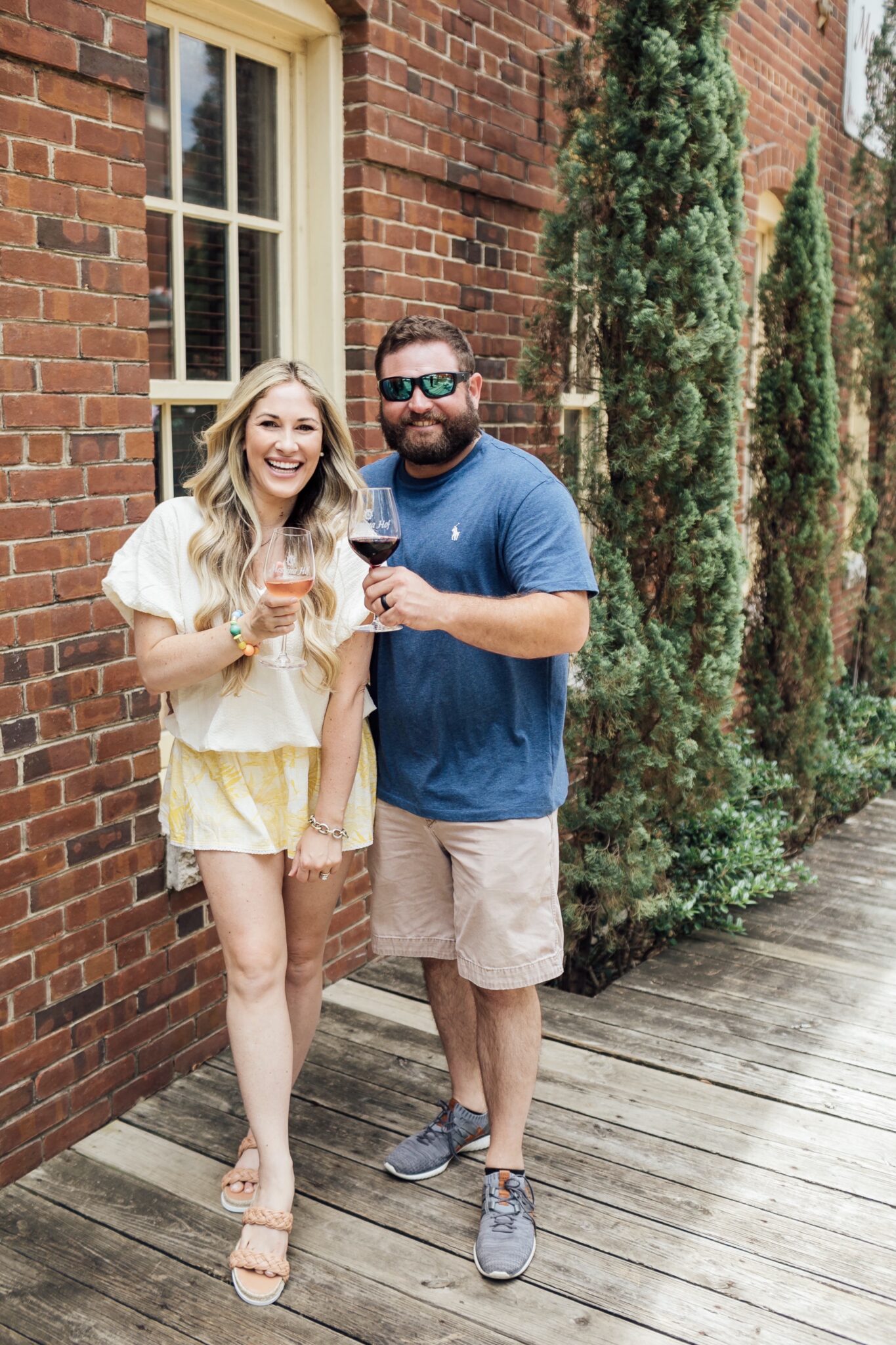 SHOP MY GRAPEVINE TX LOOK:

What better way to celebrate a birthday AND a holiday weekend than in the great state of Texas?! I planned this trip back in February, and though we missed the baby like crazy, it was so nice to have a fun little getaway just us two and to celebrate!
Matt is a total Texas boy, and even though I love my native home of Tennessee, I love Texas too since I worked there for most of my career. It's definitely our second home!
Since we both love Texas so much, we decided there was no better place to celebrate a weekend away! We had such a blast, and I wanted to share more with y'all. If you follow me over on Instagram, you may have seen my stories from our weekend away (and if you missed them, you can check out my highlight right here!)
Today, I wanted to share the top 5 things to do when you're spending a weekend getaway in Grapevine, TX.
1) Enjoy the balcony in your room at the Gaylord Texan
I've talked about the Gaylord Texan before, and y'all know how much I love all the Gaylord resorts that I've stayed at. Gaylord Texan is no different. None of our trips to this area are complete without a stay at the Texan. The perfect mix of modern and rustic, it suits the DFW area so perfectly. This resort is right on the shores of Lake Grapevine and that, paired with its expansive acreage, enjoying the indoor atrium view on the balcony with a cup of coffee or a glass of wine is the perfect way to take a break.
If you're looking for something a little more exciting, be sure to hit up Paradise Springs. This is the Gaylord Texan's 10-acre outdoor pool and lazy river complex, and it's basically a giant water playground! There are several slides, a 6,000 sq. ft. family lagoon and more. It's the perfect stage for a day in the sun. They also have cabanas and Greta food and drinks, so you can spend all days there!
3) Get a couples massage
For those days when you just want to unwind, the Gaylord Texan has a beautiful spa. At the Relâche Spa & Salon, you can get all kinds of different spa services. On a couples weekend though, the perfect way to unwind while still spending time together is by getting a massage together. They've got some really amazing options for couples massages, and you won't want to turn that down!
At Gaylord's Summerfest, you can enjoy live entertainment like Summer of Cirque: Pirates & Princesses. This performance tells the story of a boy who dreams of becoming a pirate and heads out on a journey around the world. It's a show you won't want to miss if you're into cirque and theater. Whether you bring the kids or just visit by yourselves, the show has something for everyone!
5) Have dinner and wine at Zeppole
One of our favorite places to dine while we're staying at Gaylord Texan is Zeppole. They serve an amazing array of Italian-American dishes including yummy pastas, brick-over pizzas and charcuterie boards. You can enjoy them all in their courtyard seating.
But wait, there's more! I've got one last bonus tip for your couples getaway. When you're ready to leave the resort and venture out, head to Messina Hof Winery. Messina Hof is another place y'all know we love! It's perfect for an afternoon of wine-tasting and yummy small plates with great views.
Have y'all been to Grapevine, TX? What are some of y'alls favorite things to do there? Let me know!