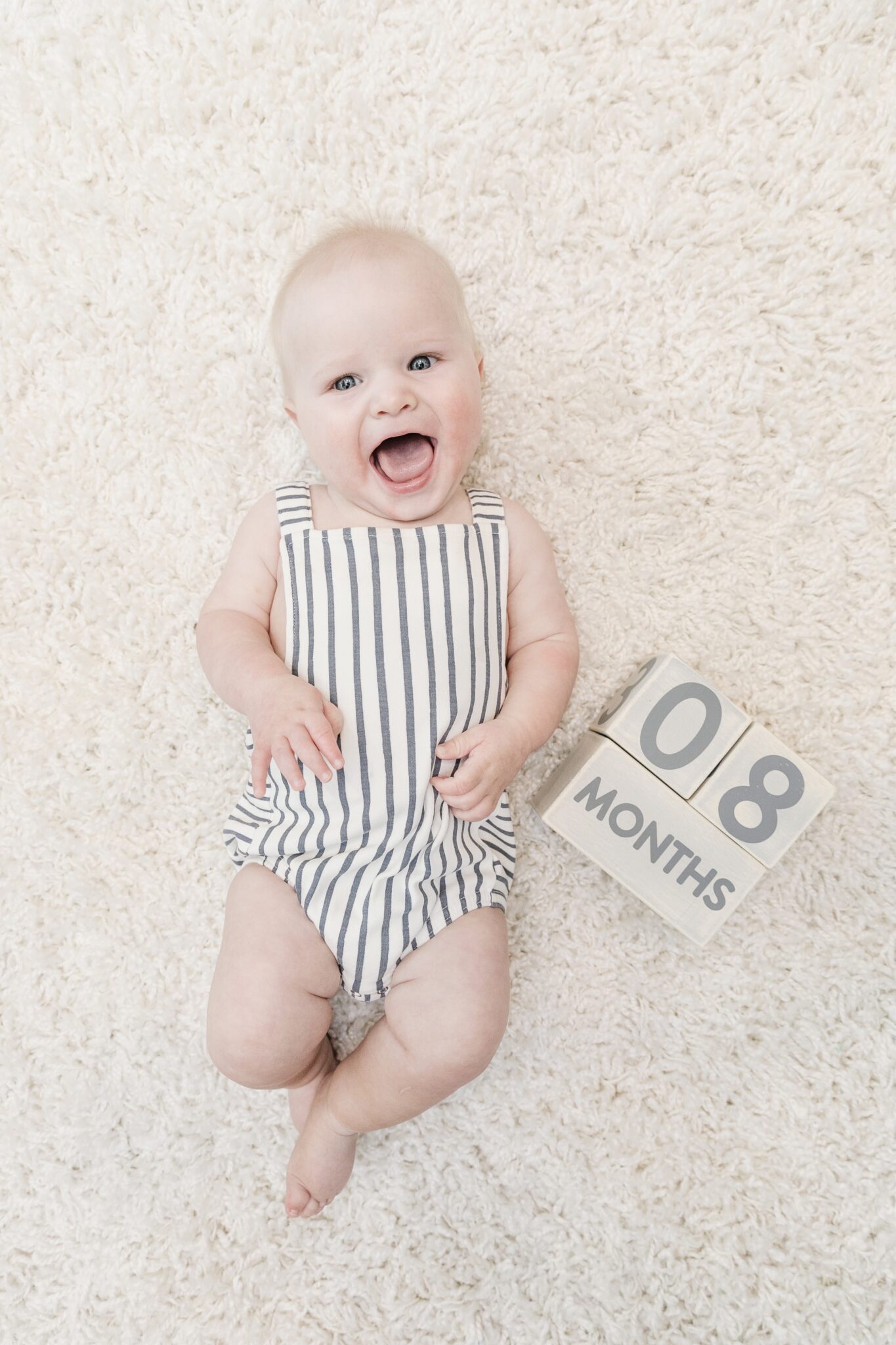 GRAYSON'S 8 MONTH BABY UPDATE
I feel like so much has finally started to change again over the last month! First of all, Grayson got not 1, but 2 teeth! They were just a couple days apart. He started making these different movements with his mouth, and I just knew they were about to come in! Another big change is that he has started to wave! It is the cutest thing ever y'all! He also rocks on all fours a lot and acts like he is ready to crawl any day now!
He still seems to want his 3rd cat nap for now, but I imagine that will change over the next couple weeks. He is still going to bed by 7:30pm and gets up between 7:30 and 8:30am, and he takes his 2 2 hour naps and 30 minute cat nap at the same time still.
He is still drinking milk 4 times a day, and he usually eats solids twice a day now. We started with once a day, and we have just recently increased that to 2 times a day over the past week. He loves both his milk and his food!
He is still such a happy and easygoing little baby, only fussing when he's hungry and it's mealtime or if it's nap or bedtime and you haven't laid him down in his crib yet lol. He is such a joy to be around!
He just took his longest road trip so far this past weekend (7 hours!) He did great! He didn't get in both of his 2 hour naps, but he did nap about 3 hours on the drive total, so that's definitely a win. He only fussed for a little bit when it was time for him to eat or he was tired but couldn't sleep in the truck. I don't blame him; I can't fall asleep in a vehicle either lol!
He rode his first tractor and his first side by side too this past weekend. He just loved being surrounded by family, playing outside and eating new foods! His favorite foots are sweet potatoes, mashed potatoes, yellow squash, green beans, green peas, butternut squash, applesauce and bananas. And he has started drinking a little water too now, and he loves it!
I can't wait to see what all he learns over this next week, and I'll have a weight update next time. This age is so fun y'all! What were your favorite milestones for your 8 month old baby?