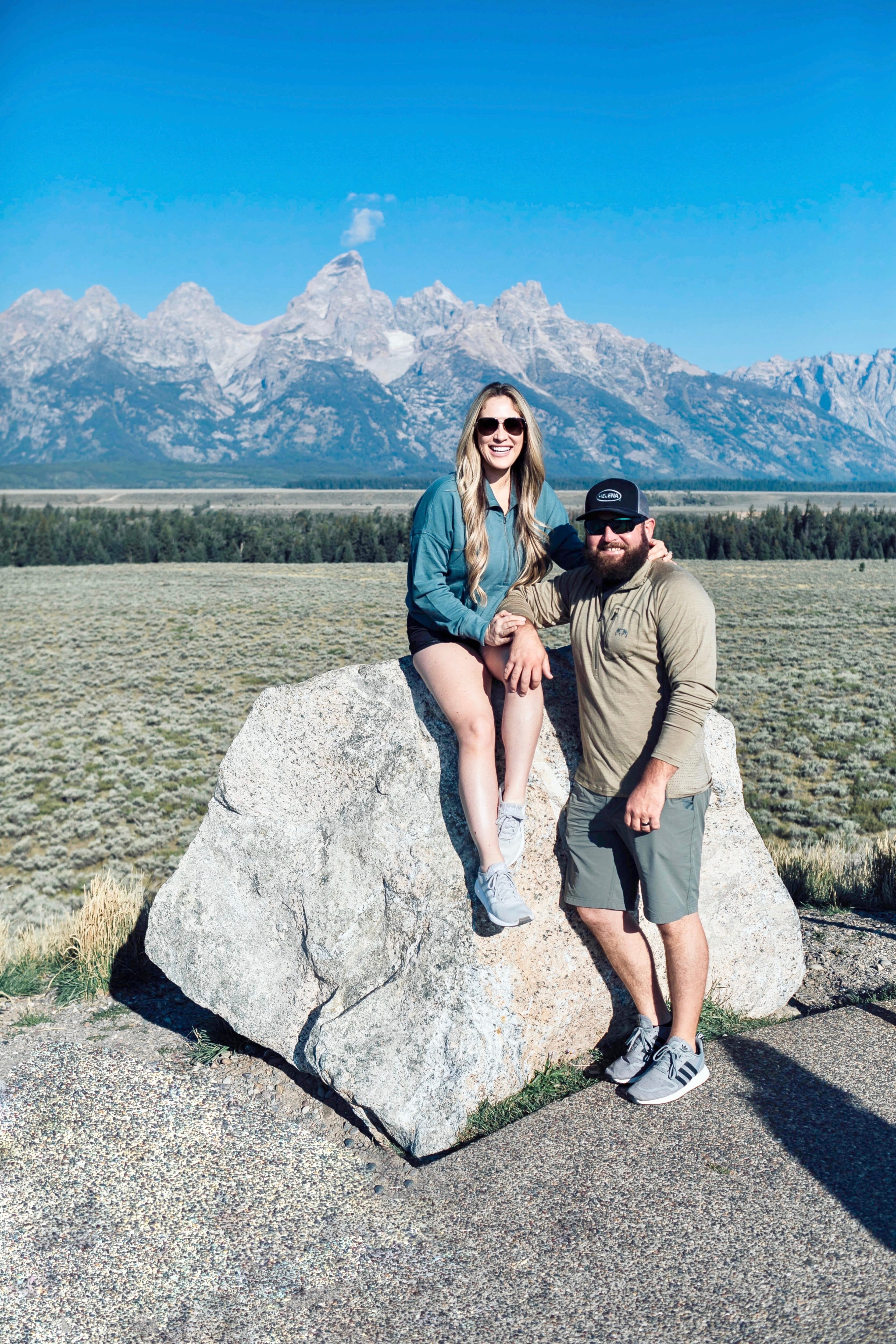 Just a few weeks ago, Matt and I took a trip out to Jackson Hole, Wyoming. We had so much fun in one of our favorite places ever and I have been so excited to share more with y'all.
Y'all have heard me talk about Jackson Hole before but this is one of the first times we've gone just Matt and I, so this was a bit of a different experience! There are so many amazing things to do in Jackson Hole, especially in the fall. It's such a gorgeous time to visit and there are some definite must-dos!
5 BEST THINGS TO DO IN JACKSON HOLE WY IN THE FALL
1.) Go hiking at Yellowstone National Park
No trip to this part of the country is complete without a visit to Yellowstone! This national park is absolutely a must-see when you're in this area. So many beautiful views and things to see, so much history and just to be able to say you've been in something lots of people can't say!
This should come as no surprise 😉 Matt and I love a good wine tasting and Wyoming has such amazing wineries. Jackson Hole Winery is one of our favorites and we make sure to hit this one each time we're here!
3.) Bike at Grand Tetons National Park
We are total outdoorsy people and so biking or hiking are totally on our to-do list when we are on a parents-only vacation. Grand Tetons National Park is the perfect place for biking and one place you don't want to miss out on. The views here during the fall on a bike ride in the mountains is just a once in a lifetime thing that you have to do!
These gondolas at Jackson Hole Mountain Resort are so fun y'all. If you've ever been skiing and ridden in a gondola, you kind of know what to expect. But it's a little different when you're ski-less haha! Such cool, picture-perfect landscape that is so peaceful and such a little romantic activity when it's an adults-only trip.
No vacation is complete without a little old fashioned fun, right? The coast at Snow King Mountain Resort is so dang fun. Speeding down a mountain on a coaster? Who wouldn't love that thrill?!
Have y'all been to Jackson Hole? What are your must-dos in the fall? Let me know in a comment below!