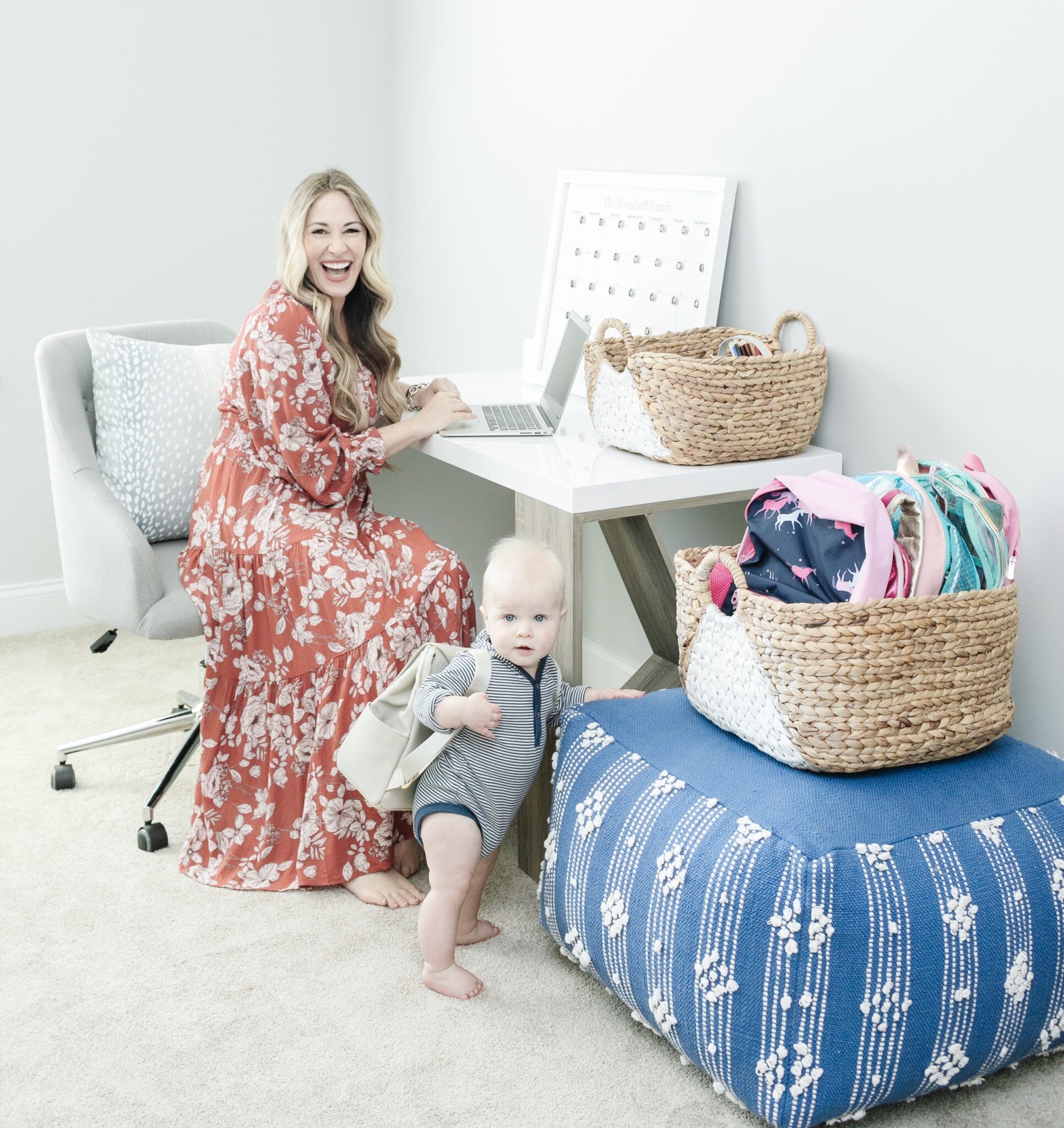 SHOP OUR FUN KIDS PLAYROOM ESSENTIALS:

If you follow me over on Instagram, you know that I just recently FINALLY started working on a family room. Our bonus room upstairs has been pretty empty since we moved in. We finally got a couch in there at the beginning of this year, and last month we FINALLY started working on really turning this room into our fun kids playroom and learning room.
This room is pretty big, and it's upstairs with the 3 kids' rooms. I feel like this room is perfect for this space because it's upstairs, and it's near the kids' rooms. Since the room is a pretty good size, we decided to make it a multi-purpose room. And that's how it became the fun kids playroom and learning room (known to us as the family room.)
I know this room will really come in handy over the years, and I'm sure it will grow and evolve as the kids get older too. With Leighton in school and virtual learning sometimes required, we knew we needed a learning area at the house. And with the kids getting older, a playroom is must too!
How to Create a Fun Kids Playroom and Learning Room in your Own Home:
We still have a long ways to go to get the room finished, but it is definitely a start! I wanted to share some of my best tips to help transform your space into a playroom or learning area.
1.) Make it colorful and fun.
Kids are drawn to color and fun. Do you blame them? If you want kids to spend time in an area, you need to make it appealing to them. Add pops of color with a fun pouf, pillows, pictures, a rug, etc.
2.) Create stations for learning, playing, reading, resting and art.
This is SO important! If you don't have stations for certain areas, then your kids will never really use the areas because they just won't function. Create separate areas that are organized and functional, and your kids will love to use them! We have a learning area with a desk, chair and baskets to keep everything the kids need for school/play, we have the couch and ottoman for the kids to watch movies, and we are working on a reading area by adding built-in bookcases soon.
3.) Keep things organized by adding cubbies, bins or baskets.
We added 2 baskets, and we plan to add plenty of bins and shelving to our built-ins to have a space for toys, art, etc. The more that things have a place, the easier the kids will know where to find what they want. The more they can find them, the more they will use them!
4.) Add comfy but sturdy seating.
Our new desk chair is not only cute, its super comfortable. We added that along with a super cute pouf. We even have a couple big floor cushions for the girls in here. They have plenty of seating options in here – structured for learning and comfy for reading and watching movies.
5.) Make sure there is good lighting.
This big room has plenty of large windows with lots of great, natural lighting. We also have a big chandelier in the room. If not, we would add lamps. It's important for their to be good lighting, especially when you're creating a learn at home area for the kids.
6.) Personalize the space for your children.
On the opposite wall, we have a print with all of the kids names on it. They love seeing their names in there! That, the kids' artwork, pictures of them. Add some personalized touches to the room, and the kids will love the space even more and want to use it.
I can't wait to show y'all an update once we get it all finished next year. But for now, I am pretty excited to finally have our space coming together and being a little more kid friendly. Do you have a playroom or learning area at the house?