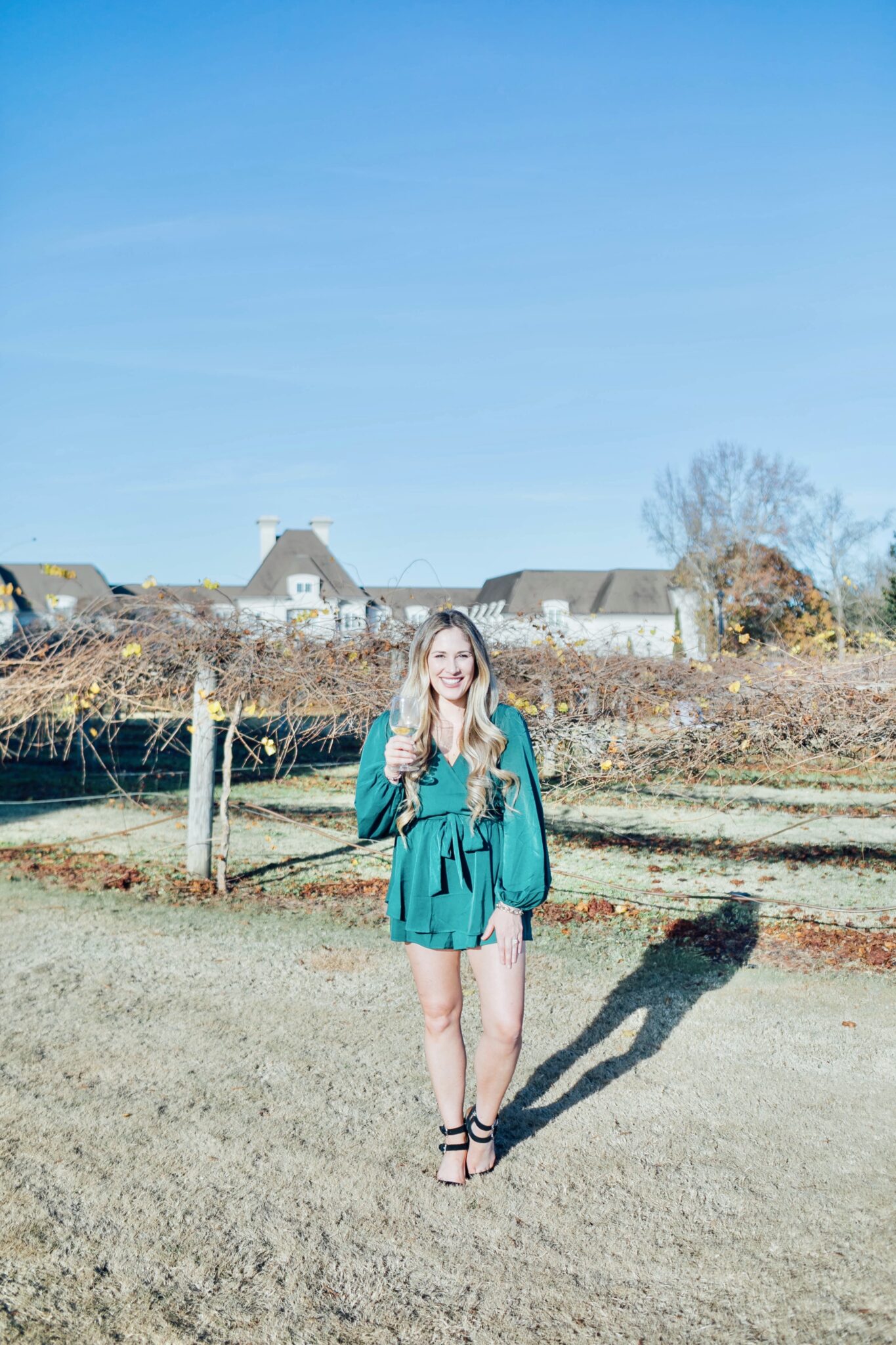 For Thanksgiving, Matt and I did a little something different this year and took a fun little road trip. It was so nice visiting friends and family, but still getting a little road trip and vacay in. It was SO RELAXING y'all! The first stop on our list was Chateau Elan. If you haven't heard of it, you need to! Chateau Elan features an amazing winery, incredible restaurants, championship golf, a European health spa and gorgeous views inside and outside!
Chateau Elan is located in Braselton, Georgia, just an hour northeast of Atlanta. It is located in the gorgeous rolling hills of Georgia. Chateau Elan is a winery and resort. They have a gorgeous winery and vineyard, and next door, they have their resort which is where we stayed. The winery not only had amazing wine, but the place is just gorgeous!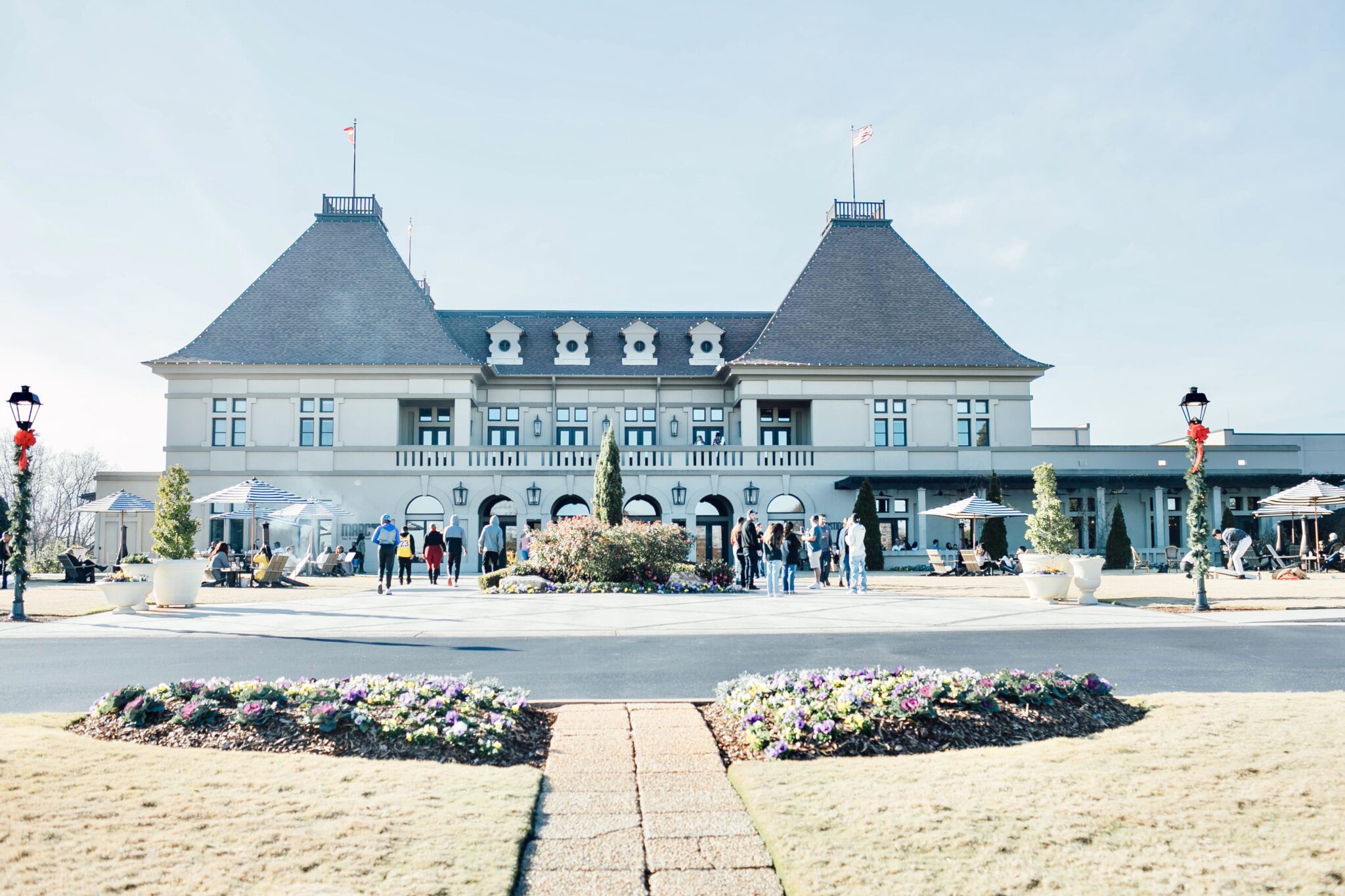 It was decorated for Christmas and was so festive. It is so grand, and they have tons of fire pits and chimineas out front with chairs and chaises. To the side, there is hill that leads down to the vineyards, picnic tables and tents or wine bungalows. = ) The area is so neat! Grayson went with us, and we had a nice little picnic overlooking the vineyard. The weather was almost 70 that day, and it just felt amazing outside! You can also sit inside for your wine tasting or picnic, but we couldn't pass up the gorgeous weather that week!
Next door in the resort, they have tons of fire pits outside and several fireplaces inside in the lobby. In the lobby, they have a cute little coffee shop and gift shop. When you walk around the corner of the lobby, there is a grand staircase that leads down to one of the restaurants, and it has a gorgeous glass atrium ceiling. We ate dinner at the restaurant one night with Grayson, and we had afternoon tea downstairs in the atrium.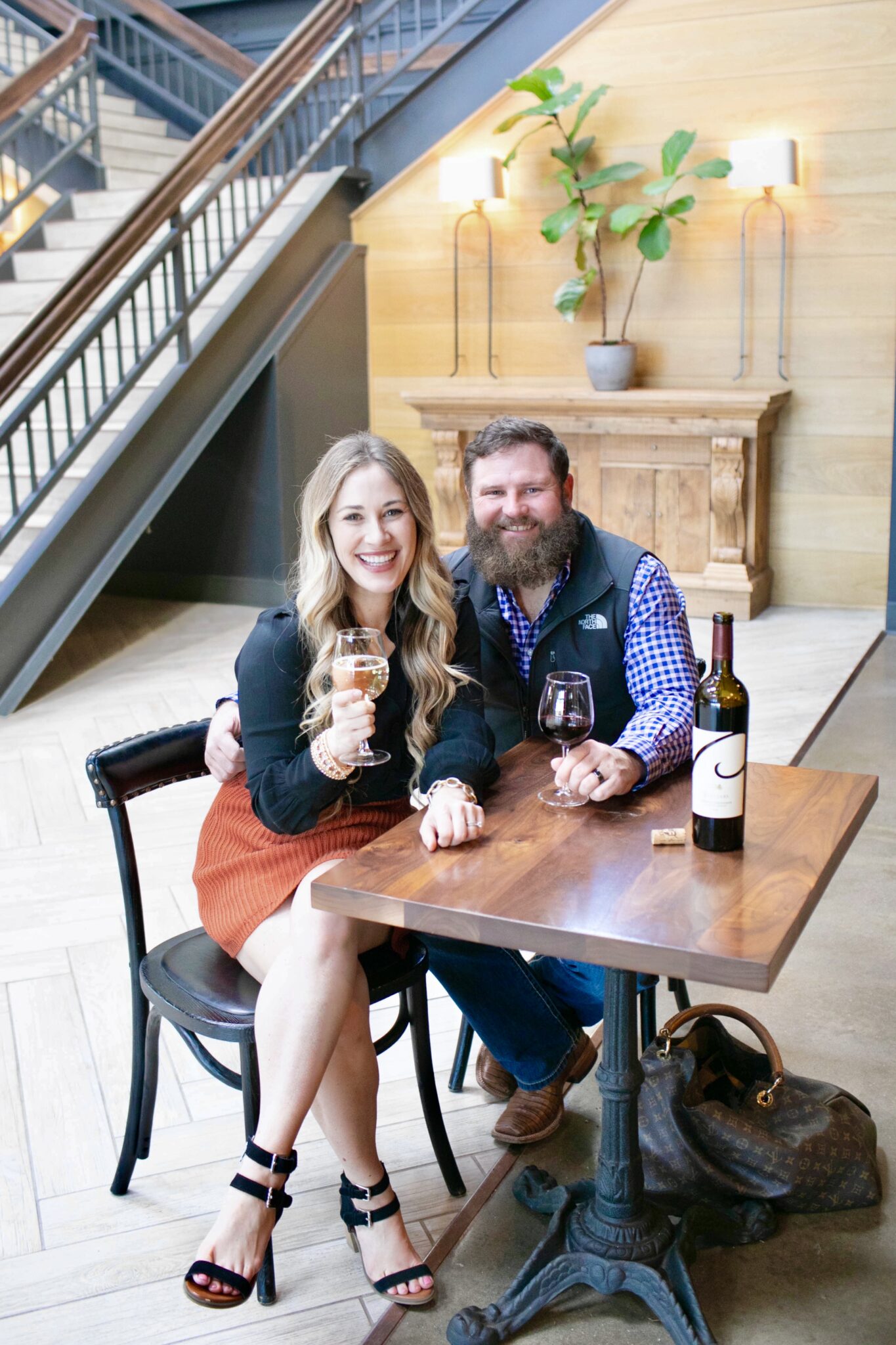 On top of the restaurant downstairs, Versailles, they also had several more restaurants throughout the property – Paddy's Irish Pub, Louis' House of Bourbon and Marc, which is an upscale chophouse. We honestly loved all of them! We all had Thanksgiving dinner at Paddy's. The bangers and mash, salmon and rice and drinks were so good. And it was so fun being at a casual restaurant for the holidays just to relax a little.
We visited Louis' one late afternoon for drinks and chicken wings, and oh my goodness, the wings were so good! Even Grayson loved them! Marc is located next door inside the winery, and it is amazing. The steaks and wine were to die for. And it overlooked the tasting room with views looking out the window down the hill to the vineyard. It was SO good!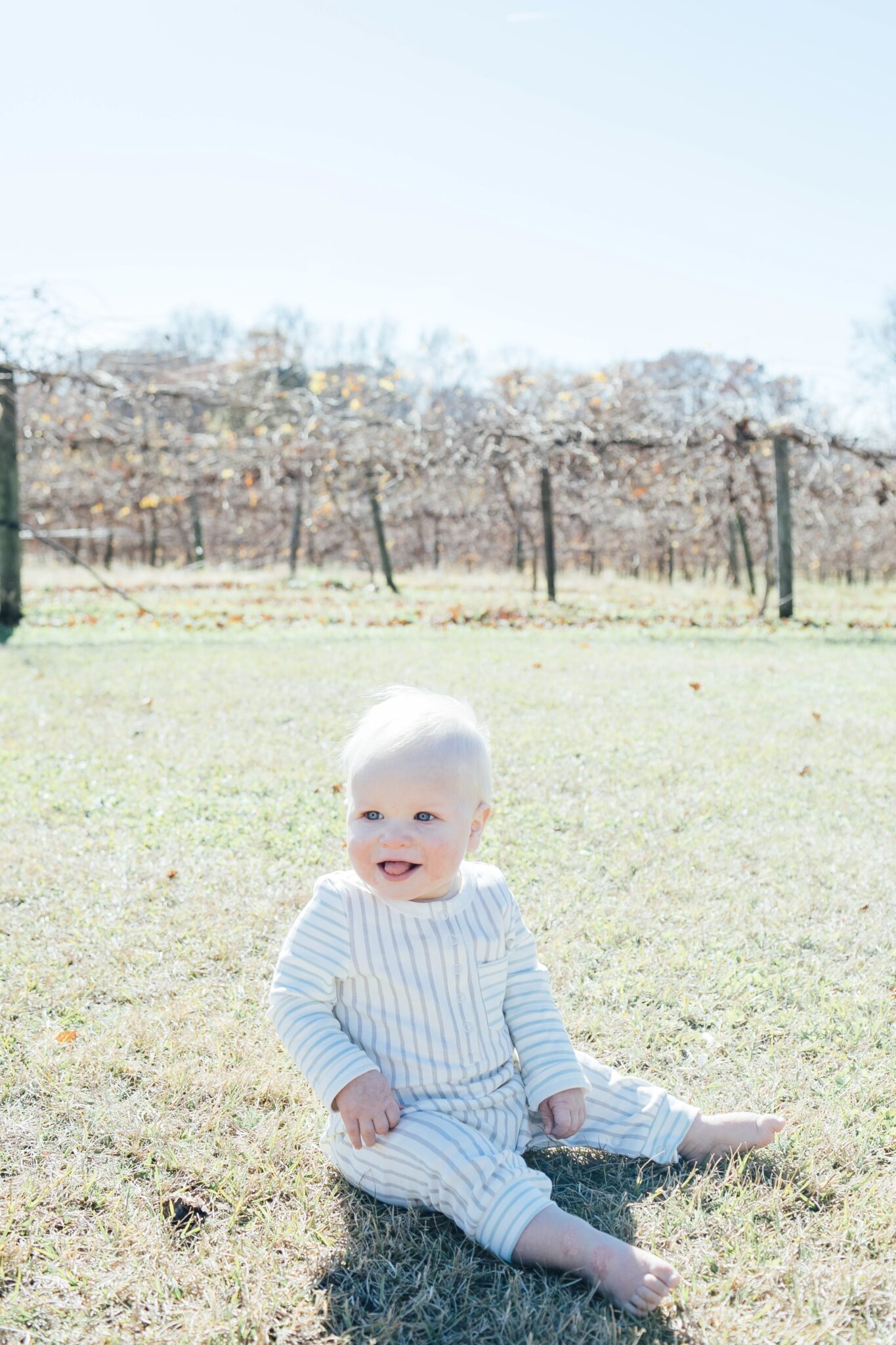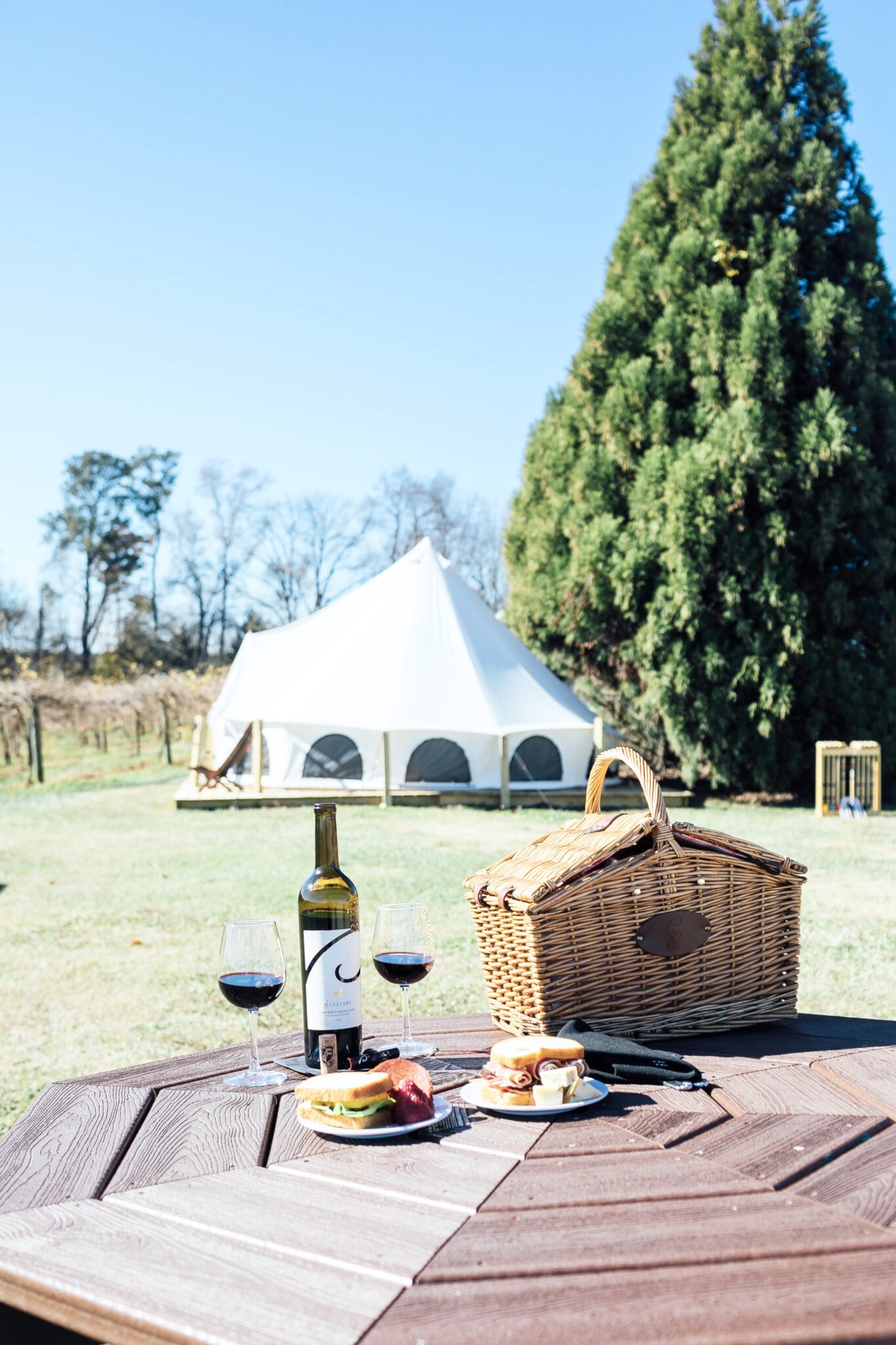 This honestly is one of our new favorite places! If you love good food, good views and good wine, you will love Chateau Elan. It is perfect for couples, friends and even families. There were so many people there with babies, and I love how kid friendly it was for such a large, nice winery and resort. We will definitely be adding this to our list and coming back! I want to bring my sister and mom sometime for a girls' trip too; I just know they would love it!
I am beyond excited today to be teaming up with Chateau Elan to give away a 2 night VIP package with premium accommodations! Just head over to Instagram right here to enter. It is super quick and easy! You will jus make sure you're following me, the resort, and tag 1 person! The giveaway will end on 12/19/21 at midnight. Good luck! Leave me a comment here letting me know if you entered and what you would forward to most about the winery and resort.