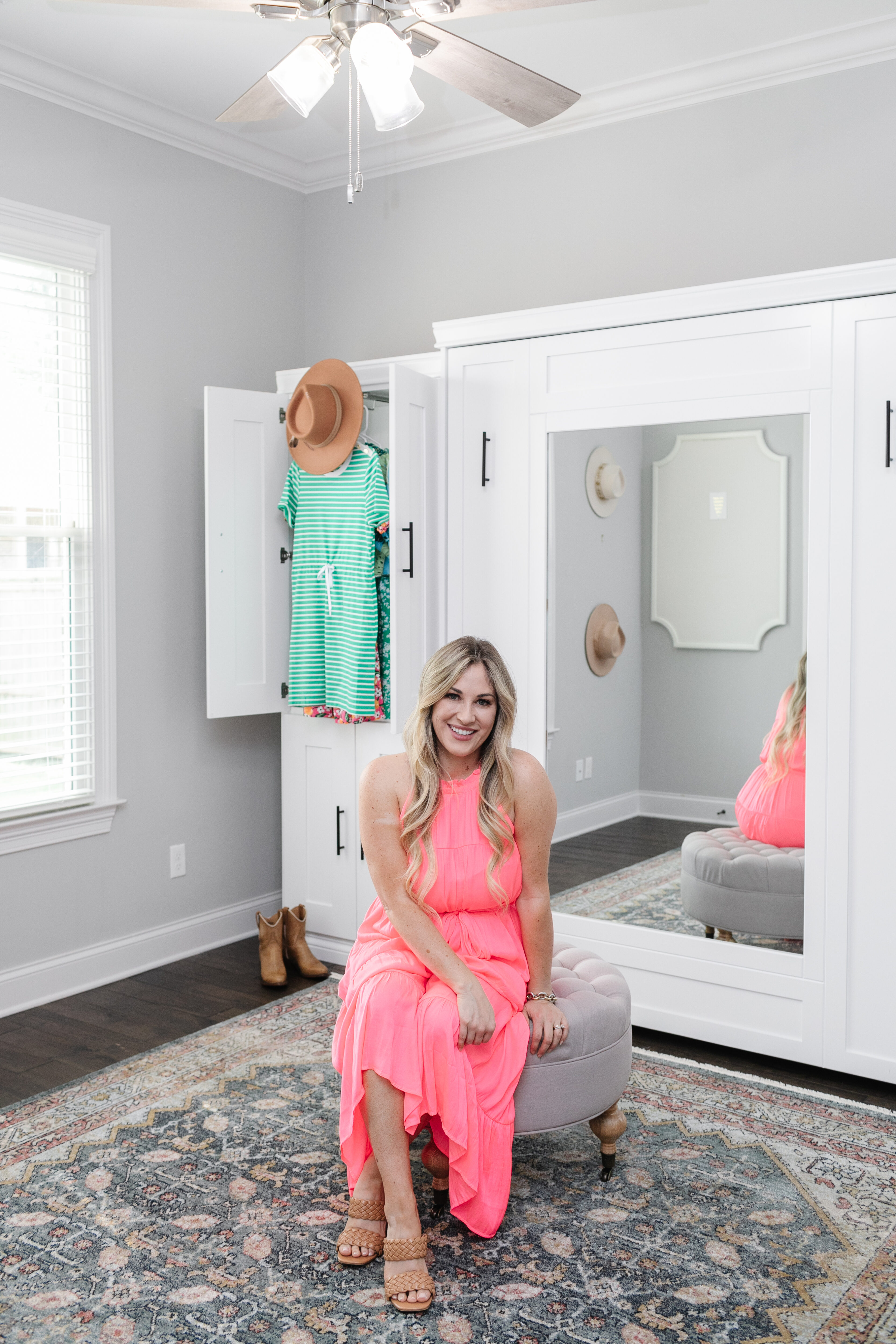 How to Maximize the Space in Your Home
Whether you have a 500 sq. ft. house or a 5,000 sq. ft. house, you can always benefit from maximizing what space you do have. We may have lived in our new house for 3 years, but we are constantly still working on finishing rooms. And as the kids get older, I feel like that is even more important. Spaces are always evolving as they change from a baby room or area to a homework area or even an elementary student's room. Today, I'm sharing how to do that in 8 simple ways, especially if you have a murphy bed.
8 Simple Tips
As we are working to make our spaces even more practical for our family, I wanted to share some of my best tips on maximizing the space in your home and rooms. Read on and let me know if you have any tips to add too!
1.) Clear out the clutter. If you don't use something anymore, it's broken, or you don't use it often, get rid of it, or store it elsewhere. This is the perfect time to go through all that clutter and start with a clean slate.
2.) Maximize storage space creatively. Remember that vertical storage is always a great idea! Stacking bins, hanging over-the-door storage, pot holder racks. Some of my favorite places to search for pretty and practical storage are The Container Store and Ikea.
3.) Keep the room light and airy. I love to start with light wall color. You can see my favorites here. The same typically goes for furniture. Think bright, airy neutrals. And add pops of color in with accessories like pillows, ottomans, throws, etc.
4.) Make the room appear larger with a large mirror in the space. I love opening up the space with a large, nice, statement mirror. One of my absolute favorites (I have it in 2 sizes) is this one. Also, I added a huge mirror in my room above, and it definitely makes the room feel even larger!
5.) Anchor the room with a large rug. A lot of small, choppy pieces can really break up a room and make it look even smaller and more crowded. I love to choose a large room for 1 space to really pull it all together. Visually, it actually makes the room look bigger and more finished.
6.) Create useable areas or "stations" in each room. Is your small space a bedroom? Create a sleeping area, a small corner for reading, an area for dressing and getting ready, etc. As you do this, you'll learn that stations can help to keep your room practical and organized, even when working in a small space.
7.) Let your room serve dual purposes. Y'all know we started turning my office into a multi-purpose room last year. It is now my office/guest room. We always wanted 1 more bedroom in our house for guests and combining these 2 rooms allowed us to achieve that. Think of futons, pull-out couches, murphy beds, or a bunk bed with a desk underneath. These are all great options to achieve a dual-purpose room.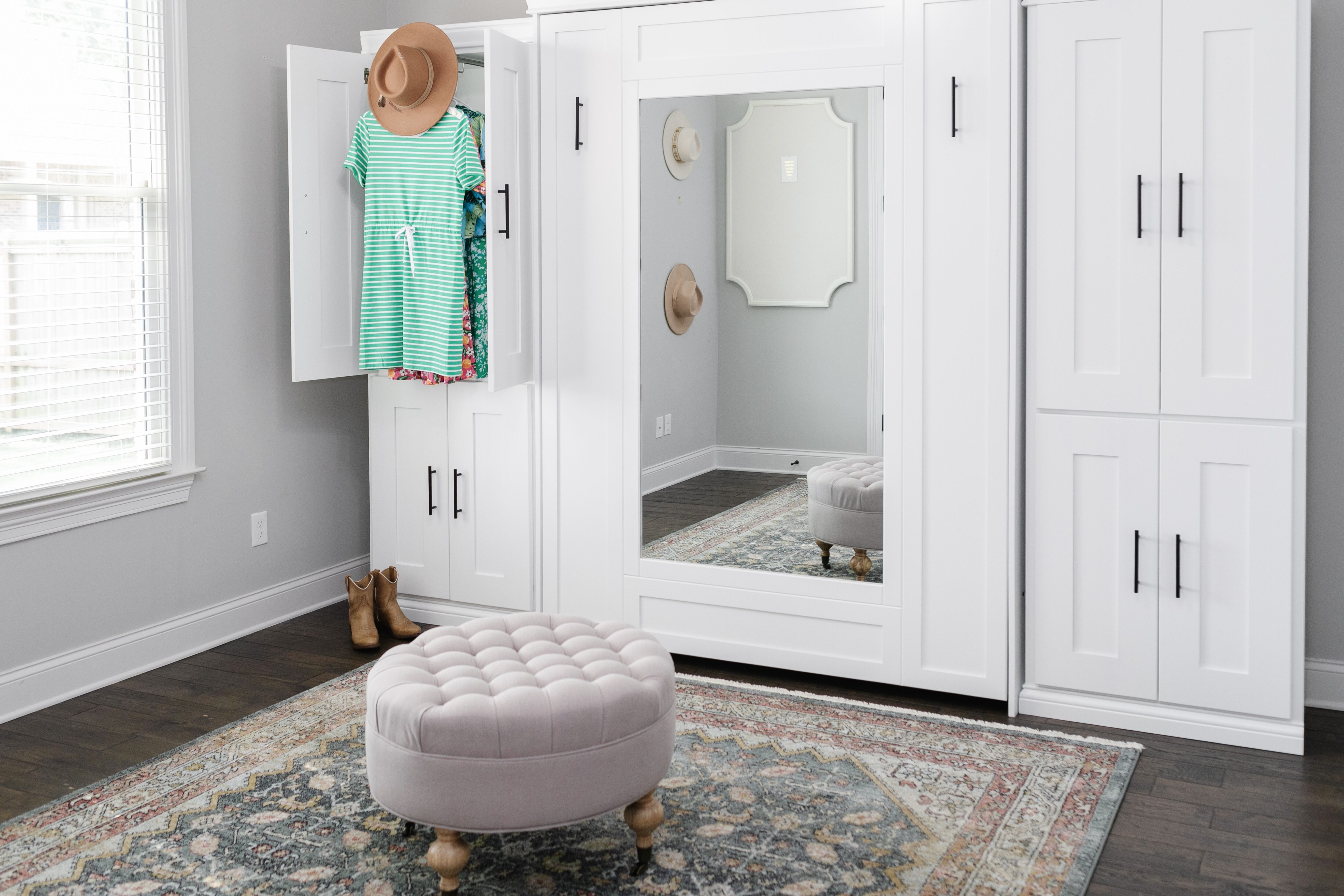 Our Murphy Bed
If you've been watching my Instagram stories, you know that I bought a murphy bed last year from Bedder Way Murphy Beds Company. I absolutely love it and am so happy with it! Before we made the switch, I did a lot of research before deciding which bed to buy as it is not an inexpensive investment. We wanted something that was made with real wood and would last. I chose this style with a mirror on the front, and I'm so happy with my choice!
The mirror on the front is perfect for guests while changing and even for me while doing try-ons in my office. It definitely pulls double duty. The bed stays up 99% of the time when the room is my office, and then I scoot my rolling ottoman out of the way the other 1% of the time and pull down the bed for guests. I even added side cabinets for clothing storage for my business and for guests staying.
8.) Remember that less is more when it comes to the finishing touches. There is no need to go overboard on all the home decor accessories and nicknacks. Use larger statement pieces with some color and texture, and let them do the talking.
What do you think about my small dual-purpose room so far? I am in love with it, and ironically, the room actually feels so much bigger now! Since I am still finishing up on a desk for this room, I'll update y'all soon on the final result. If you're looking for more tips on how to maximize your space, make sure to check out Redfin's blog post here on maximizing space with only 500 sq. ft. What are your best tips for maximizing your space in your home?