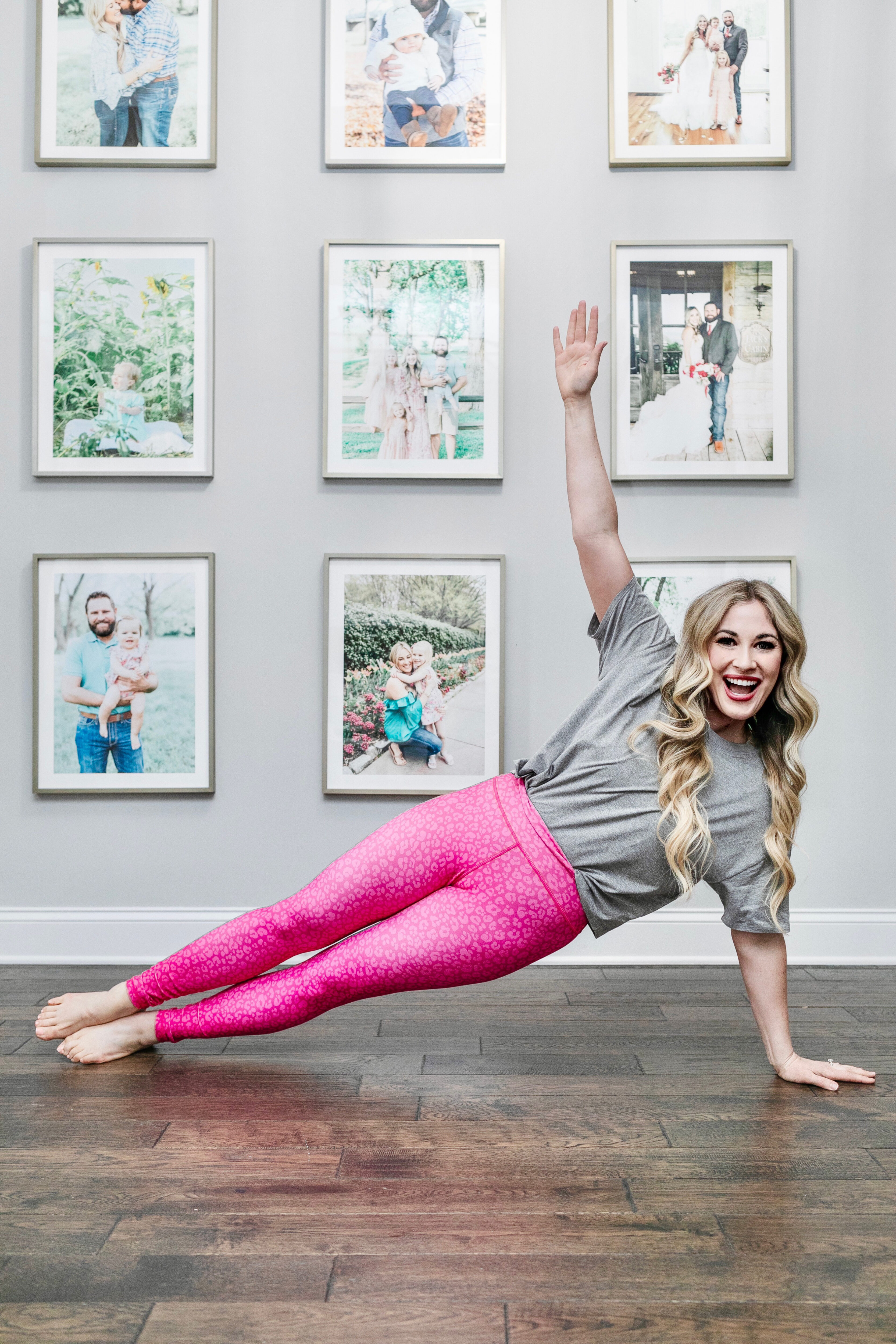 SHOP MY LOOK:

This month is Women's Health Month, and it is a great time for us to remember that we cannot fill up others' cups if we don't fill up our own also! I am so guilty of this too, but I have truly been working on it too. I would love you to join me this month in focusing on your health and make a list of things that you would like to work on to meet your goals.
One of my goals at the beginning of the year was to work out 4 days a week, and I am happy to say that I have met that goal every week but 3 this year. I am very proud of that accomplishment! And the weeks where I couldn't meet it for traveling for work, I made sure I still got in some activity by going for a walk, hike or something while out of town. It all counts!
To honor Women's Health Month, I am sharing 7 tips to help focus on your health right now. While we should definitely focus on our health year round, life gets in the way, and it can be tough feeling like we have to take care of everyone else too. Below is my list of ways I am putting my health first this month. Will you join me?
7 Top Tips to Focus on your Health Today:
1.) Make those remaining doctor appointments you've been putting off!
Your OBGYN, your yearly physical, your dentist appointment, your dermatologist skin check appointment.
I go twice a year to get my moles and freckles checked on my skin, twice to the dentist, and the the other appointments I recommend making once per year unless you have any cause for concern. At your physical, they will check your BMI, your blood pressure and more. It's a great "check-in" to have each year.
I just had my dermatologist checkup last week, and my annual OBGYN appointment is this month too. I am also seeing a physical therapist for pelvic floor therapy. I know life gets busy and things come up, but now is a great time to think about yourself and your health!
2.) Focus on healthy, colorful foods when planning meals.
I always notice such a difference when I focus on eating healthy, colorful whole foods. I look for foods that are as minimally processed as possible. There are so many great veggies that are just chocked full of nutrients!
Peppers, spinach, carrots, tomatoes, brussel sprouts, sweet potatoes, asparagus, broccoli and cabbage. These are some of my favorite vegetables. And then I add meat like chicken, salmon, turkey. And I don't forget my carbs either – quinoa, oats, blueberries and bananas are some of my favorites.
3.) Stay hydrated!
It's crazy to think that our bodies are 70% water! So…no wonder we need to stay hydrated. I try to aim for about my body weight in ounces. That's a lot of water, but once you get used to it, it is pretty easy. My number one rule is that I get no coffee until I drink 1 17oz bottle of water first!
Drinking water regulates our body temperatures, keep joints lubricated, prevent infections, deliver nutrients to cells and keep organs functioning properly. When I haven't drank enough water, I quickly start feeling dizzy and dehydrated. Try one of these water bottles to help you up your water intake.
4.) Get moving!
Whether that means going on a hike, lifting weights at the gym, riding bikes, or even pushing the baby in the stroller, try to get active at least 4-5 times a week this month! Every little bit counts, I promise. Not only will it make you feel better, it will give you more energy and even help you sleep better at the end of the day.
If you're looking for accountability, Heather at My Life Well Loved, and I are doing a 1 mile a day in May challenge. If you join us, just tag us over on Instagram and let me know! Also, make sure to check out her post here for 6 health hacks that would be perfect to try this month!
5.) Get plenty of restorative sleep.
As you get older, have you noticed how much more important sleeps seems to be? It really is! Especially when you aren't able to get as much anymore with kids and busy work schedules. That is when we really miss it.
Sleep is when our bodies rest and recharge themselves. It helps us to fight off infections, it gives us energy, it helps us to reduce stress, and it helps to improve our cognitive function.
6.) Don't forget your mental health is part of your health too!
Schedule time with good friend to catch up, set aside some time to relax, lower alcohol consumption, try new hobbies, and even call your insurance to see if they have a plan where you can speak with someone.
It is always good to have someone you can talk to and express your feelings, no matter what life stage you are in. With more technology, longer work hours and more kids at home, it all takes a toll on all of us in some way. Don't neglect your mental health and how you truly feel.
7.) Stay accountable with a friend, app, plan or whatever truly works for you.
I have my friend Mary Kate who I work out with. And I have a few mom friends who I talk to about life and issues that arise. I also use a couple apps that have eating plans and workouts that I love. A couple of my favorites right now are Nancy Anderson Fit and Faster Way to Fat Loss.
All of these things really go hand in hand. Not just one of these things on this is more important to focus on your health; they all are. But you have got to start somewhere. So add as many of these to your routine this month, and see how you feel at the end of May. Sleep, a healthy diet and exercise are so important, and I especially notice it now that I'm older! I will be working on all of these this month. What are you doing for Women's Health Month?