This post is sponsored by BabbleBoxx, but all opinions are 100% my own. Thanks for helping me to support the brands I love.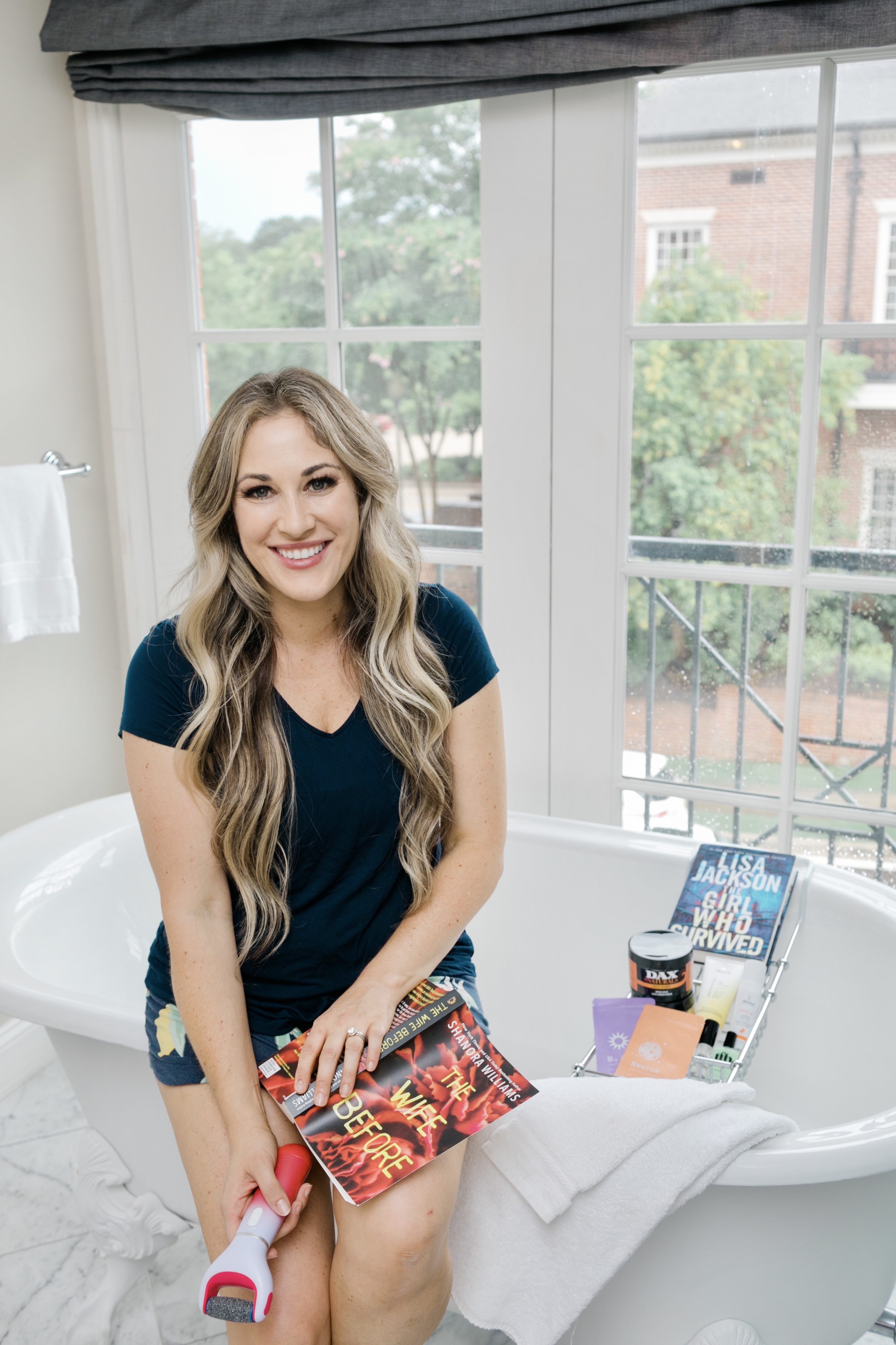 Summer is still here y'all! We have a few more weeks until school starts, and if I'm being honest, we still have about 2-3 months of excruciating heat! So don't pack all your favorite summer outfits and bikinis away just yet! To me, summer is all about spending more time outdoors, going to the pool on vacation, and squeezing in some more summer date nights.
All of that means smooth, summer skin and soft, shiny hair. The cold weather in winter and spring changing quickly to a hot and humid summer can really do a number on our skin, hair, nails, legs, and feet and dry them out in no time! Today I am going to share 10 products to get you summer-ready skin while always helping you to feel your best for those pool days you have coming up.
Get Summer-Ready Skin and Hair with These Favorites
1.) Electronic Foot File – First up is what carries us everywhere, but we often neglect them. Amopé Pedi Perfect Electronic Foot Files are made just for that – your feet. I have been using their foot files for over 5 years now and rave about them often! They work SO well! It is spa quality foot file that you can use at home before, during or after a shower or bath. I love that you can use it wet or dry and then apply your favorite moisturizing lotion afterwards.
After I had Grayson in winter of 2020, my feet got SO dry and cracked. From the extra weight to dry, winter weather without the humidity, my feet were so bad. They were cracking on my heels and the dead skin was really starting to hurt to where I could barely walk. I started using my foot file daily, and after just one use, they felt so much better again. Now I use it every week to keep my feet smooth and soft after walking around barefoot, going for runs in sneakers and then walking around on the sand at the lake. I love how smooth my skin is after using this – truly the best option for summer-ready skin on your feet!
Right now you can get a $5 Target gift card with a $25 Health purchase at Target, so grab your Amopé Pedi Perfect Electronic File and some other beauty favorites for summer!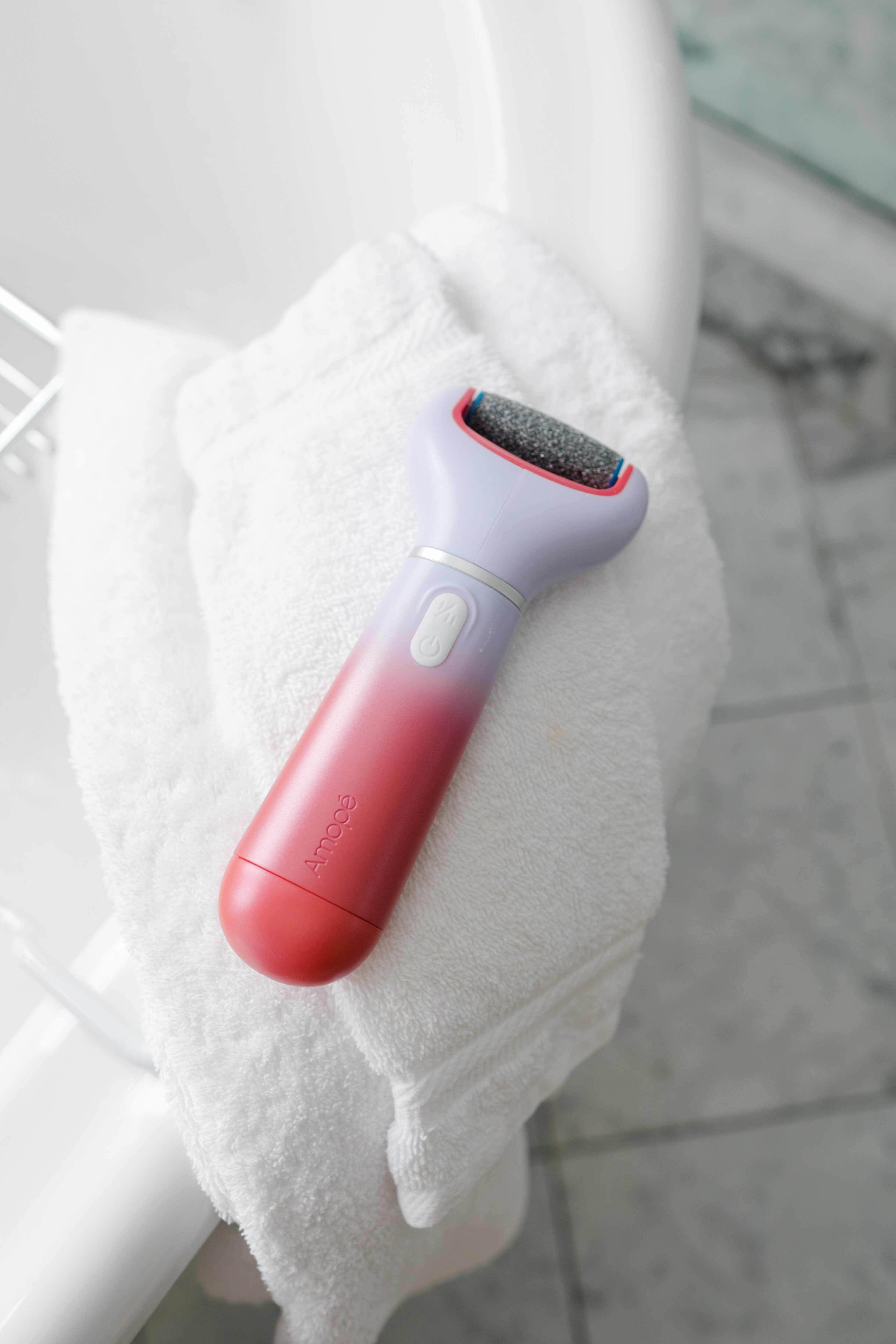 2.) Sunscreen. I first tried IMAGE Skincare earlier this year, and I have been a fan since. It is the #1 spa and salon professional skincare brand powered by safe, proven active ingredients and smart botanicals for healthy skin. IMAGE has been around for one 15 years, and they make amazing products for skin from products to help with acne, aging, rosacea and even sun damage.
What I love so much about their products is that most of them have added SPF in them along with products that help to hydrate and repair your skin. They are also formulated without parabens, phthalates, mineral oils, artificial fragrances, synthetic dyes or animal testing.
IMAGE Skincare Prevention+ SPF Moisturizer goes on sheer with a soft matte finish and weightless feel while protecting your skin from harmful UVA and UVB rays. I've been packing it in my purse all summer and have been using it at the pool, lake and at picnics to protect my skin.
3.) A facial mist. If you haven't tried a facial mist yet, what are you waiting for? They are life changing. The Vital C Hydrating Facial mist goes on lightweight and leaves your skin with a velvety soft and dewy finish. It has vitamin C in it and helps to shield skin from environmental stressors.
The citrus scent is perfect for helping to wake you up in the morning! I apply it first thing in the morning before my other products and love it is a base to hydrate my skin and prime it before I add other products and makeup but you can use it during any step of your skincare routine.
Right now you can use code FOLLOW15 for 15% off your entire purchase at IMAGE Skincare!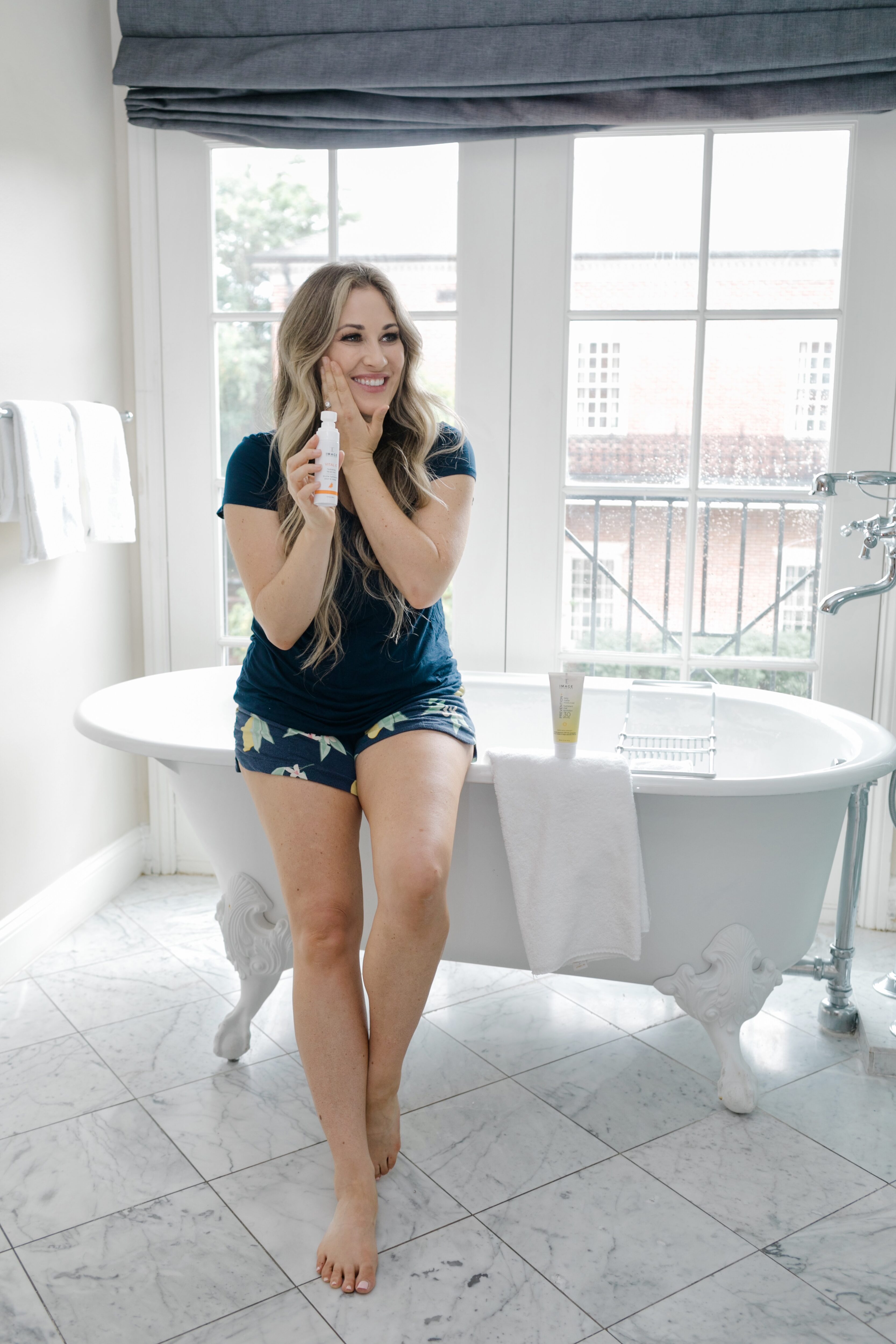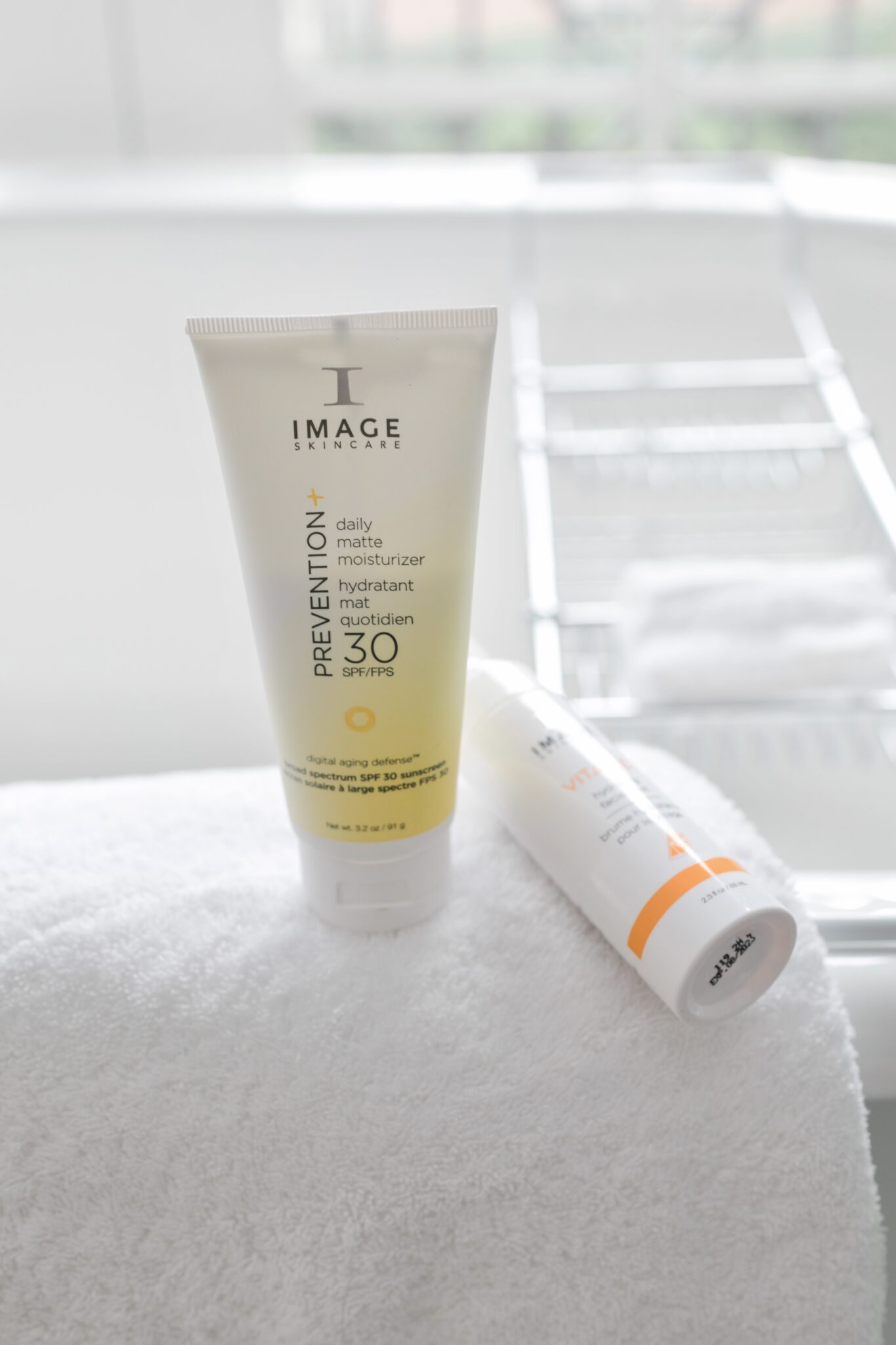 4.) A protein hair treatment. It's no secret that our hair takes a lot of daily stress everyday from sun, smoke, water, sand, hair tools and more. Now is the prefect time to add a great protein hair treatment to your routine! A protein hair treatment will moisturize, reduce breakage and soothe a dry scalp.
DAX for Naturals line is specifically for men and women seeking to embrace their natural hair. Y'all know I have wavy hair, and in the summer time with all the heat and humidity, I typically just embrace and go with the flow instead of trying to straighten my hair and go against its natural form.
DAX For Naturals Protein Treatment is a revitalizing deep conditioning protein treatment, rich in nutrients, that helps strengthen hair and reduce breakage. Natural oils and emollients enhance shine, soothe dry scalp, and help protect hair against free radicals.
5.) A styling pomade. Like I mentioned above with going with the flow instead of fighting your hair. After a day at the pool, beach or lake, I love to either wear my hair naturally wavy, or add a pomade to it and do a slicked back ponytail, braid or fun hairstyle like spacebuns. I even use it on the girls' hair after the pool!
DAX for Naturals Styling Pomade is lightweight and formulated with Shea and Mango Butters and Passion Fruit Oil to hydrate, moisturize and add shine to your hair. Broccoli Seed Oil provides a silicone feel without the silicone. It also helps moisturize it after the sun and water has dried out your locks.
DAX not only offers luxurious haircare products, but they have been around for 65 years, are made with quality ingredients and are still affordable. Right now you can get 10% off with code BBOXX22.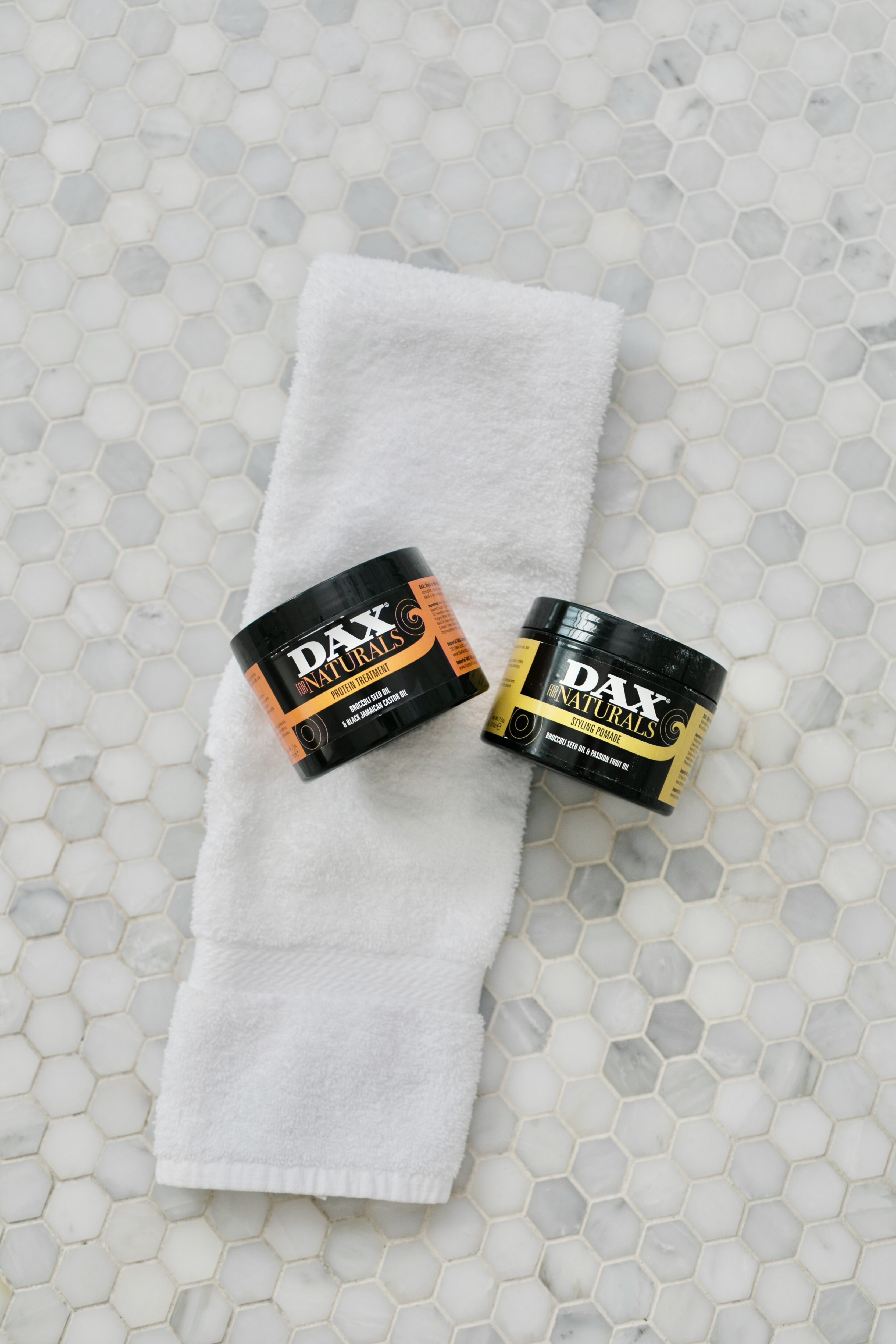 6.) Vitamin B12. It helps keep your blood and nerve cells healthy. And with added B12, caffeine and Green Tea, The Good Patch B12 Awake Patch is perfect to wake you up and give you a boost!
The Good Patch is a line of wearable wellness patches designed to help with life's everyday ailments. Need some help unwinding after a stressful day, help to get quality zzz's, recovering after a night out or a mid-afternoon pick me up? The Good Patch has you covered! Each patch offers a sustained release of ingredients for up to 8-12 hours. No longer want the benefits? Just remove the patch.
With their patches, you have control of when you want to try them and when you don't simply by taking them off. Peel, stick on any venous area (like your wrist or top of your foot), and feel the difference. With 16 patch options to choose from, there's truly a patch for everyone!
7.) Vitamin B1. Did you know if you are deficient in Vitamin B, you can experience tiredness, loss of appetite, muscle weakness and more? Vitamin B1 also helps with the flow of electrolytes. This patch is infused with DHM, Green Tea and Vitamin B1 and is perfect for helping you to bounce back after a night out or a long day at the lake or working!
I have been packing these in my purse now for all my trips. After driving, flying, working long hours and eating on the go, somedays I am just drained or have low electrolytes. These patches have been great for those long, crazy days this summer! Just throw them in your purse, suitcase or gym bag.
Right now you can get 15% off your first order when you sign up on their site plus free shipping using the code FREESHIP. That will let you try both the B12 Awake & Rescue patch for just $10.20 each!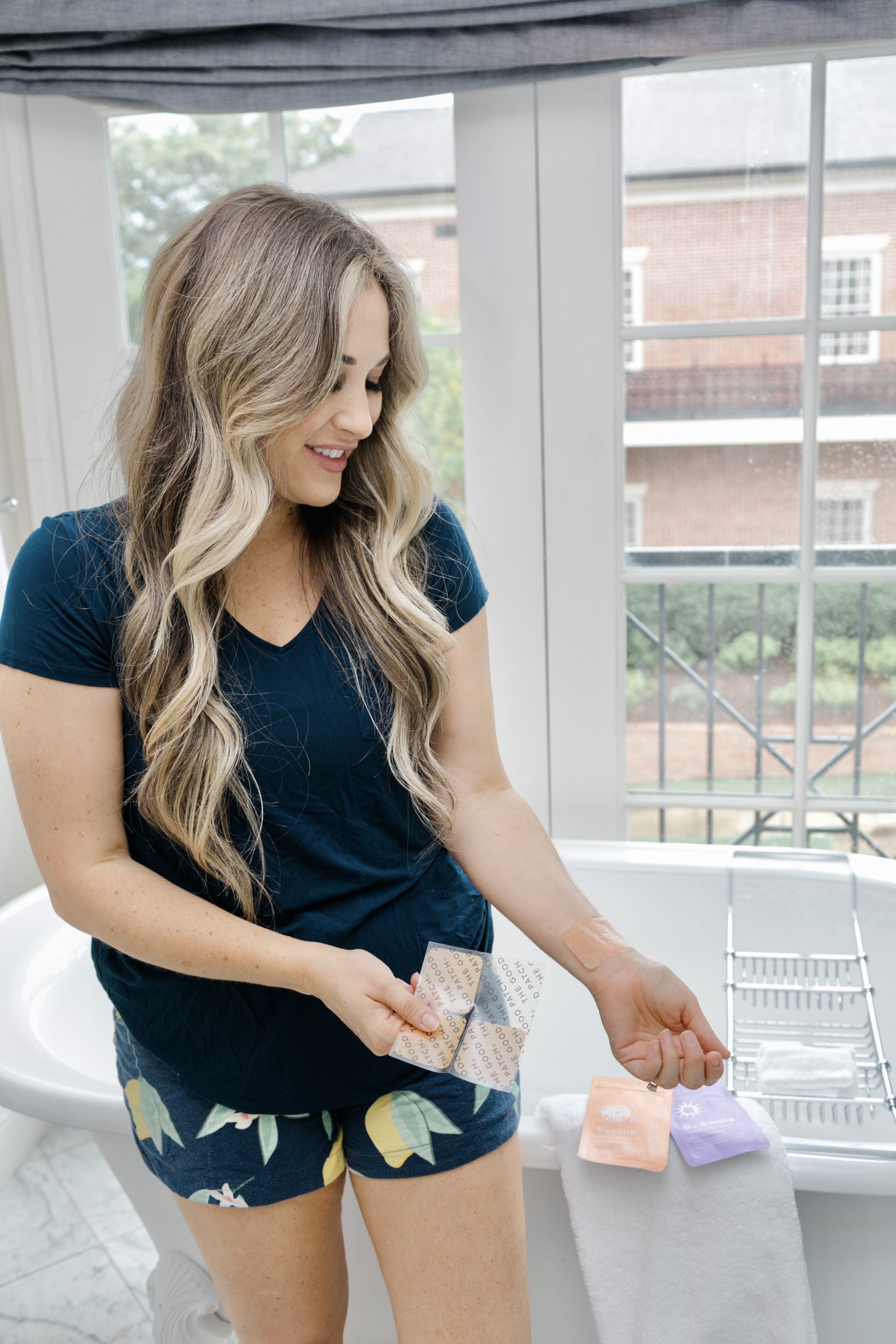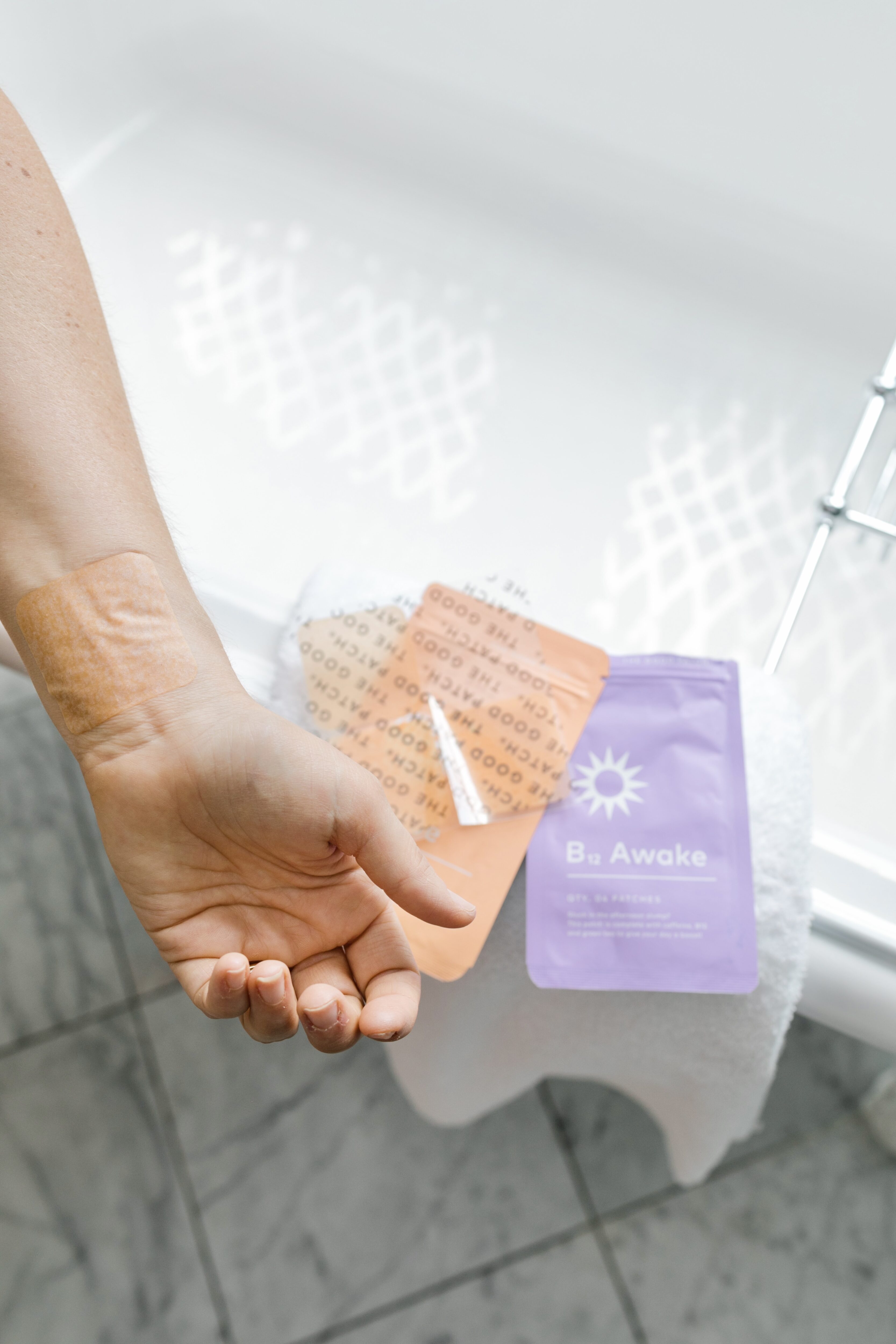 8.) Pick out the perfect book. Poolside, beachside, lakeside, even relaxing in the mornings or the afternoons. I LOVE a good book! And it's the perfect way to spend summer or just to relax and spend a little relaxing time to yourself some days.
I don't know about y'all, but summer gets even busier for us, so I have made it a point to slow down a little each day. I have already went through 2 books this summer, and I'm working on my third one now.
The Girl Who Survived by Lisa Jackson and The Wife Before by Shanora Williams are creepy, suspenseful reads. They both have tons of twists that will keep you guessing until the end. No matter what you're doing this summer, The Girl
Who Survived and The Wife Before are the perfect summer binge books!
Lisa Jackson and Shanora Williams are both New York Times and USA Today bestselling authors. Their new summer suspense novels are on sale now everywhere books are sold. They are both female-driven suspense novels featuring women who are haunted by past trauma.
Y'all know I absolutely love good physiological thriller, and both of these were so good! I flew through them in no time and am about to purchase some of their other books to get me through the rest of summer with a little more reading. = )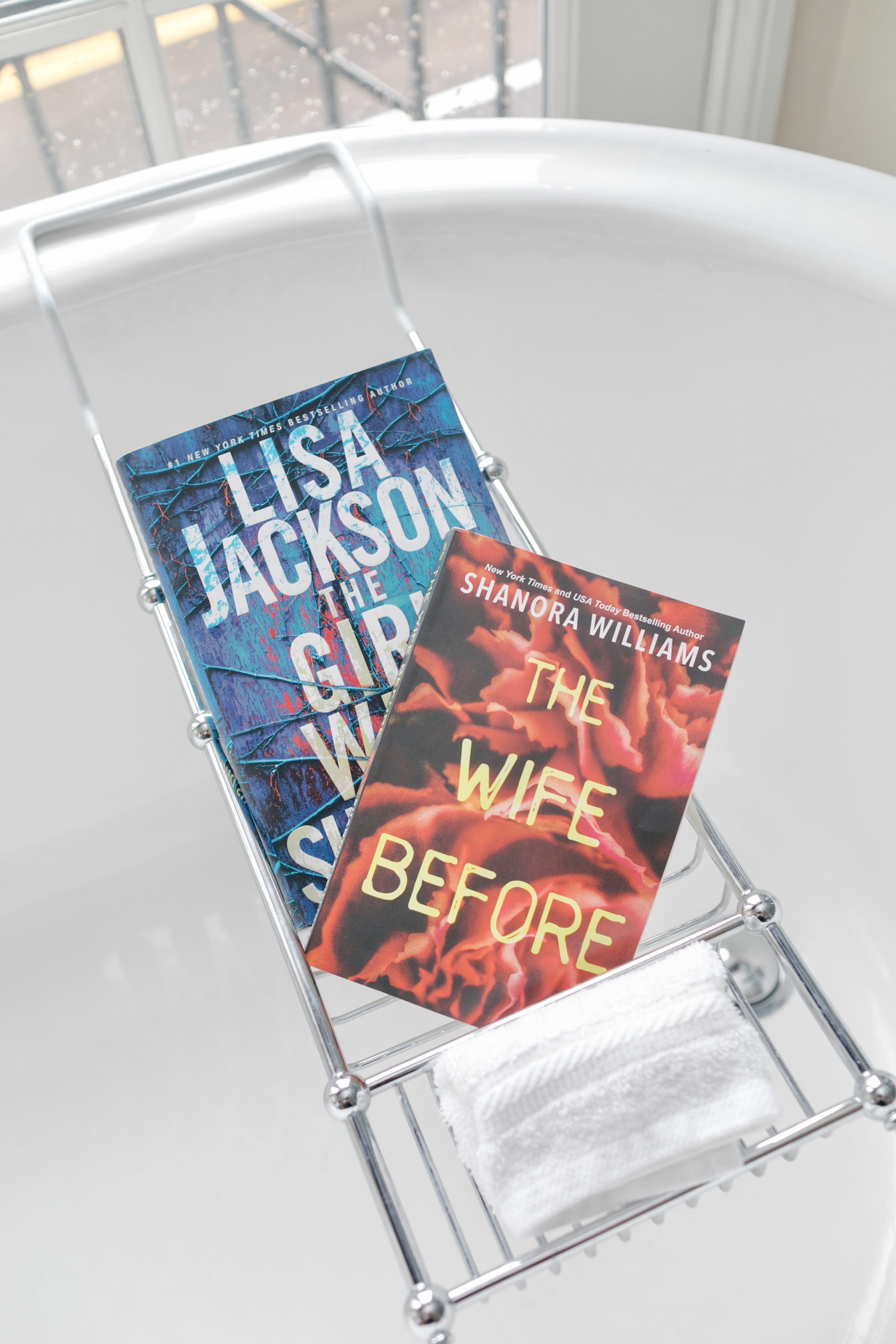 9.) Lip oil. With the harsh son, licking your lips and biting them, your lips take a lot of abuse too. Better Than Therapy Lip Oil goes on non-sticky and softens and moisturizes lips. It is not only a lip oil treatment, but it is also a gloss! I love that it works to moisturize your lips and gives a pretty, smooth, shiny finish to any of your lip colors.
This lip oil is formulated with therapeutic Vitamin E and a natural vanilla scent to give your lips TLC. You can use alone or as a perfect topper for lipstick and lip liner when you want an ultra juicy look. It's perfect to throw in your purse and use this summer!
10.) The perfect nail color. After all that buffing your feet and smoothing your skin, you want to show it off now! This fun green nail polish color from Trust Fund Beauty is perfect to pair poolside with your skinny margarita!
Trust Fund Beauty/TFB is independently female owned and founded, and they are carry only clean and vegan beauty products. Their nail lacquers are 21-free nontoxic with a pigment and long-lasting formula. They are also made with pride in the USA!
Right now you can get 15% off your first purchase when you sign up for the newsletter!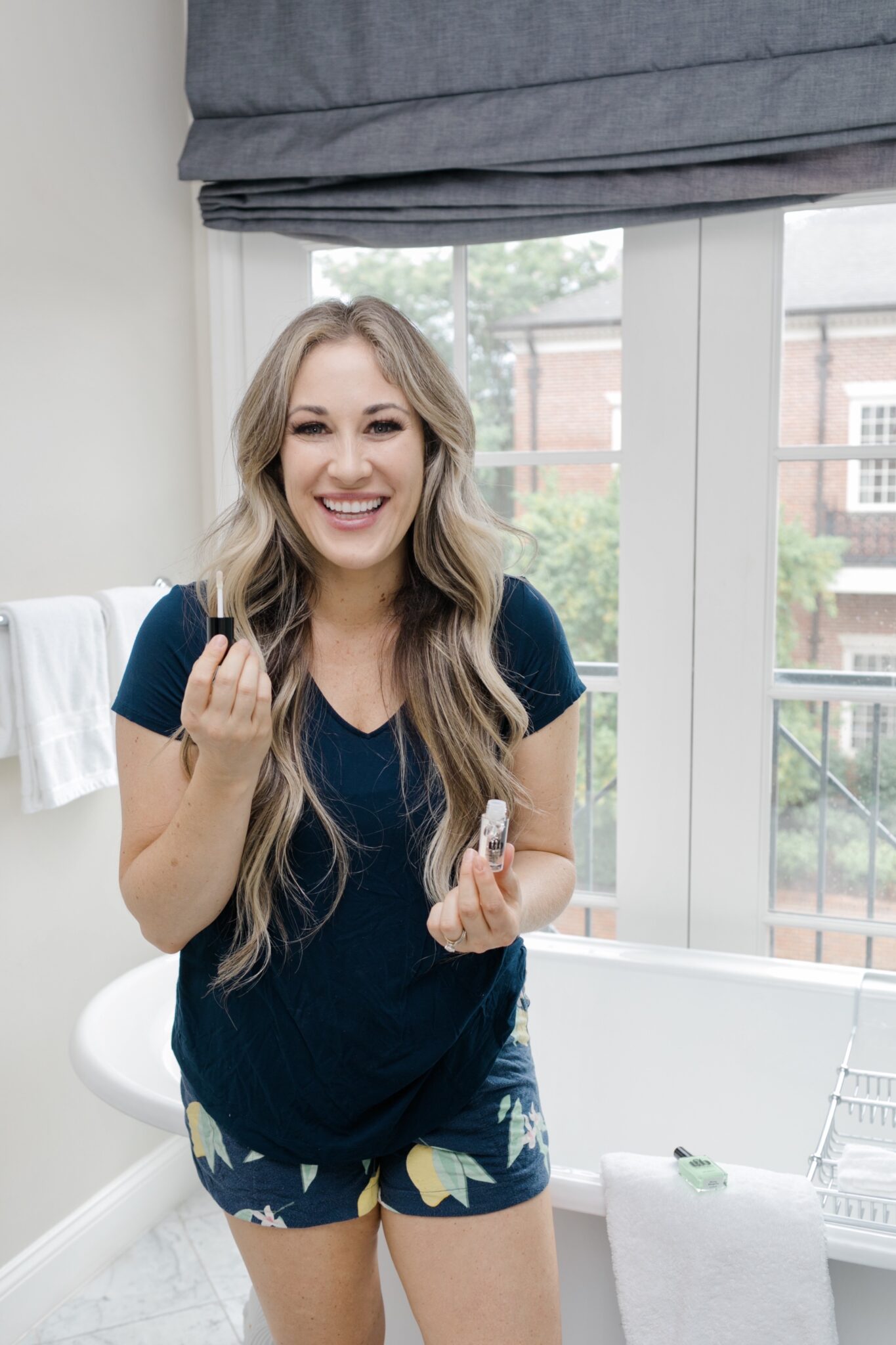 Do you have any fun plans for the rest of summer? What are your must-do things to get summer-ready skin and hair?