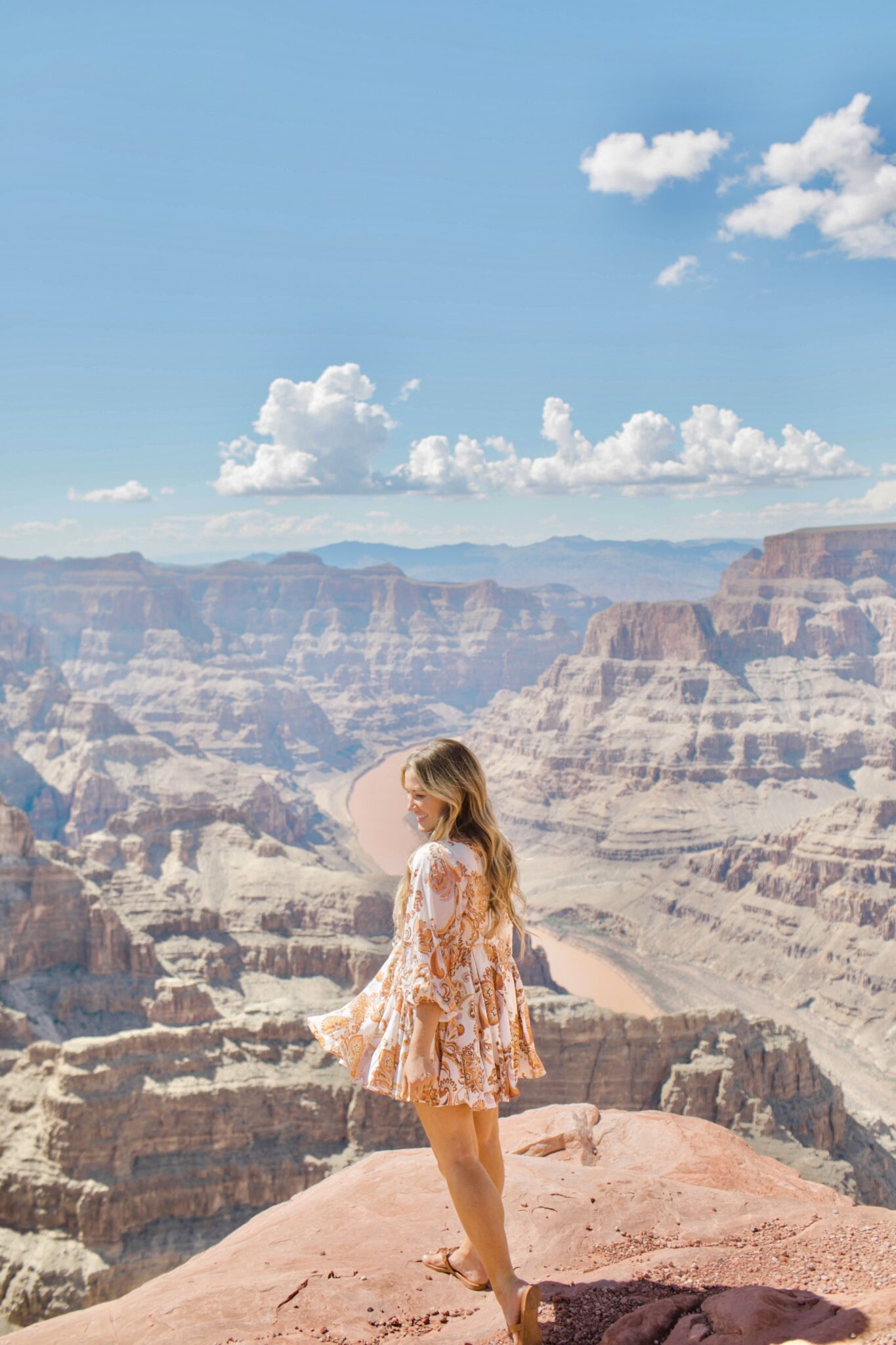 Shop the Look

One of the 7 natural wonders of the world – Grand Canyon. It is 277 miles long, 18 miles wide and 1 mile deep. It is breathtaking. I first visited about a decade ago with my dad and sister, and I have been wanting to come back ever since! If you checked out my post here, you know that Matt and I went to the Grand Canyon while in Vegas on our anniversary trip. It was one of our favorite stops on our entire trip. We also want to visit Grand Canyon National Park soon, but coming from Vegas, the West Rim is much closer for a day trip.
We did some hiking while at Grand Canyon, and next time I definitely want to spend more time there and even do more hiking and some white water rafting. If you're looking for adventure, you can definitely find it here! If you're planning a trip to visit the Grand Canyon, keep reading to learn more about what to expect at Grand Canyon West.
What to Expect at Grandy Canyon West
Admission starts at $49 for entry into Grand Canyon West's Eagle Point and Guano Point. You come to Eagle Point first and then Guano Point. Save the majority of your pictures and time for Guano Point. The views are incredible! At Eagle Point though, they do have a Skywalk that you can walk out on. It is really cool, but that will cost you $64 in total. And you cannot take your phone or camera out onto this clear bridge that is 4,000 feet above the canyon floor and 700 feet long and 10 feet wide.
Prices range from $49 to $799 to visit Grand Canyon West. The most expensive package includes a 2-day whitewater rafting trip, a hike, camping, and all meals. If you have a couple of days to spare, it is definitely worth the money! There are also several packages that include meals (they have Sky View Restaurant inside by Sky Walk), zip lining, a helicopter ride, hiking, and even a pontoon boat ride.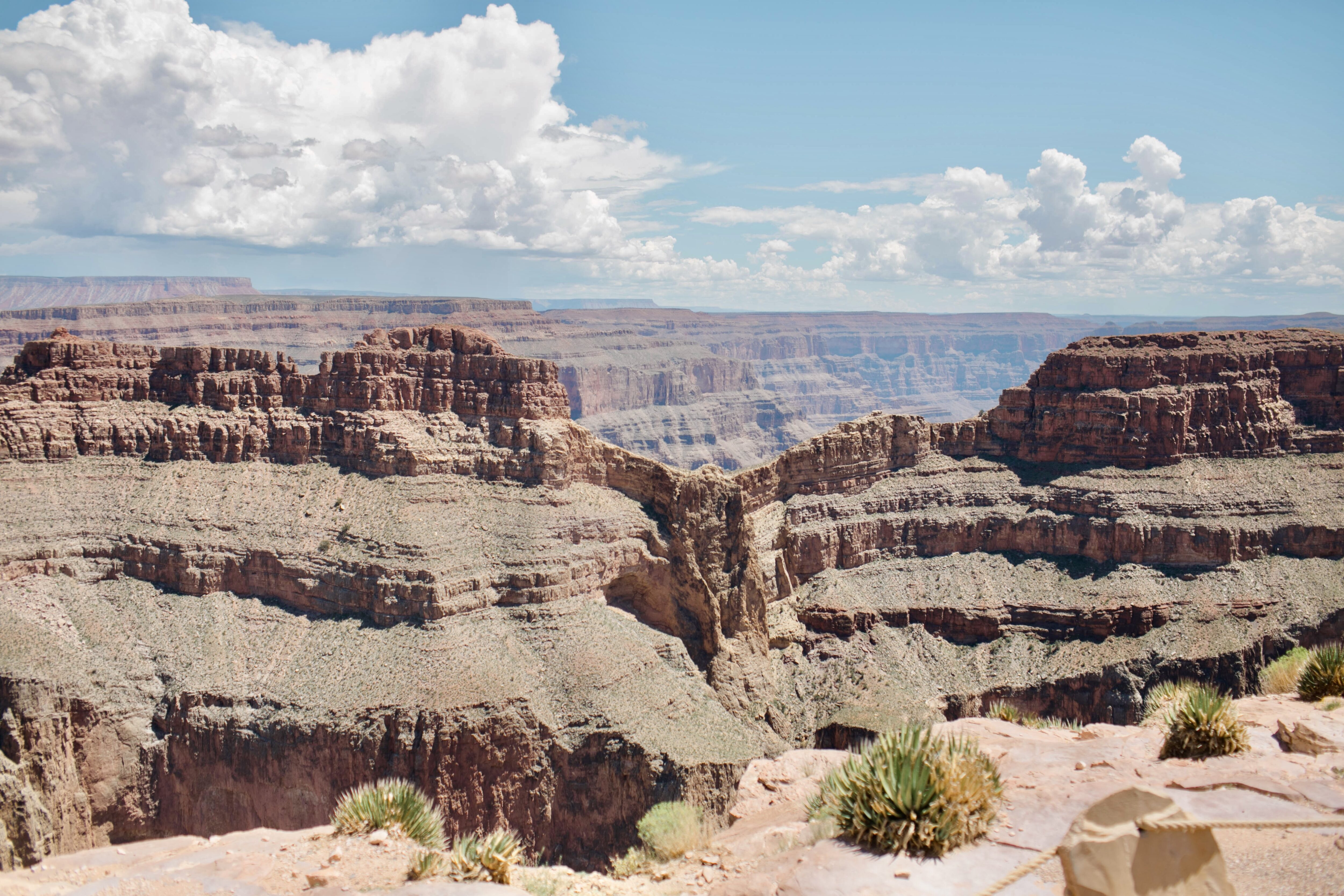 Waits can be long to get on and off the bus at each stop at Grand Canyon West. You do have to ride the bus, and you're not allowed to drive your own vehicle through Grand Canyon West. During peak seasons and with staffing problems everywhere right now, you can easily wait in line an hour at each stop.
How Long to Stay
You will definitely want to plan to be at Grand Canyon West for at least 4 hours, but if you do any of the extra add-ons or it's an extremely busy time of year, it could definitely be longer. Our trip to Grand Canyon was definitely almost a full day! WE did get back just in time to stop off at Hoover Dam on our drive back to Vegas just in time before it closed, and we beat the crowds!
For my favorite stop on the tour, Guano Point, you will definitely want to bring a phone or camera, comfortable clothes and shoes (hiking shoes preferably.) There are plenty of places at that stop you will want to hike up to see even more amazing views and to get some great pictures. While they sell water and food at the stops, I would also pack plenty of water and snacks. It will be hot out there, but the views will be worth it!
Have you ever been to Grand Canyon West? What are your favorite places to hike near Vegas?