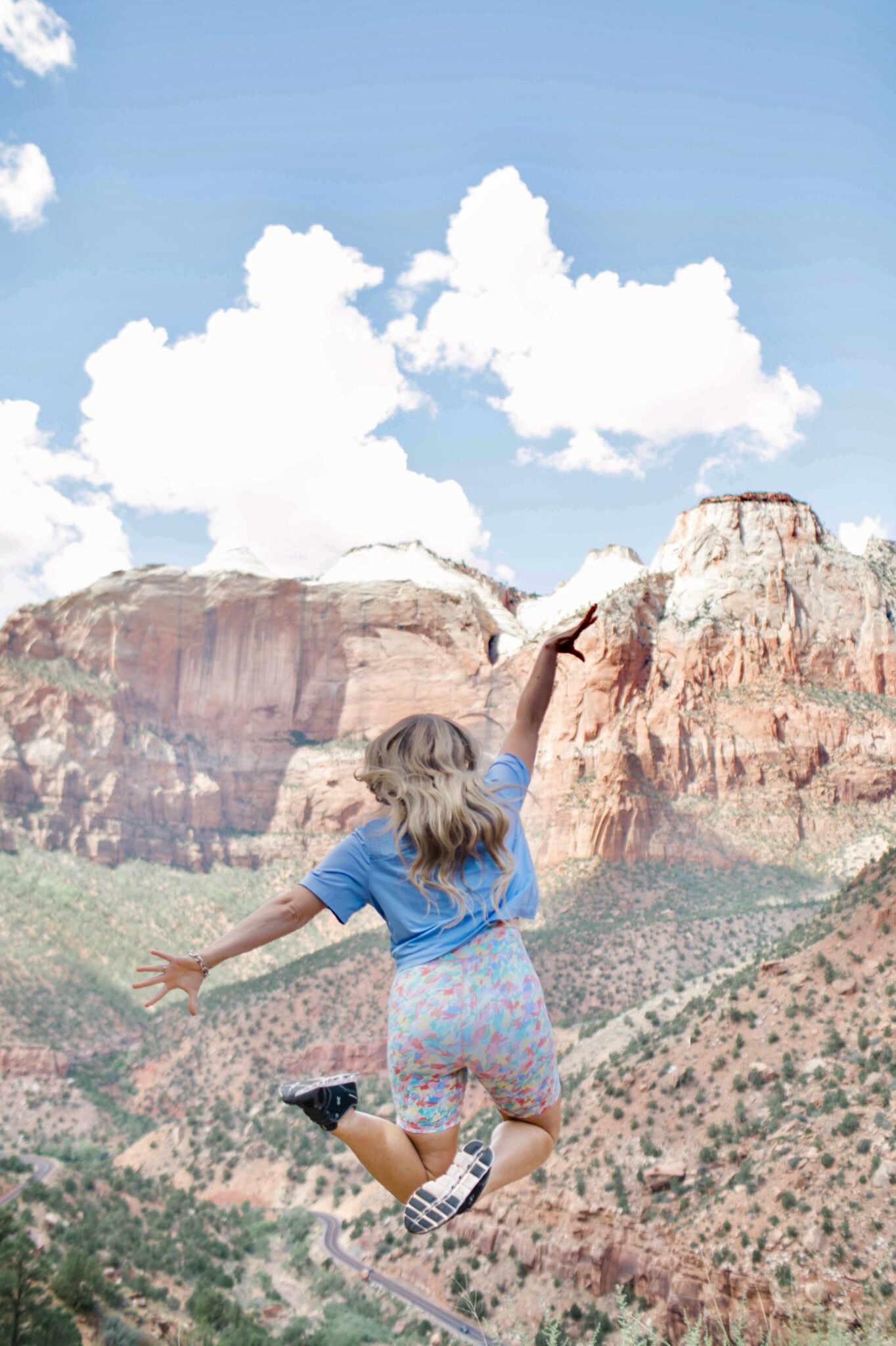 Shop the Look

A couple weeks ago, we celebrated our 3rd wedding anniversary in Vegas. And this might possibly surprise you, but we actually spent very little time in Vegas during our trip. We had 5 full days on our trip, and we actually spent 4 of those days several hours outside of Vegas.
Vegas is located in Nevada, and it's within driving distance so many other great places. Southern Nevada borders Utah, Arizona and California. This makes for perfect day trips to some beautiful hiking spots and national parks while staying in Vegas. Keep reading below for my favorites!
10 Day-Trips From Vegas to Add to Your List
Seven Magic Mountains – This art installation just 30 minutes right outside of Vegas is perfect to stop by while heading out of town for the day. Seven Magic Mountains consists of tacks of colorful boulders standing more than 30 ft high out in the middle of the valley with mountain ranges in the background.
People were repainting the boulders when we were visiting, so they are bright and fresh now, and the orange barricade has been taken down. I recommend getting there early for a picture with no one else in it. We went about 8:00am and there was no one else there at the moment. You can park and just walk right up and grab as many pictures as you want while there. They make for a fun backdrop paired with the landscape in the background.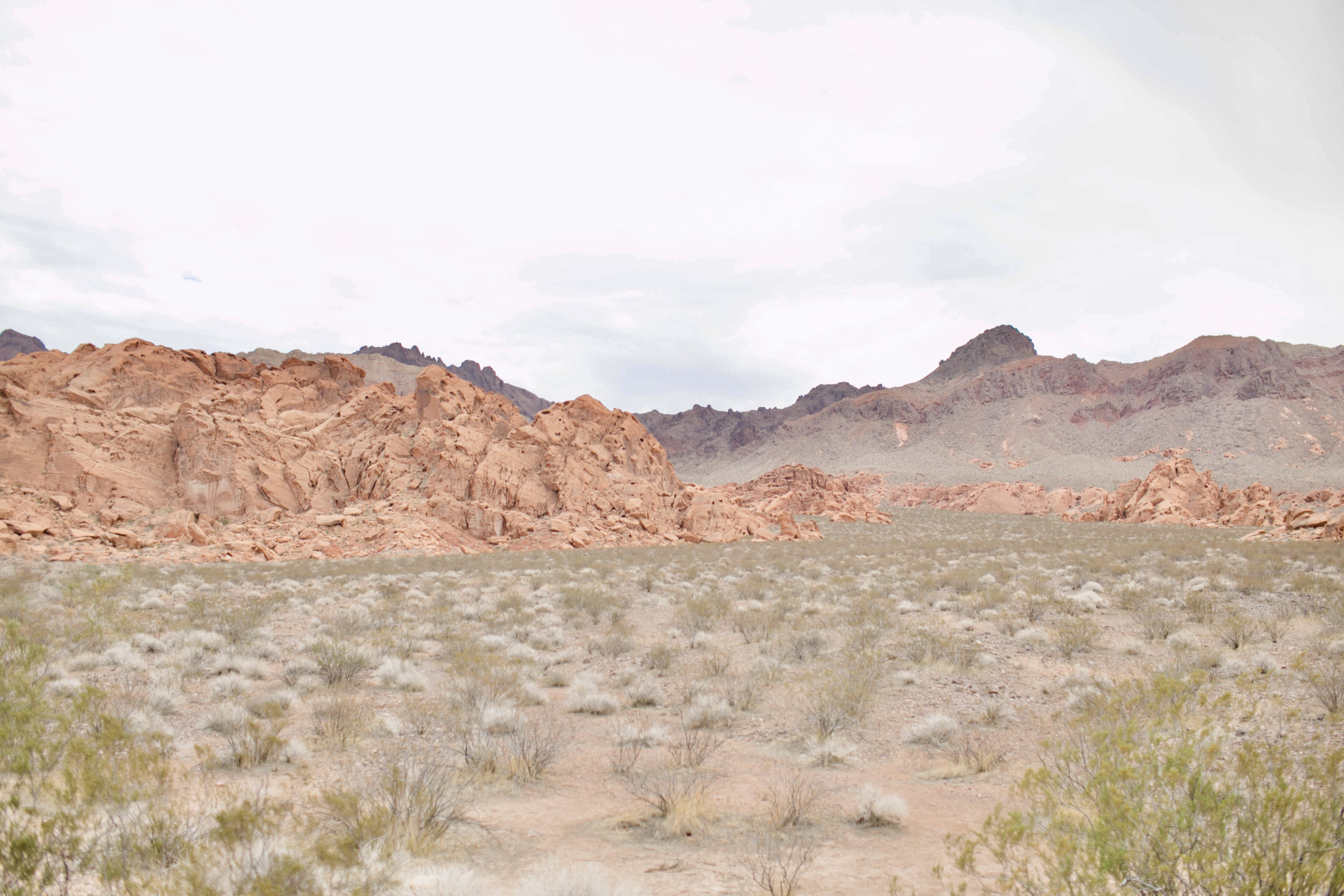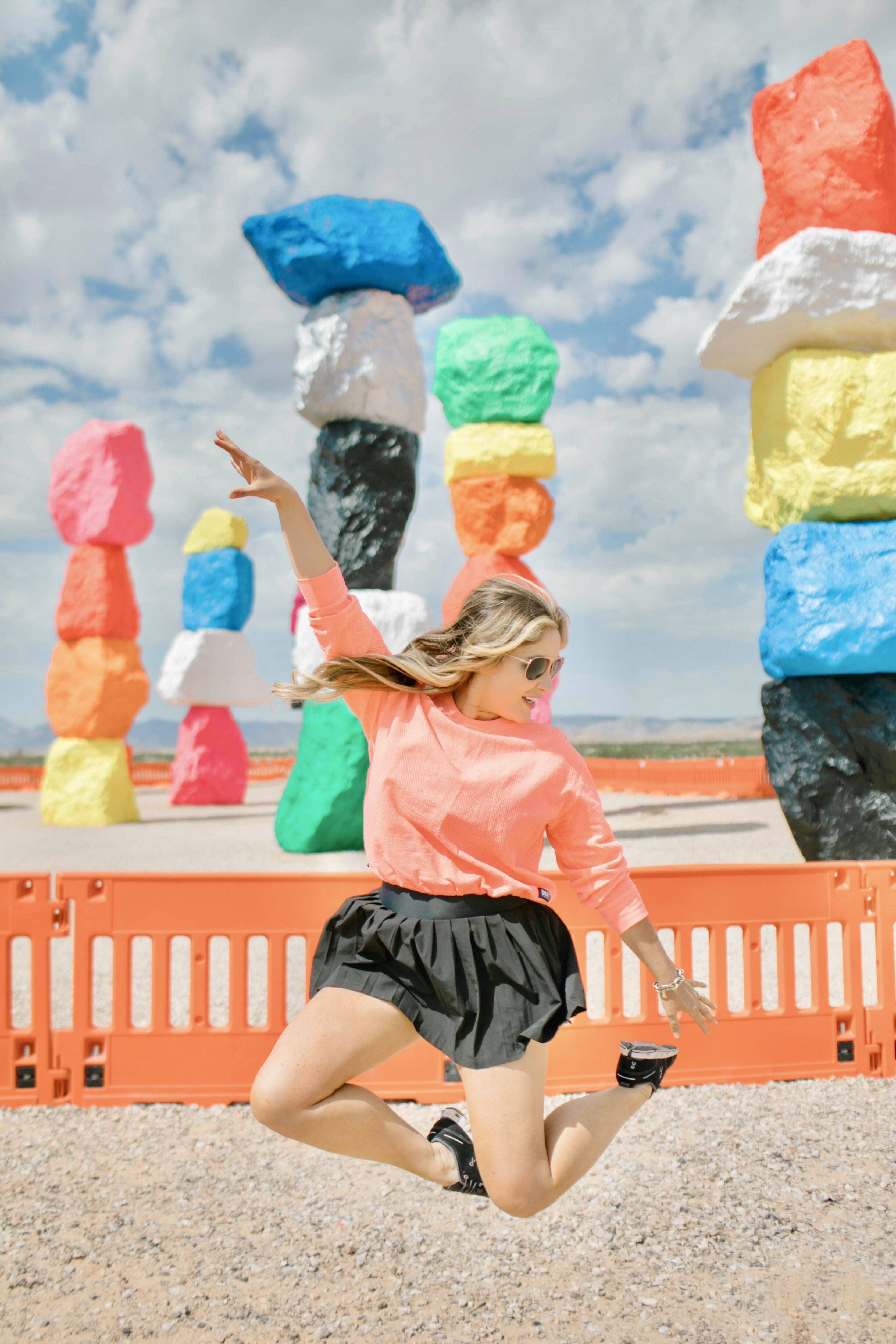 Red Rock Canyon Natural Conservation Area – This area is located just 30 minutes outside of Vegas. It was designated as Nevada's first National Conservation Area. While there, you can take the 13 mile scenic drive with miles of hiking trails, rock climbing, horseback riding, mountain biking, road biking, picnic areas, nature observing and a visitor center with exhibits.
When you first arrive, you can park and hike or you can just drive the scenic route the entire way. There are several designated spots throughout the drive to park and take pictures or hike or cycle. At the first parking lot, you will see so many awe inspiring gorgeous red rocks, and it is the best spot for hiking in my opinion! Once you get to the last stop, you can take a short little hike to a waterfall too. This was in our top 3 of places we visited on this trip.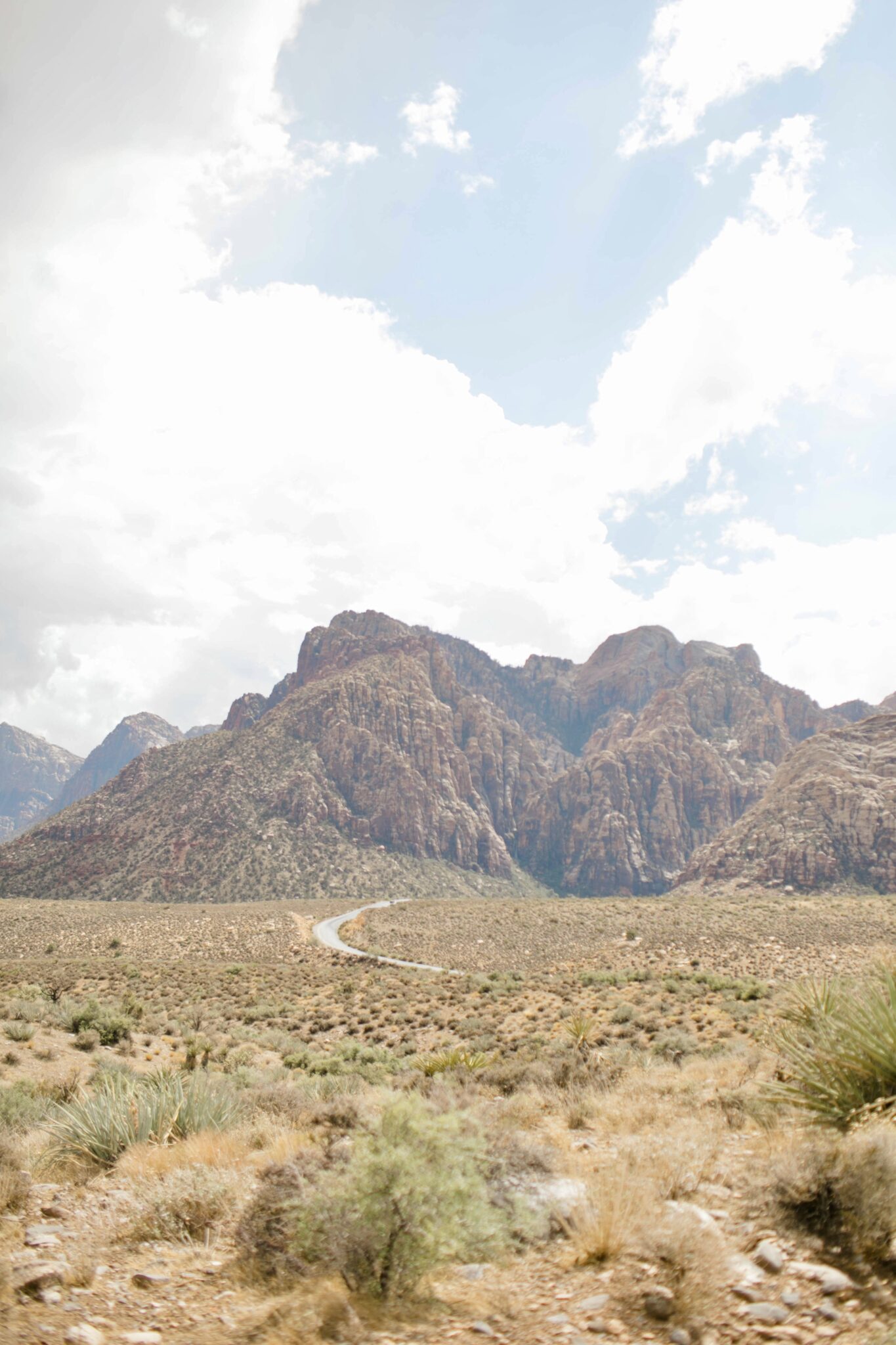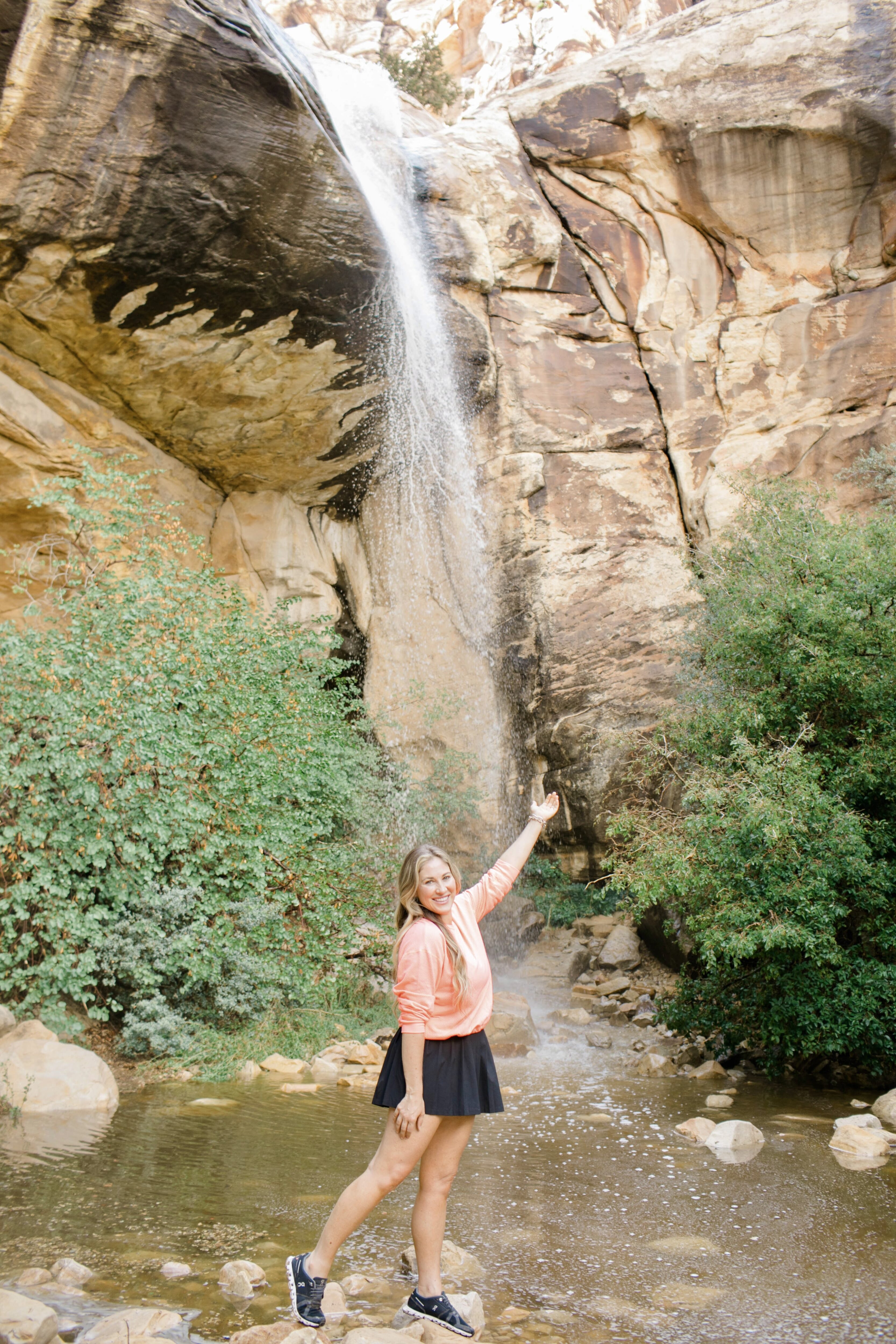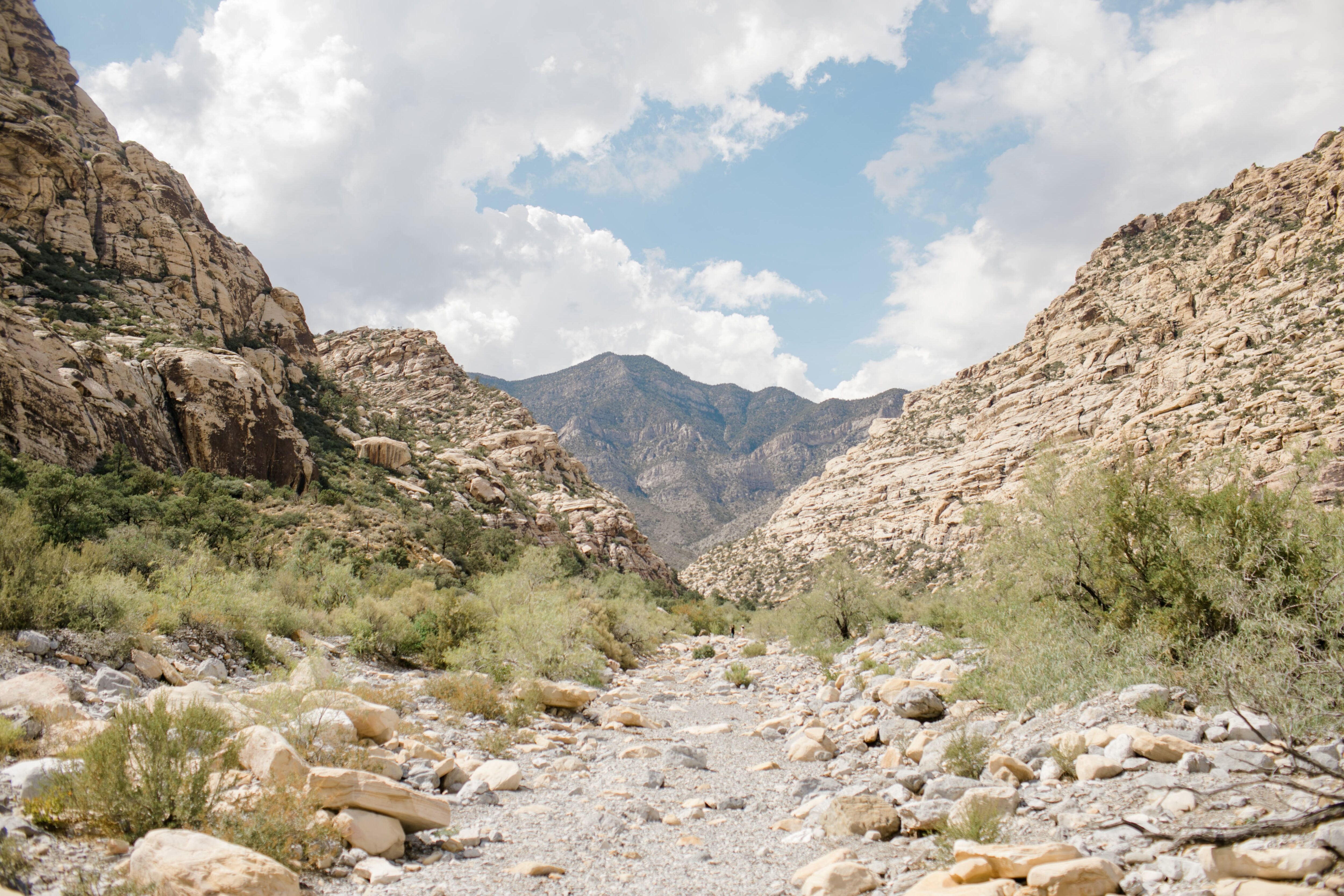 Death Valley National Park – only a couple hours from Vegas in California, Death Valley is such a cool and diverse spot. It is the lowest, driest and hottest national park. It is below sea level, but it also has high, towering, snow-covered mountain peaks. While we were visiting, many roads were closed from too much rain in August, but most of them have since reopened now! Death Valley is truly a sight to see!
Joshua Tree National Park – This park that is located just 3.5 hours outside of Vegas in Southern California is such a unique spot with its variety of plants, animals and culture. It is named after the Joshua trees that make up much of the landscape in the park. This park has been in songs and movies, and it is not only a diverse area for wildlife and plants, but it is also a spot that is both magical and inspirational.
Zion National Park – This national park was Utah's first, and it's only 2.5 hours away from Vegas. This park was hands down my favorite. Every twist and turn was so unique. You will drive through the covered tunnel, you can spot bighorn sheep on the mountains, and you can do as much hiking as you like!
There are taller mountain peaks, stunning views, flatter rocks you can scale, and boulders you can climb too. The views are just breathtaking! We had the best day of hiking, and I honestly wish we could have stayed here and done more much hiking throughout our entire trip just here in Zion. There are a few smaller spots where you can pull off to park during your scenic drive for hiking. FYI the first image in this post is from Zion. How gorgeous, right?!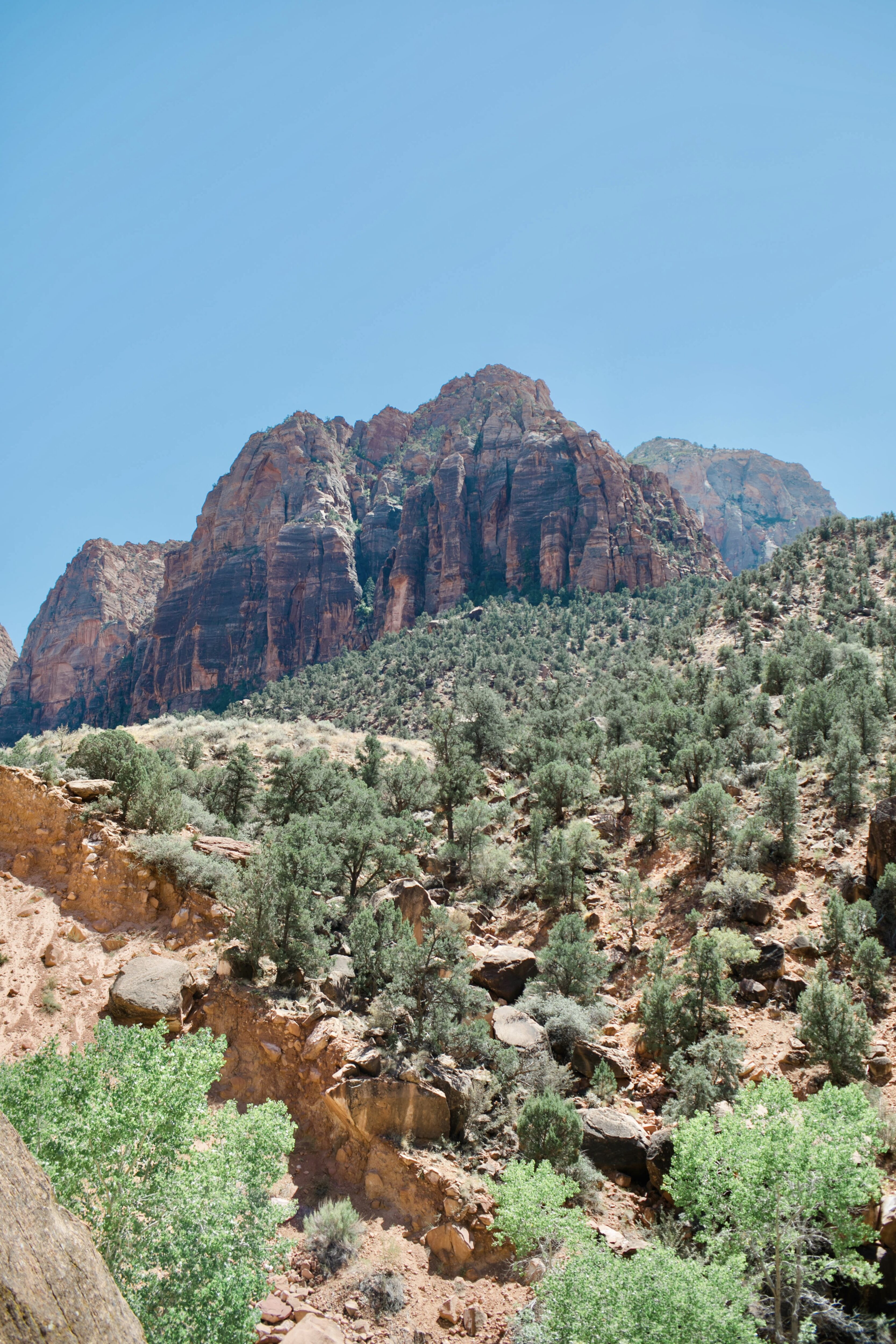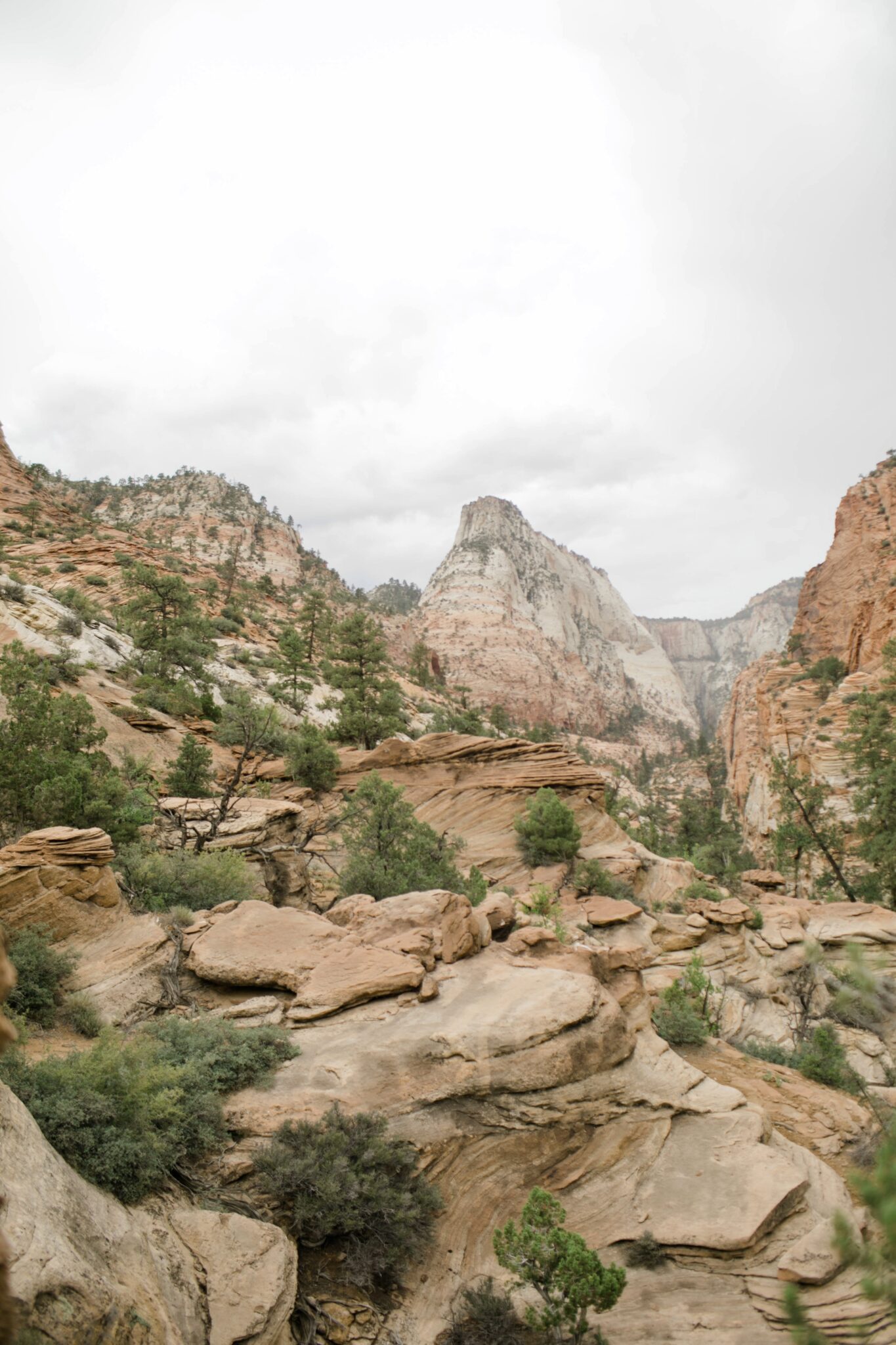 Lake Mead National Recreation Area – Lake Mead is America's first national recreation area. It is only 40 minutes outside of Vegas. In addition to all the beautiful views of the lakes and mountains in the background, you can hike, swim, boat, camp, cycle and fish. The water is a strikingly beautiful blue colored surrounded by the landscape. There is so much to do here, and it is such a short drive away.
Hoover Dam – Right past Lake Mead is Hoover Dam. When it was built in 1935, it was the highest dam in the world. It is only 45 minutes from Vegas, and so worth stopping for a visit! This HUGE dam along with the bridge, blue sky and the mountainous landscape really make this a favorite on my list.
Matt almost wanted to skip Hoover Dam, but I told him to just trust me. It is really is incredible when you see how large it is. Choose to walk across the bridge to see it or park in several parking lots once you enter the dam. You are crossing over into 2 states while on the dam – Arizona and Nevada. There is even a tour inside and so you can see how it works. It really is such a cool and incredible sight!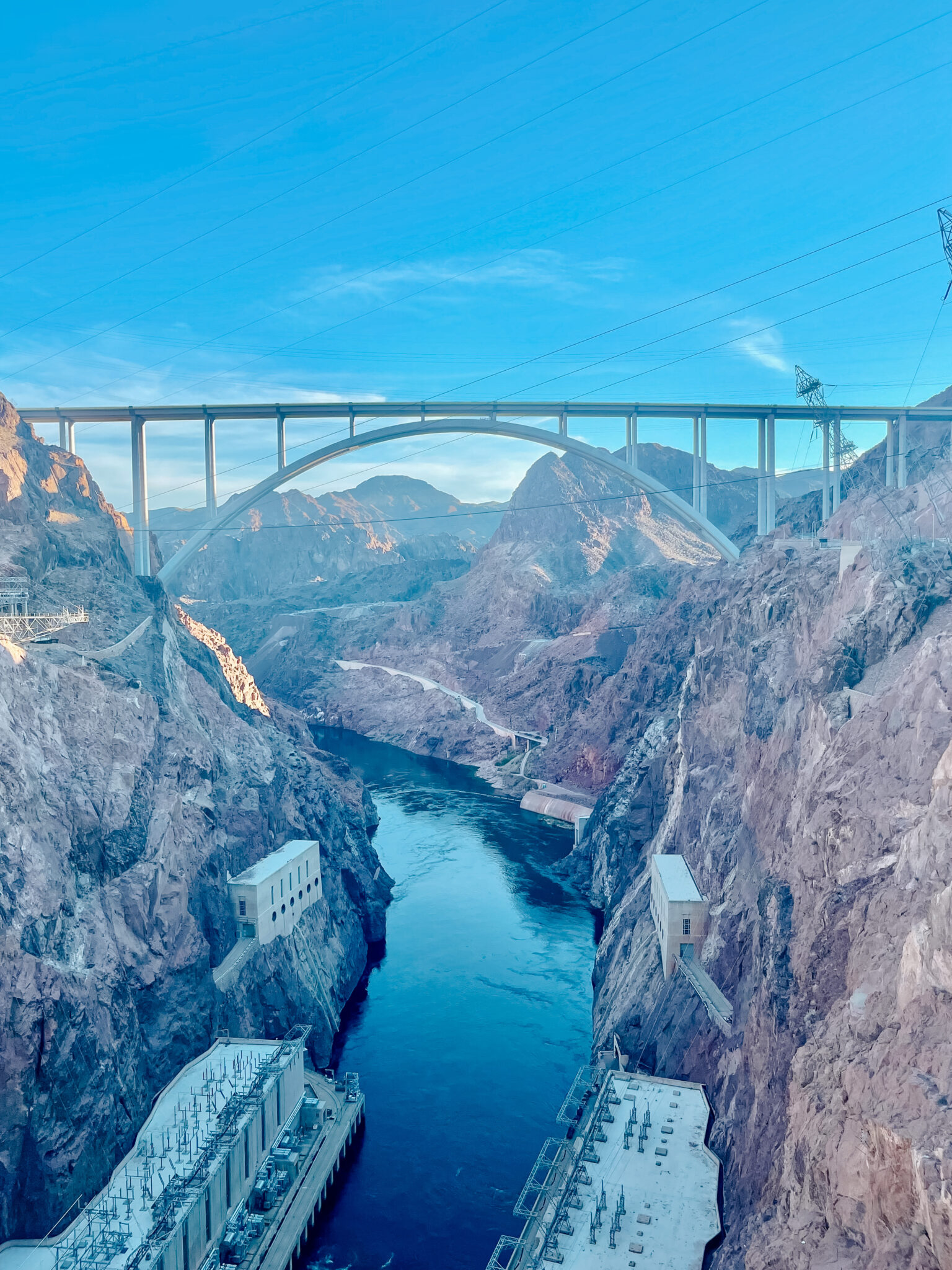 Grand Canyon National Park – The Grand Canyon is located in Northern Arizona just 4 hours outside of Vegas. After you leave Hoover Dam, it's the perfect spot to travel to. Just make sure you save PLENTY of time! The Grand Canyon is just as its name is…grand. It is massive and truly unique! It is one of my favorite places I've ever visited.
If you have more time, I would definitely consider going to the North Rim or the South Rim and doing a longer hiking or rafting trip on the Colorado River. There is also the West Rim where you can walk on the skywalk and see other great views. But even if you don't, you will be in awe of the views you see. You can also book a zip lining or rafting trip there. And there are still a few small spots where you can do some minimal hiking. This is a great option for those who don't have several days to visit the South Rim or the North Rim.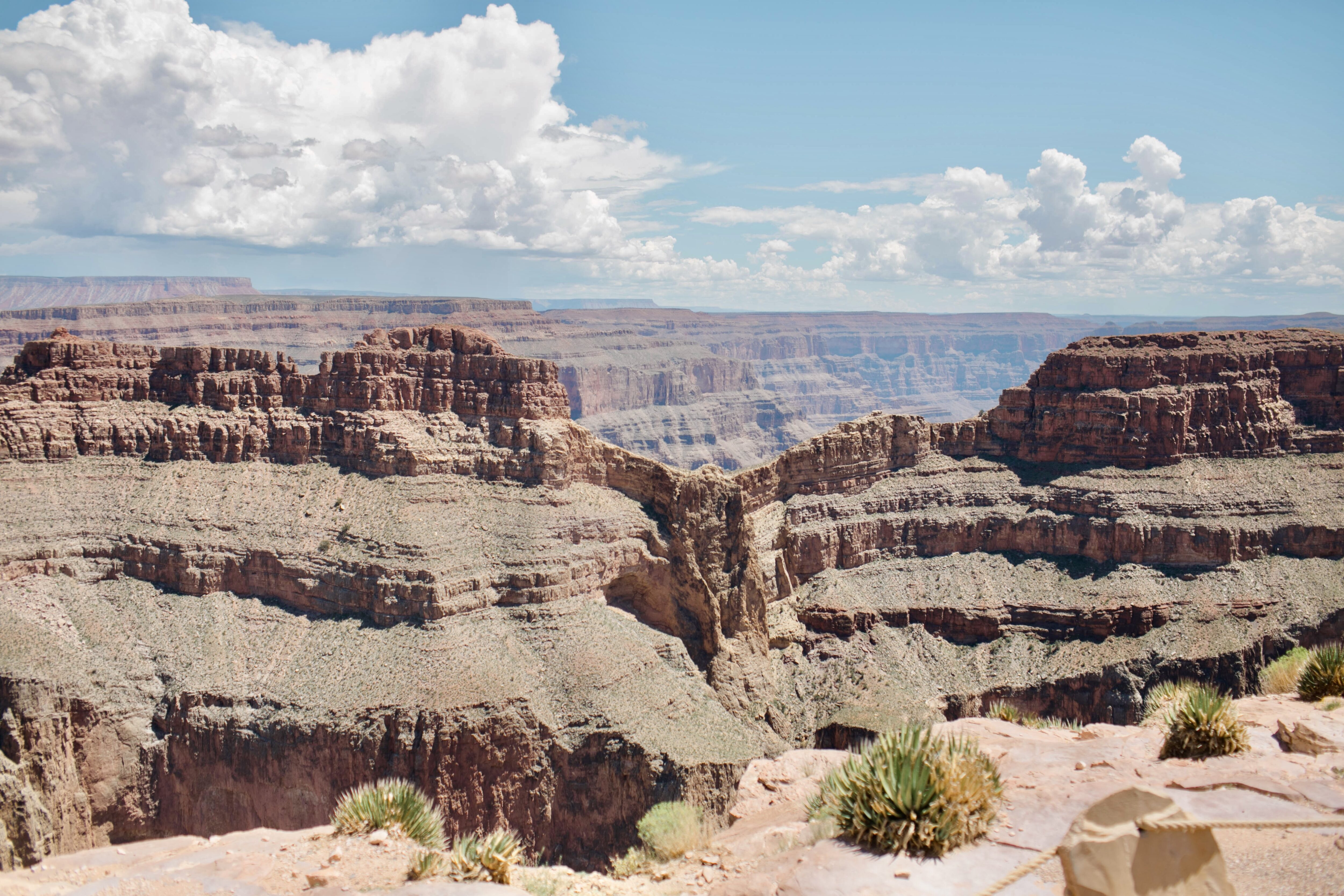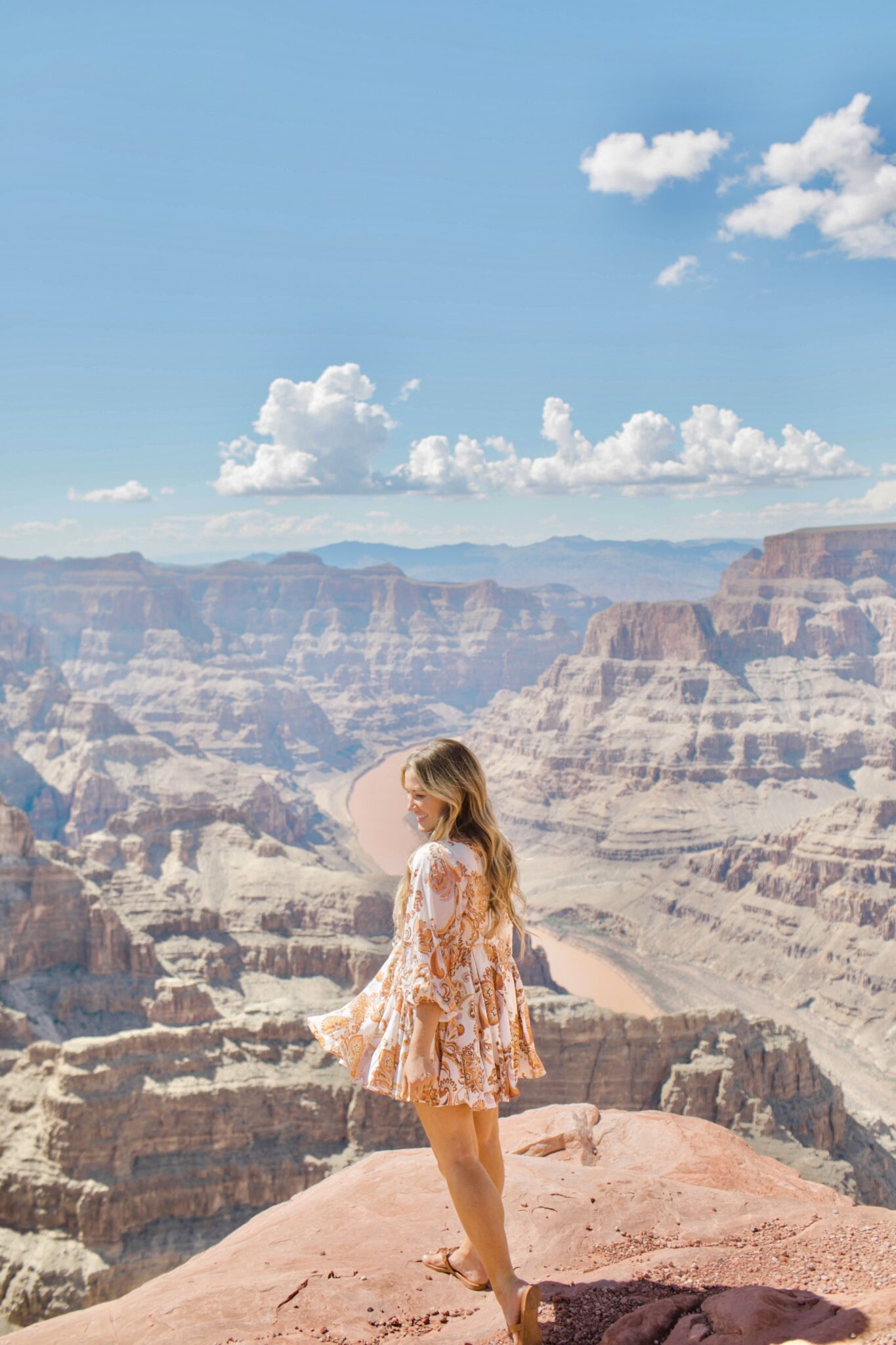 Horseshoe Bend in Glen Canyon National Recreation Area – Horseshoe Bend is located in Arizona and is about 4.5 hours outside of Vegas. Its is a gorgeous spot where the Colorado River makes a horseshoe shape. You can get to it after a short 1.5 mile hike. It is known for its shape in the blue waters with the canyon backdrop. It truly is a gorgeous site, and it makes for some beautiful hikes.
Valley of Fire State Park – This was another favorite of mine on this trip. It is only an hour outside of Vegas, still in Nevada. Known for its 40,000 acres of bright red Aztec sandstone outcrops nestled in gray and tan limestone, the Valley of Fire State park is gorgeous. The colors are just amazing! There are several spots where you can park and get pictures or hike. We took a hike through the sand and saw slot canyons too. It is such a diverse area, and the colors that you see in the valley are breathtaking.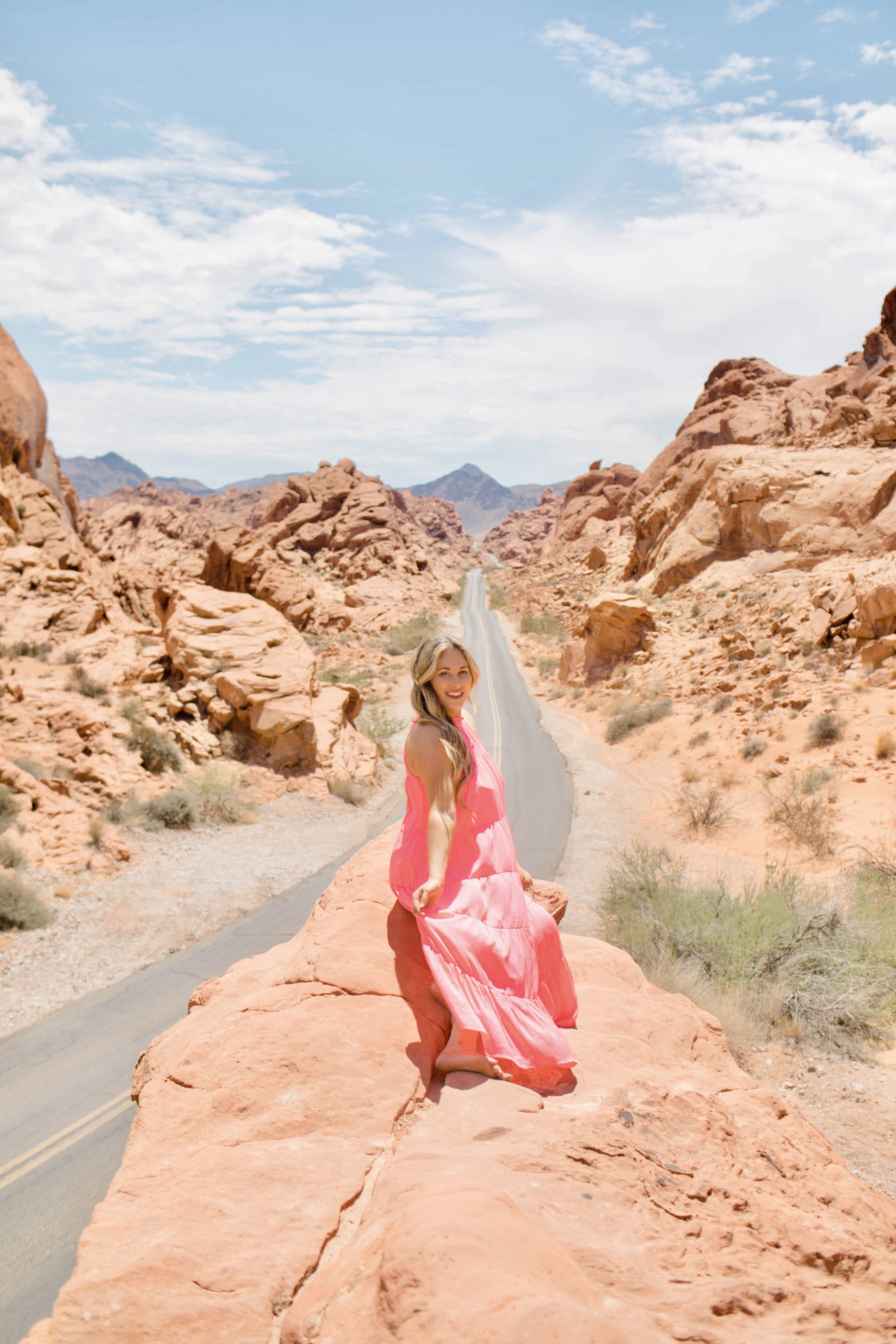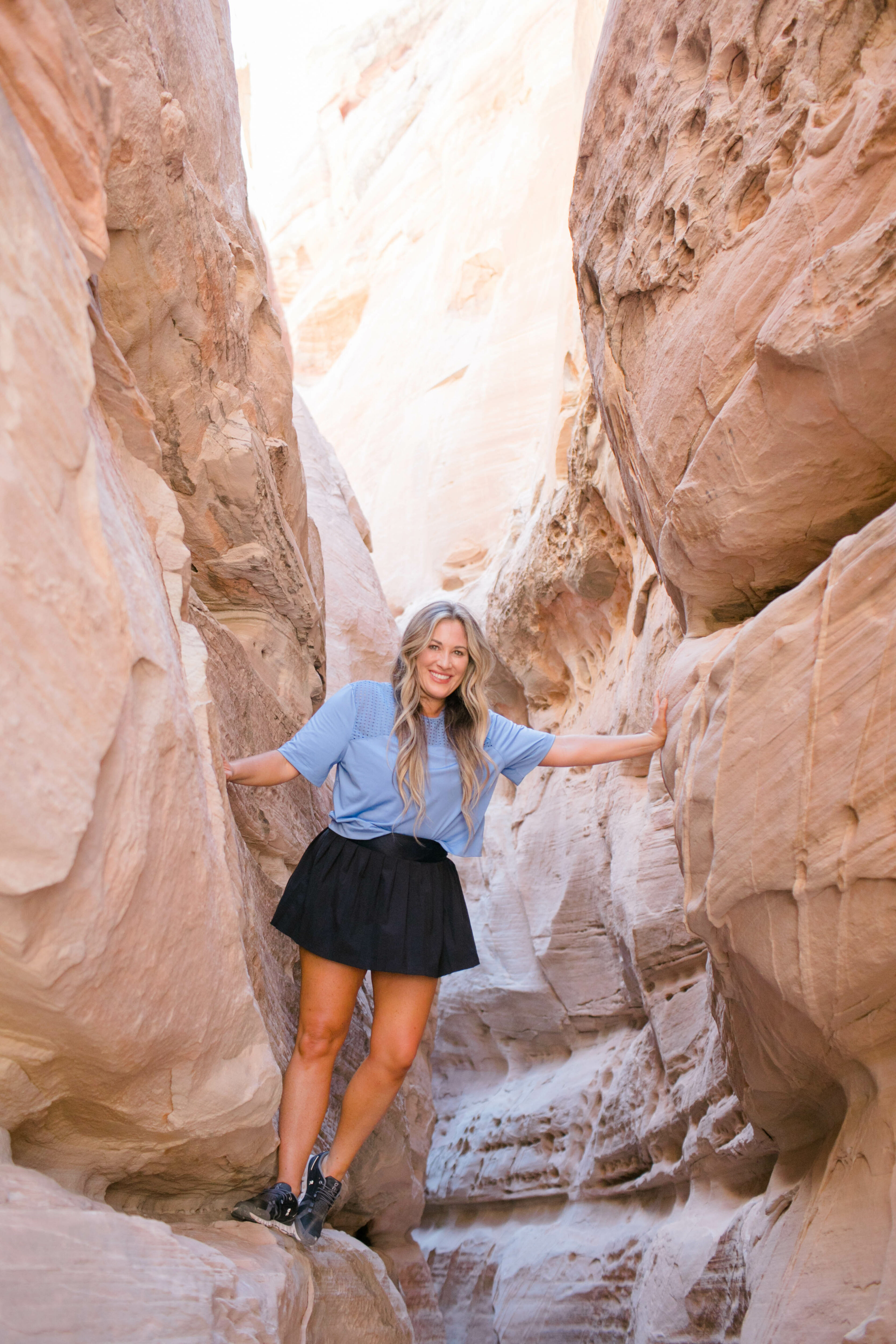 Have you visited any of these places before? If you're looking for some gorgeous places to hike, you will definitely want to add these your list on a day trip from Vegas!