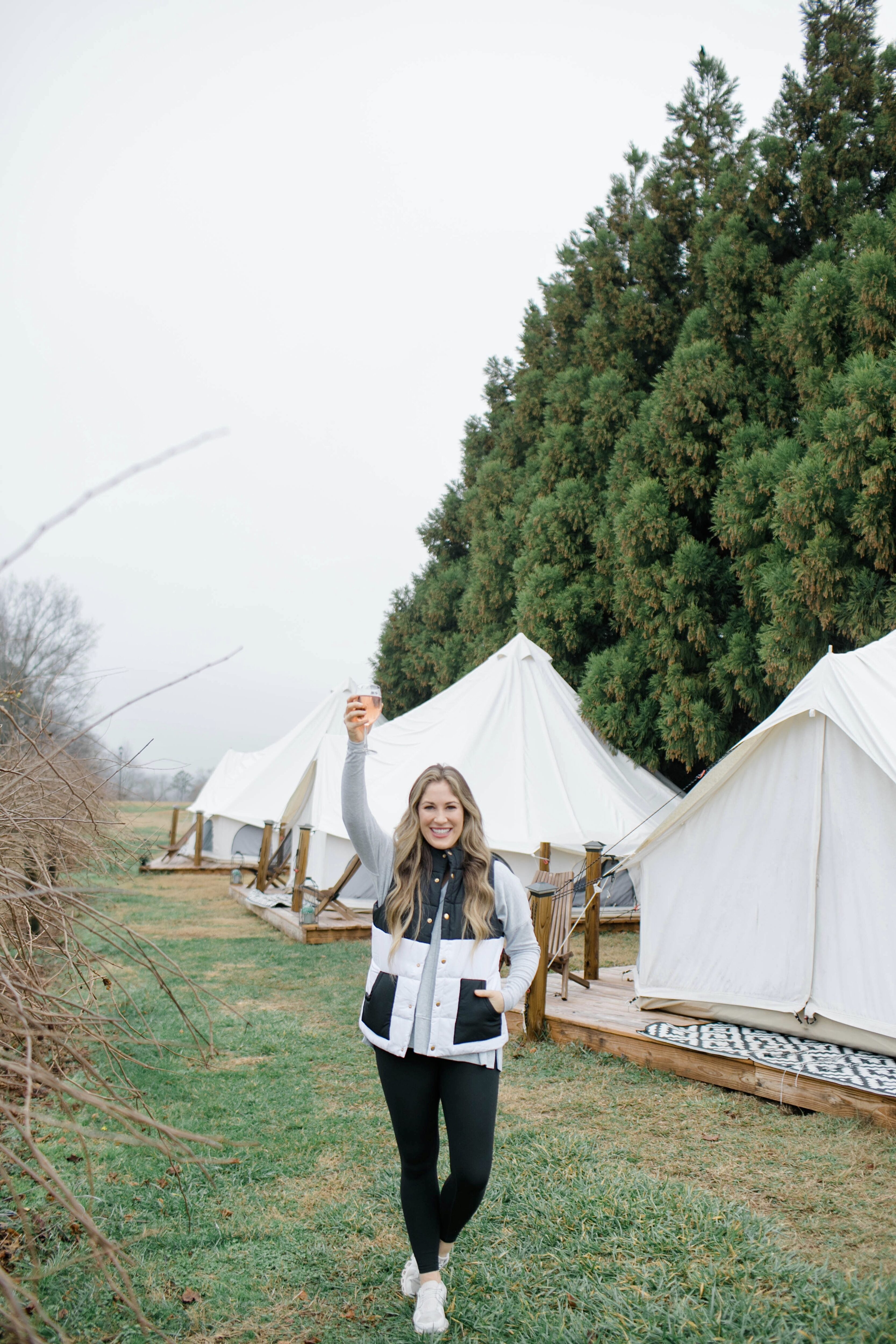 Matt and I just recently got back from one of our absolute favorite places, Chateau Elan Luxury Resort & Winery. Chateau Elan is a resort that features an amazing winery and vineyard, incredible restaurants, championship golf, a European health spa, and gorgeous views both inside and out in the rolling foothills of Georgia!
Chateau Elan is located in Braselton, Georgia, just an hour northeast of Atlanta. From Memphis, it is only a 6-hour drive and perfect for a weekend getaway! When you first pull in, you will see the gorgeous winery and vineyards up ahead as you wind up the hills and drive to the inn. The entire resort is just stunning!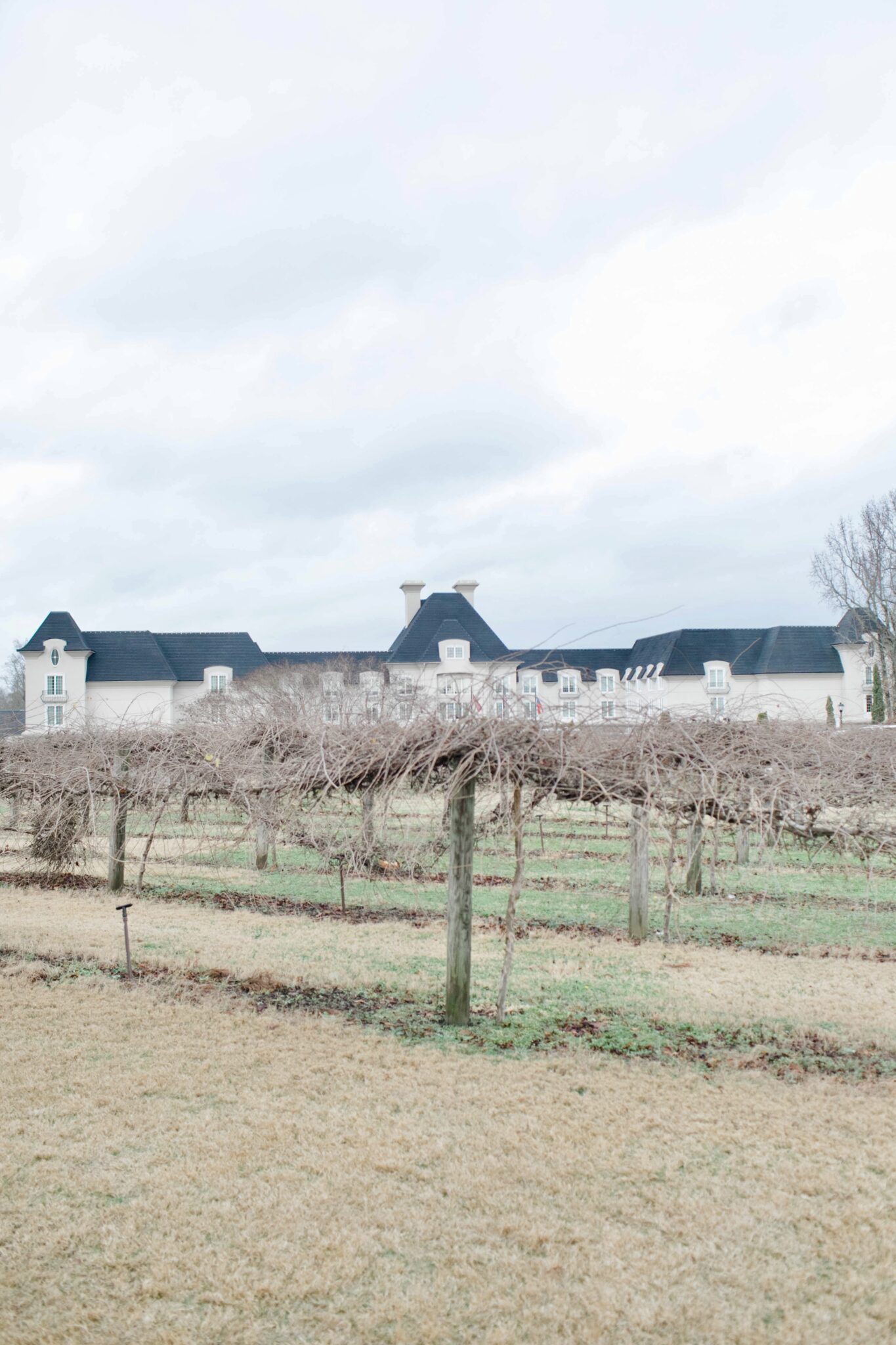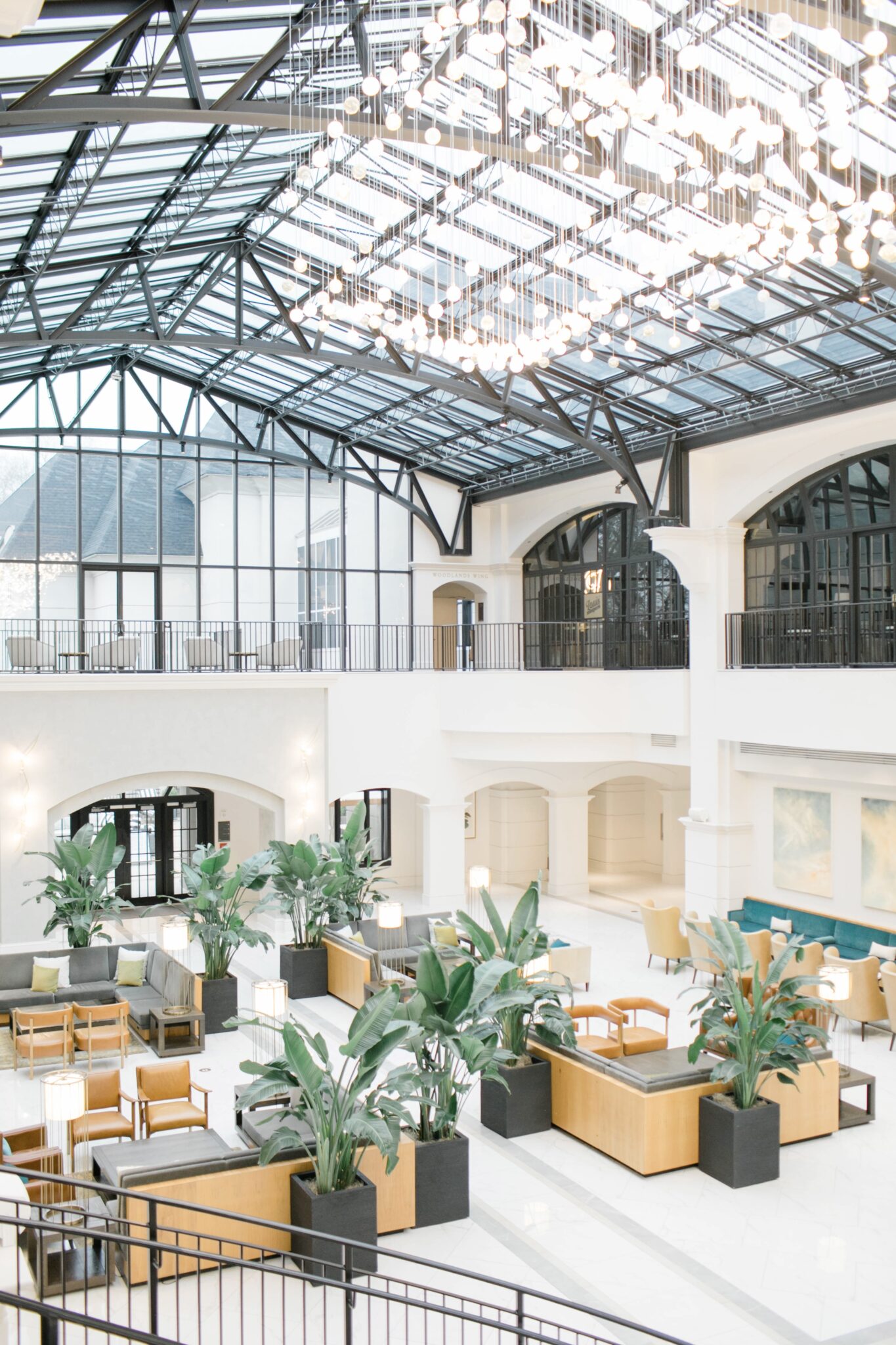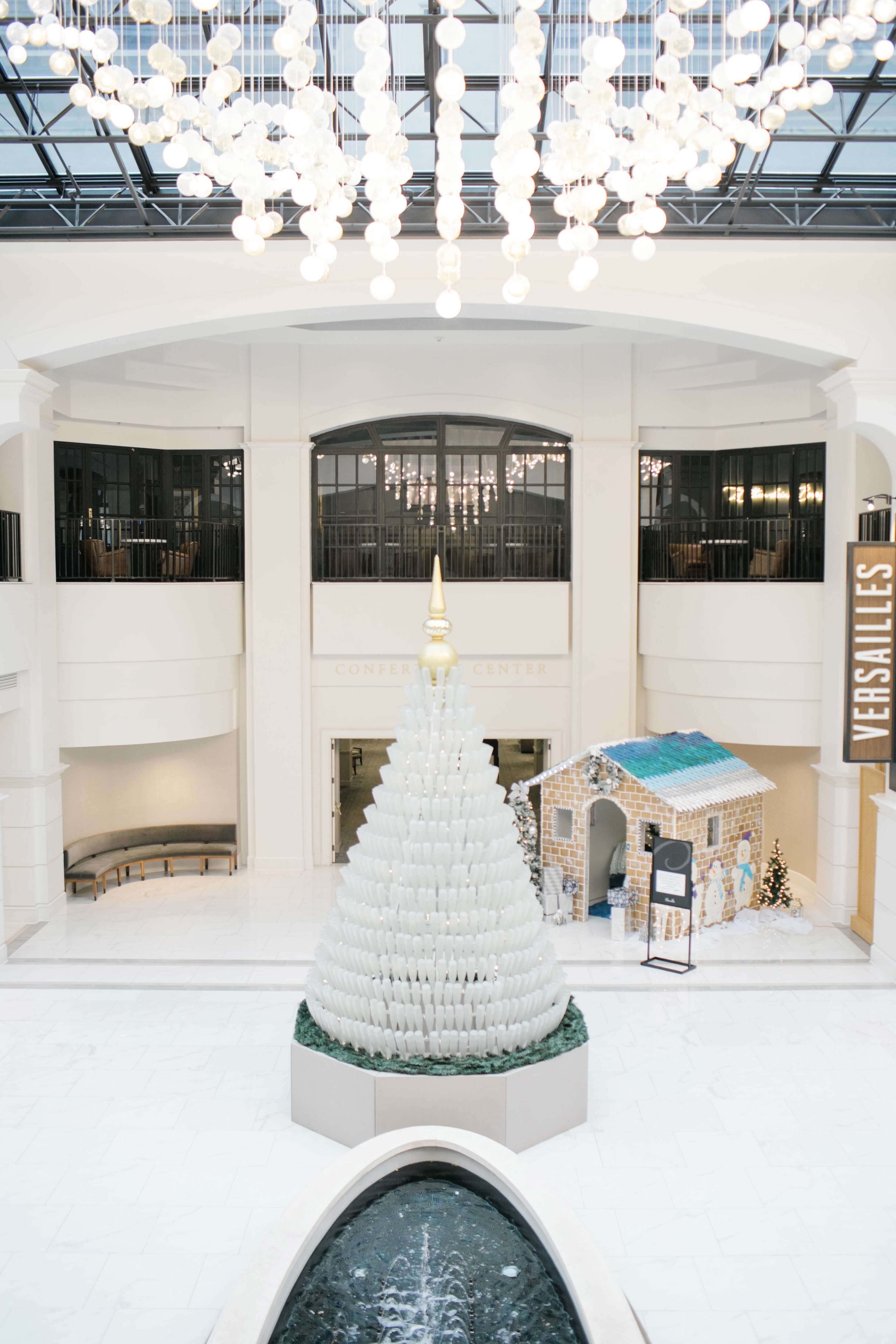 Next door to the winery is the inn. In the lobby of the hotel, they have a great little coffee shop and gift shop. When you walk around the corner of the lobby, there is a grand staircase that leads down to one of the restaurants, Versailles, and it has a gorgeous glass atrium ceiling. It was also where we had afternoon tea. It was so yummy and relaxing, and they even provided all gluten free food items.
On top of this restaurant downstairs, they also had several more restaurants throughout the property – Paddy's Irish Pub, Louis' House of Bourbon, Fleur de Lis and Marc, which is an upscale chophouse. Paddy's has wonderful Irish coffee and food. Louis' had wonderful drinks and bites. Fleur de Lis was by far one of our favorite restaurants at the resort. We had breakfast and lunch there a couple times, and every single thing we got was so good! The restaurant is located in the spa, so it had a gorgeous view of the pond and hammocks outside. Not only was the food amazing, the entire experience was so peaceful and relaxing.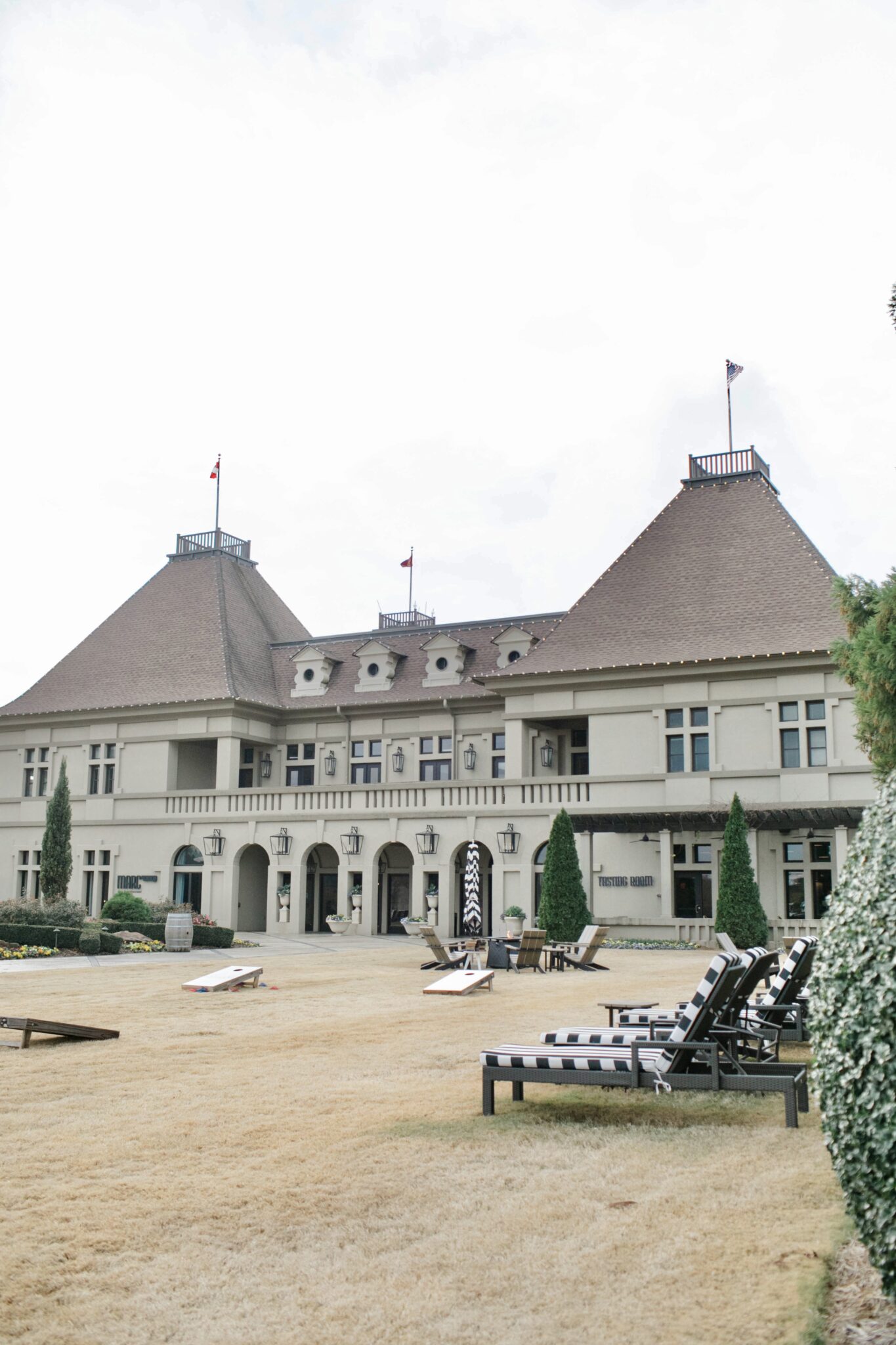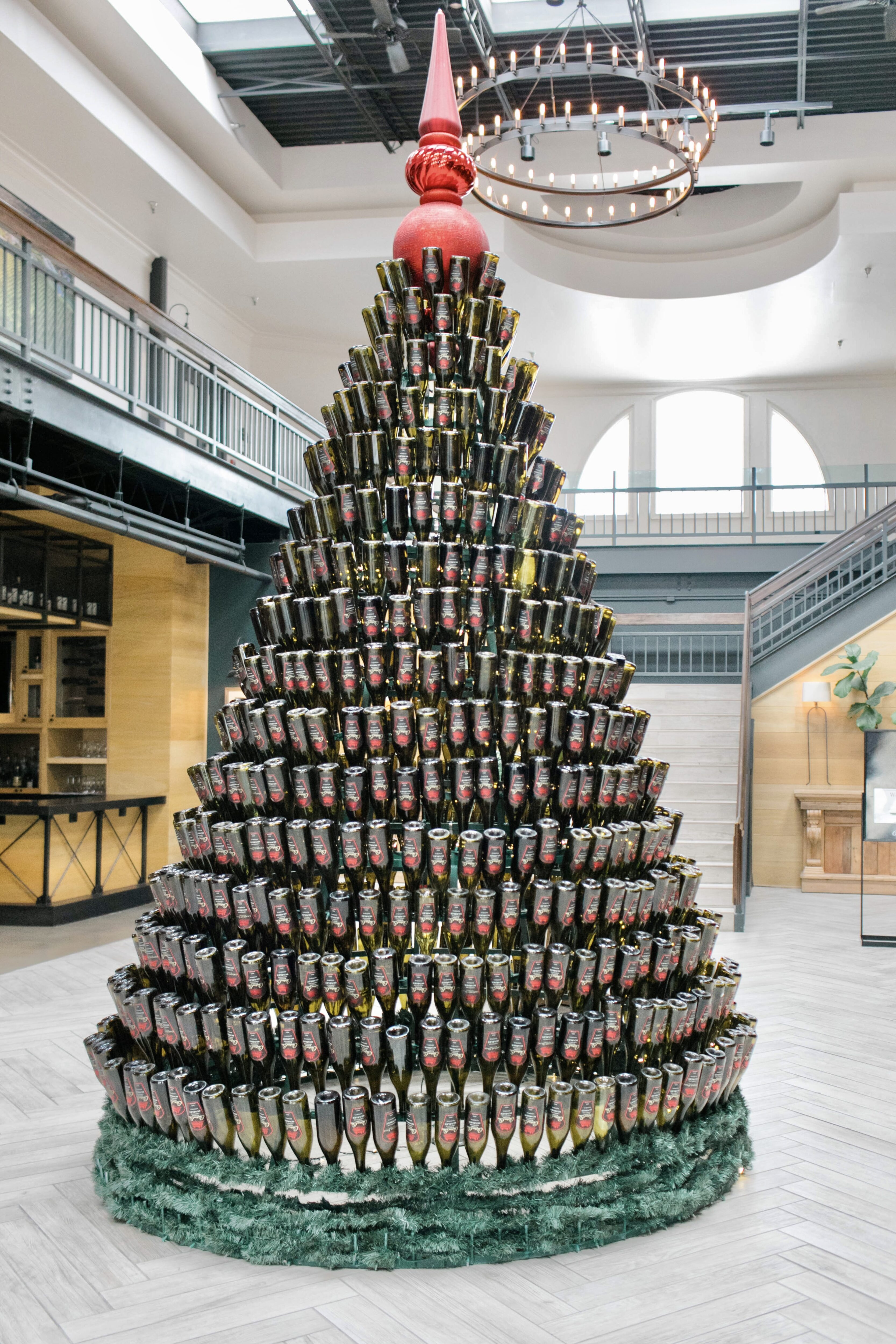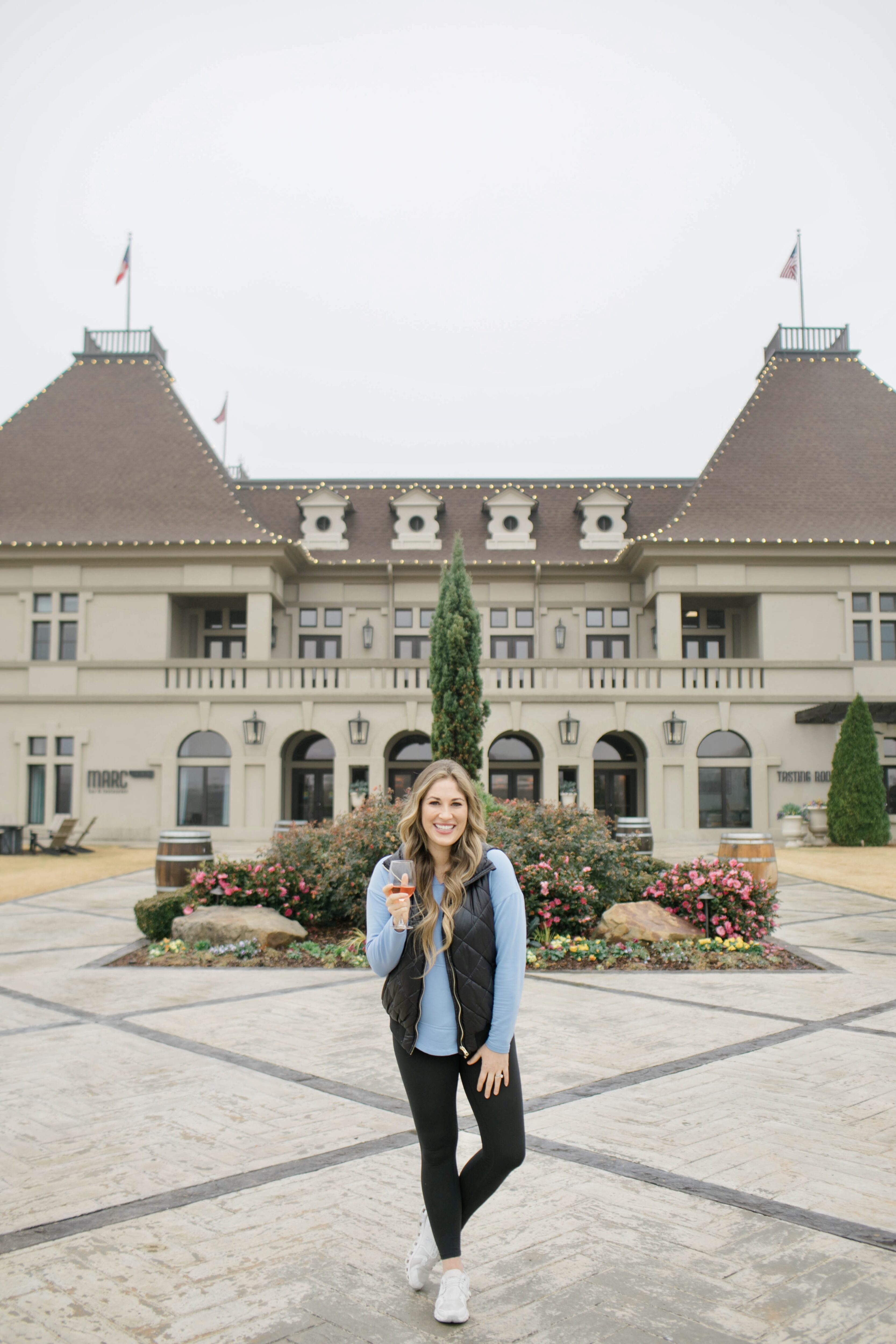 Next door to the resort is the winery and vineyards. My favorite was the Sparkling Rosé, and Matt loved the Cabernet Sauvignon. They have wonderful wine, and I love the look and feel of the winery and tasting room. It is very roomy inside, and outside they have fire pits, umbrellas, chaise lounges, tables and chairs, and even outdoor games. The entire place is so inviting both indoors and out.
Inside the winery, they also hold cooking classes. We did one together this time, and it was a blast! The chef was amazing, and I feel like we learned so much from him. They also paired each course with a different wine, so it was nice seeing which foods paired well with some of their different wines. I highly recommend the cooking class. They have different menus on different nights, but you can't go wrong! We cooked lamb chops, and I'm so happy that now I feel confident in cooking them at home.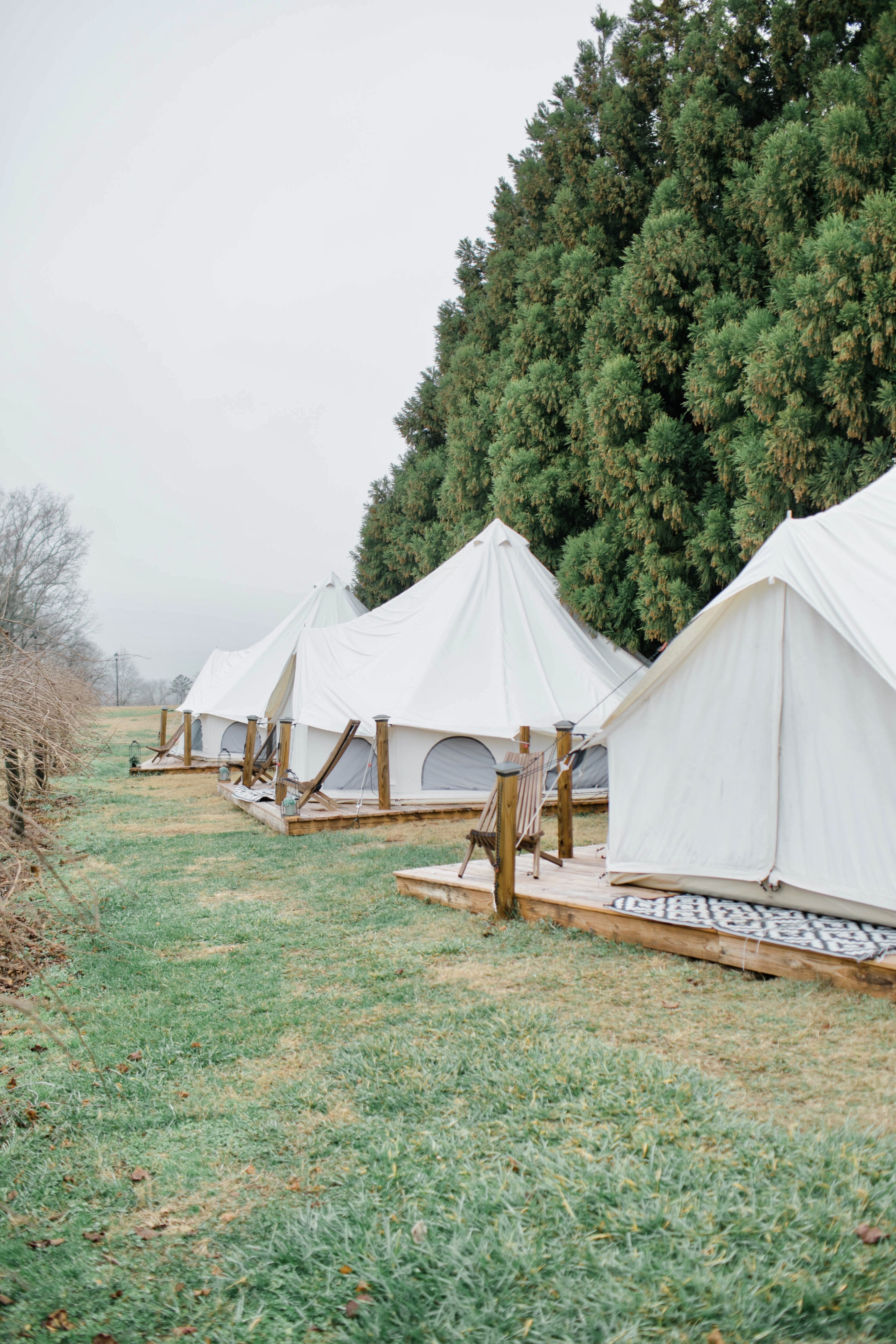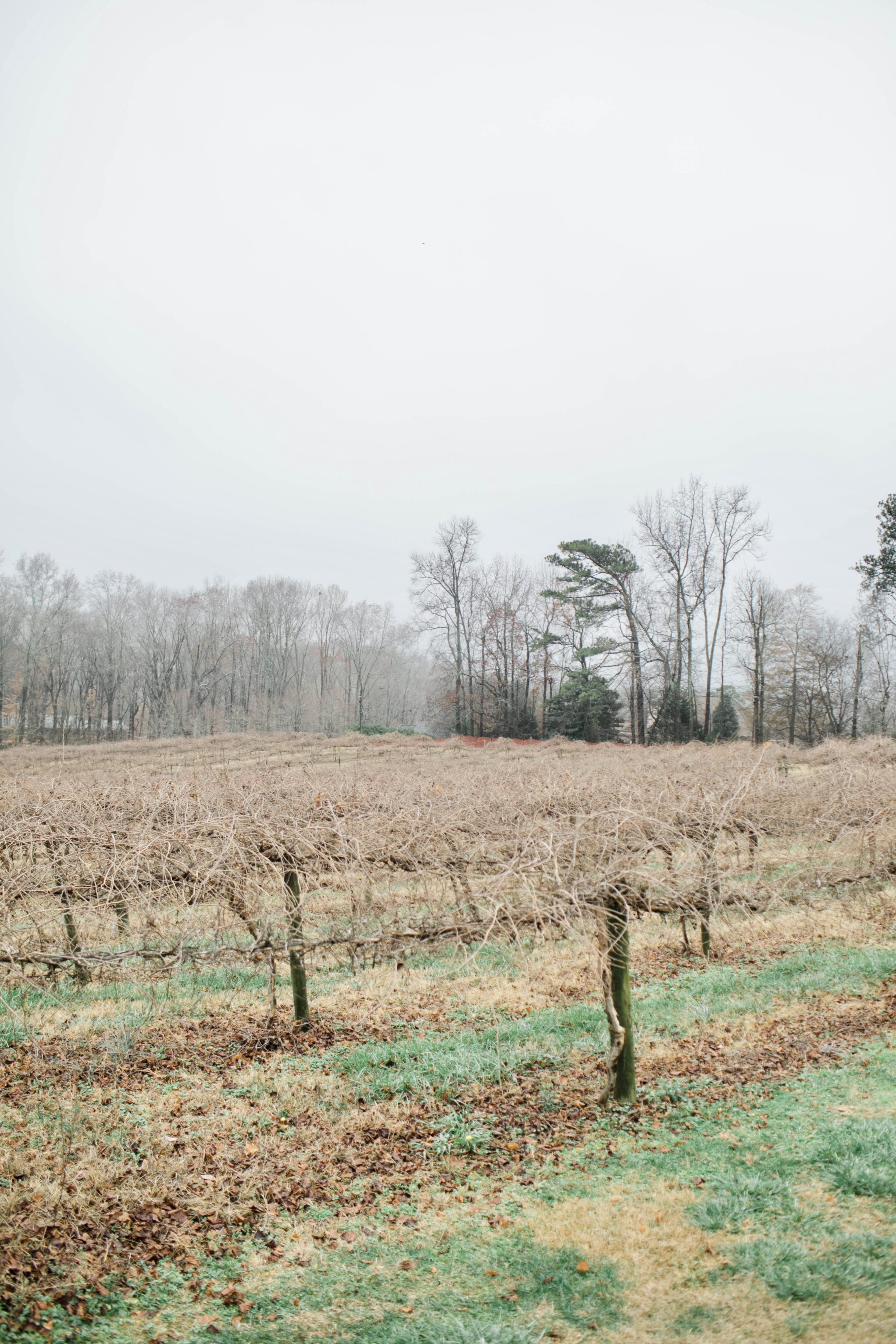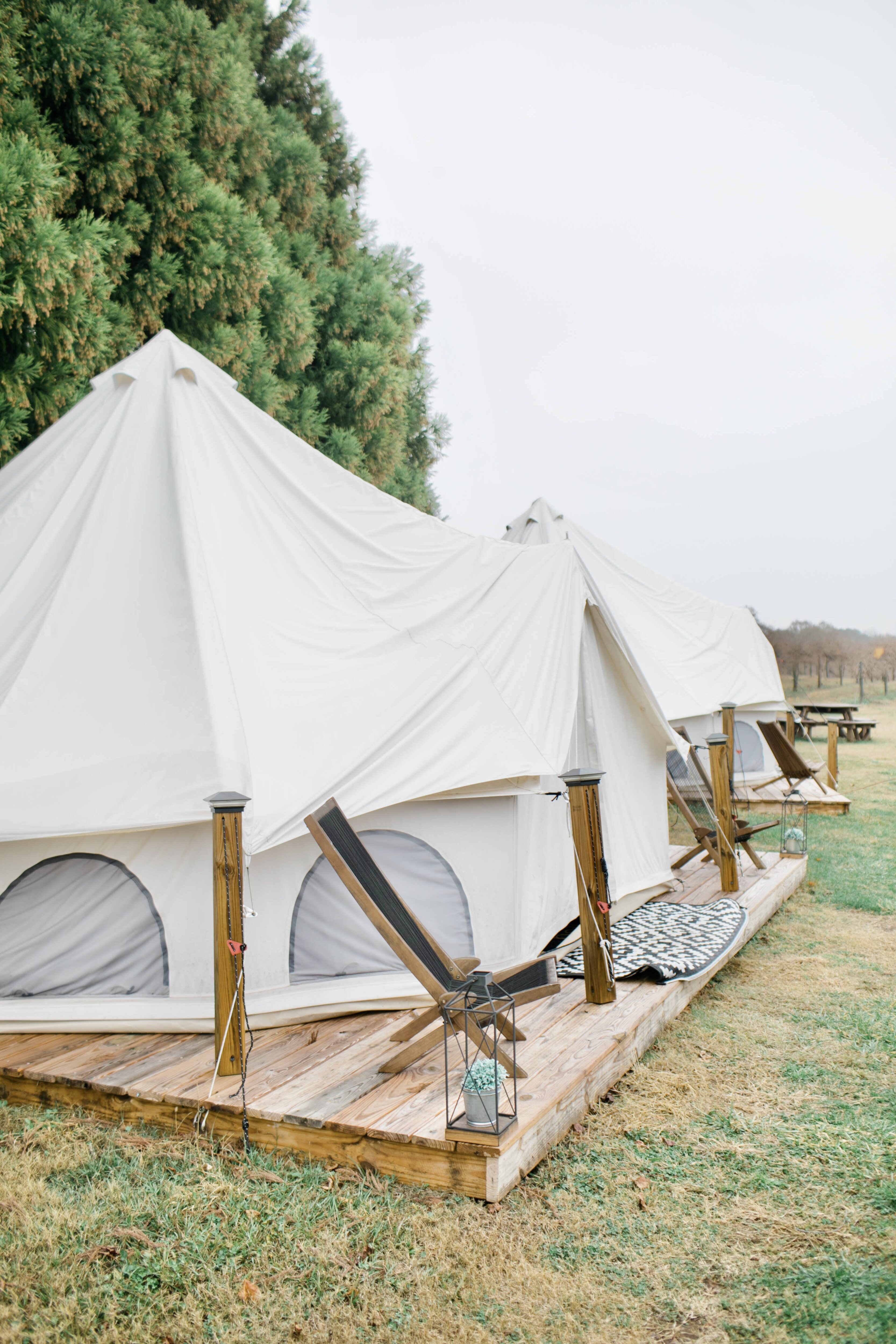 On our second day at Chateau Elan Luxury Resort, we got to drink wine and enjoy and meat and cheese board inside a wine bungalow! It was even better than I could have imagined. The whole experience was so dreamy. It was so peaceful and relaxing. We loved every minute of it. The sun came out for a while, and we actually lay on the couch in our bungalow sipping wine and just talking and taking in the pretty sights outside our tent.
We had our wine bungalow for 3 hours. It was the perfect amount of time. The bungalow was stocked with plenty of wine, food, water, a fan and heater, a couch, and chairs. It was absolutely perfect!! We will definitely be back to Chateau Elan next year, and I hand down recommend renting a wine bungalow. I love how much Chateau Elan has to offer. Every time we visit, there is even more to experience!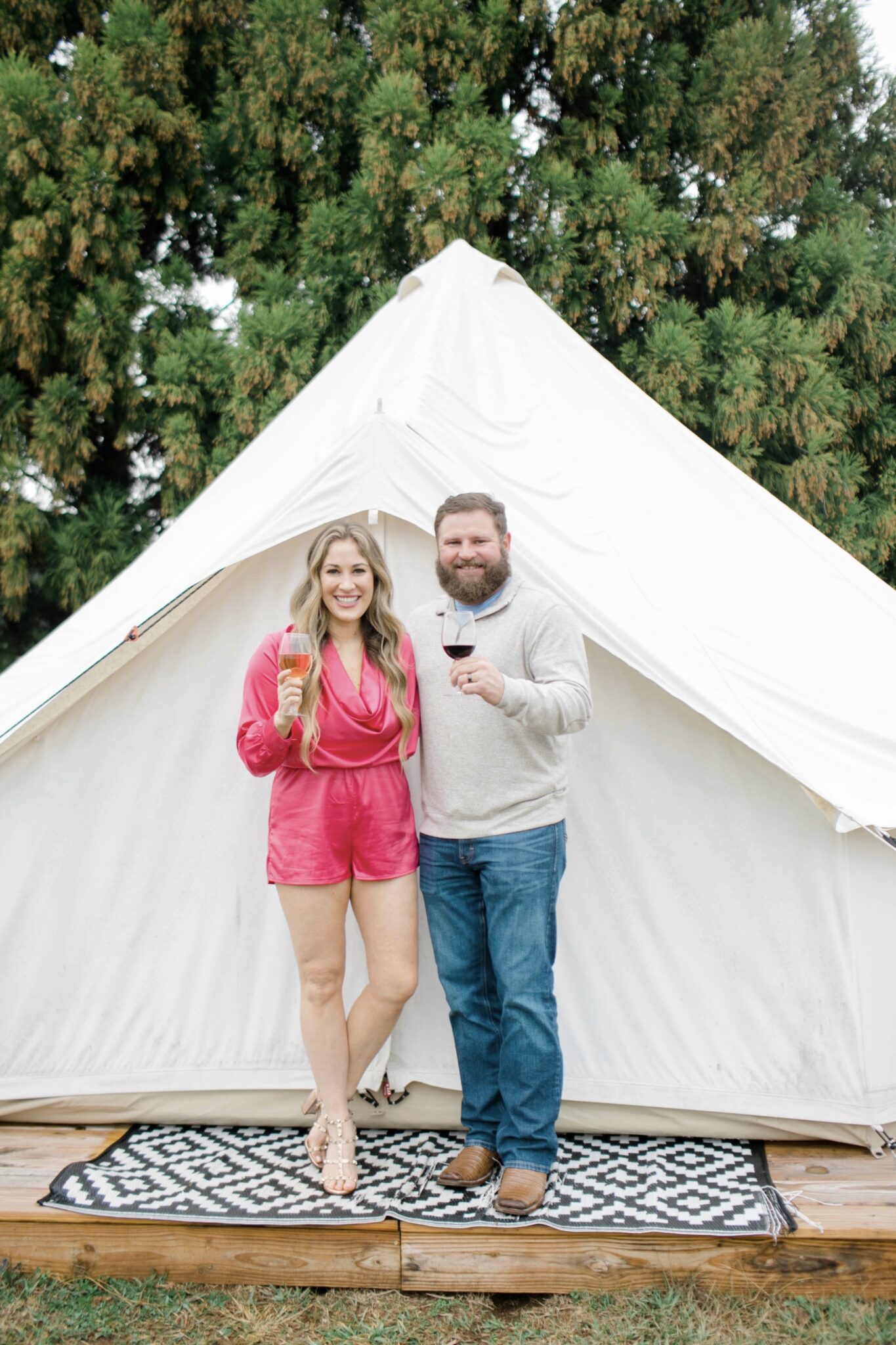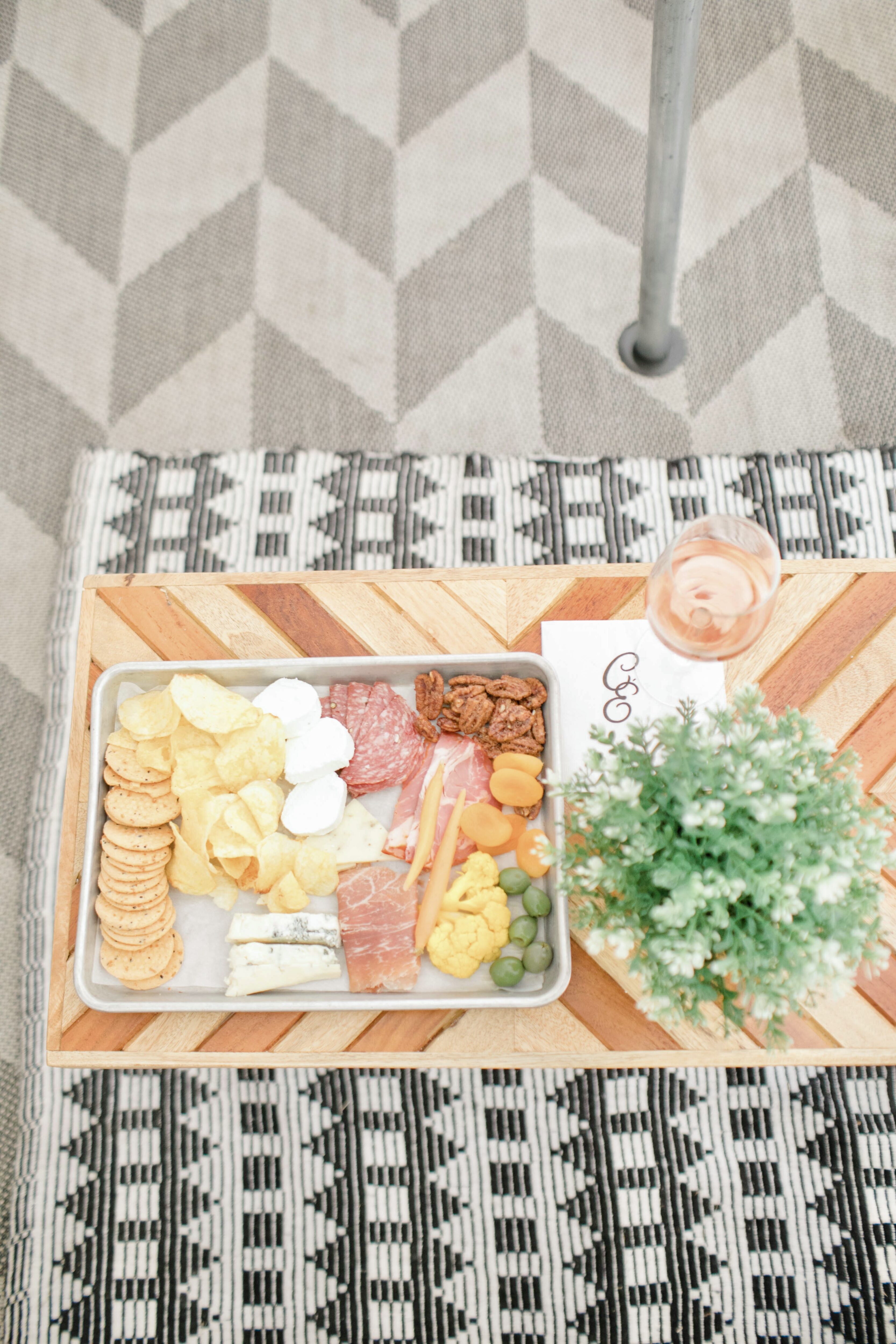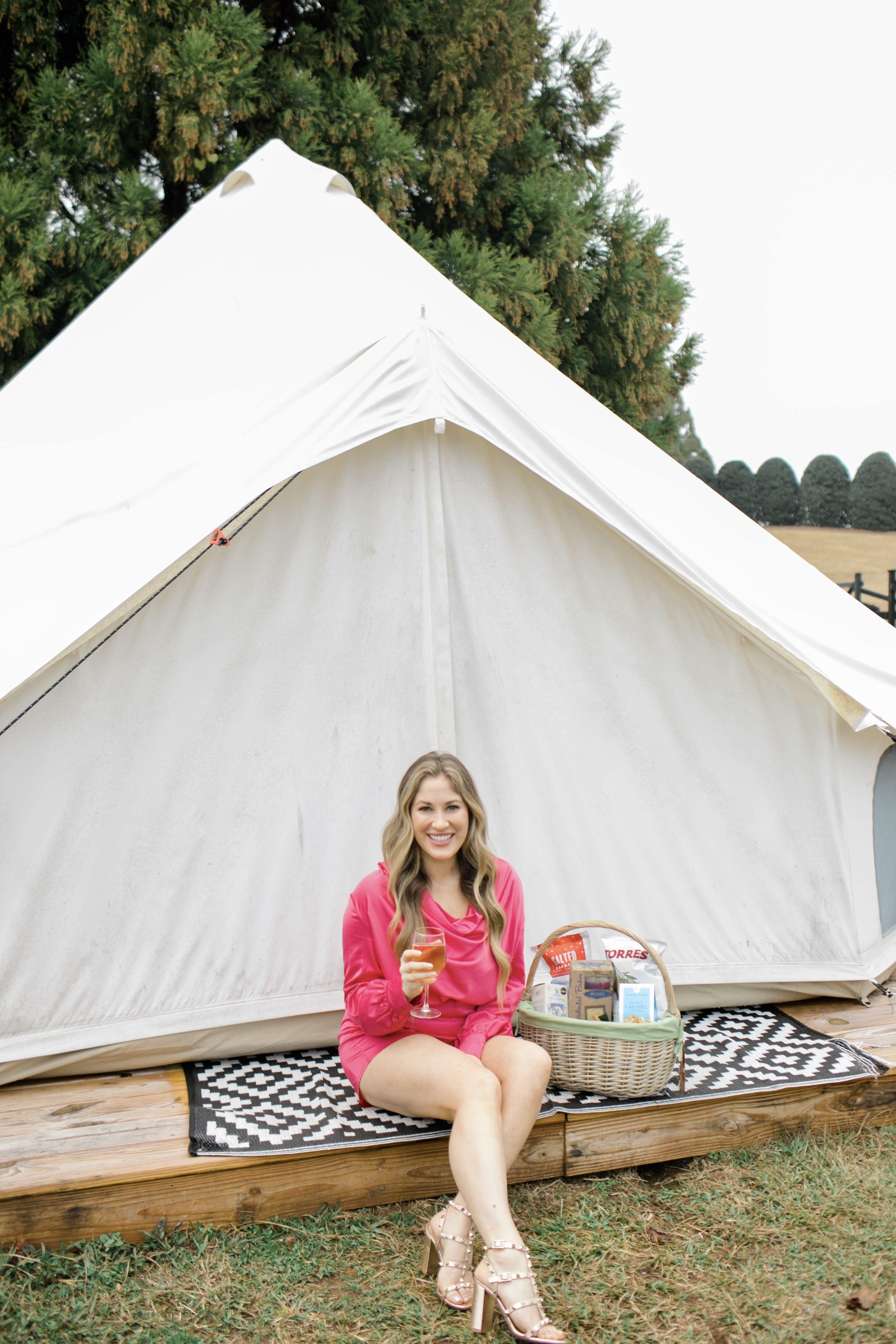 They also have a nature trail that leads out near the spa. Matt and I took a walk on it one afternoon, and it was so nice. It was in the 70's that day. I love how Chateau Elan does a great job at combining the indoors and outdoors and providing a fun, beautiful yet relaxing environment. It would be such a great place for a romantic getaway or even a girls' trip. Last year we took Grayson with us, and it was just as nice for families!
I am so excited today to be teaming up with Chateau Elan for an amazing giveaway! I am giving away a 2 night VIP package with premium accommodations! Just head over to Instagram right here to enter. It is super quick and easy! You will just need to make sure you're following me, the resort, and tag 1 person! The giveaway will end on 1/8/2023 at midnight. Good luck! Have you been to Chateau Elan?