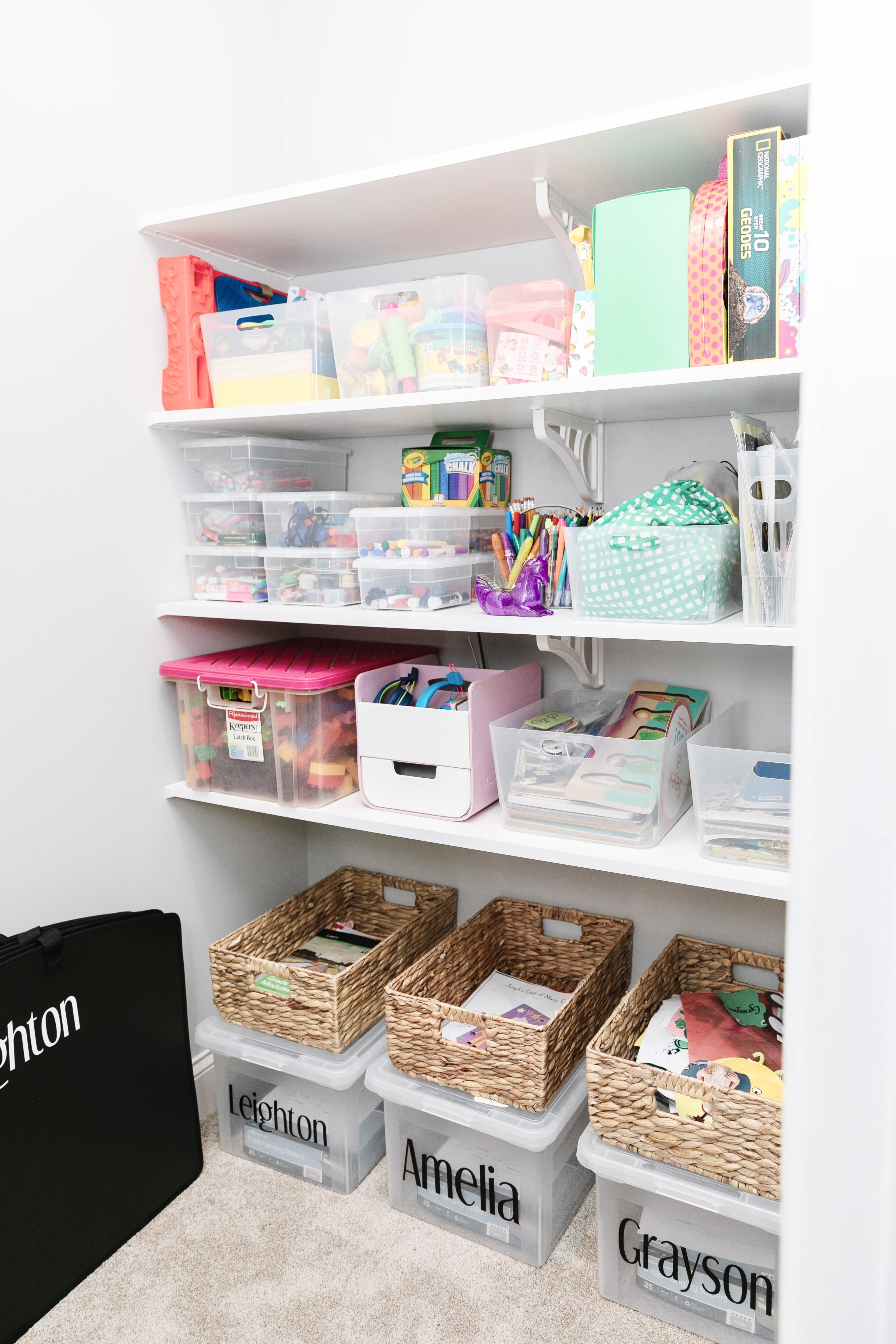 Shop the Post

Something so many moms I know (like myself) get stuck on – how to organize your kids' toys in their playroom or bedroom! This has been such a long time coming! Our family room (playroom) closet that had quickly become our "junk closet" finally got a makeover! It was filled to the brim with all the odds and ends from chairs to paintings to drawings to warranty papers to toys. There was no rhyme or reason to anything. Organization in this closet was completely nonexistent, and it was driving me crazy!
With 3 kids now and with Grayson getting older, I really wanted to create a space where the kids could easily go to find all their toys, get them and play with them and then still put them back when done. The kids don't play in their rooms much, so I wanted to try to move the majority of their toys out of their rooms into the playroom where they could have a dedicated space, and there is also a tv in there. It is a great space for them to play together while we are downstairs cooking or cleaning up from dinner.
We recently worked with The Space Defined and had our family room closet revamped and are so happy with how it turned out! The items that we rarely ever used (extra chairs and paintings that we have nowhere to hang yet) were moved to the attic. And toys from their room were moved into the family room. Keep reading for my favorite tips below!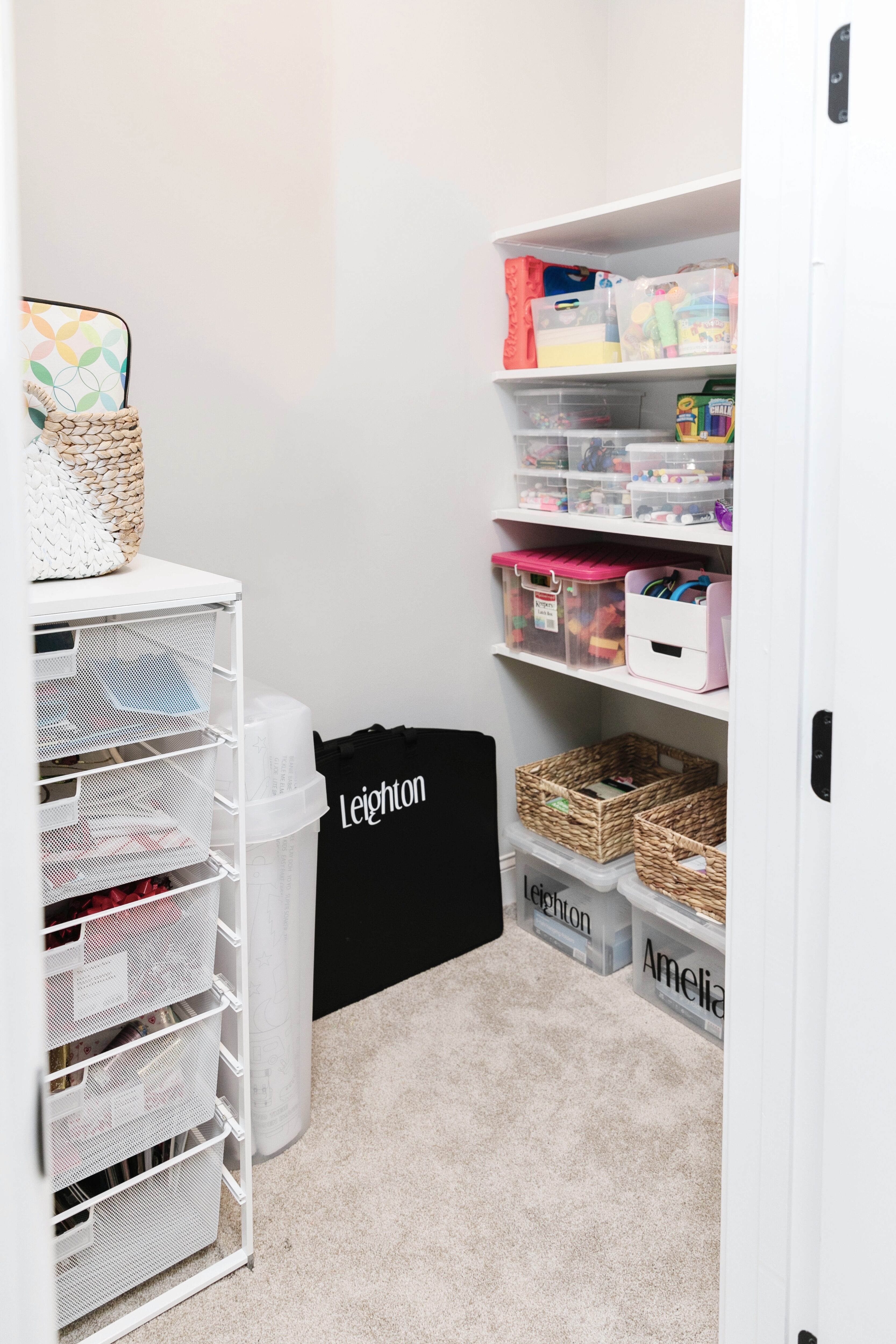 How to Organize Your Kids' Toys in Their Playroom
1.) Go through your current toys. Throw away broken toys with missing pieces. Donate or sell items that aren't used or that you have duplicates of. Stuffed animals are one of those items that really start to pile up but just collect dust isn't used much. They are one of the first things to go!
2.) Sort like things together. The best way to start organizing after going through your items and downsizing is to start sorting them into categories. Legos go together. Wooden toys go together. Stuffed animals go together.
3.) Decide where you want different things to be stored. After you get the toys sorted, decide where you want them to go. For us, we decided to put most of them in the family room closet. We also bought an 8-cube storage unit to go in the family room.
4.) Create different "stations" for the play areas in your room. A reading area, a stuffed animal or doll area, a crafts area, and a coloring area. We even have some gift items in the closet, so I have an area for gift wrap too.
5.) Use space-saving storage solutions. This drawer station is great it stacks up, but you can still easily see what is inside each drawer. Using vertical storage is a great way to save space!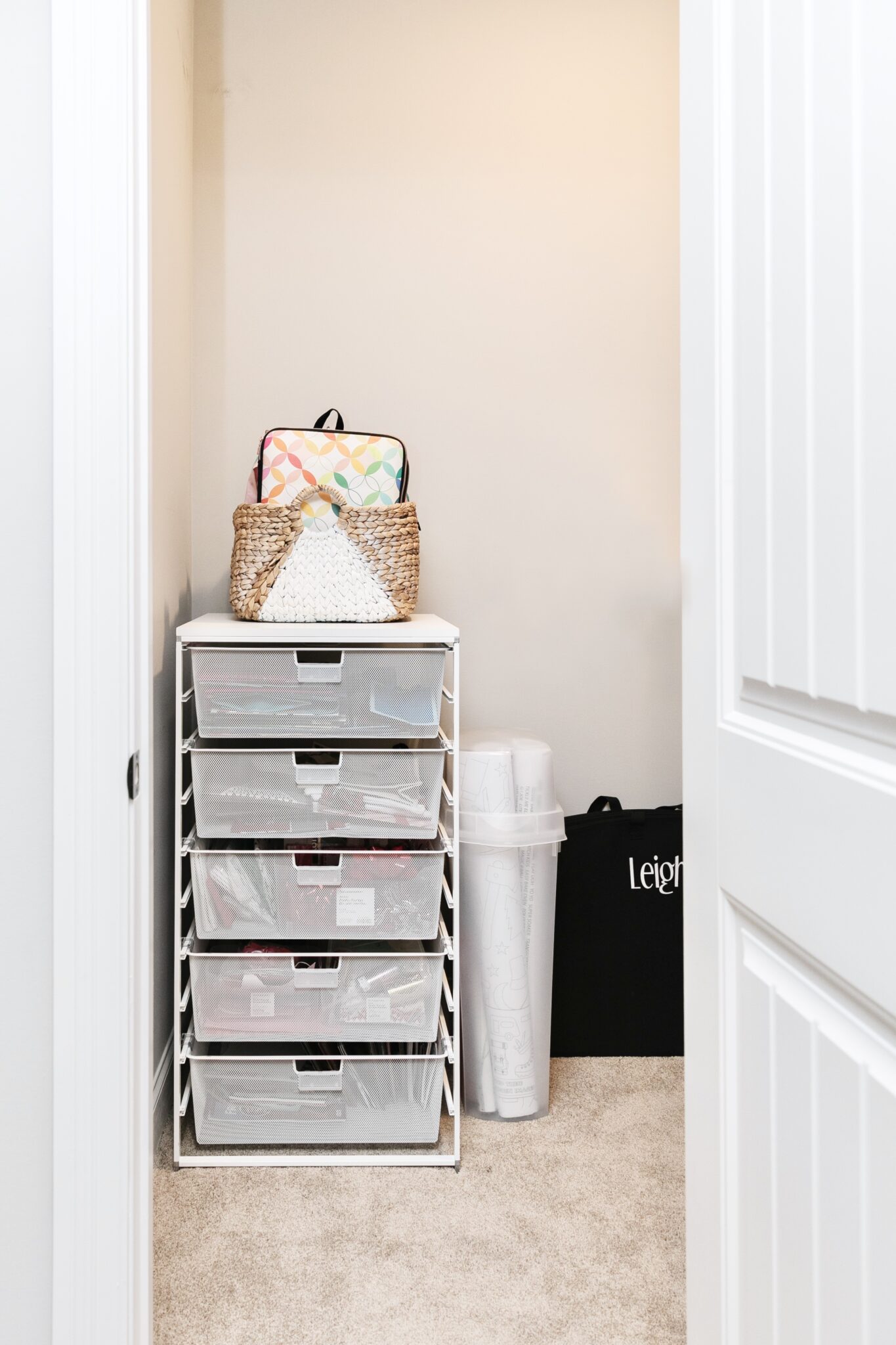 6.) Put messy things that need supervision out of reach. We have our play-doh and non-washable markers up out of reach of the kids.
7.) Make other toys accessible at an age-appropriate height. Items that Grayson can play with are lower at his eye level. Things that are more age-appropriate for the girls are up higher.
8.) Invest in good storage containers. There are so many different kinds of containers but invest in durable ones. A mixture of open and closed storage is good. I love acrylic bins and baskets.
9.) Make toys visible because out of sight is out of mind. We used a lot of clear acrylic storage so the kids could see what was in it. And when we didn't, we still kept a lot of the open so the kids could find their toys easily. Piling a bunch of toys in hidden bins will leave the toys well…hidden.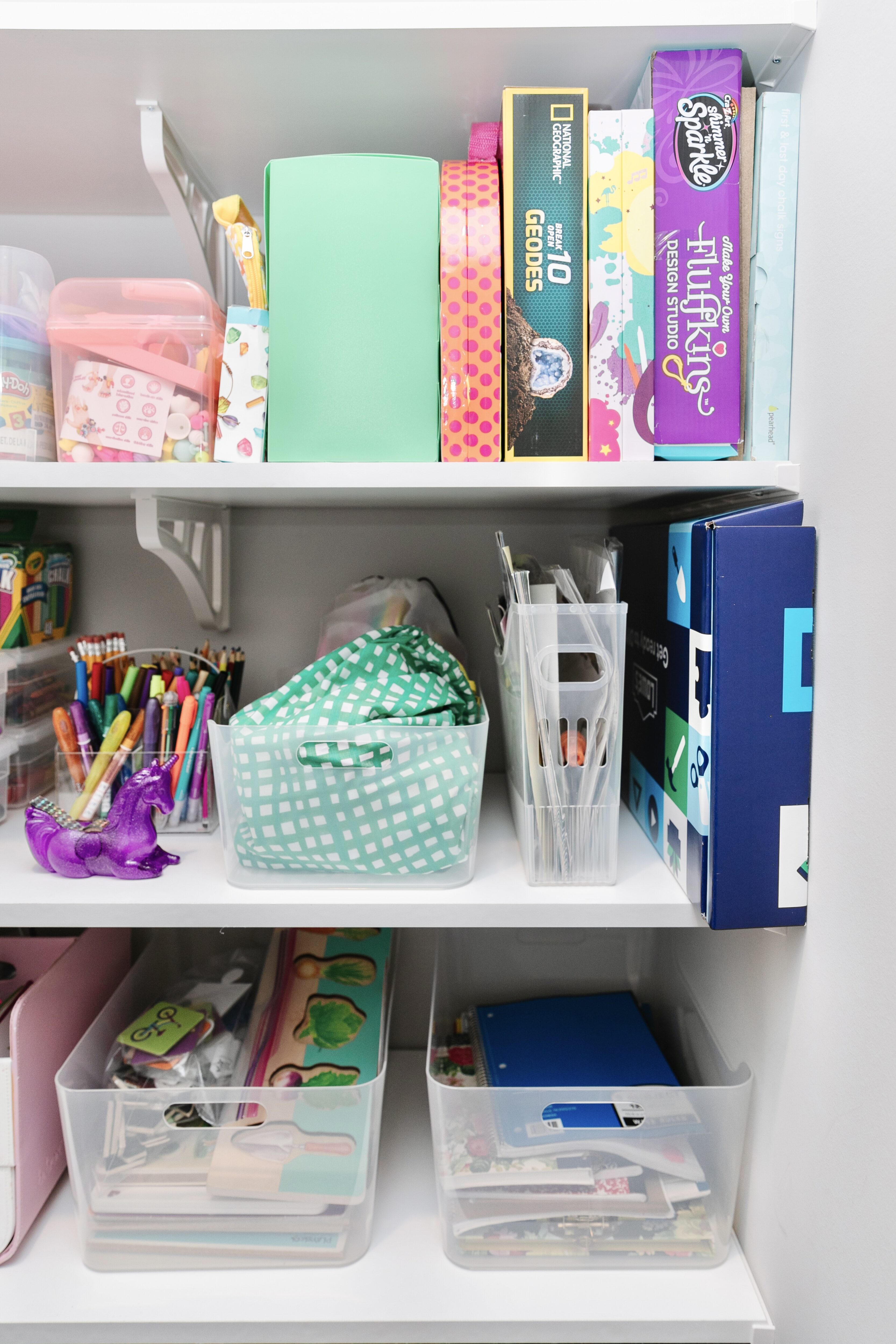 10.) Label the toys. This is a great way to help keep things organized. It helps you and it helps the kids or even a babysitter. Everyone can find where things are and where they go. I took these pictures before I had the label stickers printed, but these are the ones I used.
What do you think about our family room closet now? You should have seen how it looked before. It was BAD! Check out my Instagram to see my before and after reels. What room are you looking to organize next?