This post is sponsored by BabbleBoxx and Toro. Thanks for helping me to support the brands I love.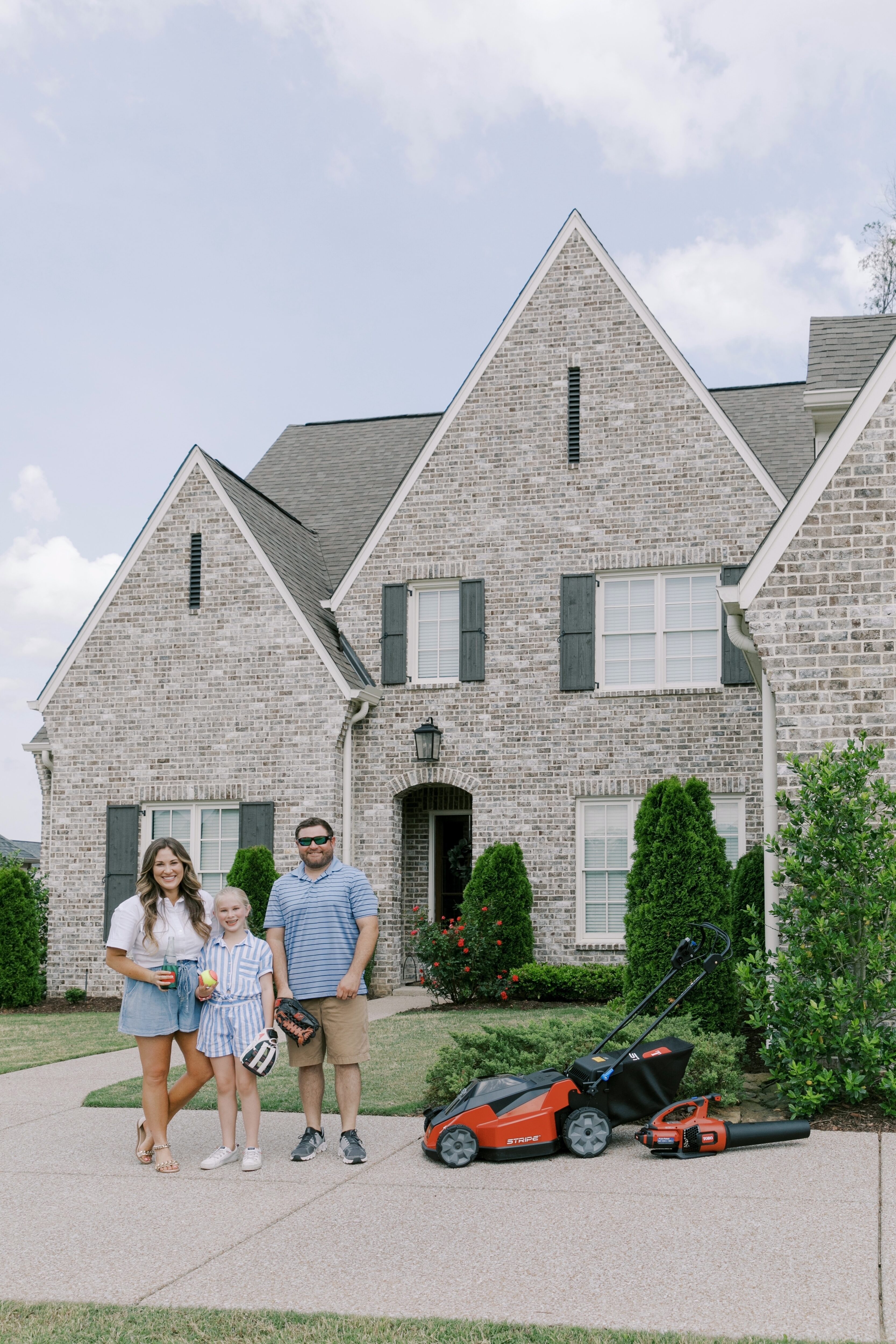 We only have 1/3 of an acre yard, so it's not the biggest yard on the block, but it's also not the smallest. Y'all know that we LOVE to spend time outdoors and entertaining, and that means being outside in our yard. With spring here and summer on the way, we have been looking to get our yard ready for summer and all the outdoor entertaining!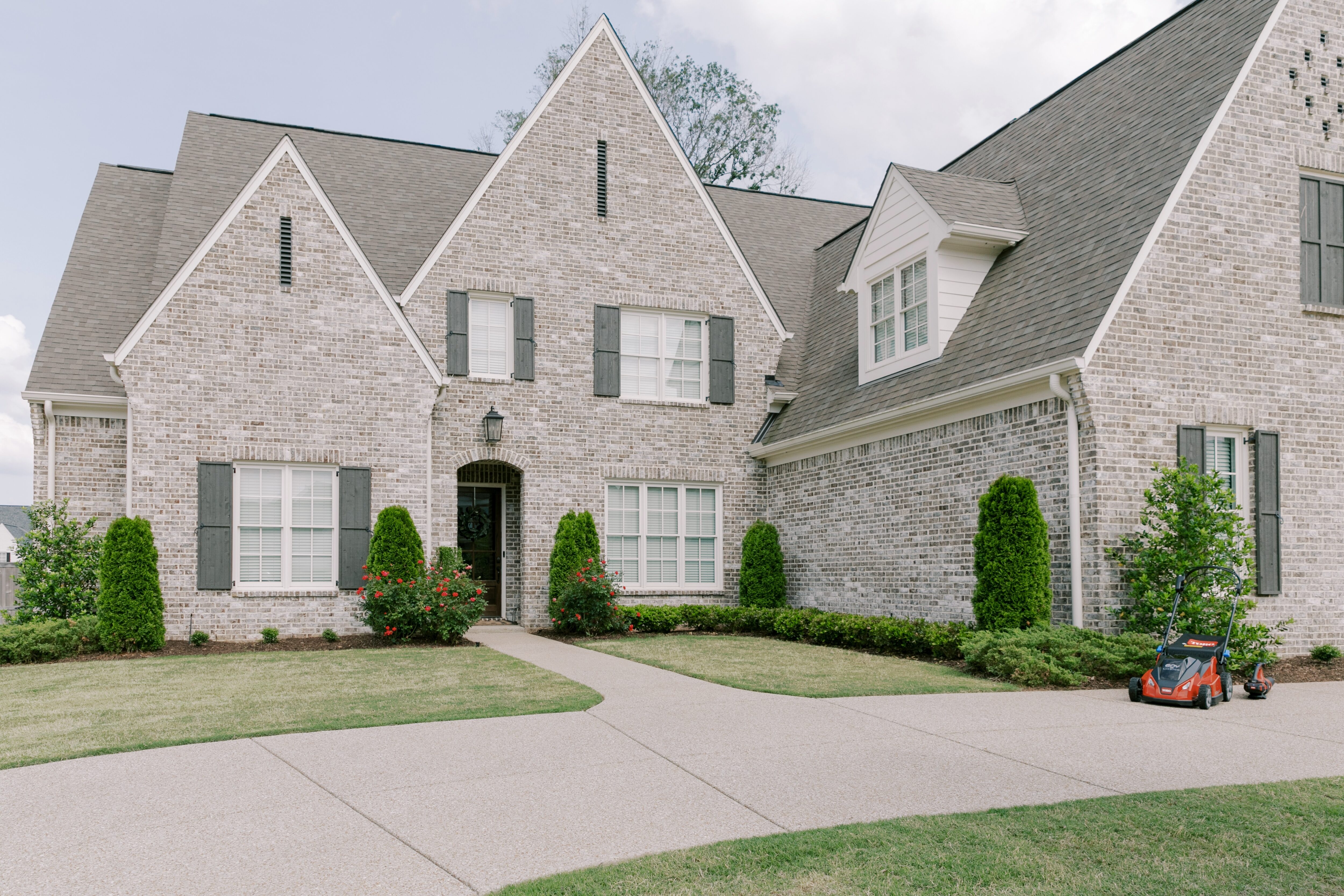 No matter your yard size, there is always plenty of space to get outdoors and make the most of your space. Keep reading where I share some of my best tips to really make a big impact in a small yard and add a little more curb appeal so you and the kids will want to come to go outdoors and enjoy the space!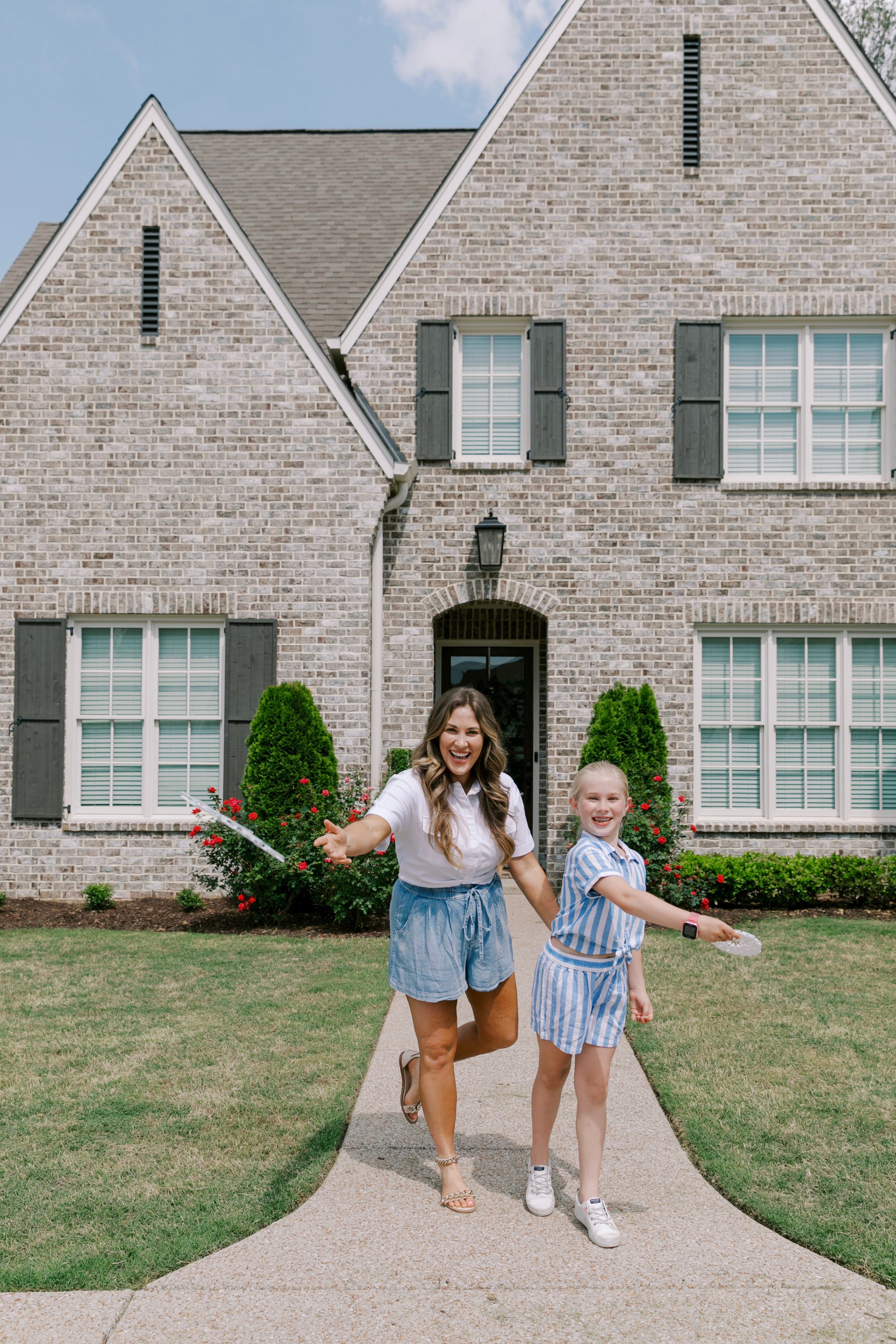 10 Ways to Make a Big Impact on a Small Yaard
1.) Add elevated lighting. Think pathway or exterior house lighting. It can be a little bit of an investment, but it really makes a statement, especially at night! A bonus is that it also keeps your home better protected with the extra lights on it at night, whether you're at home or not.
2.) Don't forget the front door wreath to add some decor. Don't forget all those fun seasons and holidays to celebrate with a fun wreath. Swap them out, add some color, and add bows and sashes for a pop of color!
3.) Add an oversized welcome mat to welcome guests. No matter what size front porch you have, odds are that you can still add a decent-sized welcome mat. It's like taking curtains up higher to the ceiling, it immediately widens your door and makes it look better. Maximize the space you do have!
4.) Add color by your front door with potted plants or large outdoor candle holders. We have a small front porch, but that doesn't mean we can't still decorate it! We added outdoor candle holders by our front door. It is easy to put outdoor candles in them or even fill them with another decor for different holidays and seasons.
5.) Plants fragrant plants and flowers near your front door. The best way to really spruce up your yard is to add beautiful flowers, especially some fragrant ones if you can. We added several knockouts rose bushes near our front entryway, and even though most people thought they wouldn't fit, they do, and they look so good! They also add a bright pop of pink when you're walking up the walkway to the front door.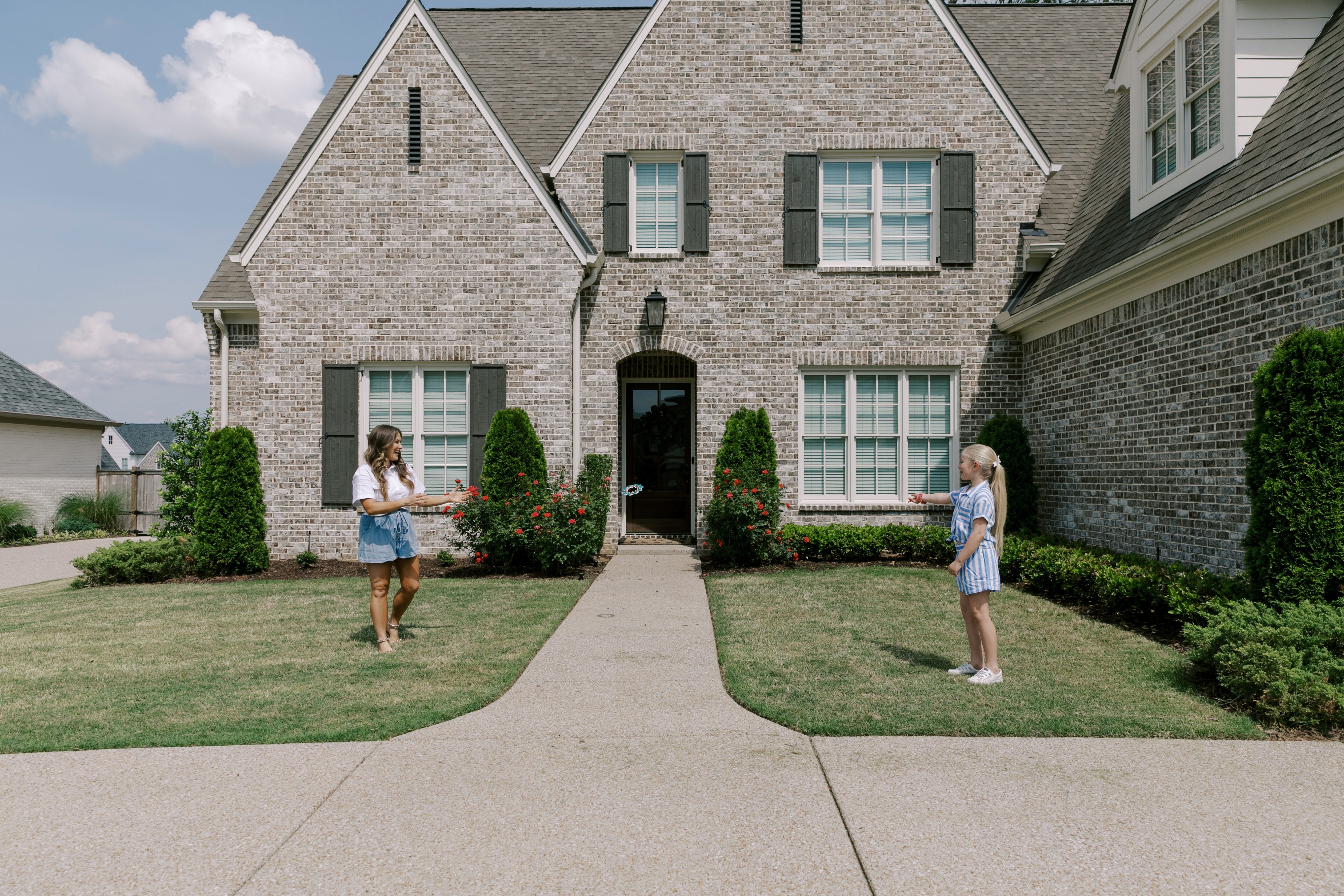 6.) Don't skimp on the trees, even with a small yard. We have 2 large trees in our backyard that provide good shade, and we have 2 small ones in the frontward. No matter your space size, draw out a plan and get an idea of what you do want to do with your yard. It might take a little more creativity, but more can be done than you think. Overall, you really want to add and create spaces that work for you and your family and will make you use your yard more.
7.) Add moveable, comfortable front yard seating. We don't have a large front porch for seating, so why not add some Adirondack chairs that are light that you can move out front when you want to use them?? We enjoy being in our front yard just as much as our backyard!
8.) Paint your front door. Paint your front door a darker or a bright accent color to make it stand out a little more, and who doesn't love a fresh coat of paint?!
9.) Get outdoors and use what you have! Above all, just get out there and enjoy what you do have. If you tend to like to sit out in the yard, add a chair. If you like being in the shade, add more plants to eventually create a shaded area for you. Use it in the way that works best for you and your family!
10.) And don't forget to stripe your yard with the Toro 60V Max Stripe Mower! Not only does this mower leave you with a great-looking, enviable yard, but it is also super cost-effective and time-saving! The Toro 60V Max Stripe Mower is a lightweight but powerful battery-powered lawn mower that quickly and easily gets your yard ready for all the spring and summer entertaining. Look at the before image below!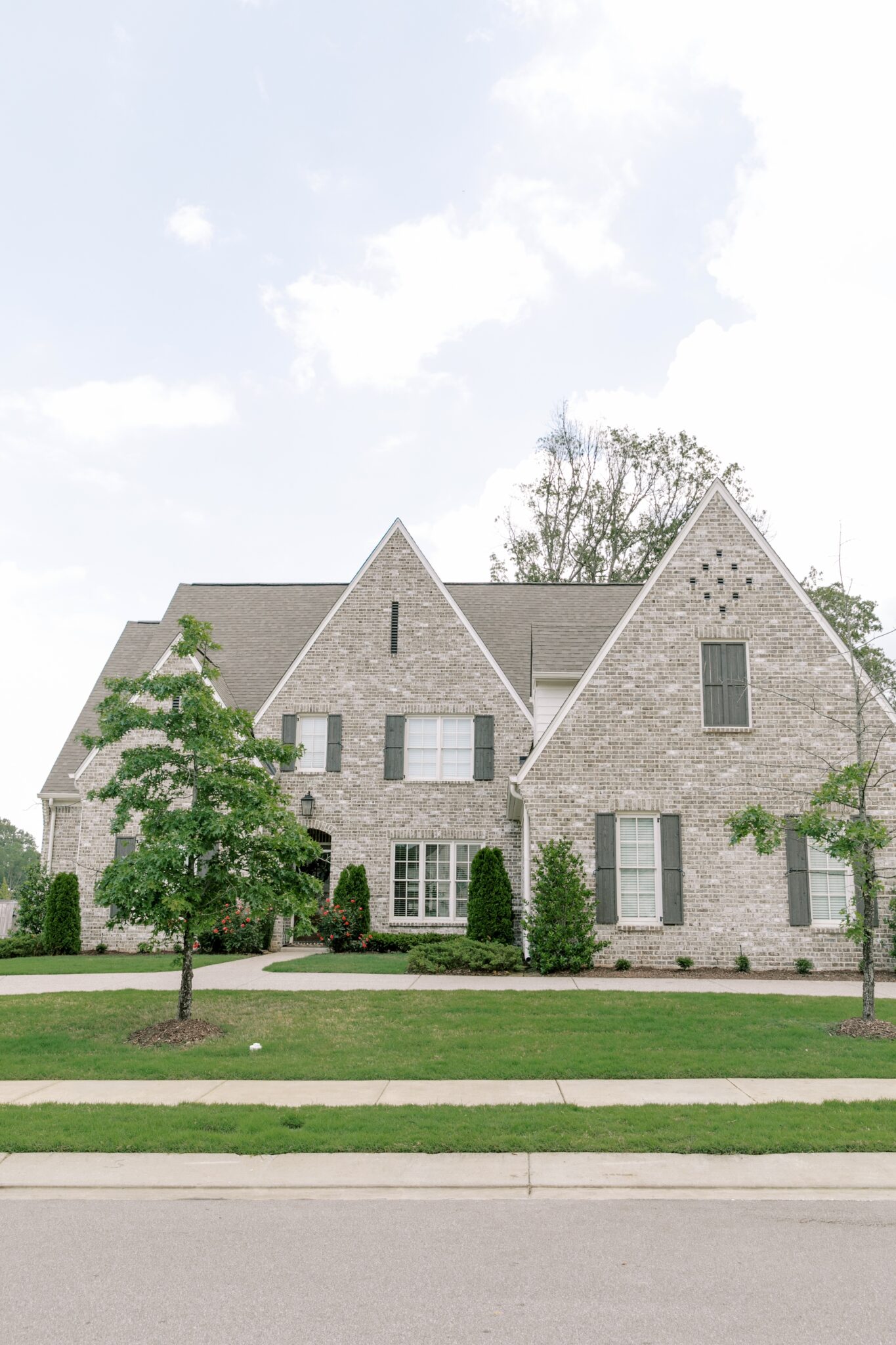 About the Toro Mower
This battery-powered lawn mower has an interchangeable battery system that works with all of Toro's Portable Power Lineup of tools, like our leaf blower. No need to store tons of batteries in the garage, because they all can use the same battery. No more need to run to the gas station to fill up on gas for the lawn mower. And no more smelling like gasoline!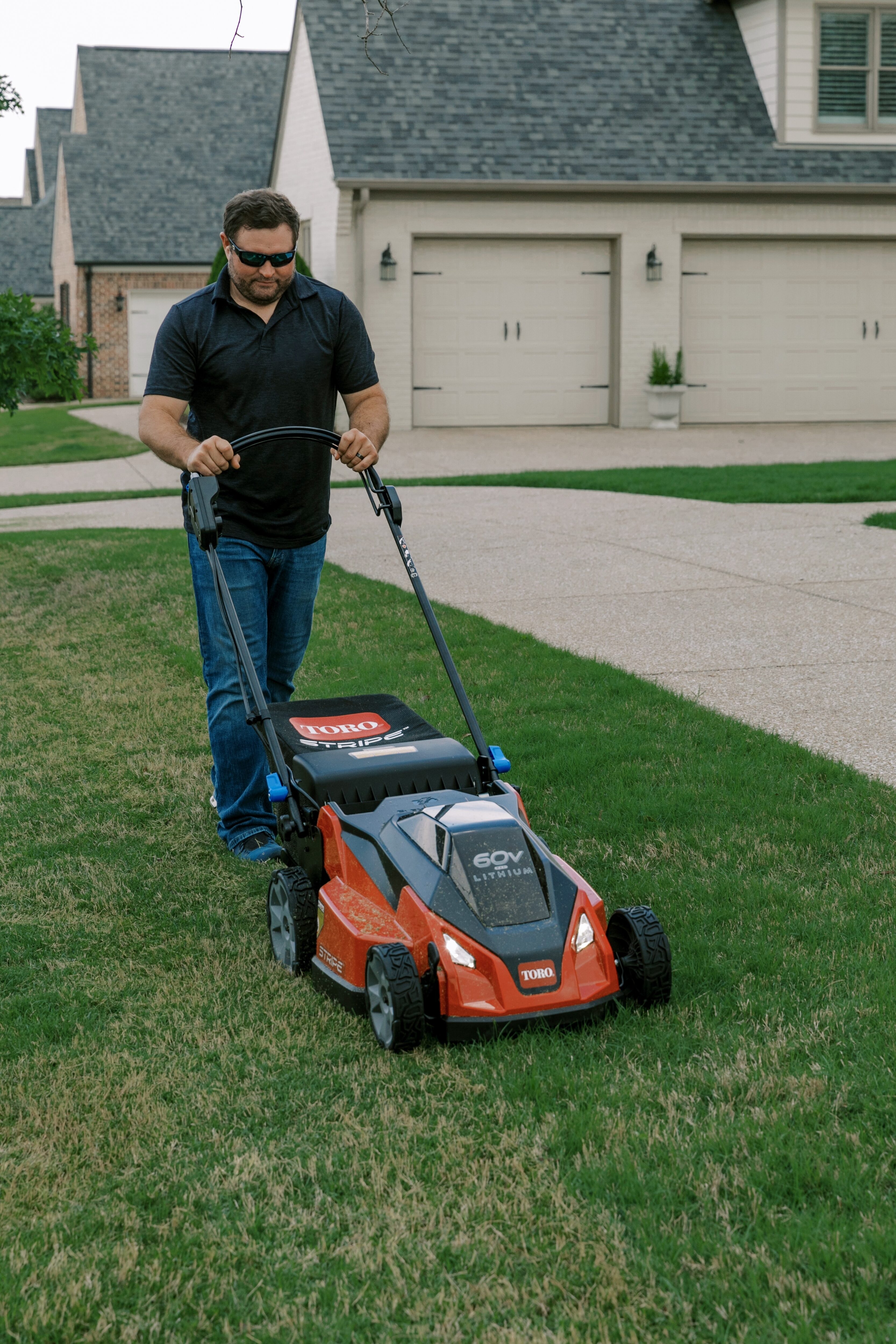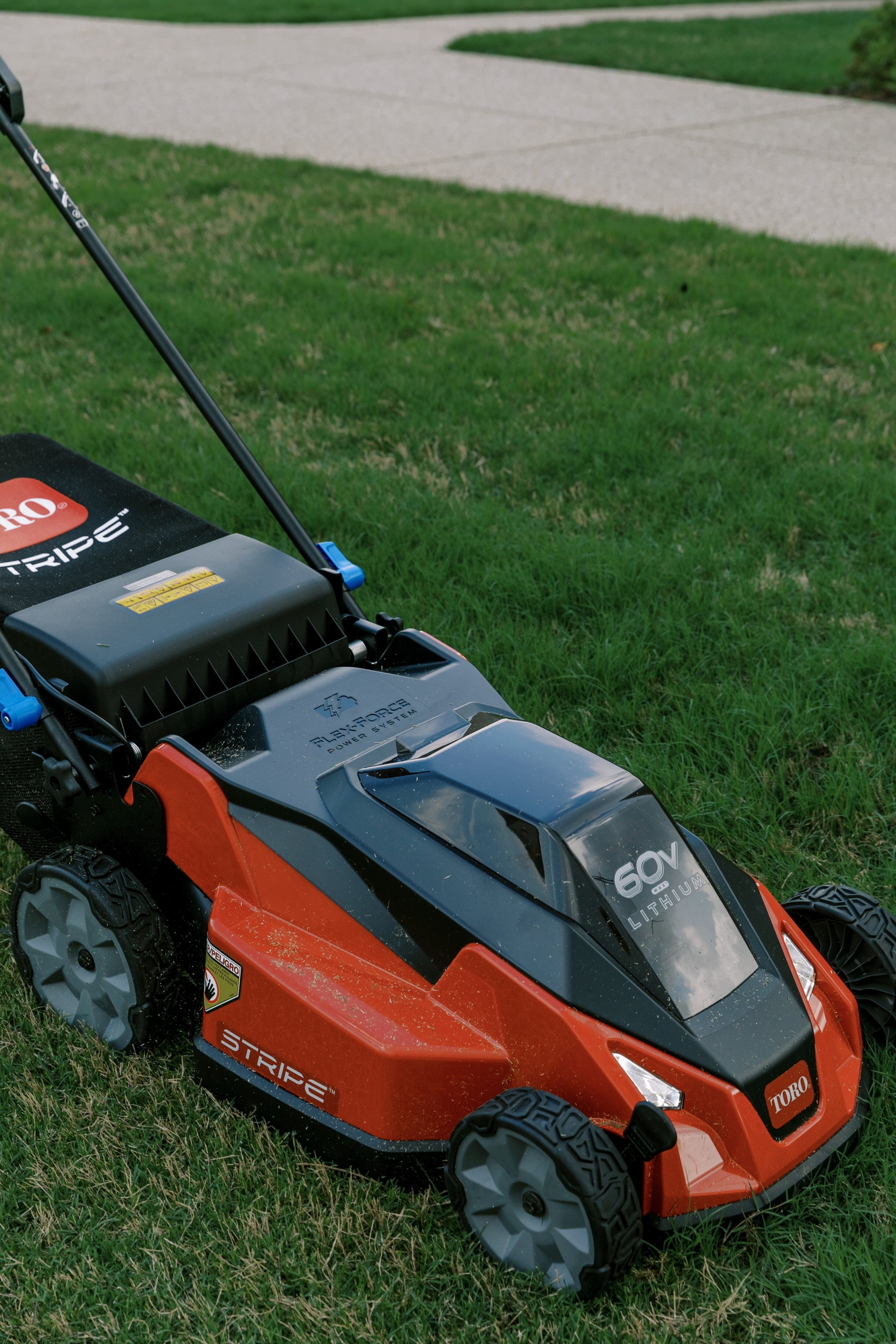 The Toro 60V Max Stripe Mower and Leaf Blower both use the same interchangeable battery and will save you so much money, time, and space! But just because they are battery-powered, they aren't skimping on power. The lawn mower battery has a runtime of 65 minutes. The all-terrain tires easily glide through tall grass to cut and stripe your yard in just a breeze! It also comes with a 2-year limited mower warranty and a 3-year limited battery warranty.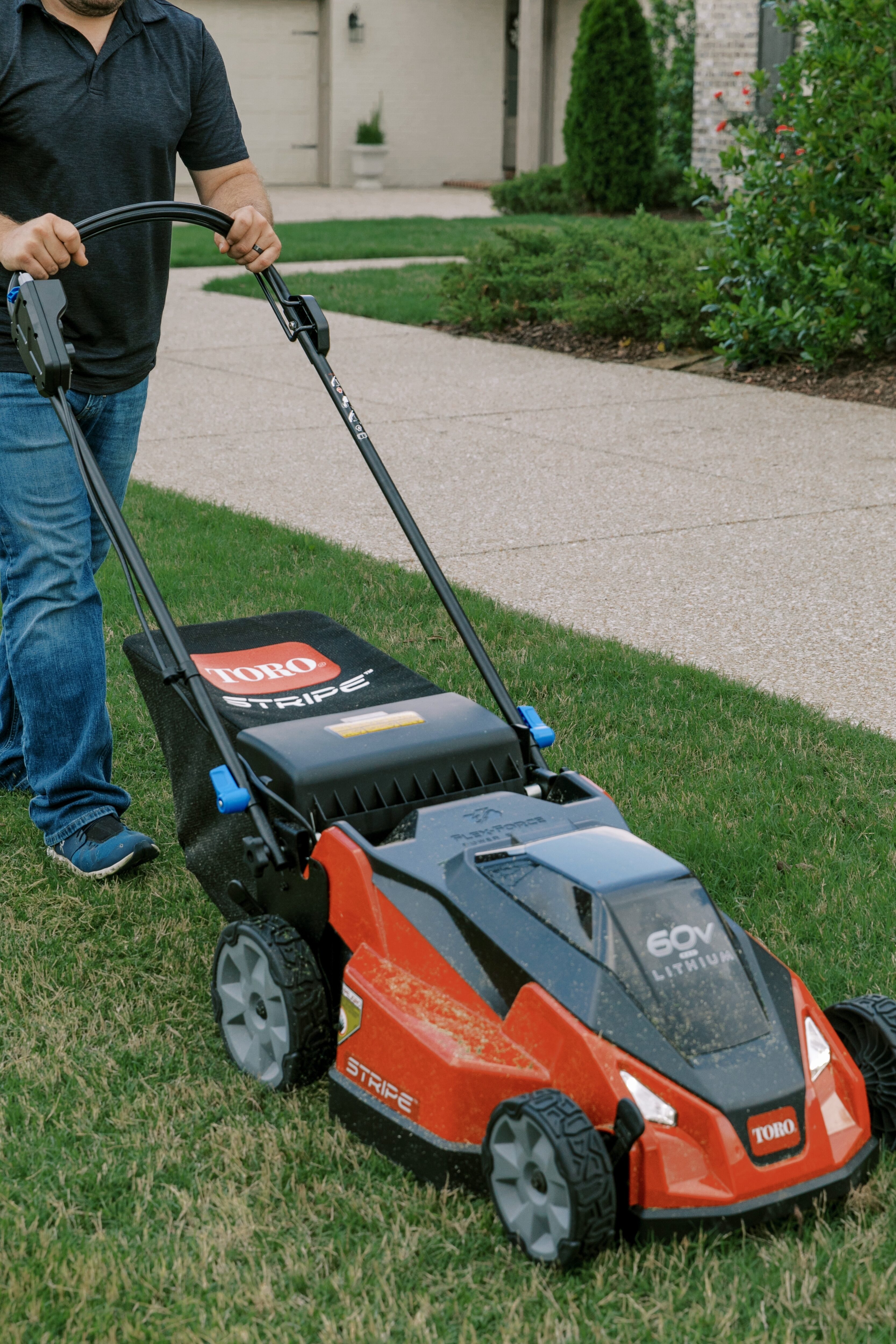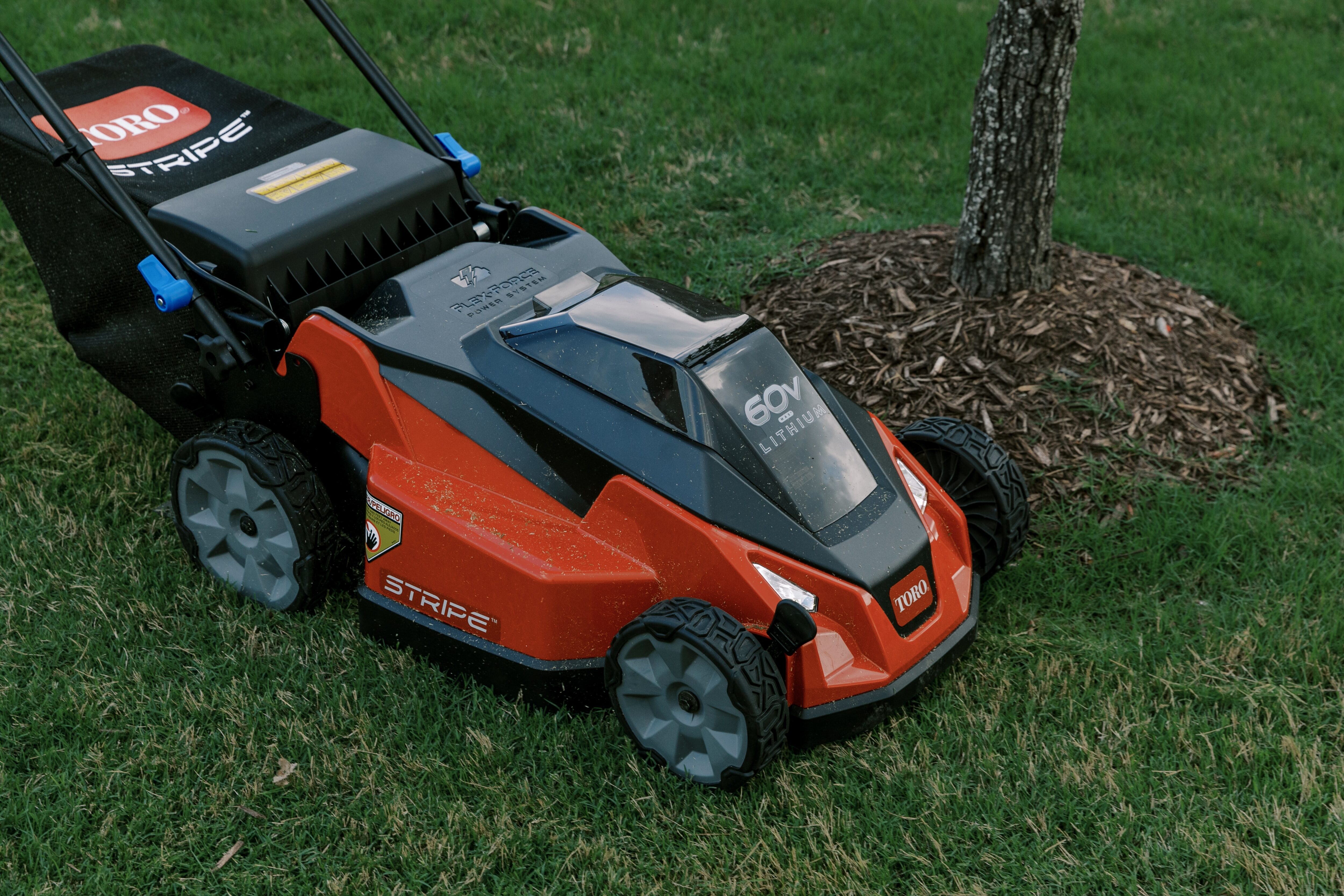 Toro is and has always been the #1 mower brand in America, and I'm so glad we went with Toro for our new lawn mower for our yard. We are so happy with how good the lawn looks and how great it looks! It's perfect for all our summer grilling, sports playing, and outdoor entertaining we will be doing all spring and summer long!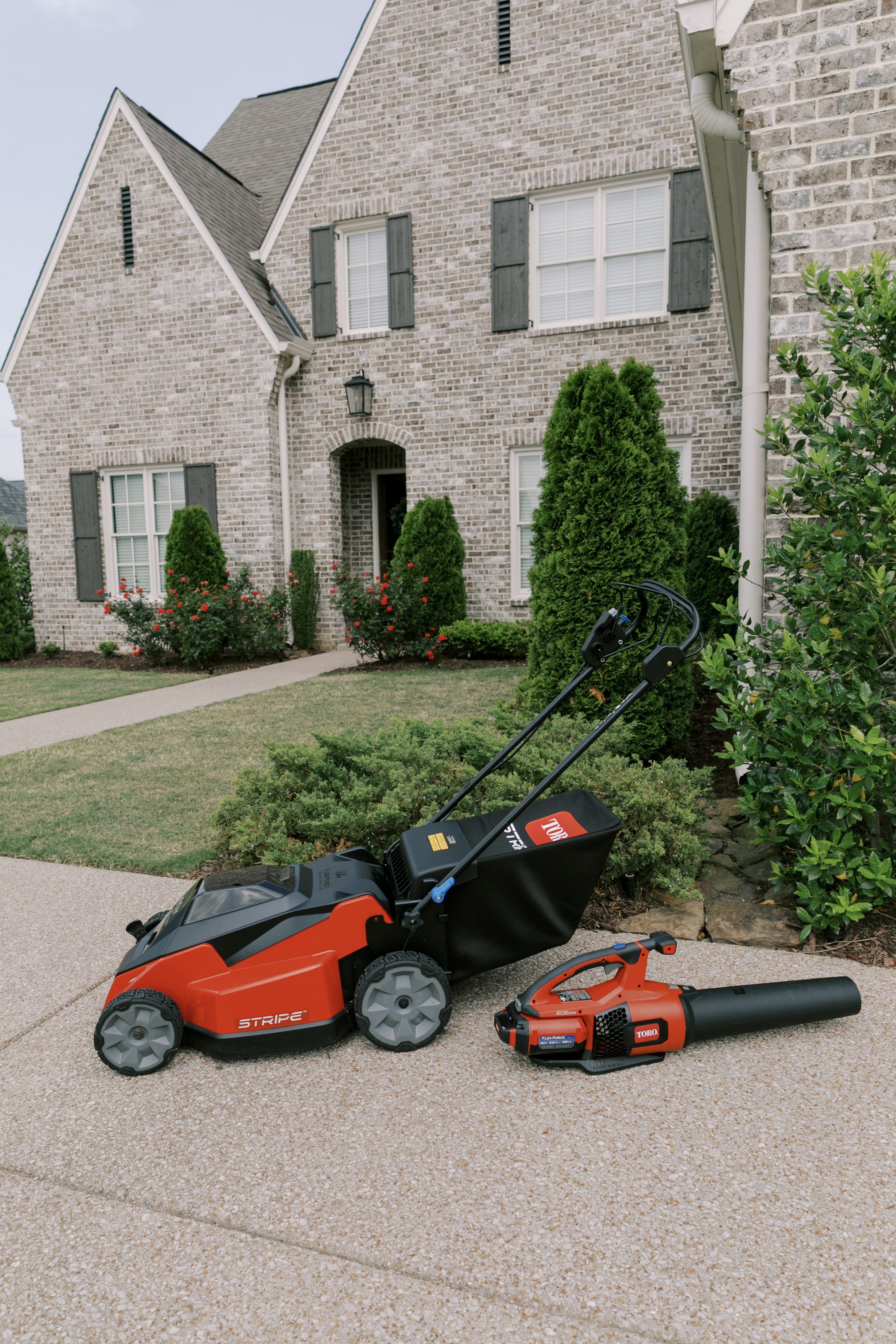 Through 5/31, get $20 off select Toro 60V handheld tools (like our leaf blower) with this link. And make sure you enter Toro's Summer of Stripes sweepstakes for a chance to win a suite of Toro 60V tools. Just use my code LAURA when entering, and it will double your chances of winning! The sweepstakes ends after 5/25/2023. The Toro prize pack includes:
21623 – 60V Max Stripe Mower
51822 – Leaf Blower
51836 – Attachment Capable String Trimmer
88710 – Attachment Stick edger
88715 – Attachment Cultivator
88714 – Attachment Pole Saw
51850T – Chainsaw
51840T – Hedge Trimmer
1 Toro branded Babbleboxx with all contents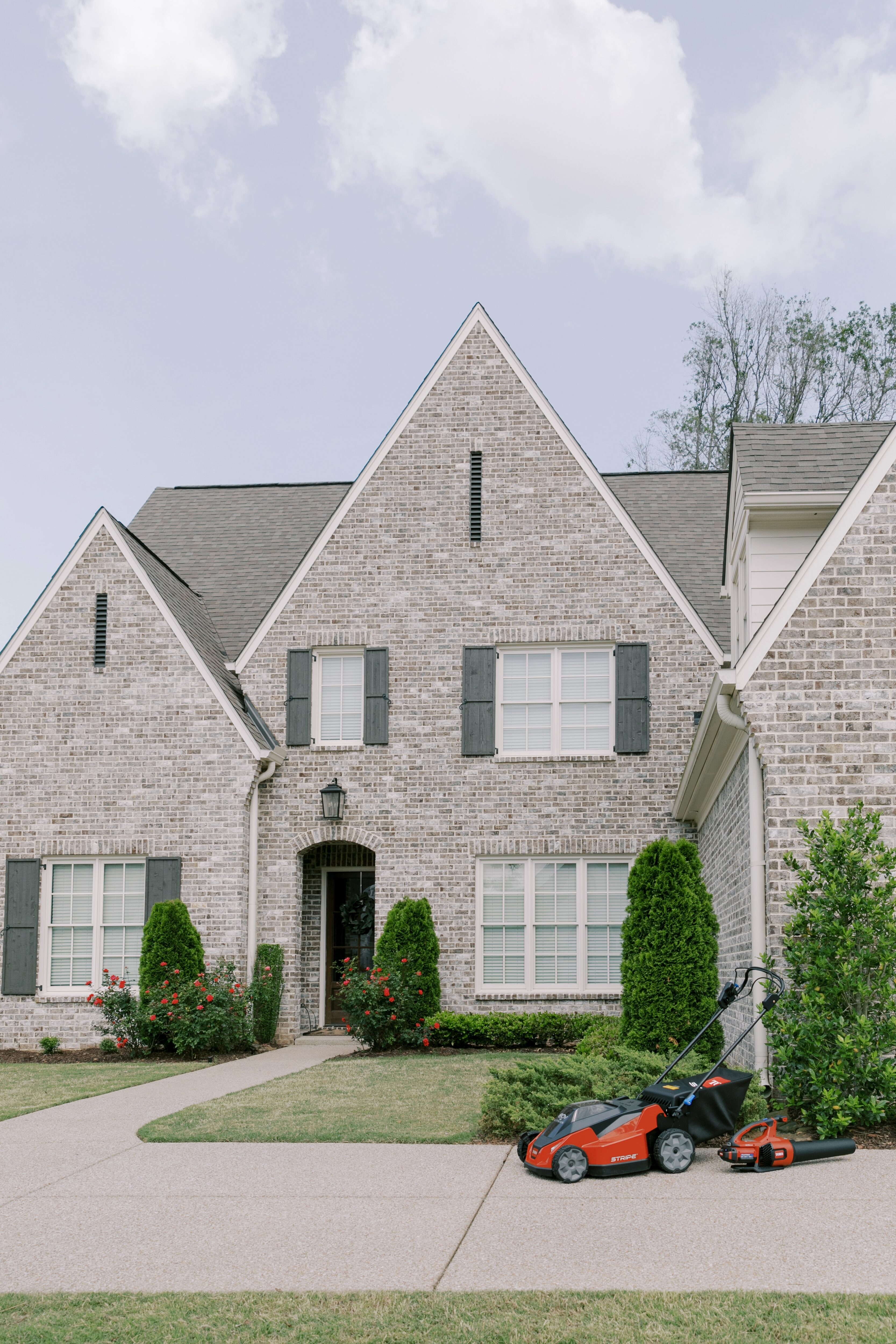 Good luck! Have you tried Toro's battery-powered lineup of products? What are some of your best tips to give your yard more curb appeal?