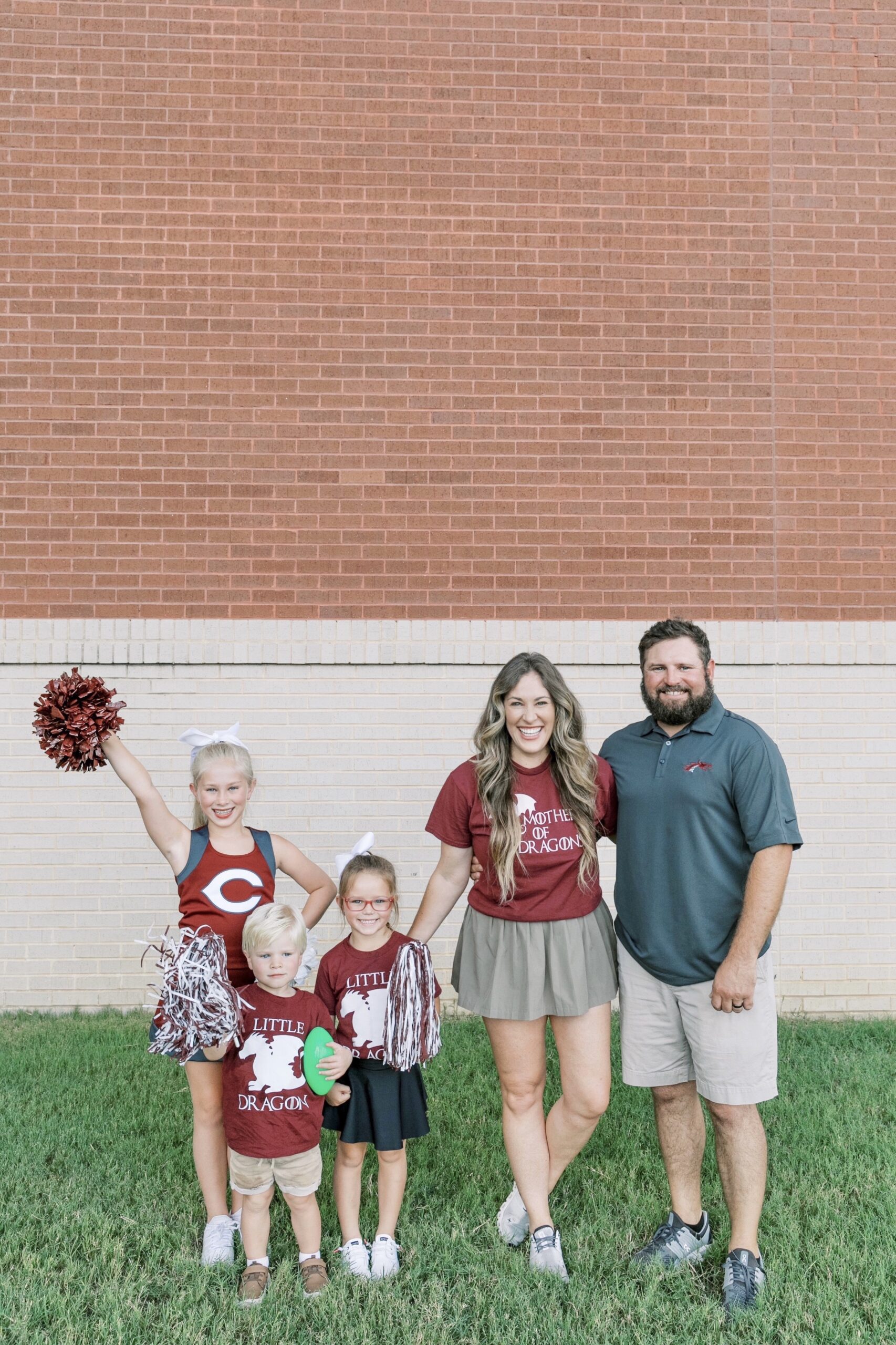 It's football season y'all! That can make for long days, nights, and weekends, but it sure is fun! We love to take the kids to games, but when you take the littles, there are plenty of things you definitely don't want to forget! Keep reading for my list of game day essentials you want to make sure you pack for game day with the kids.
Top Game Day Essentials
Water bottles – It can be hot out there, so make sure you take PLENTY of water in a refillable water bottle! We took one for each of us and refilled them several times throughout the night to make sure everyone stayed hydrated. It's also less expensive and better for the environment to just fill up your bottle at the game. = )
Wipes – 3 kids, so messes are inevitable, right?! That's why we always take wipes with us. They're great for messy hands, mouths and any other messes you might have.
Cooler – Pack an extra cooler of water, Gatorade for electrolytes, or even snacks in here. We always keep one with us in the vehicle, and they're perfect to have for football games.
Portable chairs – With the kids always wanting to run around, go to the bathroom, and get more snacks and water, we typically end up just bringing a portable chair for games. It's also easier than sitting in the bleachers for a 2-year-old. He thinks the bleachers and stairs are just part of the game. Portable chairs are great to sit in right by the field.
Hand Sanitizer – Dirt and germs are everywhere, and we always take hand sanitizer with us to the game. Grayson loves playing in the dirt, and Amelia loves putting her hands in her mouth, so we love having hand sanitizer with us.
Snacks – Kids are always hungry, right?! We pack apples, veggies straws, and nuts for snacks to take with us. And I'm not going to lie, those macadamia nuts came in handy at the game when I was starving too lol. Definitely don't skimp on the snacks though. Most games have concessions, but they get pricey real quick!
Bug Spray – Here in the humidity, we have tons of bugs, and they come out in the heat. And they love Amelia! We make sure we always take bug spray or bug patches for the kids, especially when we are at games outdoors.
Sunscreen – Another one of our game day essentials is sunscreen. We love this sunscreen with SPF 70. You do have to rub it in instead of spraying it, but I feel like it works so much better!
First aid kit – We each keep one of these in our vehicles, not just at home. When you're away from home, you want to make sure you have the necessities on hand if anything does arise. We never want any emergencies or accidents to happen, but we at least want to be prepared as best we can!
Umbrella or blanket – It might seem so hot right now that we can't really imagine cooler weather coming anytime soon, am I right?! But it will. Those games in October can get a little cold or rainy, so make sure you're prepared. Pack umbrellas and blankets for those days when the weather isn't great. The girls like to take their little spray water bottle fans too for those super hot days!
Have you been to any football games yet this year? What do you pack to make sure you're prepared with the kids?