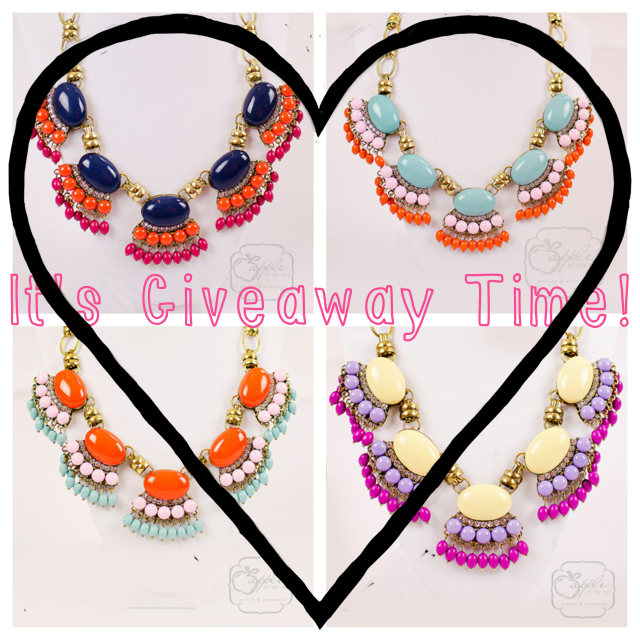 Good morning ladies!  I have an amazing Instagram giveaway going on today from Apple of My Eye Jewelry.  You know that beaufiul spike bracelet or the tortoise one that I wear all the time?  Well, they're both from Apple of My Eye Jewelry!  They have some gorgeous pieces that are great quality and a great price!  Repost this picture, tag and follow me, Emily and Apple and of My Eye Jewelry.  Contest runs through next Sunday, June 9 at midnight CST.  For complete contest rules, check out my Instagram here.  Also when I reach 1,000 Facebook followers I'm going to do my first Facebook giveaway, woohoo!!

While we're on the subject of Instgram, yall know I LOVE it.  I'm sure you can tell by the zillions of photos I post on there.  I've been on there for a couple years now, and originally it was just a photo editing app.  You used it to edit your photos with different filters.  Now I find myself barely even using the filters sometimes because it has become so much more than that.  It is more of a form of social media and also a great place to find fashion inspiration.  I love scrolling through pictures of different fashion pictures to get ideas of things I want.  I also just recently joined Pinterest last month (yeah, I know, I'm behind!), and have been doing the same thing, but hate when I find something I love on there and then can't find what store it is from.  So frustrating!  No more, I just recently found the website the Hunt through a friend, and it is perfect for those moments just like that.  You can upload a picture yourself, or connect your Instagram or Pinterest account, click on the picture, and then let the Hunt do all the work for you.  They will find the exact item that you had been searching for.  Then they will send you an email when they find it.  For me, they have usually found the item within 3 days tops.  I used it recently to find a pair of wedges I had been dying for.  Once I found out what brand and style they were, I was easily able to find them from a couple different stores.  You can choose to hunt for the exact item, a similar item, an item that will go with it or the look for less!  You can also set a maximun price in the Hunt, so you can find less expensive alternatives.  I personally love the "Look for Less" option since I'm also looking to find fashionable items on a budget.  I've got a few more Hunts going right now and am excited to see how quickly they find the items and how much they cost.  Have you checked out the Hunt yet?  It's completely free, quick and easy.  Let me know what you think!  Don't forget you can still save 25% off your first pair of shoes from Shoedazzle.  And you've got a little bit longer to enter for the giveaways here, here and here.  I'll be back tomorrow with 2 giveaways!
Today I'm linking up with Bre.
Today's post is sponsored by the Hunt.  All statements are my own honest opinion.