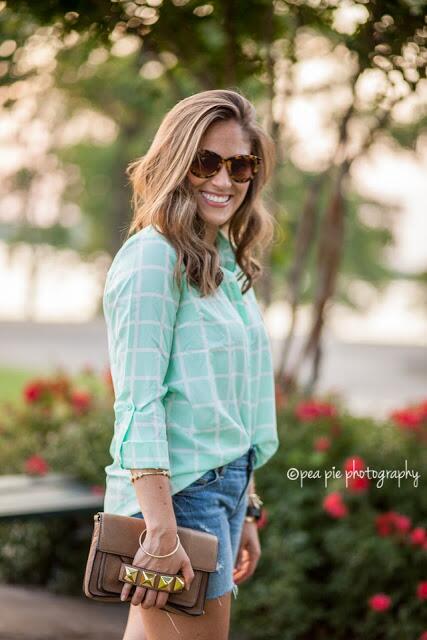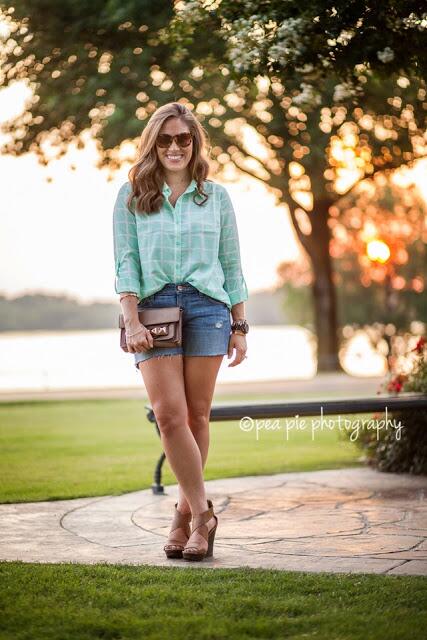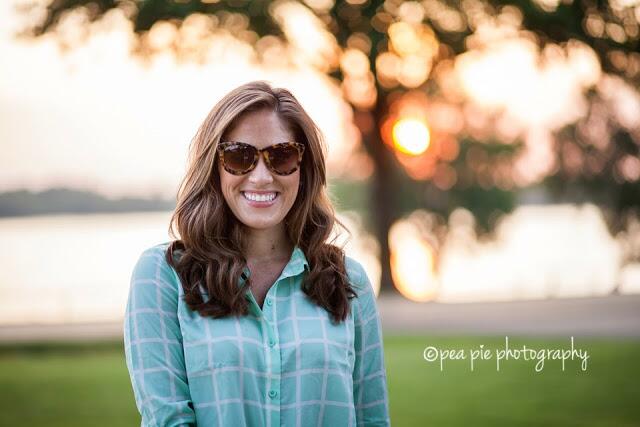 Welcome to the first ever Tennessee Bloggers Linkup hosted by
Sara
and me!  We will be linking up the 2nd Friday of each month, so grab a button (on the sidebar) and linkup.  Today's topic is what to do in your city in the summertime, and I will be talking about where I would wear this outfit in Memphis.  I actually wore this top last week to go out to dinner at Pearls for my birthday and to walk around downtown.  I also wore it a couple nights ago while hanging out and riding the golf cart around the neighborhood.  Since the shorts aren't too short, I would wear this most anywhere – to the zoo, to dinner, to a concert or to grill out with friends.  For the zoo or concert though, I would definitely trade the wedges out for sandals.  I'm going to the
Botanic Gardents
tomorrow night to see Robert Plant, so this may be the perfect pair of shorts to wear there too!  We're even thinking about going to the
Levitt Shell
tonight too to listen to music, so this would be the perfect outfit for that also.  And the
Linea Pelle clutch
is perfect for doing lots of walking.  It's just the right size, and it has a chain strap so you can even wear it as a crossbody.  It's so versatile, and I love the fun faceted studs on the front!  Basically I could live in this outfit on the weekend.  Even though the top has longer sleeves, it is pretty lightweight.  The best thing about this top is that I got it on sale for $12!  I also want to point out my pretty new white and gold bangle.  It is from my friend Amanda from
The Pretty Pinhead
.  She just recently opened an online shop, and you can save 20% off your entire purchase of 
Fornash
jewelry with the code WALKINGINMEMPHIS.
You may have noticed that these denim shorts look a little familar.  They are my Loft boyfriend shorts that I wore
here
 and above (and you can see them
here
 on Instagram too.)  I wasn't so sure what I thought about them since I have such short (and big) legs.  The more I looked at them, I decided they weren't for me anymore.  I may buy another pair in a darker wash though, but with the lighter wash, I think they need to be shorter.  I got a wild hair on Tuesday when I came home from work, and I took a pair of scissors to them.  I had been wanting a pair of cutoff shorts, but didn't want to buy any.  All the on in stores have been daisy dukes, so I decided to just make my own.  Plus, I found out that same day that there is a
denim cutoff linkup
today; that was all the reason I needed!  I just laid them out on the floor with the front waistband lower than the back since they have a shorter rise in the front.  I didn't measure or anything, I just started cutting, and I was surprised with how great they turned out!  I think they turned out to be the perfect length for me,and I love that they were already a little distressed.  Once I wash them a few times and they fray some, I think they'll look even better.  I love turning something you don't wear into something you will wear!  I hope everyone has a great weekend. I fully intend to be by the pool on Saturday and Sunday, and Saturday night we're going to listen to Robert Plant, woohoo!  Have you made your own pair of cutoff denim shorts?  Did you linkup today with Tennessee Bloggers or with the Denim Cutoff Challenge?  Any fun things planned for the weekend?
document.write('