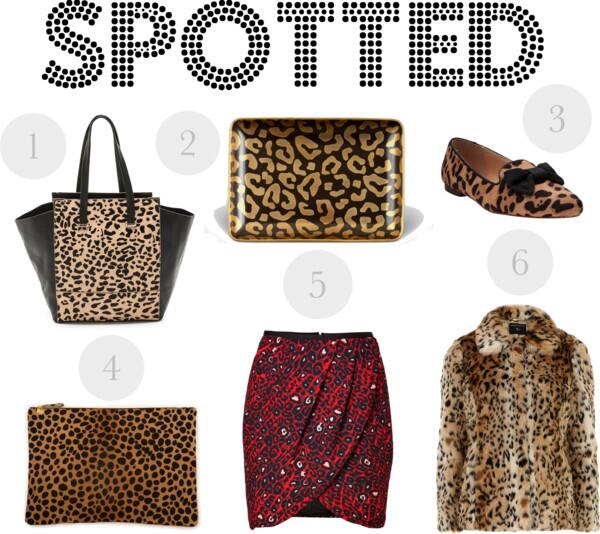 Rachael Ruddick Bag
//
L'Object Tray
// 
Marais USA Slippers
//
Clare Vivier Laptop Oversized Clutch
//
Camilla and Mark Skirt
//
Dorothy Perkins Leopard Coat
I have been wild about leopard print over the past year (no pun intended, okay maybe it was.)  I've been adding more and more of this printed piece to my closet lately such as scarves, a coat, some pumps, a dress and even track pants.  I could be going a little overboard, but I just can't help it.  I'm so happy that this animal print and back in style, and I don't see it leaving any time soon.  Here are a few of my favorite pieces. 
This amazingly shaped bag
,
this fabulous tray
and
these amazing slippers
.  Not only are the leopard print, but the slippers also have the most adorable little bow on them. 
This oversized clutch
is also big enough to fit your laptop in.  Perfect for work or school!  And I am just in love with
this skirt
.  It is leopard print, but it is actually more subtle in this color scheme in my opinion.  The tulip shape of it is also very flattering.  And last but certainly not least, a
faux fur
coat!  If you missed out on the ASOS leopard coat, there are still some sizes left in this Dorothy Perkins one.  Are you into leopard prints?  Which is your favorite?  Hope yall have a great weekend!  I'm heading to Dallas on Monday for work all week, but don't worry I will still be posting.  = )