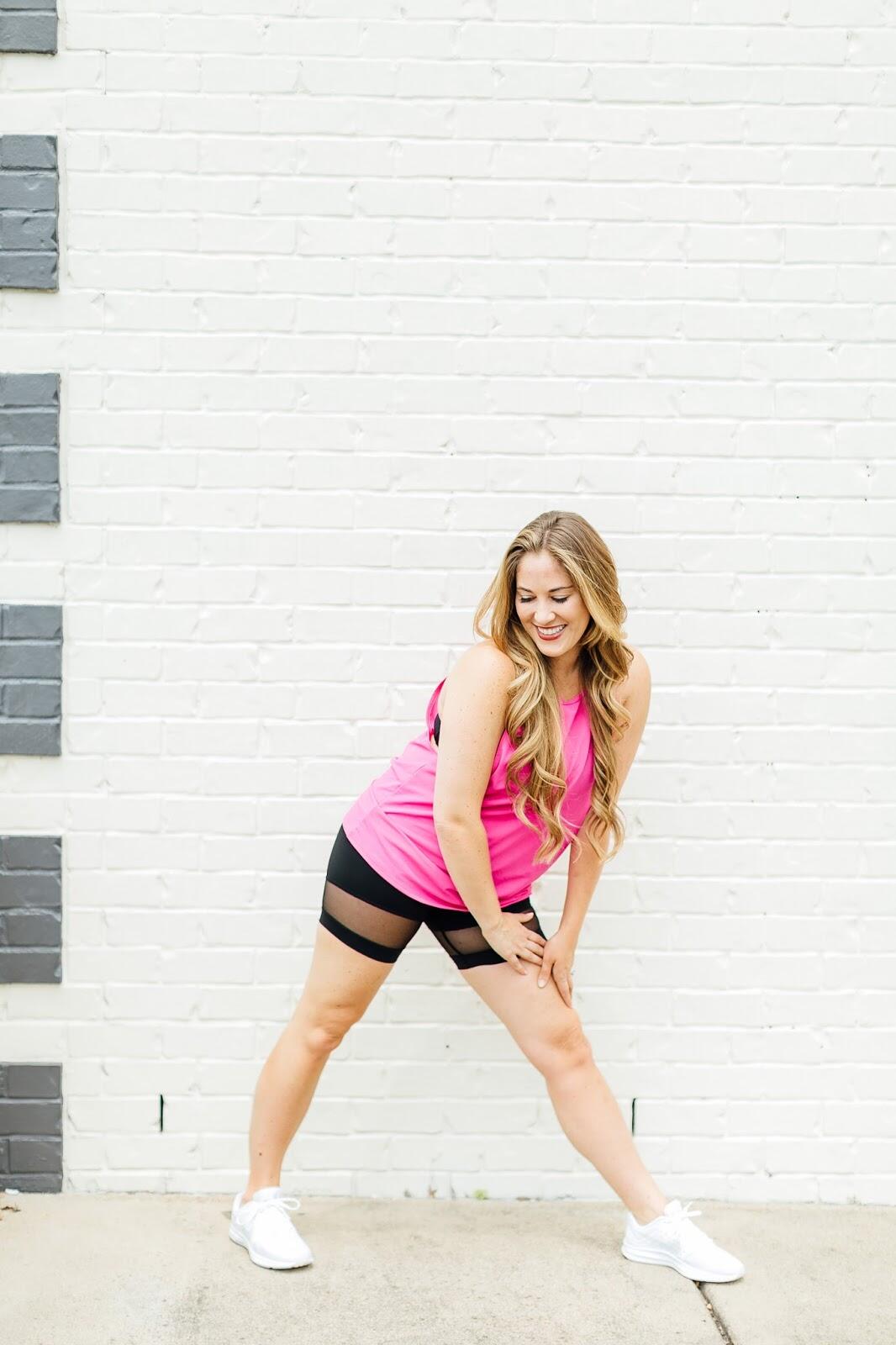 JavaScript is currently disabled in this browser. Reactivate it to view this content.
Happy Friday!  I know we are starting to have fall on our minds.  And even though I am kind of ready for denim, long cozy cardis and booties, it's not time to cover up that body we've been working so hard on.  For the past month I have started working out 3-5 days a week to really try to get my strength back.  If you are a mom, I'm sure you especially get me.  Our bodies have been through SO much.  And even though I was really thin for the last couple years after having Leighton (thank you breastfeeding for burning all those calories!), I honestly wasn't healthy.  I had lost all my muscle, and I didn't even realize it.  All of my clothing fits differently.  My legs got small and I lost all that cheerleading leg muscle I had for well over a decade.  So right now I am focuses on building lean muscle and really just increasing my strength.  I just want to be strong, fit and healthy.
So…I'm back this month with
My Life Well Loved
,
Happily Hughes
and
Positively Oakes
 for another fitness workout challenge!  This month we are talking about glutes.  You know – the booty.  = )  Boy did mine disappear after having Leighton!  That is what not working out will do to you!  Since I've been working out with my trainer, we have been focusing on the glutes a lot too, and I wanted to share with you some of my favorite workout challenges for glutes.  I used to do most of these workouts years ago when I took pilates daily, and they are SO good at really working out the glutes.
Booty Workout Challenge
1.)  20 Kickbacks per leg.  You will get on your hands and knees.  Round your back, relax your shoulders and pull your abs in.  Then start with 1 leg at a time and kick your leg straight up.
2.)  10 Plie squats.  Get into a very wide stance.  This will help to really activate the glutes and even the hips and not so much the quads.
3.)  20 Bridges.  Lie down on your back with your knees up and feet flat on the floor.  You are going to push your hips and butt up into the air with your abs tightened until you are making a bridge like shape.  Hold each one before releasing and starting again.  Really tighten your glutes when you are holding the move.
4.)  40 Flutter kicks.  Lie face down on the edge of a bench.  Only the waist up should be on the bench, and your legs should be hanging off.  Hold your legs straight out level with your body.  Pull your abs in, flex your feet and then alternate kicking (or fluttering) your legs up and then back down.  It should be a pretty small, slow and controlled movement.
5.)  20 Side Fire hydrants per leg.  Get on your hands and knees like you did for kickbacks.  Round your back and tighten your abs.  Open up your leg to the side.  Basically it looks like a dog peeing on a fire hydrant, hence the name.  = )
The biggest piece of advice I can give you when doing this workout challenge is to always keep your abs in and tight.  And focus on the muscle you are trying to work.  Slow down and hold each move.  These small, controlled movements will actually make the biggest difference.  And also feel free to try tempo changes.  Maybe hold a movement and then do a slow pulse.  These tempo changes will really help you to feel the burn.  Now to the fun part!  I am so excited to be teaming up with
Carbon38
to give away a $100 gift card to their site!  I am wearing their
shorts
and
tank top
today.  They carry some of my favorite fitness brands from Solow to K-Deer to Sweaty Betty.  To enter, just use the widget below and good luck!  And make sure you check out
My Life Well Loved
,
Happily Hughes
and
Positively Oakes
to see their booty workout challenge for today!  Will you be joining us for the glute workout challenge?  If you have any favorite exercises, feel free to share them below!