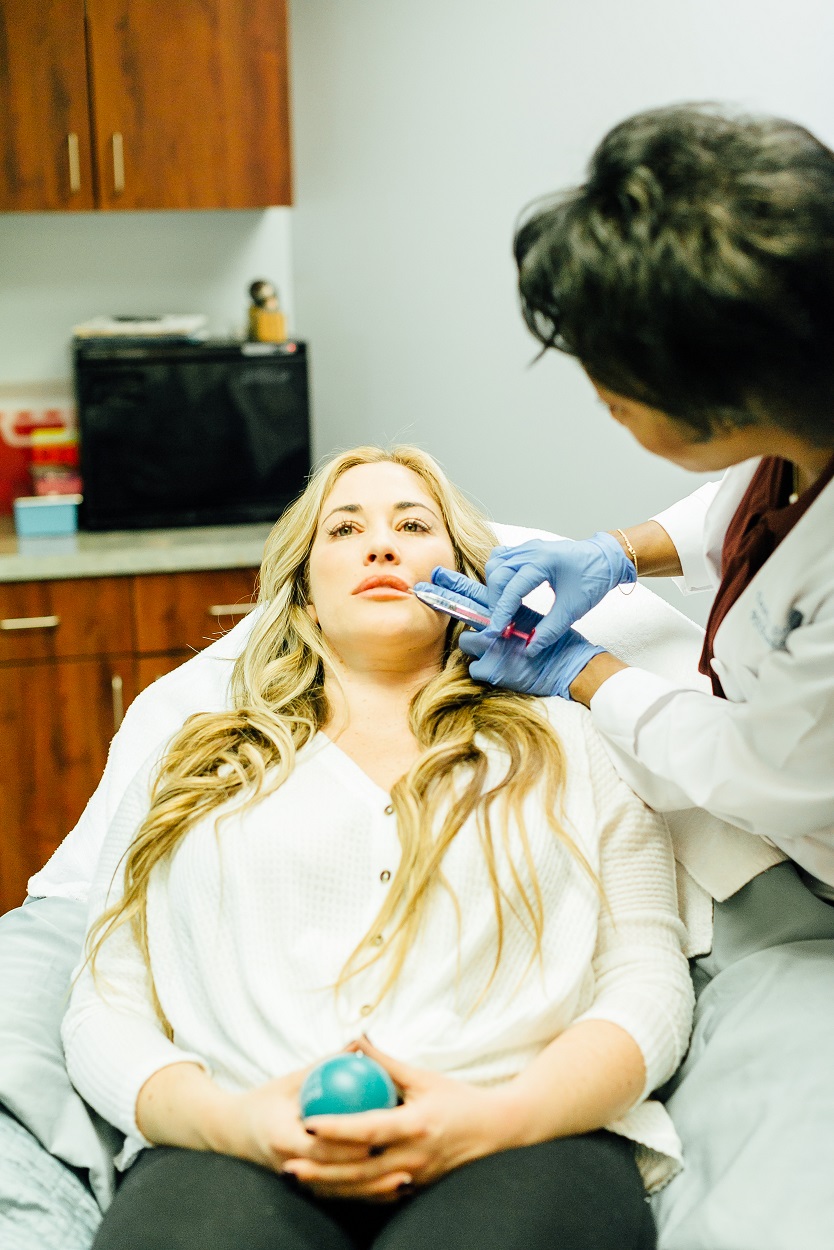 MY EXPERIENCE GETTING JUVEDERM LIP FILLERS
You might remember me talking about botox a few months ago here.  Today I'm back talking about my experience with Juvederm lip fillers at Spa Therapies in Memphis.  If you've been thinking about getting lip fillers, I would recommend getting a consultation and looking at pictures of people who have had theirs done there to make sure you love how it looks.  I knew I only wanted to get a little bit of lip fillers, Juvederm, because you can always add more, but you can't take it away.
I told Veronica at Spa Therapies I wanted something very natural, but I wanted my upper lip to be a little fuller to match my plumper bottom lip.  I also had a little filler added in one side of my bottom lip to even out that side where I have a scar.  I feel like they are much more symmetrical now, and I honestly couldn't be happier with my Juvederm lip fillers.
First numbing cream is applied, then she will ask you to pucker or smile so she can tell exactly where she needs to add some.  The Juvederm lip fillers needle honestly doesn't hurt very much to me.  It is just a small little prick, and the numbing cream helps quite a bit.  The upper lip is a little more sensitive than the bottom in my opinion, but it's over pretty quickly.  I give blood every 3 months, and honestly I would say that hurts more than the needle they use for lip fillers, so don't worry if you're nervous.
Juvederm's newest lip filler that was used on me is even longer lasting.  It not only fills the lines without giving over-filled lips, but it hydrates the lips and gives them a smooth appearance.  It can last up to 18 months.  Results and lasting effect varies with individuals.  Make sure you take a peek at the last image, what a difference lip fillers made in my upper lip.  If you've been thinking about getting Juvederm lip fillers done, I definitely recommend it.  And if you're in the Memphis area, make sure you call Spa Therapies for a consultation.
What do you think about the end result?  Have you ever had Juvederm lip fillers?