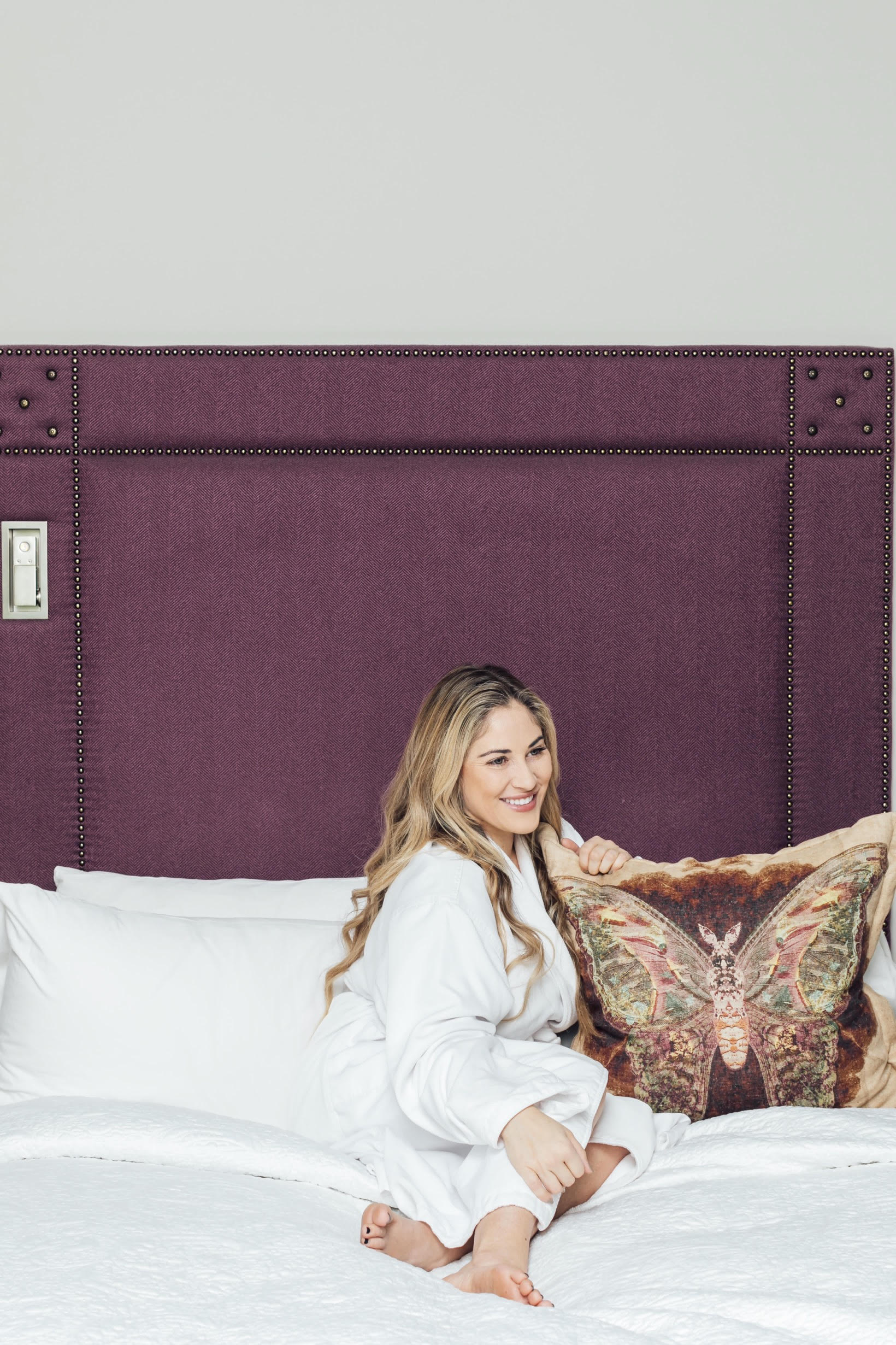 A couple months ago I took a little weekend trip to Alabama to see my good friend Heather of My Life Well Loved. I just love the Birmingham area, and it's only a short 3 hours away. This made it the perfect place to visit for a short little trip. Heather recommended the Grand Bohemian Hotel in Mountain Brook, and she definitely didn't fail me! If you're looking for a chic, whimsical fun hotel, this is the perfect hotel for your weekend getaway.
When I first walked in the Grand Bohemian Hotel, I was surrounded by shades of pink, purple and green. The lobby is gorgeous, but they also have a conference section of the hotel that is all white and chic and luxe. And that pretty pink, purple and geeen vibrant color scheme from the lobby followed me throughout the hotel. The corner of our room had a purple headboard, pink chair, velvet pillows and gold curtains! It was the perfect little corner to relax in. They even welcomed us with a cheese and fruit board waiting on our room.
We had lunch at Habitat Feed & Social, and the food was SO good! I got the chicken pot pie, and it was huge! I felt like I barely even made a dent! I would definitely eat there again. It is their rooftop restaurant and bar. They have indoor and outdoor seating and an area with a pool table. Their outdoor seating area is so pretty and overlooks a cute little shopping area. They also have a wine blending room and cooking classes. I cannot wait to go back and try both next time!
The Grand Bohemian hotel is next to the botanical gardens and just a short walk from the zoo. They also have an outdoor pool and spa. Perfect for family trips or even girls's trips! Next time I visit, I will definitely be staying the entire weekend!
What about you? Have you stayed at the Grand Bohemian Hotel? What are your favorite places to stay and things to do in the Birmingham, AL area? Let me know in a comment below!