This DIY waffle bar post is part of a social shopper marketing insight campaign with Pollinate Media Group®, but all my opinions are my own. #pmedia #AddSpirit2Breakfast http://my-disclosur.es/OBsstV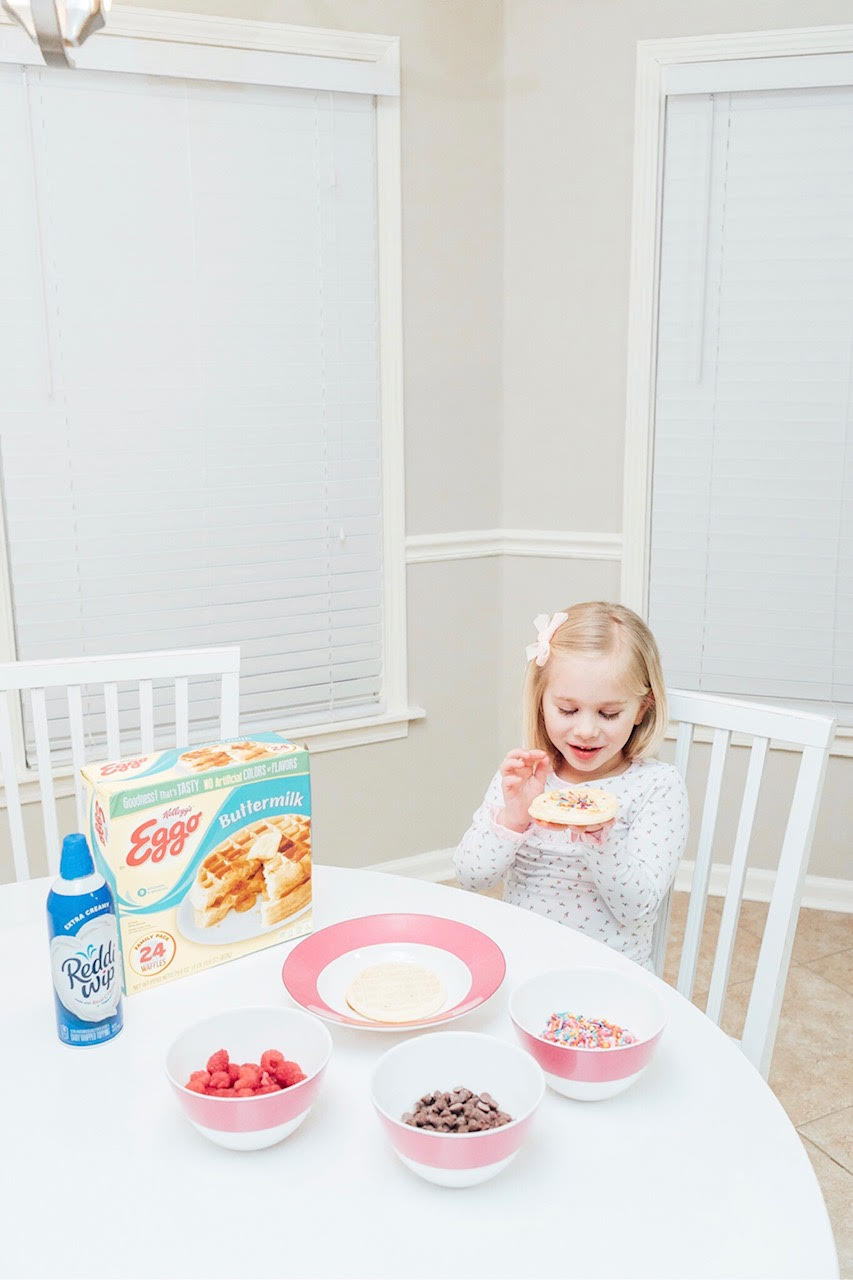 Like most moms, I'm always looking for different ideas to keep the kiddos from getting bored after being cooped up indoors most of winter. It's starting to feel a bit like spring here, but the rain has been pretty nonstop. So…I decided it was time to try something a little different one day with Leighton.
I went by Walmart to stock up on the essentials including Kellogg's Eggo Buttermilk Waffles and Reddi-Wip Extra Creamy. And then the fun really started! I created a little DIY waffle bar for Leighton. I added some of her favorite toppings – raspberries, sprinkles and chocolate morsels. And then I set it all out in a bar style to let her make her own waffles. It's a fun way to add the excitement back to mealtime, make your kids feel special or add a little fun to breakfast (or brinner!) just like the Netflix series "Spirit Riding Free."
Kellogg's Eggo Buttermilk waffles are warm and fluffy, and Leighton absolutely loves them. It only takes a few minutes to make them, and they toast up to a golden crisp. I then topped them with Redd-Wip Extra Creamy, and she added (a ton!) of sprinkes. = ) Reddi-Wip also comes in a cocunut cream variety if you are looking for something non-dairy. It was a nice little unexpected treat for her. I think it would be perfect for a sleepover idea. We just recently invited one of Leighton's best friends over to spend the night this month, so she will be having her very first sleepover. I can't wait to try out the DIY waffle bar again that weekend and see what they both think!
I plan to let them stay up a little late building forts that night, and in the morning we will start by watching "Spirit Riding Free" on Netflix and making an home DIY waffle bar. Leighton has always loved horses, so she immediately fell in love with the show on Netflix. It is about a 12 year old little girl named lucky and a mustang named Spirit. It is such a great show about adventure and friendship and is the perfect show to watch while adding a little adventure and creativity to their breakfast that morning. You can check out some of the fun "Spirit Riding Free" downloadable Activities here to add more adventure to your day.
Have you tried making an at home DIY waffle bar? How do you add a little adventure to your kid's meal? Let me know in a comment below!